About a week ago we made a post regarding a chilly and potentially snowy February in-store for the Keystone State. Now, being only seven days from the first day of February, our confidence has only grown that February will bring below average temperatures and above average snowfall to PA.
Long range models continue to indicate persistent troughing from the Northern Plains to the Mid-Atlantic for atleast the first half of February. Below is the GFS Ensemble Mean. To make things simple, blue means below normal temperatures, orange is above.
We also mentioned the MJO, which can influence our pattern. It will likely be in very favorable phases until atleast February 1st. But wait, February 1st? There is a two week lag time between the MJO and its implications on our pattern.
In fact, we are already looking at a strong storm signal around February 5th. There is the potential for a significant to major winter storm somewhere in the Eastern US. Whether its us who receives its impacts or the Great Lakes, that is still yet to be determined. Below you can see the impressive support for the system on the GFS Ensembles. Look at all the red numbers (low pressure systems) in the circled area.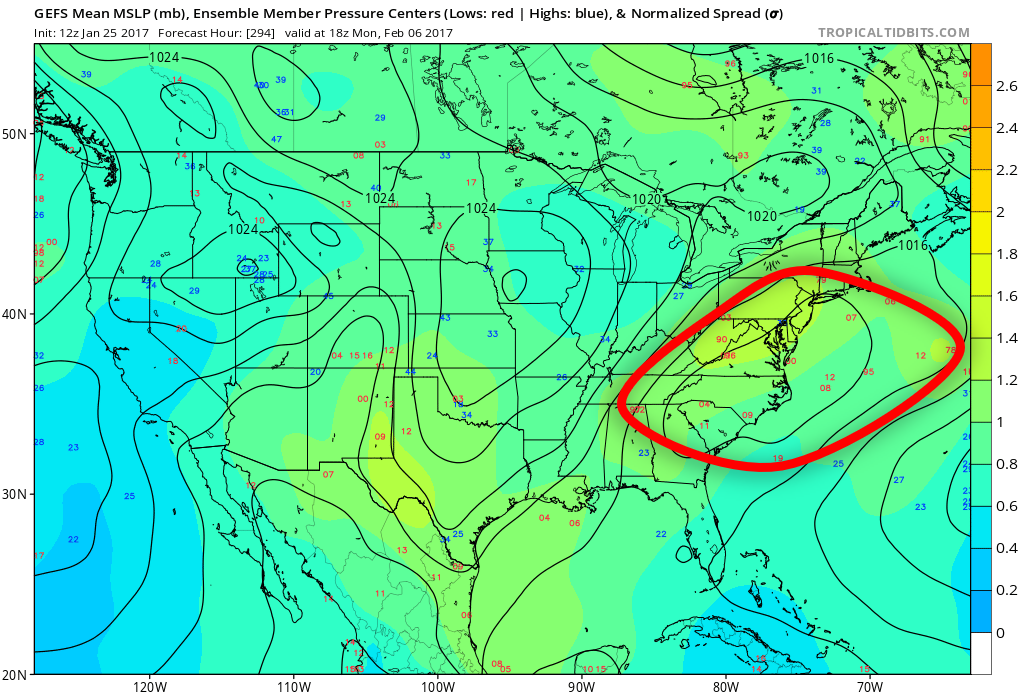 Below is the GFS Ensemble once again, this time all the way out on February 10th. Notice how troughing continues in our region, resulting in below average temperatures.
As we head farther into the month, there is support that this cold and snowy pattern will hang on. Although we do not have permission to post the Euro Weeklies, we can tell you that they do include this type of pattern for nearly the entire month of February. Here is the CFS for weeks three-four. This model image looks almost identical to that of those above.
Shortly before this article was posted, we published an update regarding the moderate to significant lake effect and upslope snow expected Thursday Evening through Saturday. Be sure to catch that article by liking us on facebook >>>  Click here to like PA Weather Action on Facebook!
Are you excited that winter finally looks to make an appearance? If so, be sure to share the forecast below! Stay safe!