Believe it or not, the year 2017 is 70% over. The leaves are beginning to change, and by this time next month many areas of Pennsylvania will be peaking regarding fall foliage. The past two years featured hot summers and warm falls. So much so, most of us have not seen snow in December since 2014.
However this year, summer was not too hot. It was relatively rare to reach temperatures in the 90s across PA. The past two weeks have been on the cooler side, with highs often in the 50s to low 70s and lows in the mid 30s to low 50s depending on location. The next two weeks look to be just the opposite, as ridging builds on the Eastern seaboard. The Rocky Mountains in the Pacific Northwest are expecting as much as two feet of snow in the next few days, and more is likely to come.
We expect this "roller coaster" pattern to continue into fall. Long range models indicate October may be on the chilly side, as the pattern looks to flip again by the start of next month. Both the Euro Weeklies and the CFSv2 suggest troughing in the east will persist through much of the month. As a result, we expect slightly below normal temperatures. There will be times of intermittent warmth, but much of the month will be colder than normal. Here is our October Temperature Forecast.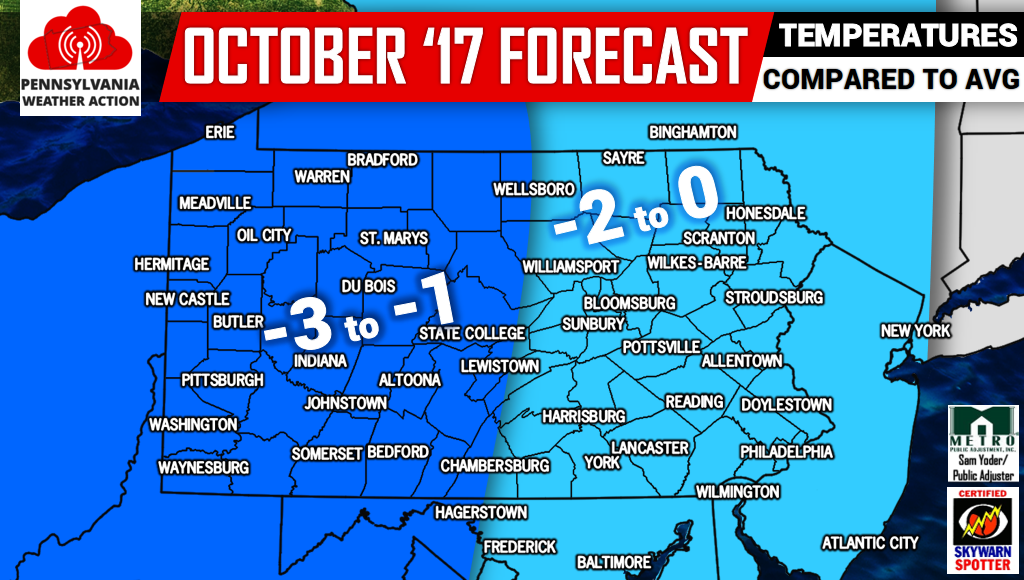 The numbers on the graphic indicate our predicted mean temperatures anomalies. Now let's talk about November. We anticipate the persistent troughing to subside somewhat. There will likely be periods of above average temperatures. With that said, there will also be times of below average temperatures that could lead to a widespread first snow in late November. In the end, we expect the mean to round out near normal. Here is our November Temperature Forecast.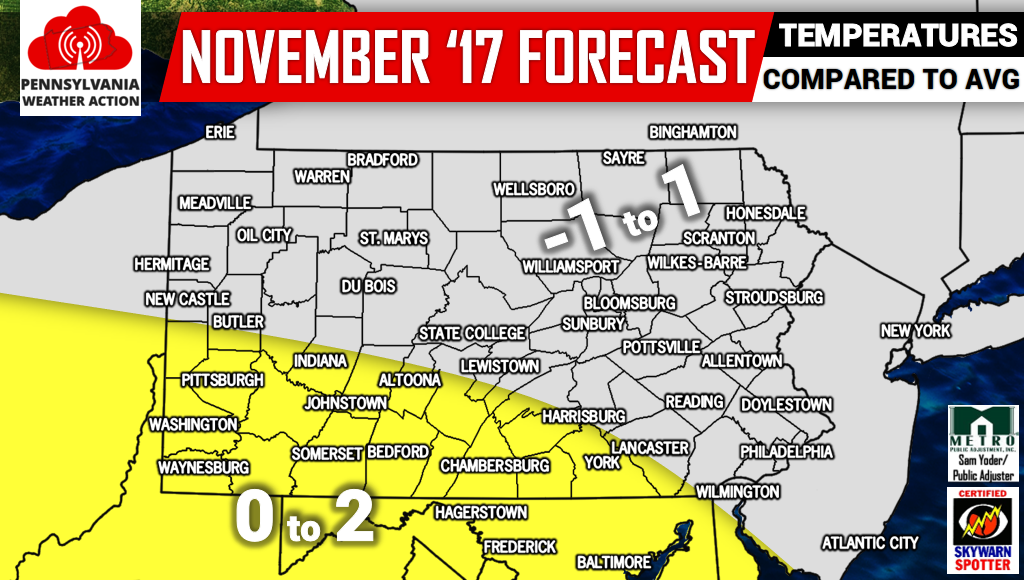 December is the most important month for many of you, as winter sometimes begins during this month. This winter, it will be difficult to establish a pattern for over two or three weeks. This is what we expect in December. Anomalies to this year suggest below average temperatures will transpire. Long range modeling typically gets somewhat fuzzy this far out, but the Euro Monthlies and the CFSv2 print noticeable ridging in the west, which with this pattern may mean troughing in the east. Here is our December Temperature Forecast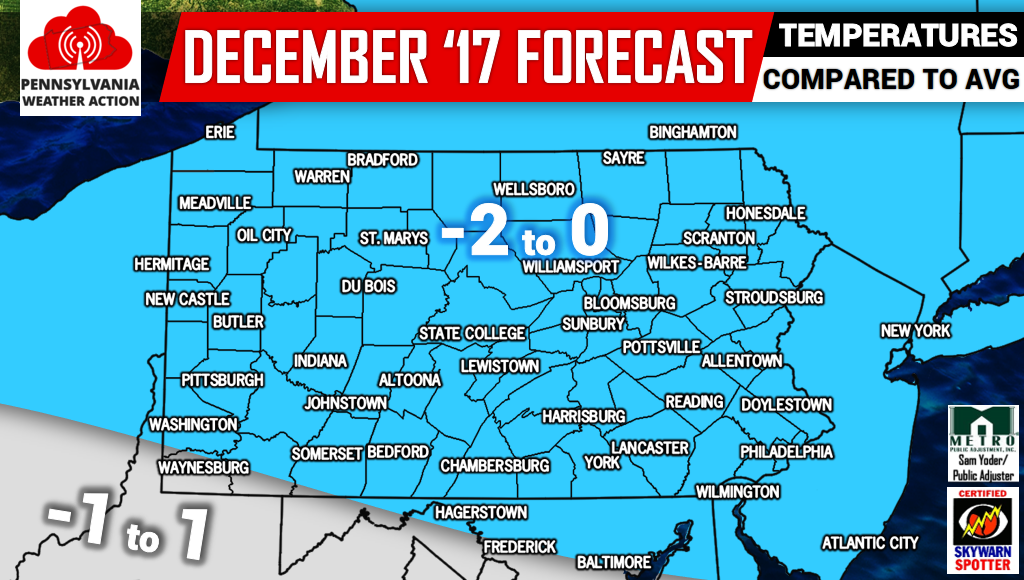 We do expect to see snow in December this year. That's all we will say regarding snow at this point. Be sure to have us liked on facebook to stay updated as winter approaches >>> Like Pennsylvania Weather Action on facebook.
Share the fall and early winter forecast with your friends below!