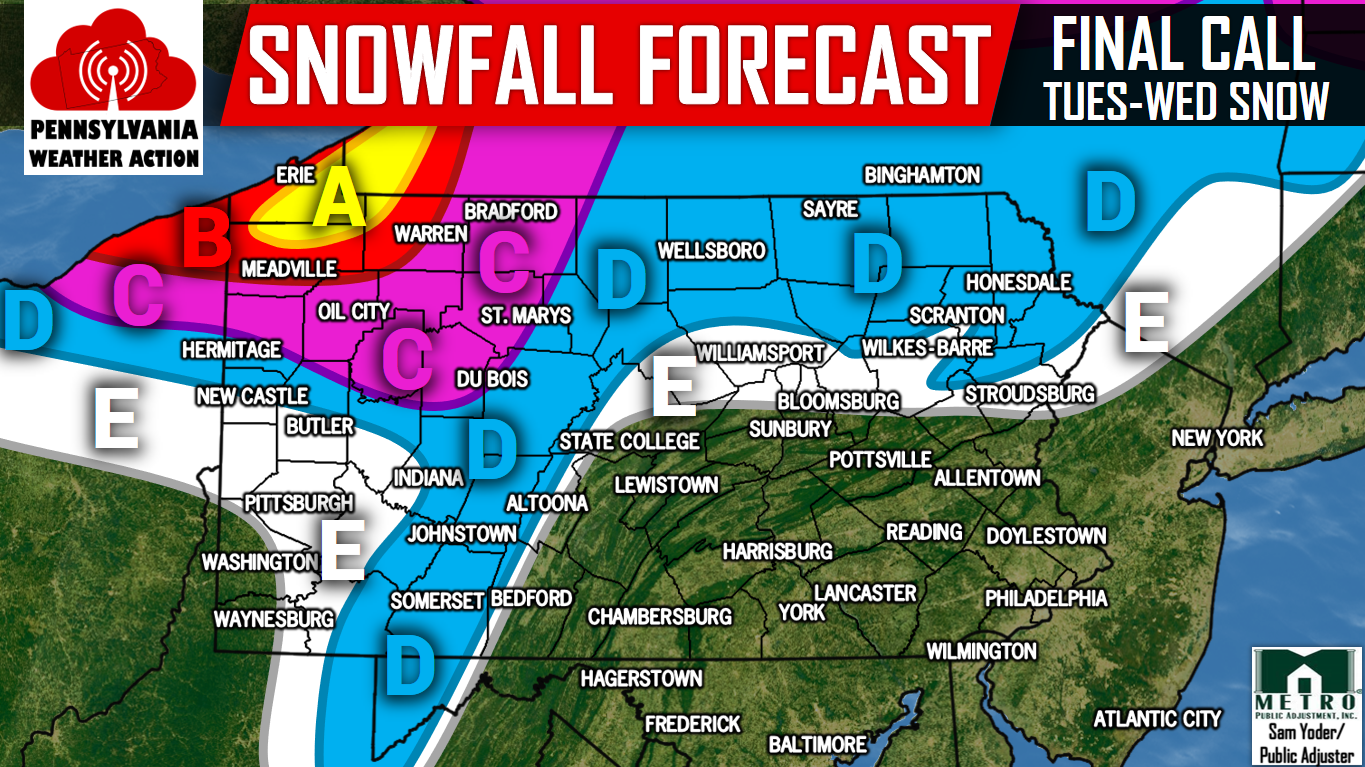 The general idea for this clipper system remains the same. Western Pennsylvania and areas north of interstate 80 will see snow overspread the area during the overnight hours, likely after midnight. Snow will continue through at least the mid-morning hours Tuesday. The clipper itself will generally bring light snowfall amounts, but once the clipper swings through the area, heavy lake effect snow will follow it beginning Tuesday afternoon through Wednesday.
Below is the latest short range model valid for 7:00 AM Tuesday morning: 
The clipper snow will continue through at least 10:00 AM. The lake effect snow will begin to ramp up as we go into the afternoon hours Tuesday. Pictured below is valid for 2:00 PM: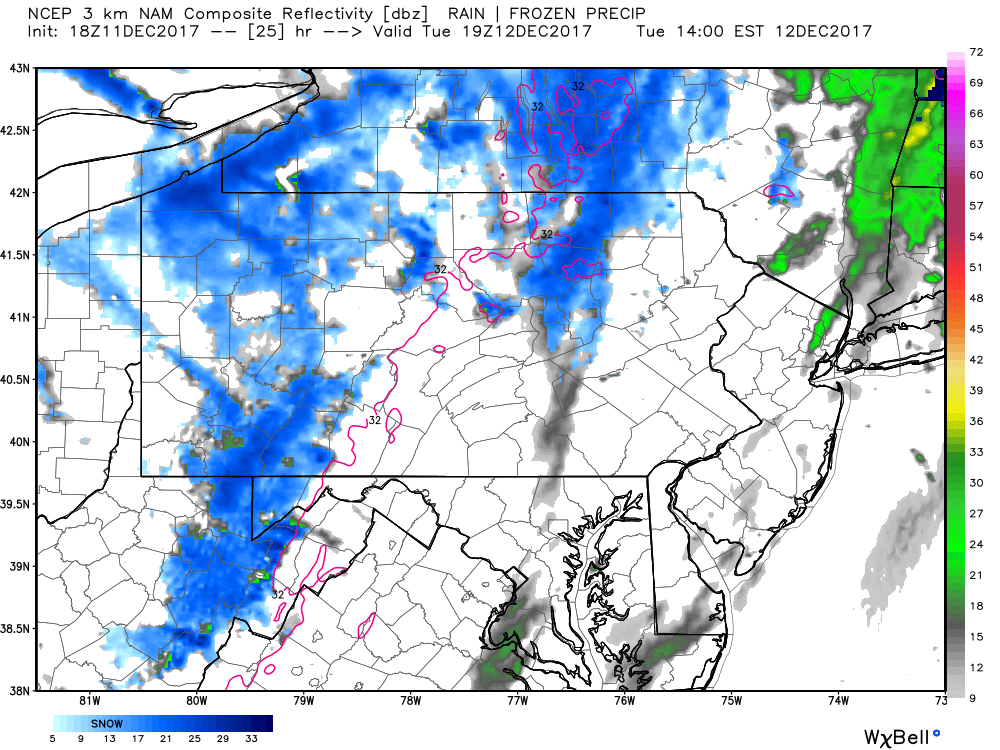 It is without a doubt in our minds that parts of far Northwest Pennsylvania will be measuring in feet by the time the lake effect snow diminishes which will not occur until late Wednesday afternoon and Wednesday evening. Snow rates will be much greater than 10:1 as temperatures will be only in the teens for areas that receive the lake effect snow.
Wednesday will be cold for everyone, checkout the expected wind chill values for Wednesday morning:

FINAL CALL SNOW TOTALS THROUGH WEDNESDAY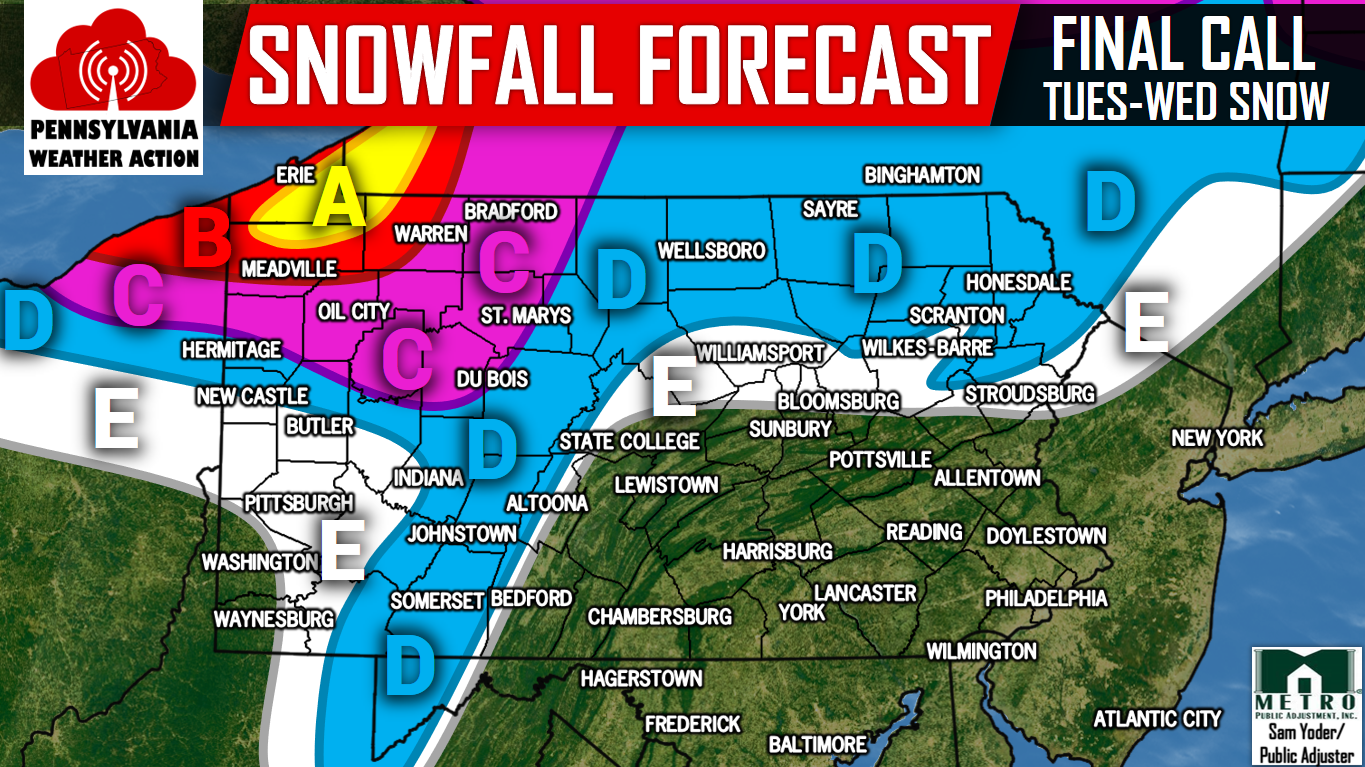 Area A: Snow accumulations of 12-18″+ are expected within this area. Snow-packed roads will result in near-impossible travel Tuesday Afternoon through Wednesday Afternoon. Visibility will be under a quarter mile in intense lake effect snow bands.
Area B: Snow accumulations of 6-12″ are expected within this area. Snow-covered roads will create difficult travel conditions throughout the day Tuesday and Wednesday Morning.
Area C: Snow accumulations of 4-6″ are expected within this area. Slushy roads will make travel difficult Tuesday Afternoon into Wednesday Morning.
Area D: Snow accumulations of 2-4″ are expected within this area. Untreated roads will become slushy Tuesday Morning.
Area E: Snow accumulations of 1-2″ are expected within this area. 
Be sure you have us liked on Facebook for the latest updates during this major lake effect snow event and much more, click here>>>Pennsylvania Weather Action's Facebook Page. Also, download our app for the latest alerts and interactive radar. Click here to download our app!
Do not forget to share the snowy news with your family and friends below, stay safe!
---
---