Over the last 24 hours, tomorrow's snowfall event has trended a bit drier and the track of the storm looks to be a tad more south than we initially expected. This will really only impact snow amounts across our northern fringe areas on our map yesterday, as well as eastern areas. The bulls-eye still appears of be across the Laurel Highlands, with a couple inches of snow across Southwest Pennsylvania.
The snow will begin to push into Western PA after 4:00 AM tomorrow morning. Below is a look at 5:00 AM via our future radar: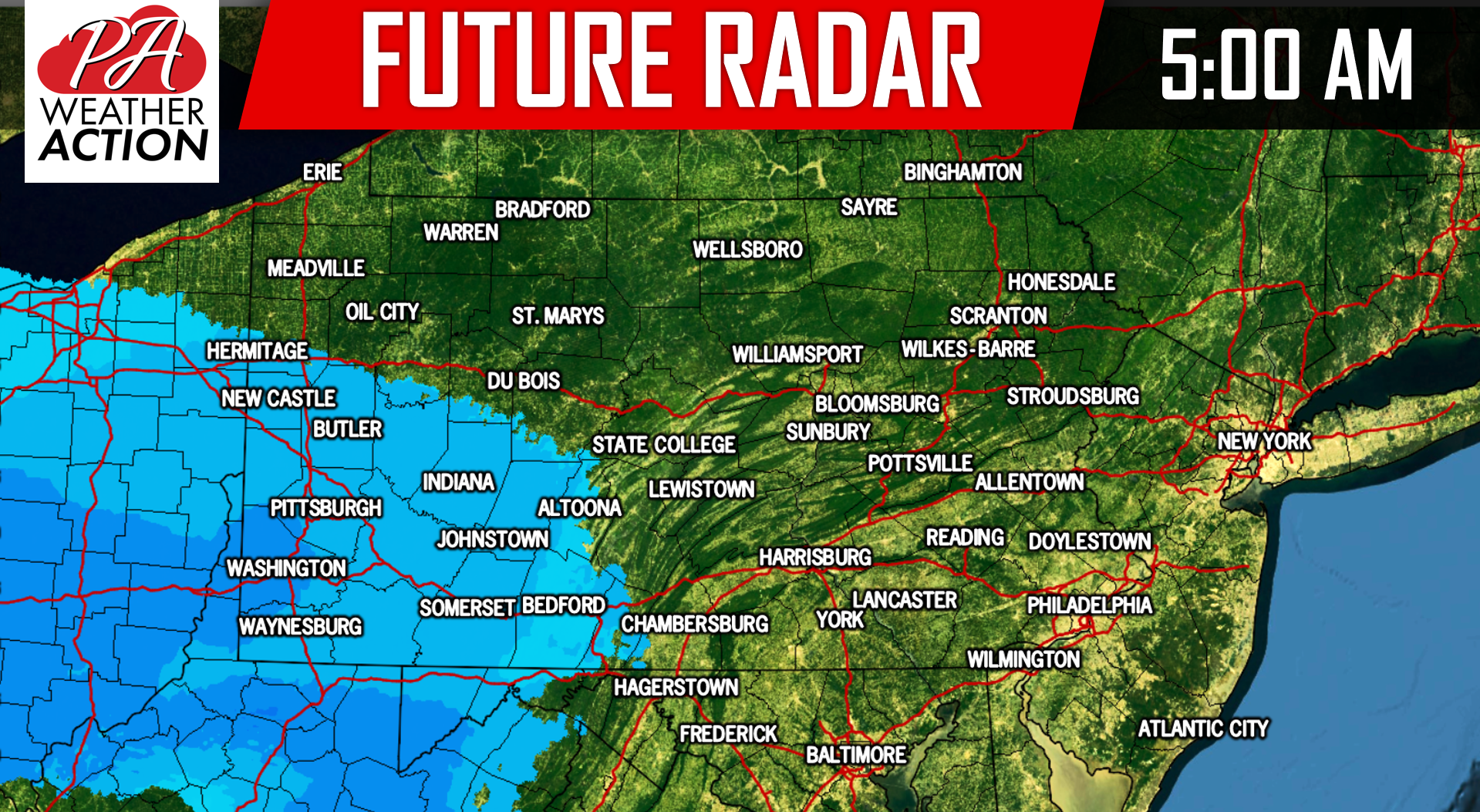 The snow will be relatively on the light side. However, as we push later morning hours, darker blues will begin to appear on our future radar, indicating a period of moderate snow. Snow ratios will still range from 15 to 20:1. Whatever snow does fall, will accumulate on all surfaces easily. Below is a look at 8:00 AM Friday morning: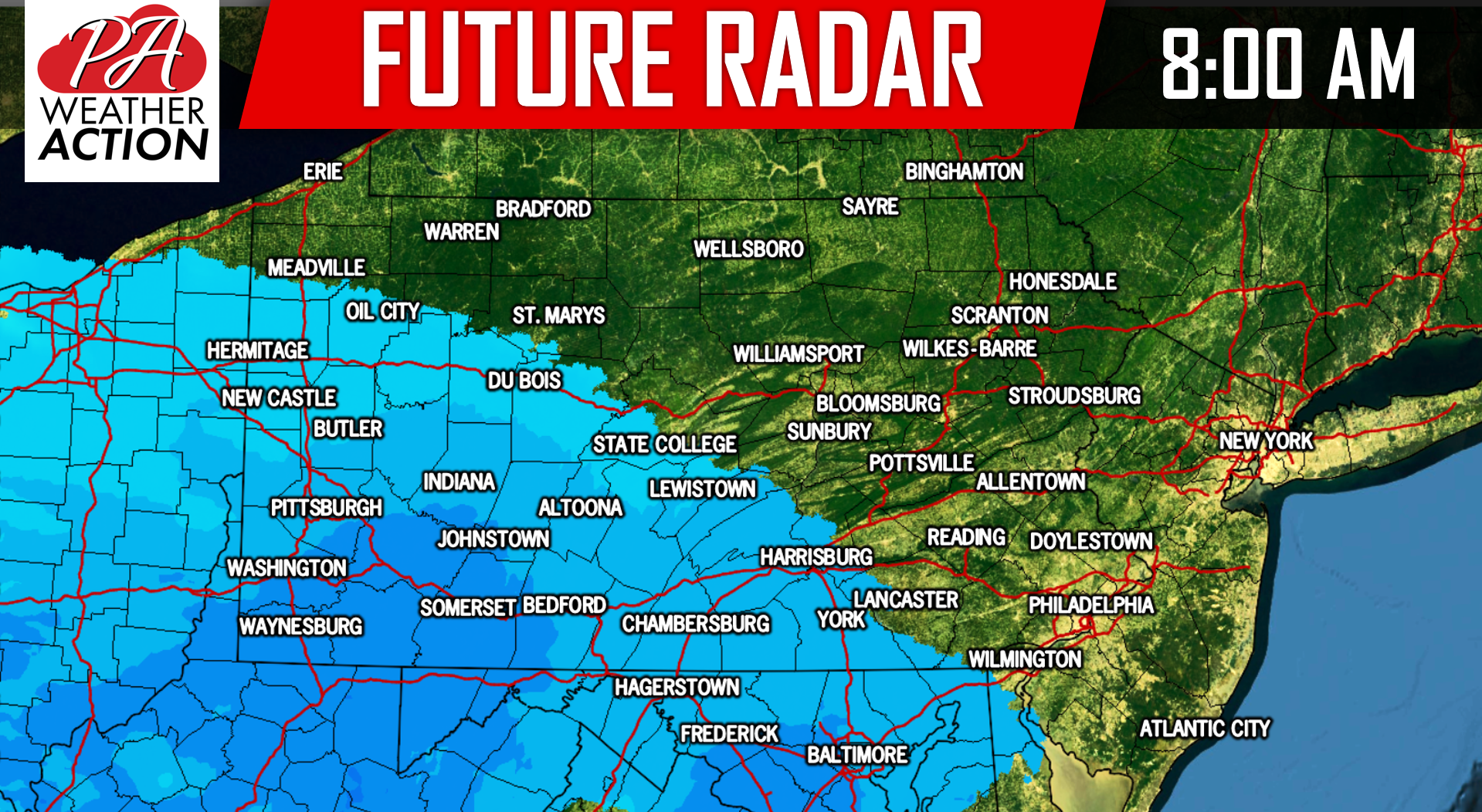 This will be a quick hitting storm. Areas that do receive the snowfall will see about a 8-10 hour period of snow at most. As we move our future radar to 11:00 AM Friday morning, the focus of the snow has moved over to South-Central Pennsylvania: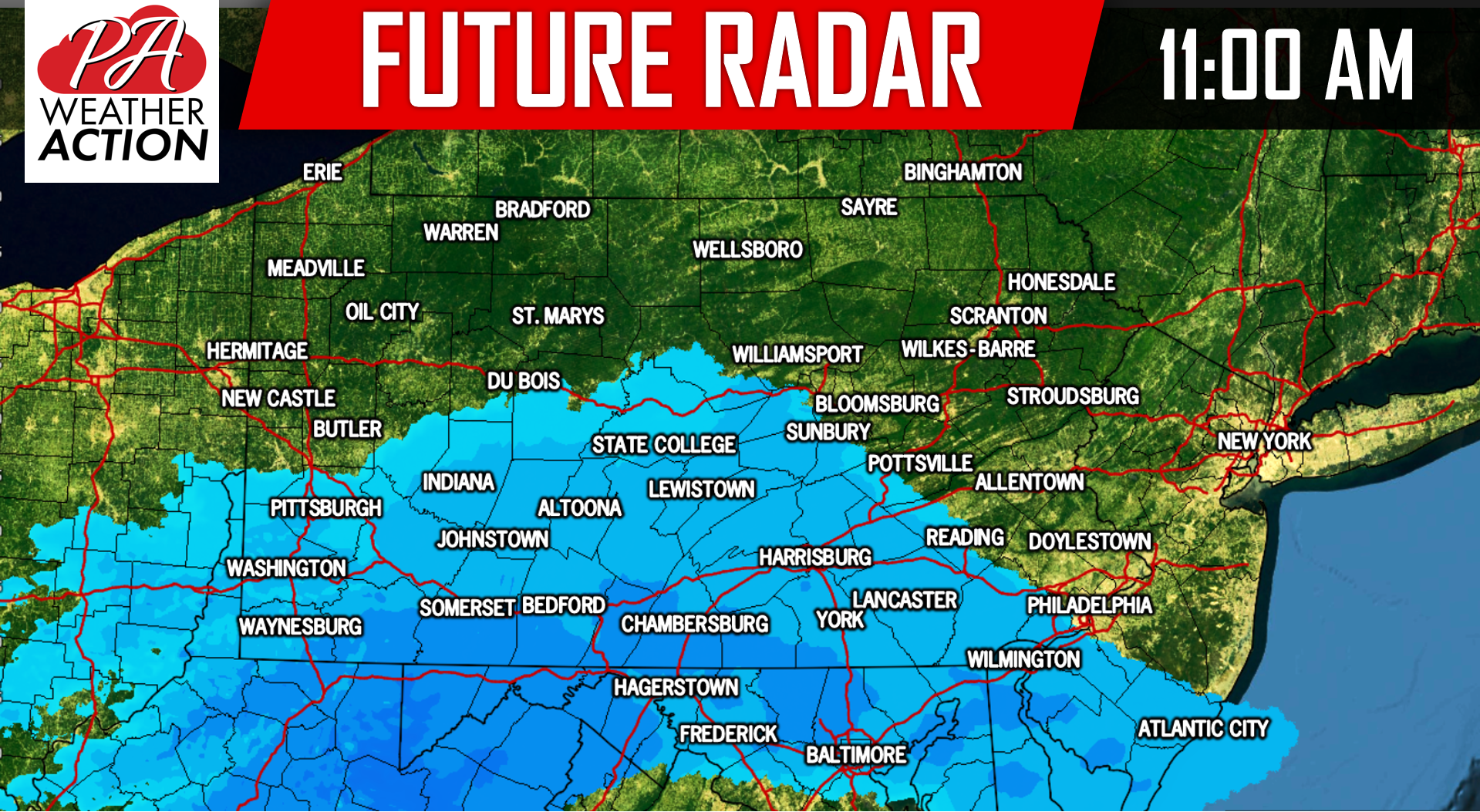 By the early afternoon hours, the snow will begin taper off for just about everywhere in the state. Below is a look at 2:00 PM Friday Afternoon: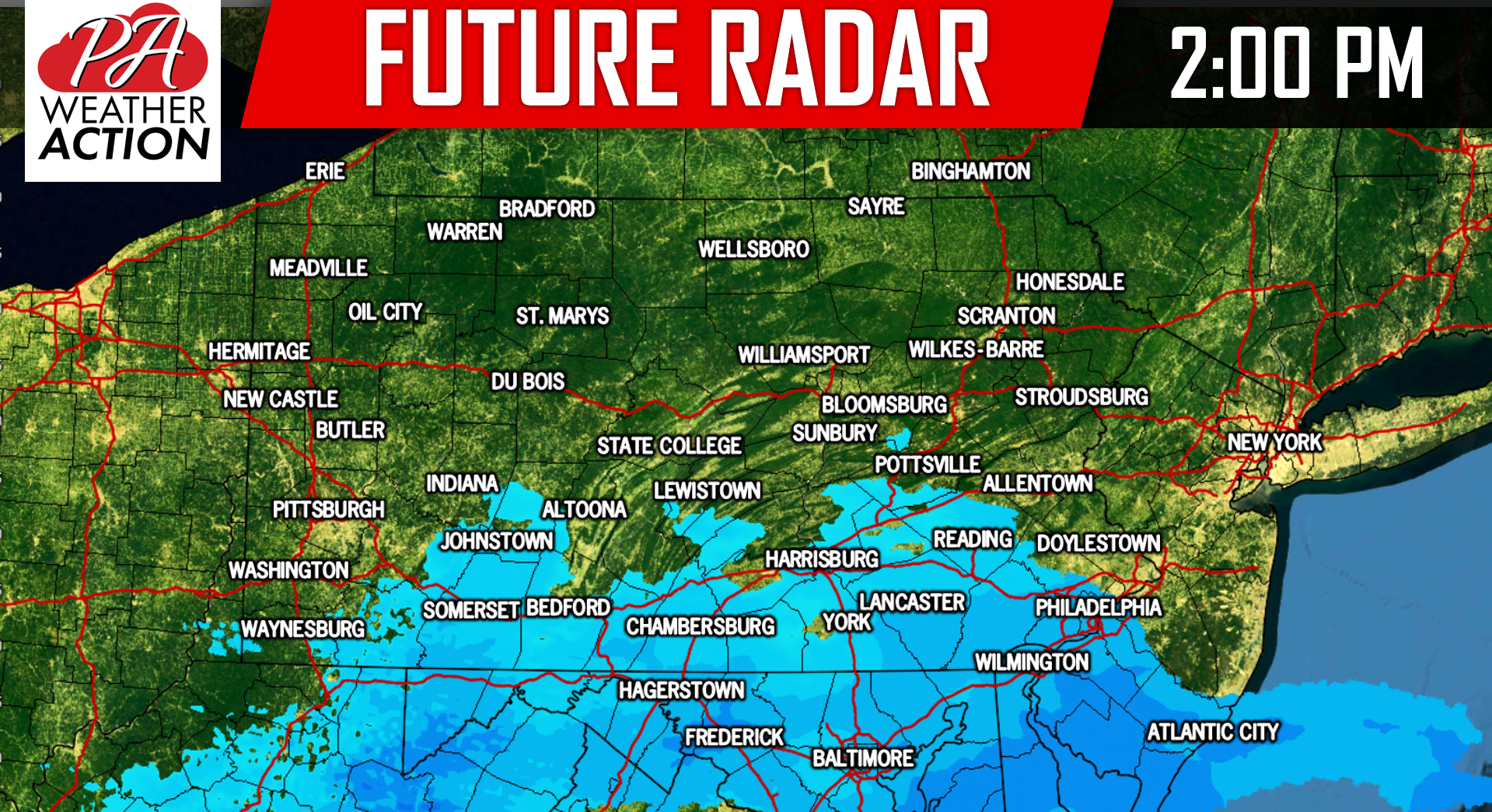 Travel impacts will be the worst across Southwest Pennsylvania and the Laurel Highlands during the morning hours. South-Central PA will see their worst travel during the mid to late morning hours. The evening rush hour should be fine for all areas.
---
FINAL CALL SNOWFALL FORECAST FOR FRIDAY: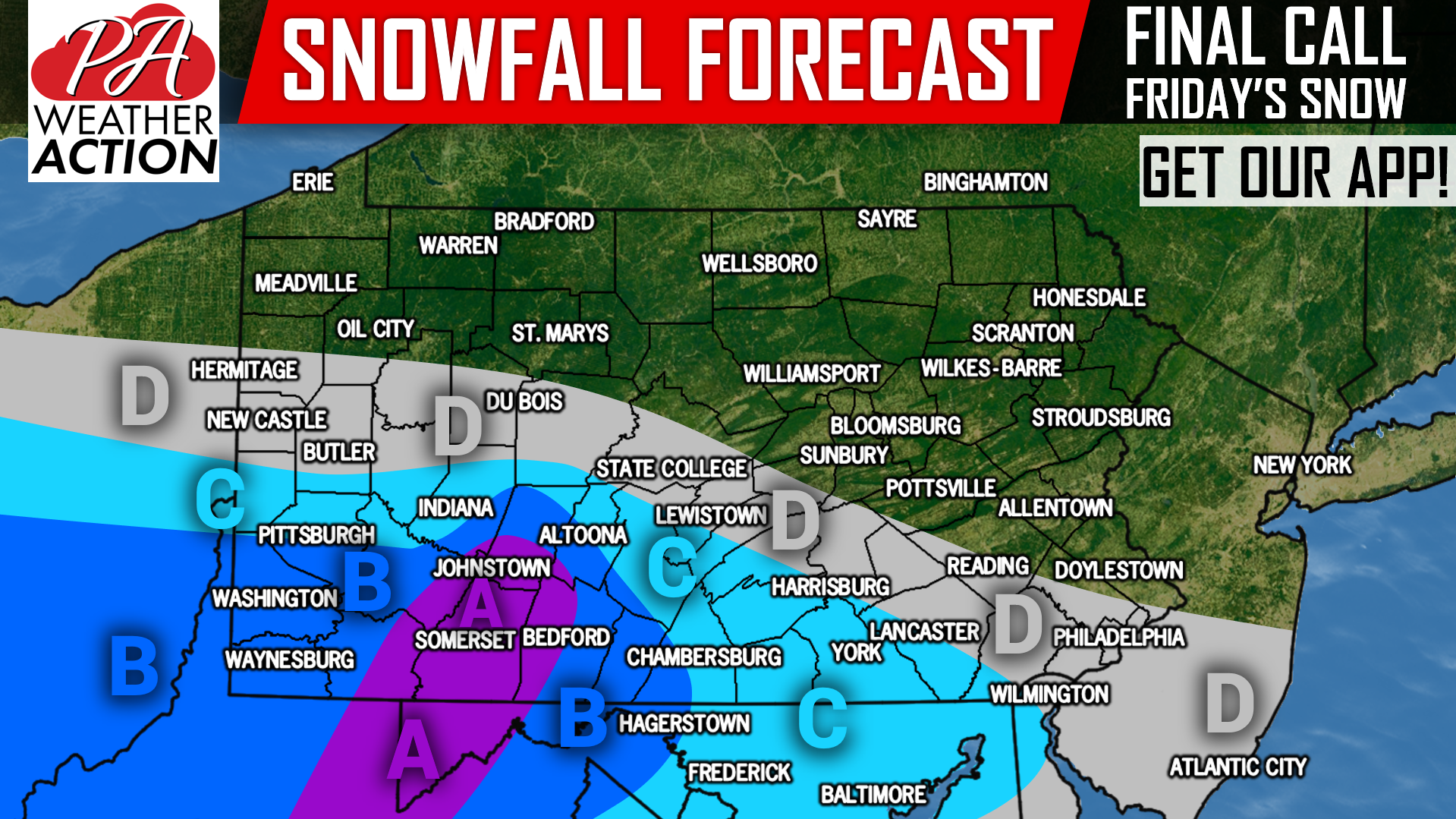 Area A: Snowfall accumulations of 3 – 6″ expected. Snow covered roads expected Friday, causing hazardous travel.
Area B: Snowfall accumulations of 2 – 3″ expected. Slippery roads expected Friday, causing hazardous travel mainly on untreated surfaces such as secondary roads.
Area C: Snowfall accumulations of 1 – 2″ expected. Use caution on slick roadways.
Area D: Snowfall accumulations of <1″ expected.
Be sure to download our free app for your area's forecast, alerts, and radar >>> PA Weather App Link
Share this final call snowfall forecast with your friends and family using the button below, stay warm!