After a winter that set records for the least snowfall since the mid 1800s in much of Pennsylvania, high elevation snow and record-breaking low temperatures will conclude the season. Freeze Warnings and Watches have been posted for most of the state, with the exception of the Philadelphia Area, as temperatures will drop into the mid 20s to low 30s Saturday and Sunday morning. Crops and other unprotected sensitive vegetation could be damaged or killed. Here's a look at low temperatures Saturday morning.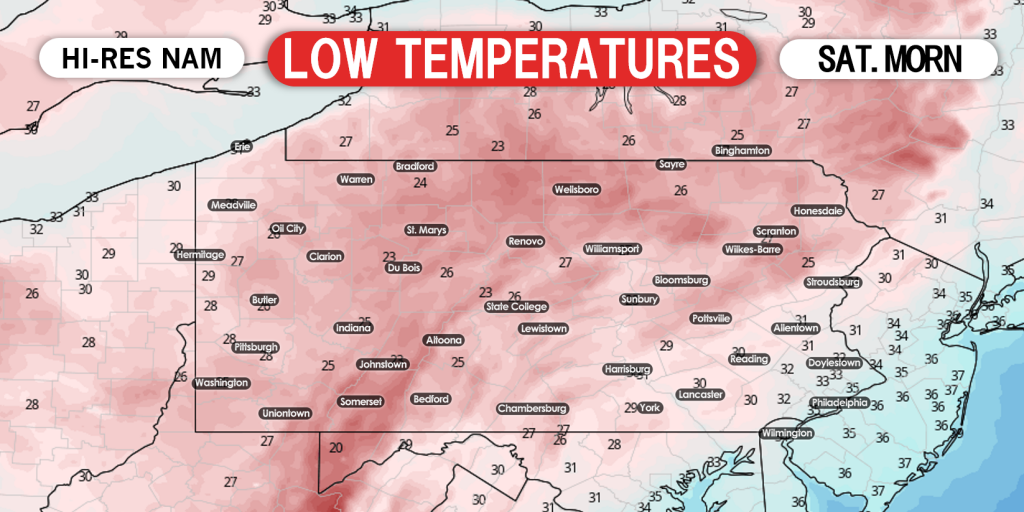 Friday's snow will be very elevation dependent. Regardless of where in the state you are, if you're in a valley below 1000′ elevation, you more than likely will not see any snow accumulation. Temperatures are now projected to be a few degrees warmer Friday afternoon in western and central PA, resulting in a very delayed change to snow. Below is future radar for 3:00 PM Friday. Clearly, a few degrees makes all the difference, when comparing model guidance to yesterday.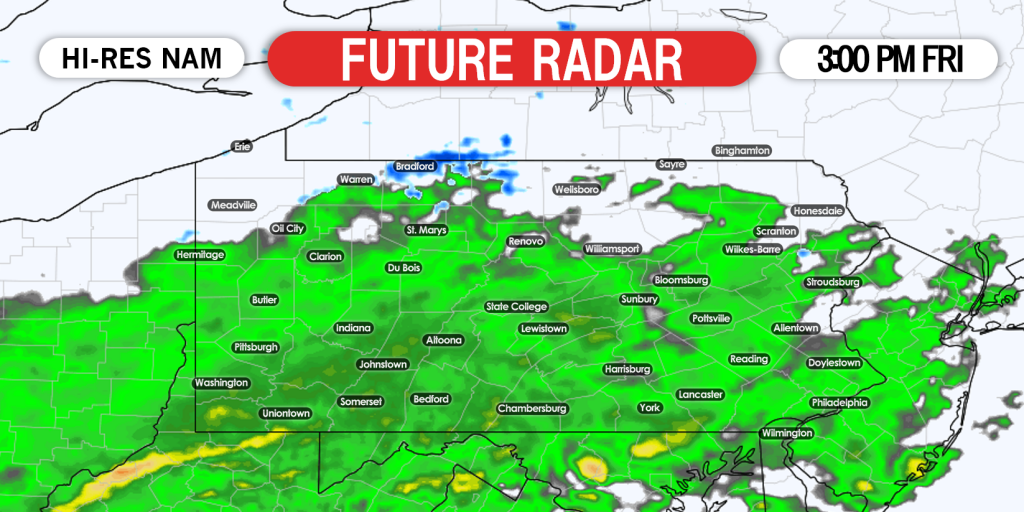 Timing is not ideal for snow accumulation during the day either, as the sun angle this time of year is extremely strong. The changeover to snow will not occur until around dinnertime in the northern PA mountains, and in the Poconos and Laurel Highlands above 1500′ elevation. Snow will struggle to accumulate for the first few hours. Everywhere else will be seeing cold rain. Here is future radar for 7:00 PM Friday.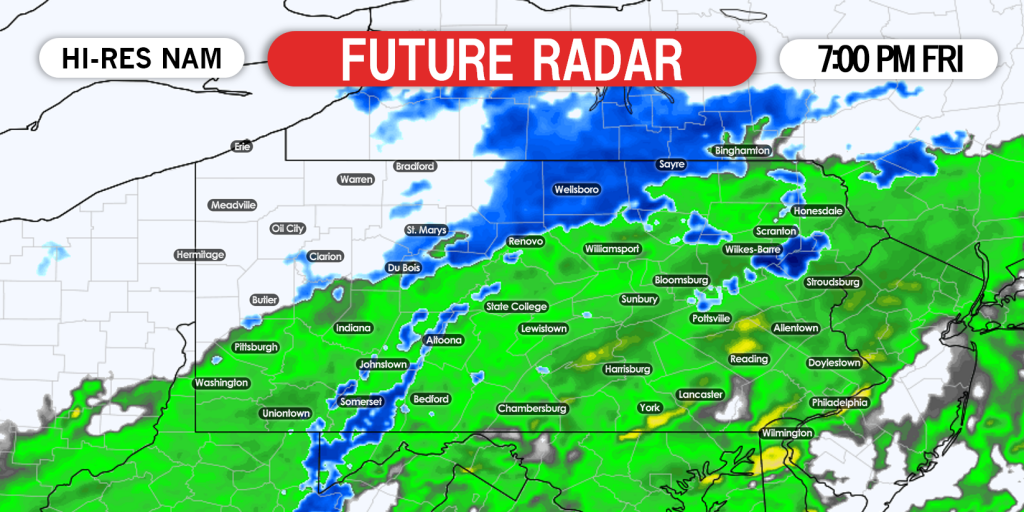 Northeast PA will likely changeover to snow entirely after sunset, however the Wyoming Valley will be last and as a result, won't see much of anything in the way of accumulations. However places like Hazleton, Mount Pocono, and Carbondale will changeover earlier due to higher elevation and may see a couple inches of snow. Below is future radar for 11:00 PM Friday evening.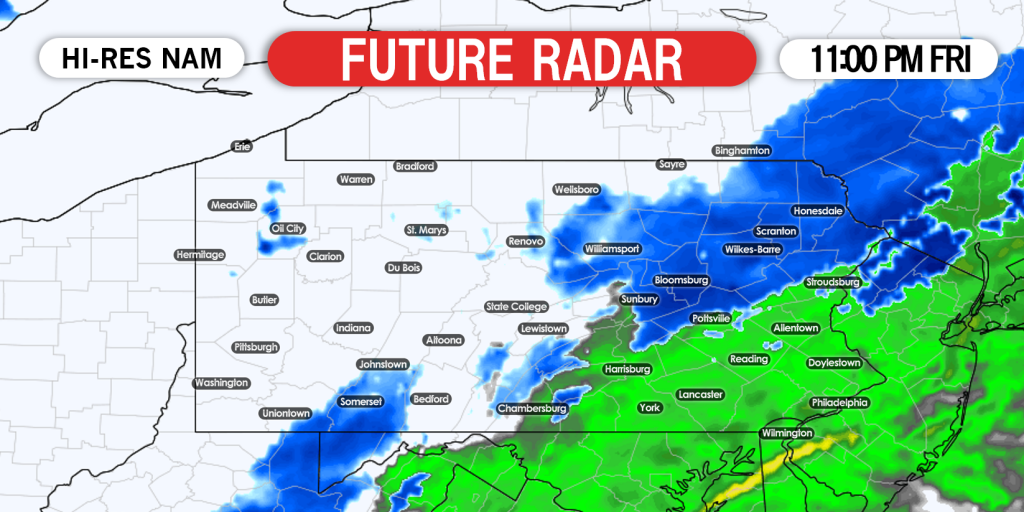 We do not expect any accumulations on roads. The biggest concern with this event is the hard freeze that will follow.
FINAL CALL SNOWFALL FORECAST FOR RARE MAY SNOW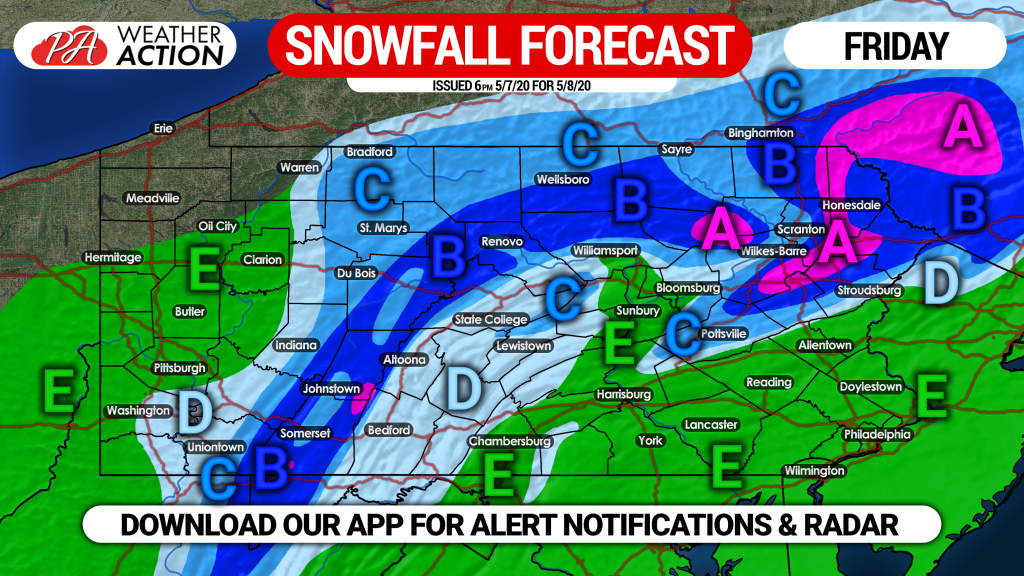 Area A: Rain to snow. Snow accumulations of 2 – 3″ expected. These high elevations will transition to snow the earliest, and will be the coldest, resulting in highest amounts.
Area B: Rain to snow. Snow accumulations of 1 – 2″ expected. Locations near 1000′ elevation will see closer to 1″.
Area C: Rain for most of the event, followed by a quick change to snow to conclude. A coating to 1″ expected.
Area D: Rain, possibly ending with an hour or less of snow. No accumulation anticipated. 
Area E: Rain expected the entire event, the concern is the freeze to follow.
Once again, take precautions to protect crops and vegetation from the freeze. You can track the event and get real-time NWS weather alert notifications with our app. Get it on Apple & Android here >>> Weather Action App
Be sure to share this forecast with family or friends who may have a garden! Stay safe everyone.