Latest model data has trended somewhat colder with this system in some areas. Everyone will start as snow, however areas in Southwest and Southeast PA will warm faster than Central PA due to cold air damming.
This typically occurs when a storm cuts to our west just after a shot of cold air. Deep valleys trap cold air, which often takes a while to erode. Although upper levels will warm, rain will freeze on contact in these areas creating an ice risk.
Here is the Hi-Res NAM for 11 AM Sunday: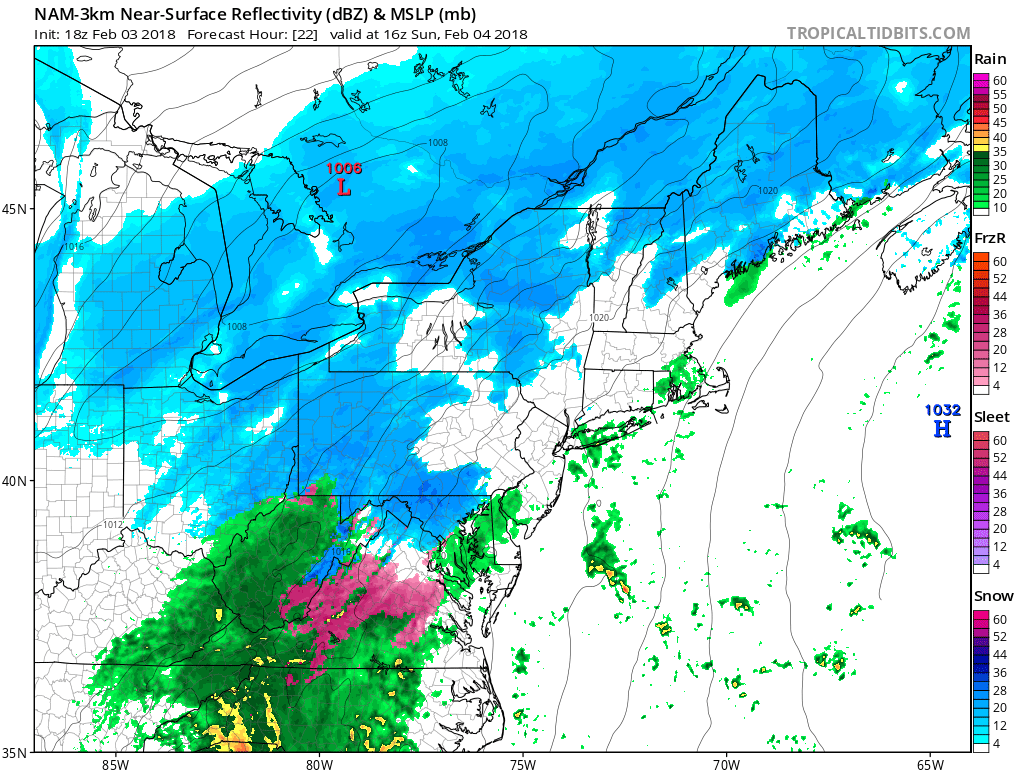 Snow will be falling in much of Western and Southcentral PA at this point. For locations in Pittsburgh and south as well as Philadelphia, snow will turn to rain by noon-1 PM. Snow will change to freezing rain from south to north between 1 PM and 3 PM. Here is the Hi-Res NAM for 2 PM.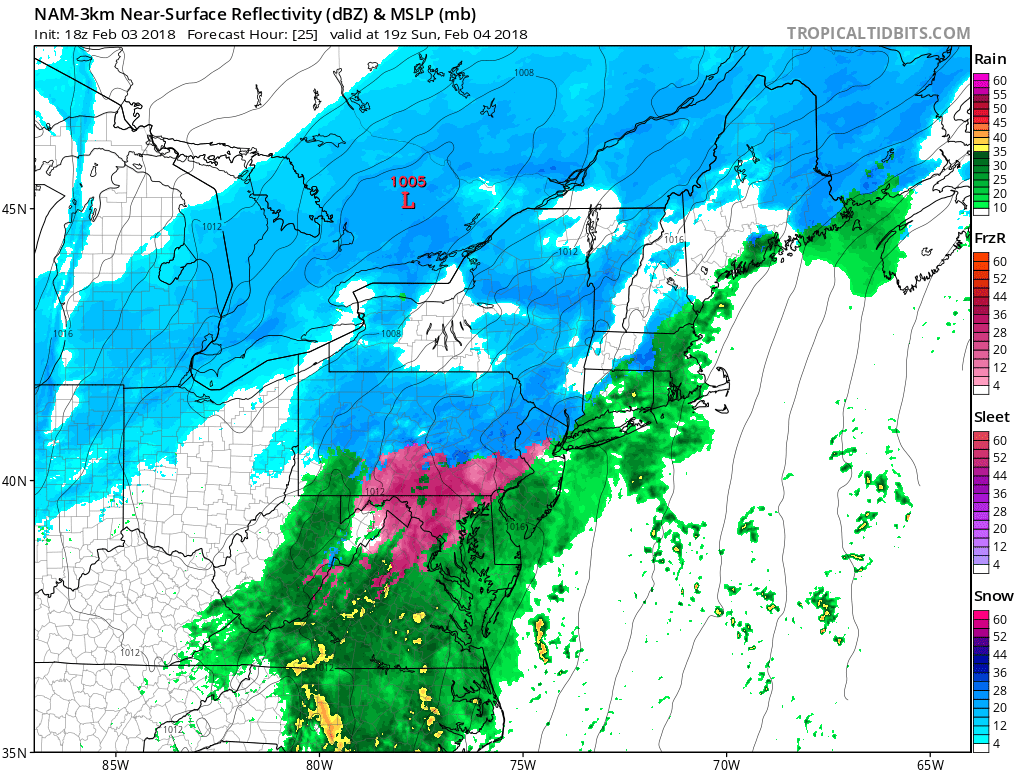 Snow will hang on for the majority of this storm in Northern PA. However accumulations will not be significant due to the fact this event will last 6-10 hours. Below is our complicated final call map.
FINAL CALL MAP FOE SUNDAY'S STORM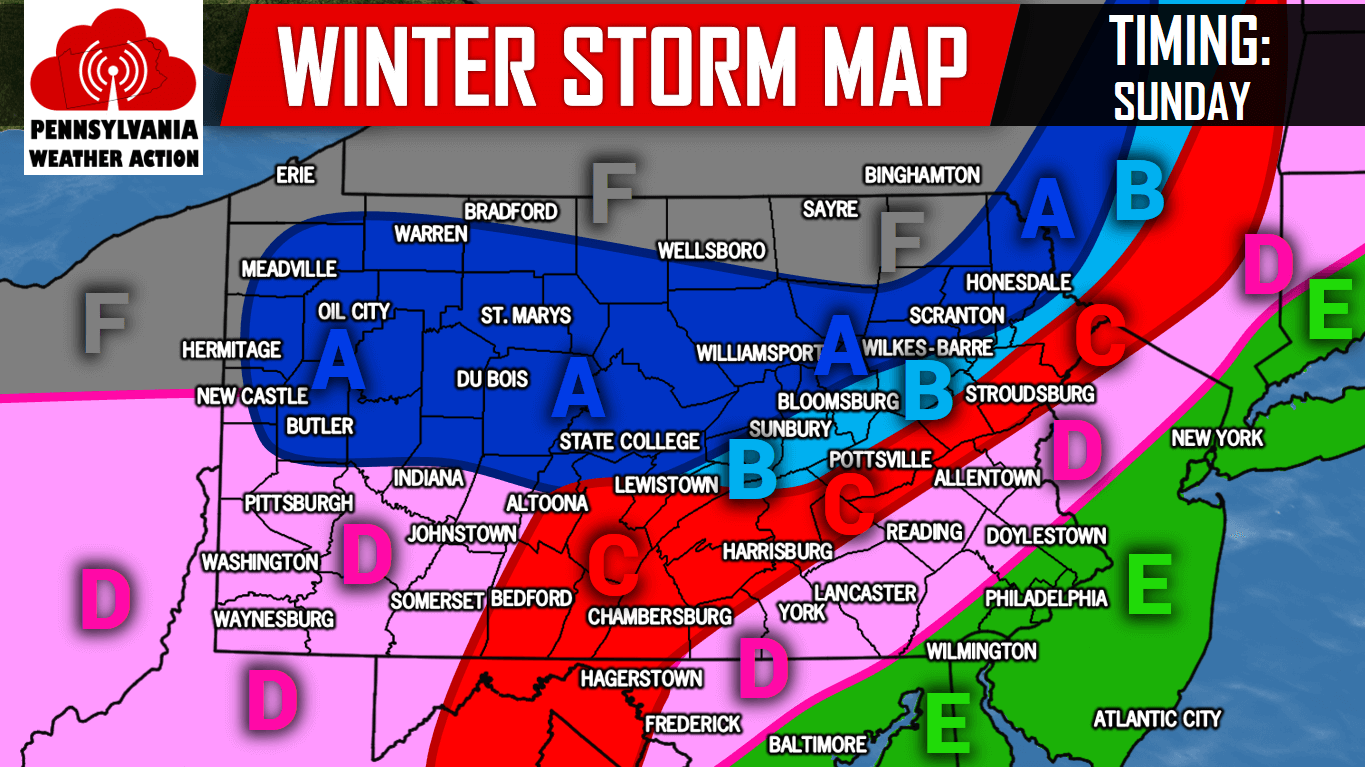 Area A: This area will see mainly snow. Accumulations of 3-5″ are expected. Locations on the southern edge of this area could change over to freezing rain, reducing snowfall amounts.
Area B: Snow for a few hours early Sunday Afternoon followed by freezing rain. Snowfall accumulations of 2-4″ are expected, followed by up to a tenth-inch of ice.
Area C: Snow is expected for an hour or two to begin, with several hours of freezing rain Sunday Afternoon. Snowfall accumulations of 1-2″ are expected, with .10-.25″ of ice accumulation in the southern section, around a tenth inch of in the northern section.
Area D: Snow for a couple hours to start before temperatures rise above freezing. Rain is then expected for the remainder of the storm. Some locations in this area near area c may see a period of freezing rain.
Area E: A quick period of snow to start, followed by rain.
Area F: Snow accumulations of 1-3″ expected.
For updates during the storm, like us on Facebook by clicking here>>>Pennsylvania Weather Action's Facebook Page
Do not forget to share the wintry mess that is on the way with your family and friends using our icon below!