Mother Nature is delivering back to back punches over the next couple of days. Ice Storm Warnings, Winter Storm Watches and Advisories have been issued for most Pennsylvania counties. The first punch Mother Nature will bring will be in the form of a wintry mix, mainly in the form of sleet and freezing rain during the day tomorrow. The second punch will be snow, beginning late tomorrow night and lasting through the entire day Monday for some areas.
It is strongly encouraged to avoid traveling across Pennsylvania tomorrow. The freezing rain will lead to treacherous travel across much of the state, with even the potential of power outages.
STORM TIMING
Precipitation will arrive during the mid-morning hours from west to east. Precipitation may start off as brief snow/sleet mix, but will quickly transition to freezing rain across the mountains of the Laurel Highlands and much of central PA. Below is a look at 7:00 AM tomorrow morning.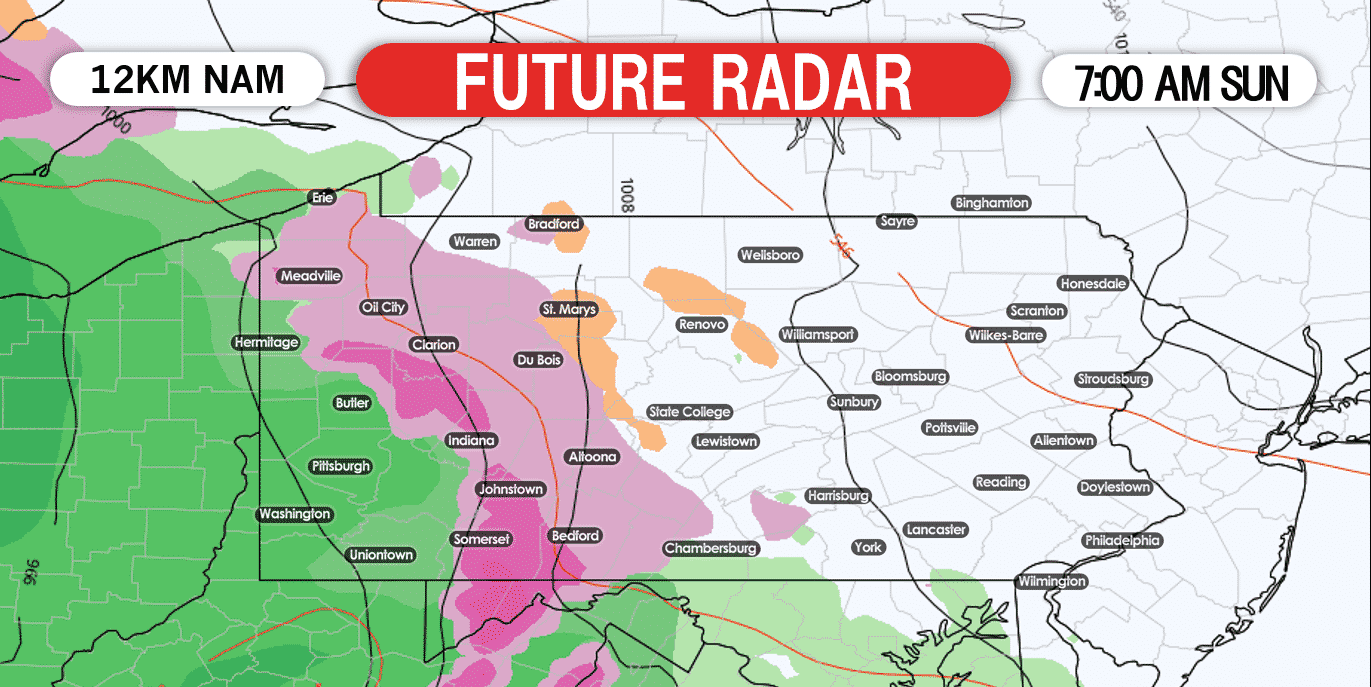 The precipitation will continue to expand into the state as we progress into the later morning hours. This is when we expect travel conditions to be the worst and the potential for power outages will increase. Below is a look at 10:00 AM Sunday Morning: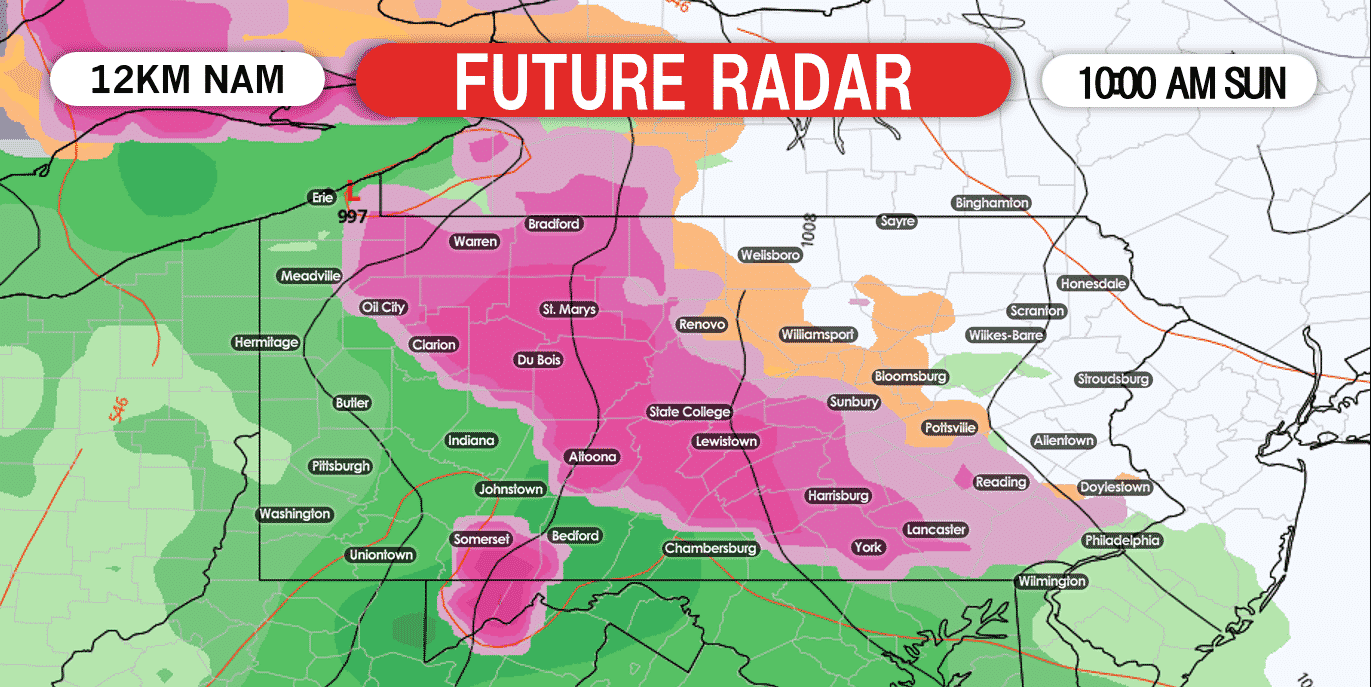 The freezing rain will arrive for eastern PA areas by the early afternoon. For eastern PA, the worst of the freezing rain will occur during the early and mid-afternoon hours. Areas across northeast PA will have the best chance to see accumulating snow Sunday afternoon, but these areas will also change to a mix of sleet and freezing rain later in the afternoon. Below is a look at 1:00 PM Sunday afternoon: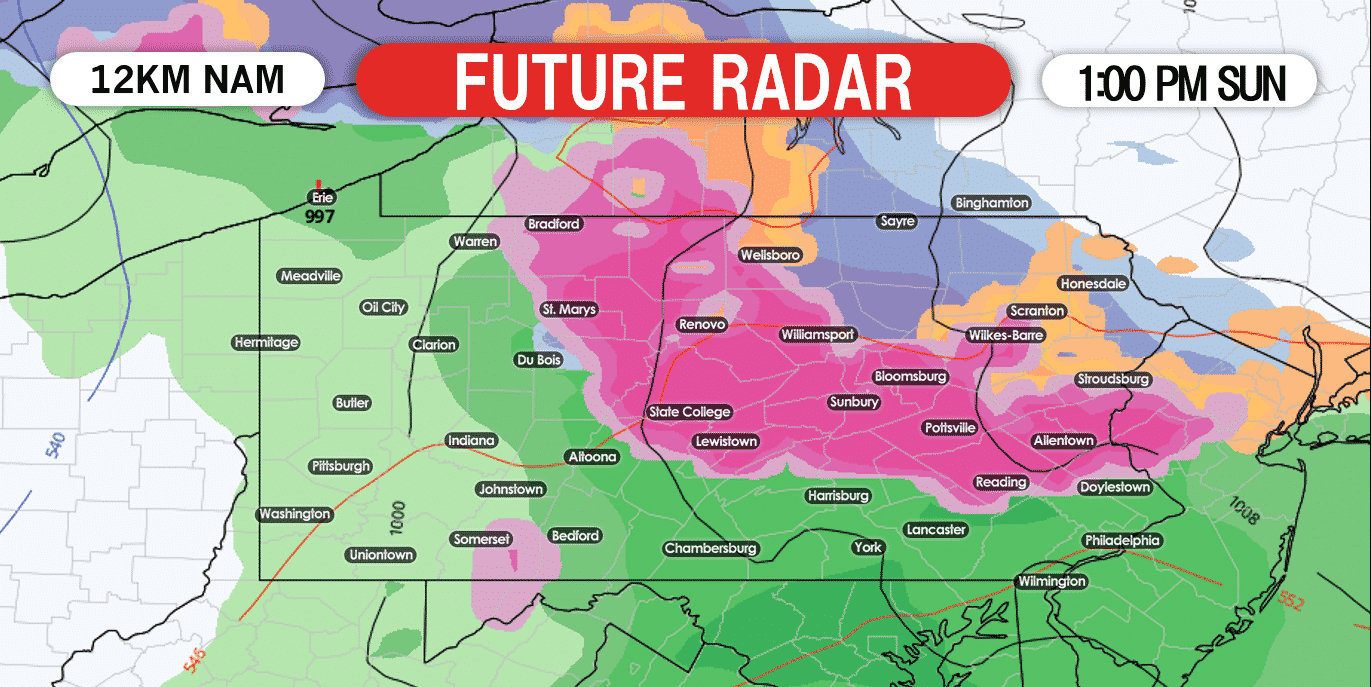 Many areas will see a change to plain rain at some point tomorrow, especially south of I-80. There will likely be a lull period before Mother Nature delivers her second punch. A coastal storm will begin to form tomorrow evening. As this storm strengthens, it will throw precipitation back into Pennsylvania, this time, mainly in the form of snow.
Precipitation will begin change to snow across eastern PA by sunrise Monday. The snow will fall at varying rates across eastern and northern PA Monday. Elsewhere, we expect any snow that does fall, to be on the lighter side. Below is a look at 10:00 AM Monday: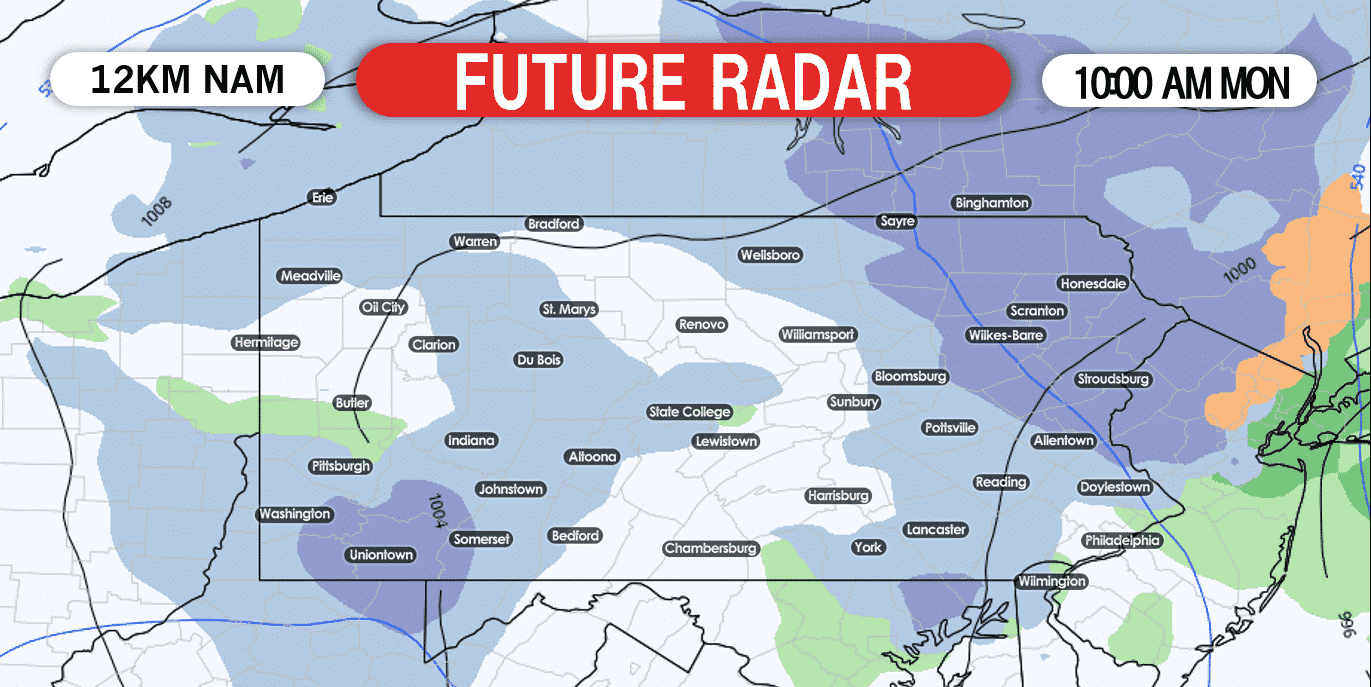 As we move into early Monday afternoon, the bands of snow will begin to rotate across much of northern PA and all of eastern PA. Below is a look at 1:00 PM Monday afternoon.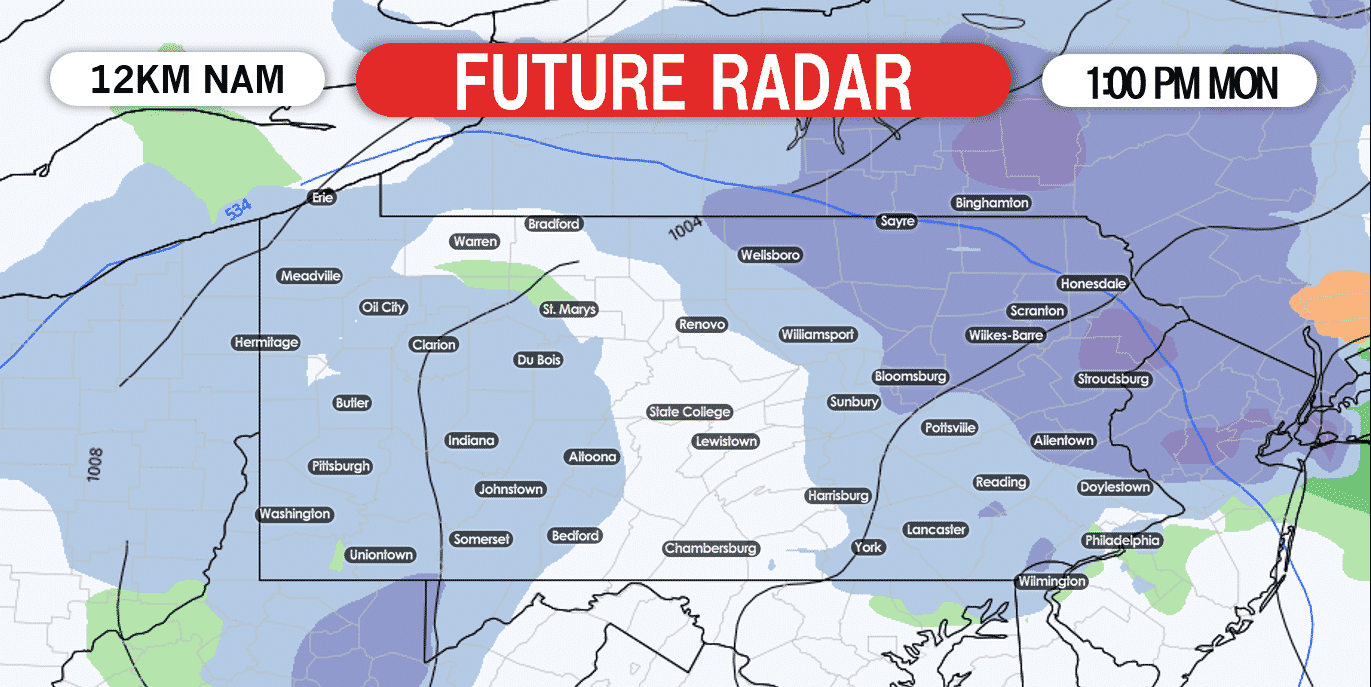 This will be a long duration storm. Snow will continue to fall throughout the day Monday and into the nighttime hours for eastern PA, especially for far northeast PA. Below is a look at 10:00 PM Monday night.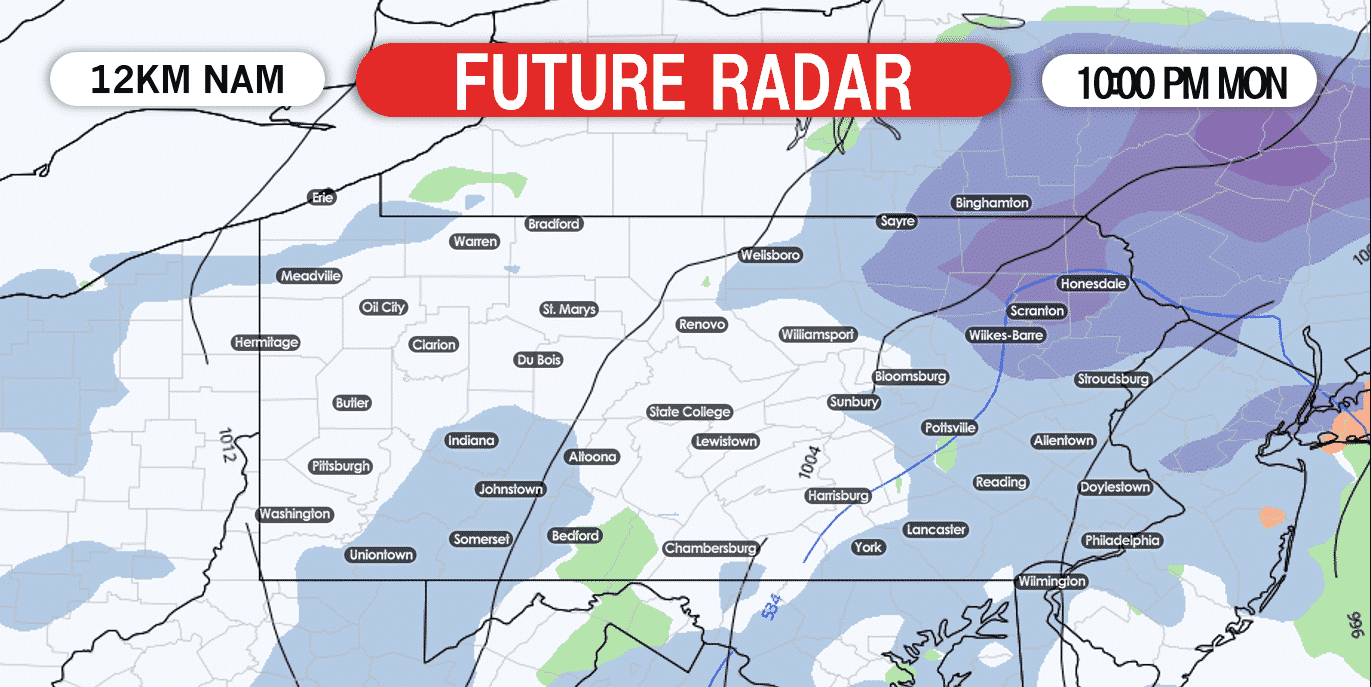 Snow showers will continue to fly into the early parts of Tuesday morning and will taper off by the time most of us wake up Tuesday morning.
---
FINAL CALL ICE FORECAST FOR SUNDAY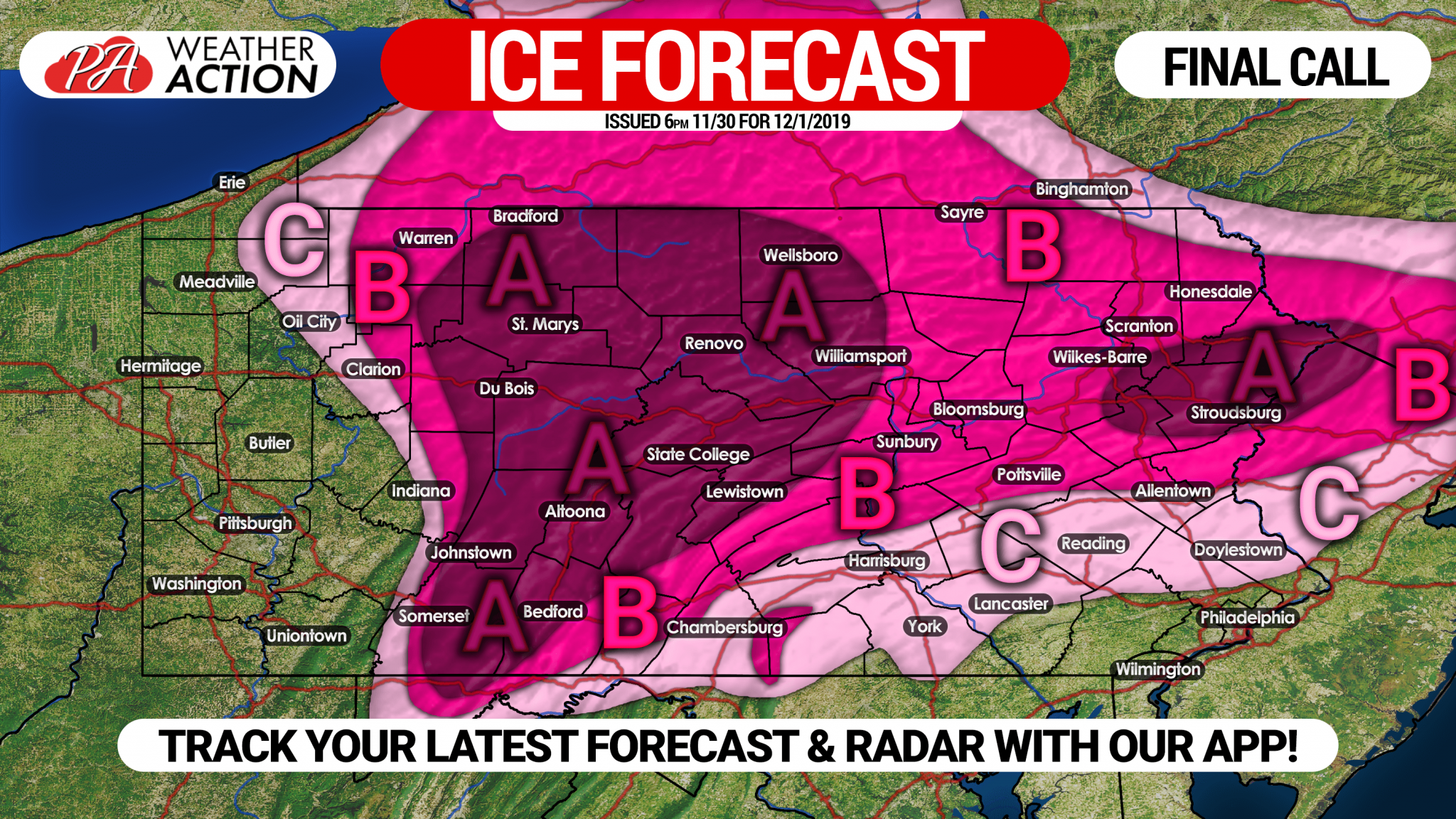 Area A: Ice accrual of .25 – .50″ expected. Travel is highly discouraged Sunday due to ice-glazed roads. Scattered power outages likely.
Area B: Ice accrual of .10 – .25″ expected. Icy roads likely until the evening. Isolated power outages likely.
Area C: Ice accrual of .01 – .10″ expected. Worst road conditions expected Sunday morning.
---
SECOND CALL SNOWFALL FORECAST FOR SUNDAY NIGHT – MONDAY
Area A: Snow accumulation of 10 – 14″ expected. Snow-packed roads likely Monday, causing closings.
Area B: Snow accumulation of 6 – 10″ anticipated. Snow-packed roads likely Monday, causing delays/closings.
Area C: Snow accumulation of 4 – 6″ expected. Slushy roads likely much of Monday, likely causing some delays/closings.
Area D: Snow accumulation of 2 – 4″ anticipated. Untreated roads will become slushy.
Area E: Snow accumulation of 1 – 2″ expected.
Area F: Snow accumulation of <1″ expected on grassy surfaces.
---
Don't forget to share this forecast update with your friends and family in the area! You can track updates to this forecast, as well as your local hourly & daily forecast, radar, and more with our free app >>> Weather Action App
---
---