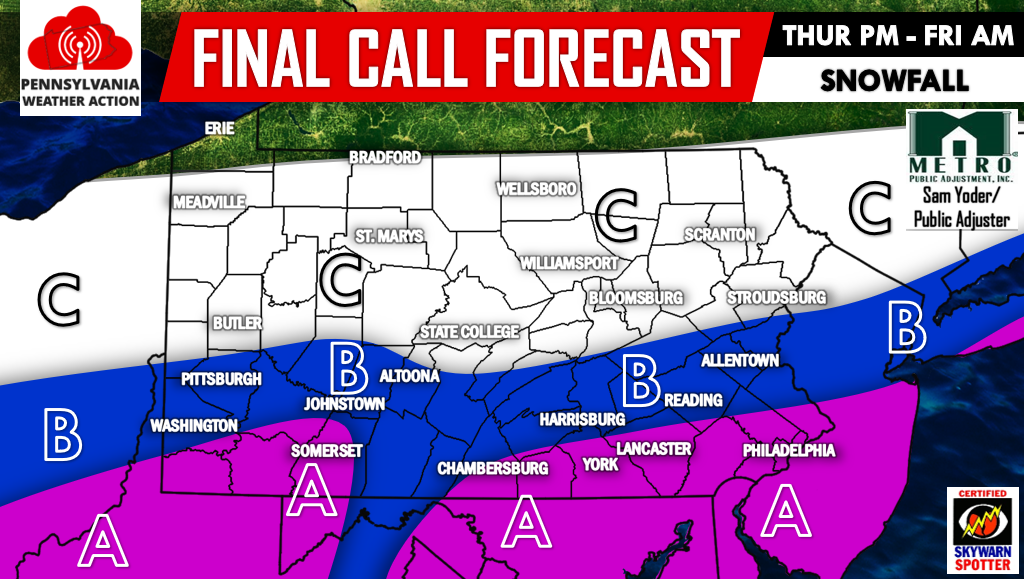 Light snow has officially begun in parts of Western PA this afternoon, and will continue to overspread the state as we progress into the evening hours.
Although the snow amounts anticipated will be on the rather light side, timing will be critical. Because it is very cold, the snow that does fall will stick to all surfaces and will quickly add up. Our biggest concern right now is for Southeastern PA where it looks like the snow may linger into the morning rush hour Friday Morning.
FINAL CALL FORECAST TONIGHT INTO TOMORROW MORNING
Our only big change from our first call is that we have upgraded snow totals for areas in Southern PA, due to current radar trends suggesting some heavier snowfall overnight.
Timing: The snow has already started in parts of Western PA and will expand into Central PA between 6 and 8 PM, and after 8 PM for Eastern PA. The snow will taper off for Western PA around Midnight, between 1 and 3 AM for Central PA, and between 3 and 5 AM for Eastern PA.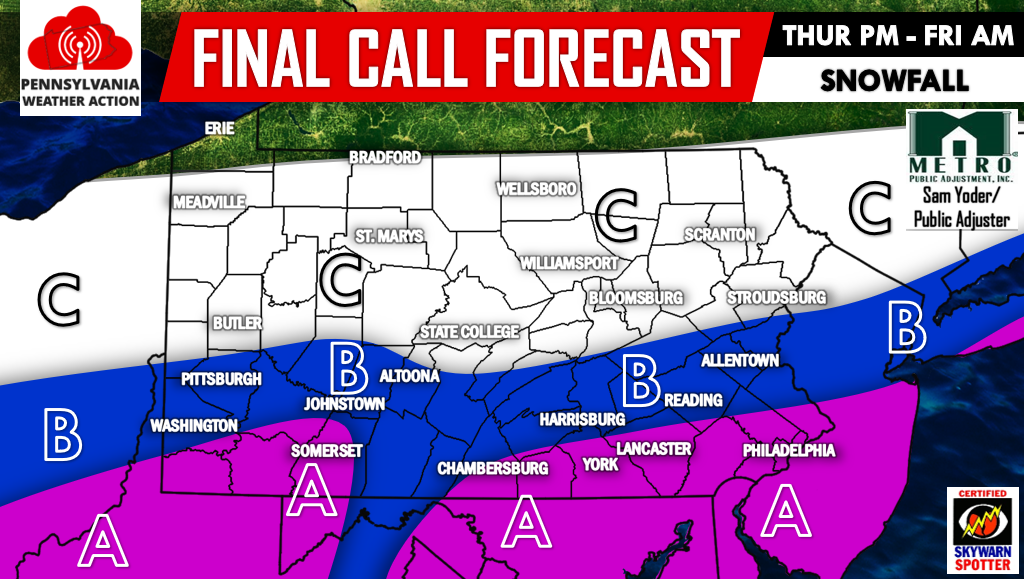 Area A – Snow accumulation of 2-3″+.
Area B – Snow accumulation of 1-2″.
Area C – Snow accumulation of less than 1″.
For our latest updates make sure you have our Facebook page liked by clicking here>>>>PA Weather Action on Facebook!
Right on the heels of this system, we are tracking a coastal storm for Saturday. We have not talked about this much all week because everything was pointing to this system remaining well South and East of our area. But, over the last 12-18 hours, guidance has suggested a bit more Northwest track, putting Southeast PA and points South and East in the line of fire for accumulating snowfall on Saturday.
Below is the latest Hi-Res NAM model valid 1 PM Saturday: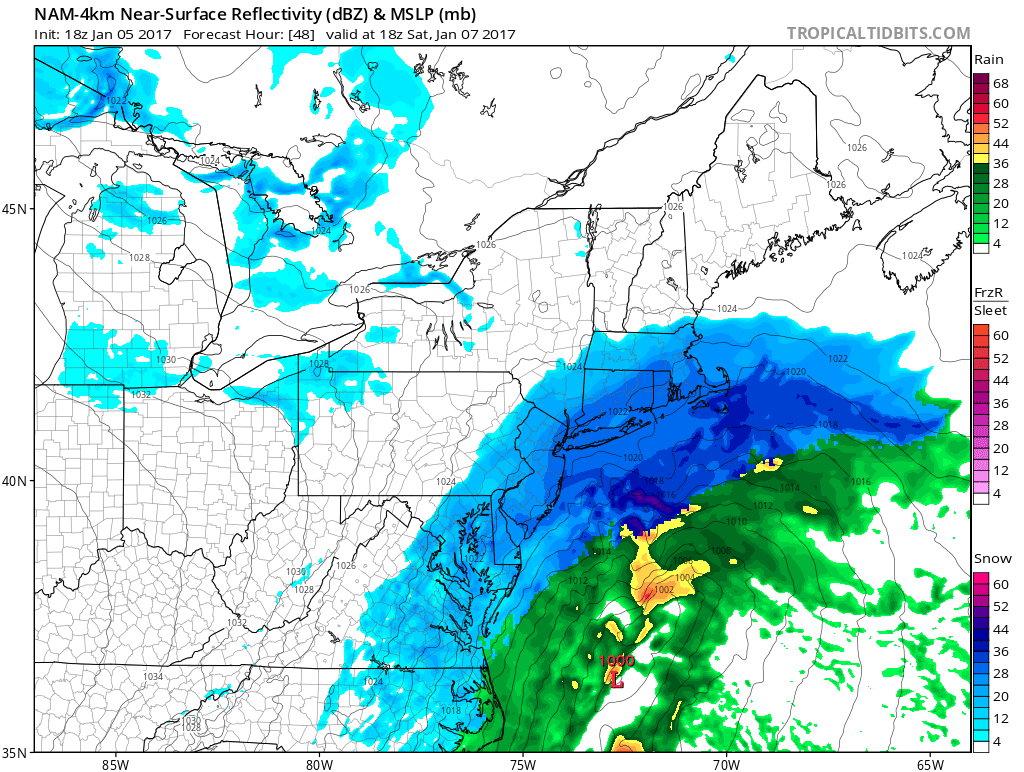 Verbatim, this would be major snowstorm for coastal areas and even a significant snowstorm as far back as Philadelphia.
The trend has been to push the snow further Northwest…if we continue to see this trend over next 24 hours, we will have to bump our ranges farther into PA, but for now this looks like a mainly Southeast PA on South and East storm.
Timing: Snow will begin in the mid-morning hours Saturday and will last through the afternoon hours, before tapering off by the evening. 
FIRST CALL FORECAST FOR SATURDAY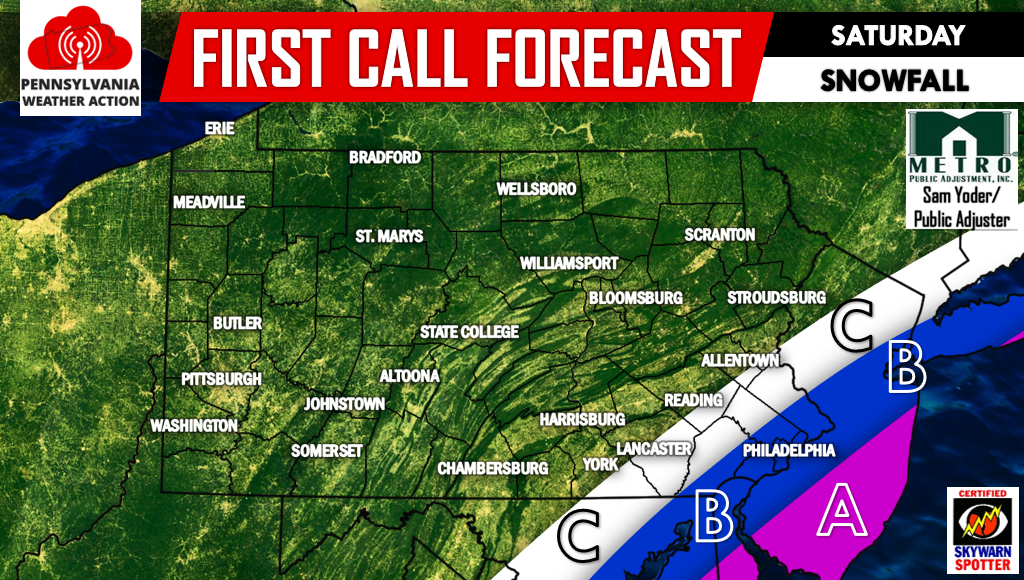 Area A – Snow accumulation of 4-7″.
Area B – Snow accumulation of 2-4″.
Area C – Snow accumulation of 1-2″.
Some changes to this first call forecast may be needed by tomorrow. Remember to share these forecasts with your friends and family below. Stay safe!
---
---
You might also like
---