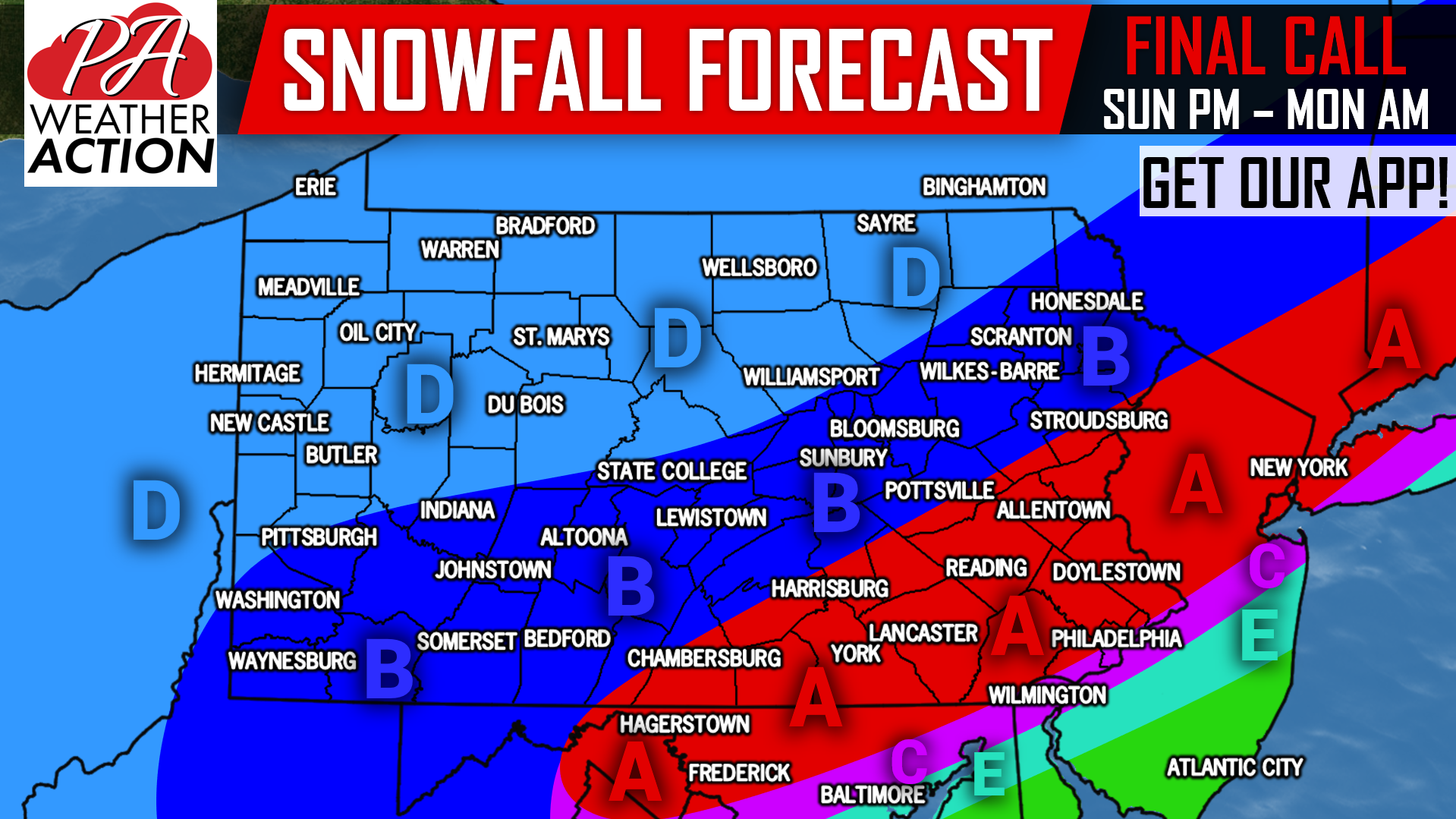 Over the last 24 hours, model guidance has come in colder and more southeast with tomorrow into Monday's snowstorm. While we still expect significant snowfall for a good portion of Pennsylvania, we had to lower our max range a little bit due to the more progressive nature of the storm that is now expected.
Snow will develop over our southern counties by 3:00 PM Sunday Afternoon. Temperatures will be relatively marginal, meaning temps. will likely be in the low to mid 30s by the time the snowfall arrives. As a result, there may be a short period before 5 PM when snow struggles to accumulate on pavement. However once the snow picks up in intensity, dynamic cooling partnered with the setting sun will allow temperatures to drop below 32 degrees. Once this happens, snow will begin to rapidly accumulate. Below is a look at future radar for 3:00 PM Sunday Afternoon: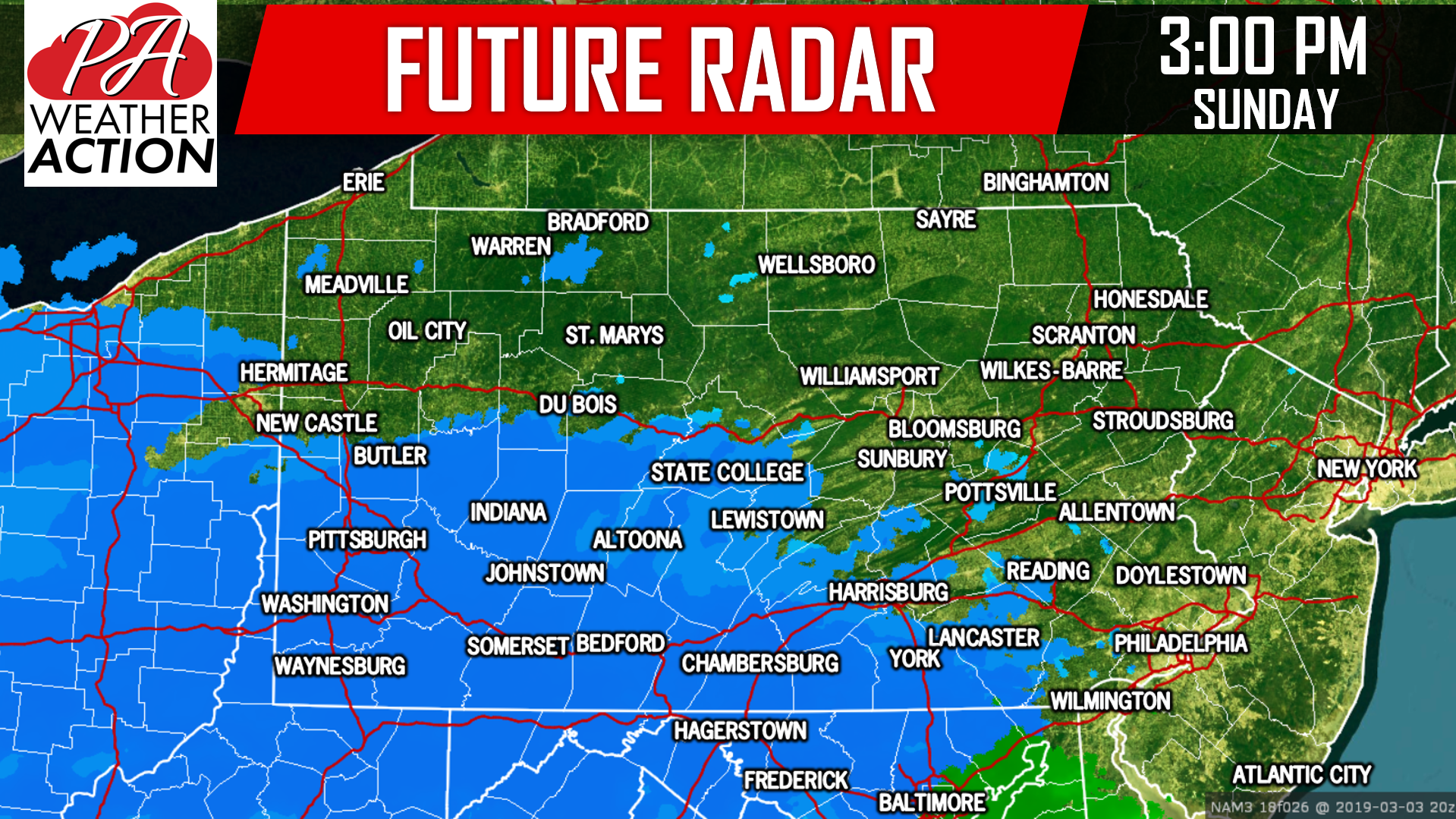 The snow will continue to push northeast over the evening hours and snowfall rates will increase. The bulk of the heavy snow and accumulations will take place Sunday evening. Below is a look at 8:00 PM Sunday Evening: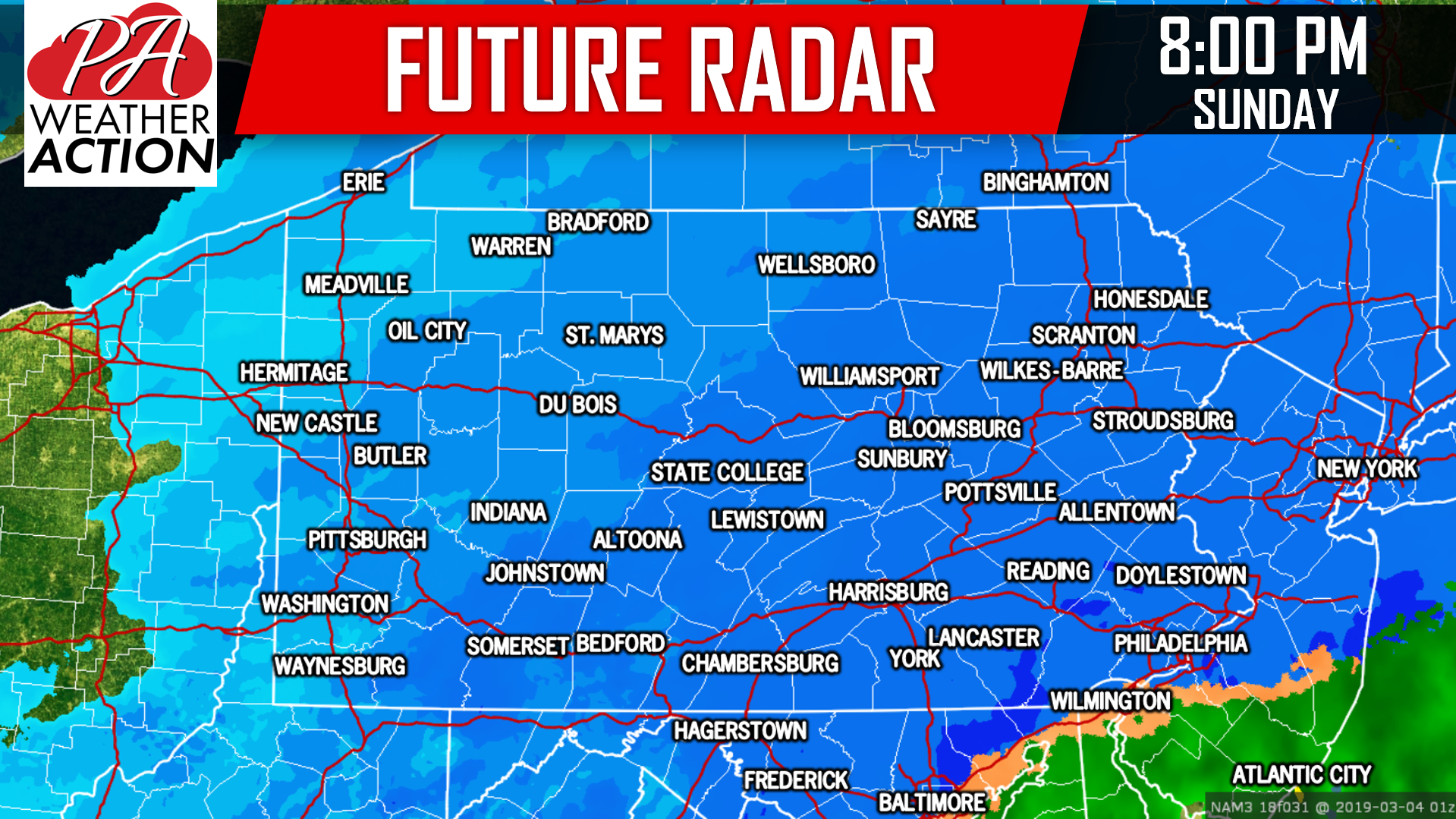 Northern suburbs of Philadelphia will likely be the bullseye this storm. These areas will receive the heaviest rates during the evening hours. The snow will continue to fall moderate to heavy through early Monday morning. Below is a look at 1:00 AM Monday: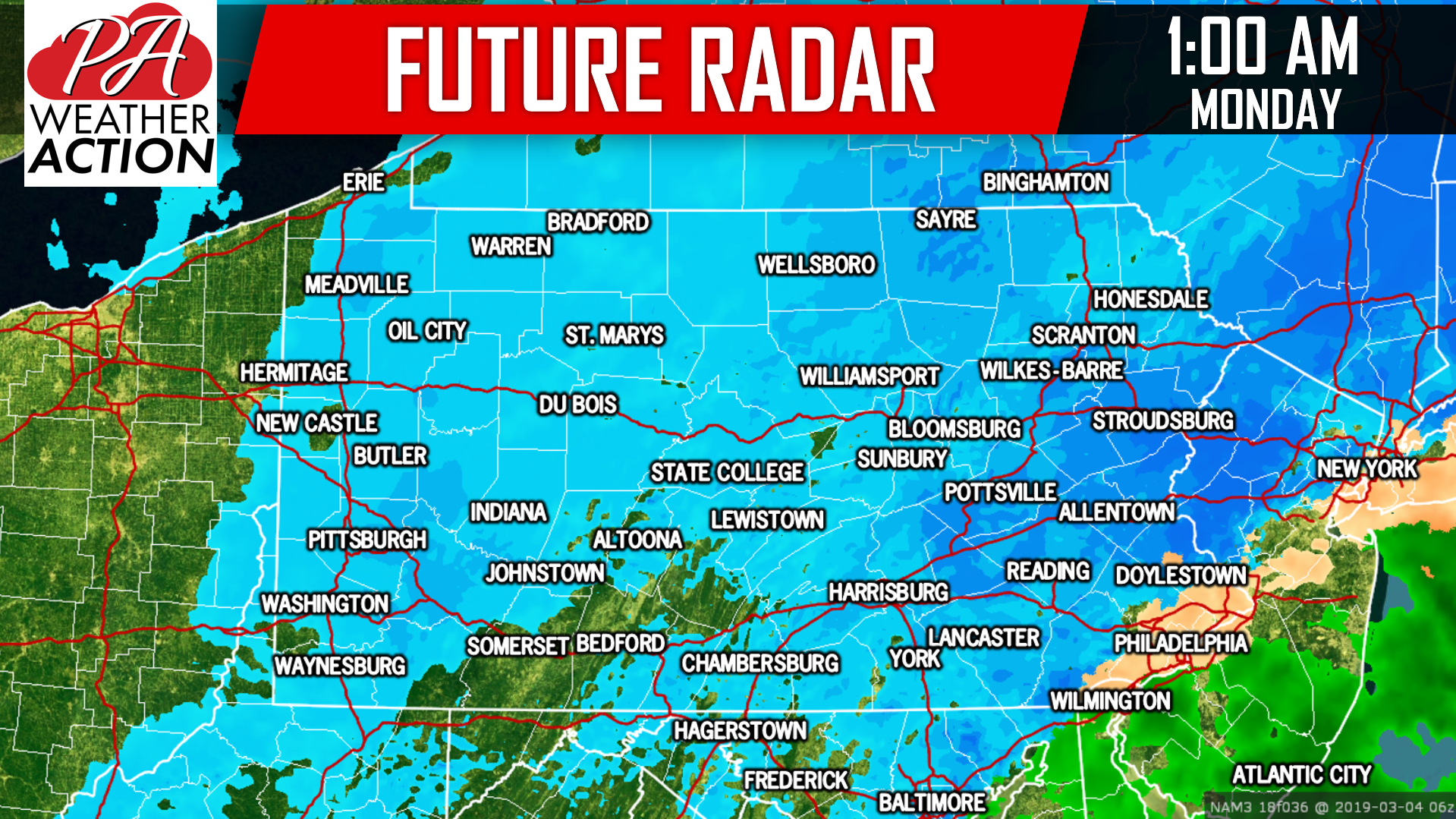 It is still expected that Monday Morning's commute to work will only be impacted by storm cleanup. We expect the snow to shutoff before sunrise Monday morning.
FINAL CALL SNOWFALL FORECAST FOR SUNDAY INTO MONDAY: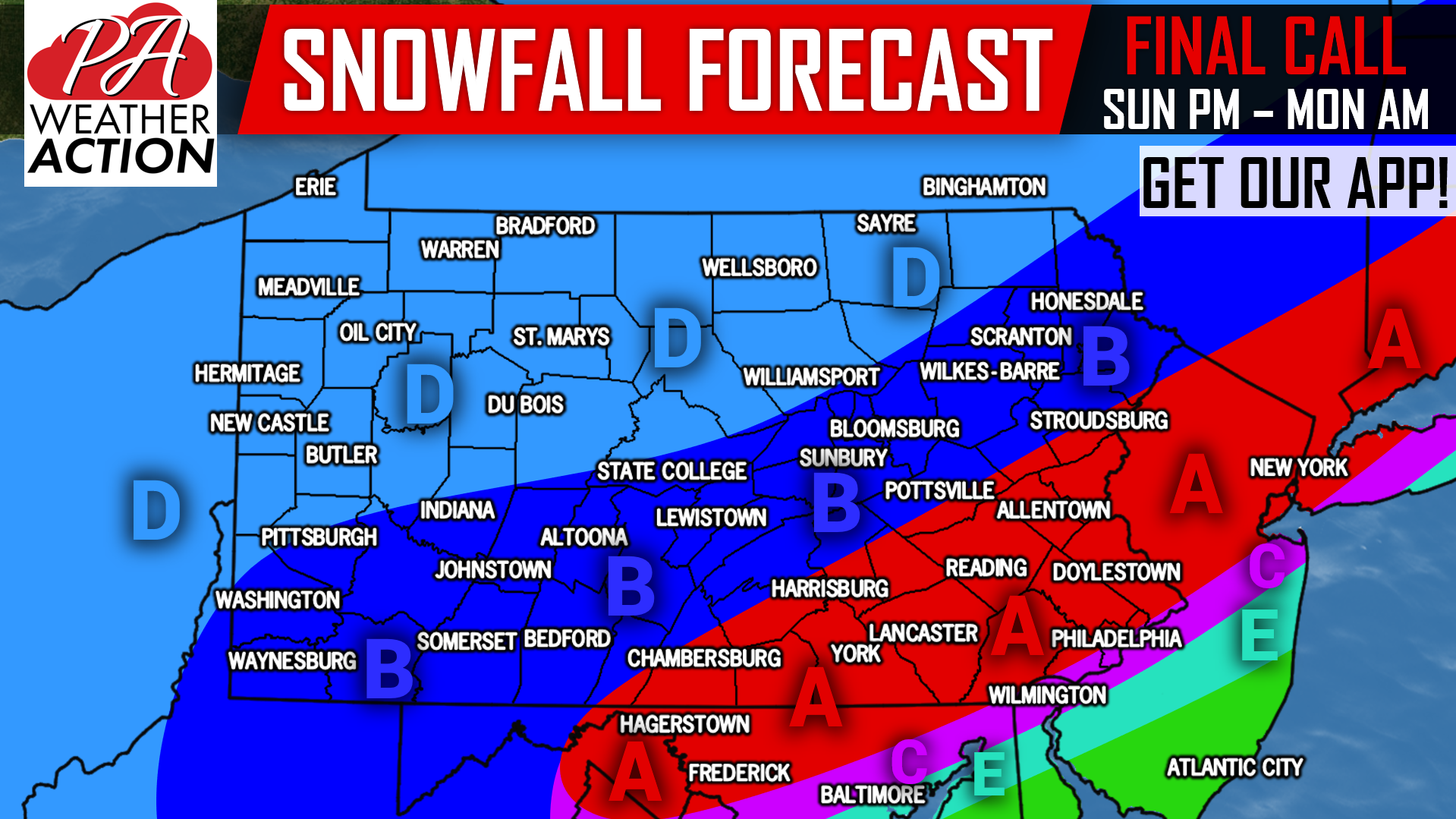 Area A: Snowfall accumulations of 5 – 8″ expected, with isolated totals of 10″ possible above 900′ elevation. All snow is expected in this area.
Area B: Snowfall accumulations of 3 – 5″ anticipated, with isolated areas in higher elevations receiving up to 6″.
Area C: Snowfall accumulations of 3 – 5″ expected. The rain/snow line will likely bounce around in this area, causing a tight gradient in accumulations in Philadelphia.
Area D: Snowfall accumulations of 1 – 3″ anticipated.
Area E: Snowfall accumulations of 1 – 3″ anticipated, with precipitation type alternating between rain and snow.
---
For your latest hourly & daily forecast, alerts and radar, download our free app >>> PA Weather App Link!
Like our Facebook page for the latest information if you don't already, click here: Pennsylvania Weather Action's Facebook Page
Share this important forecast with your friends and family using the button below!
---
---
You might also like
---