Model data have come into agreement in the past day, resulting in a final call very similar to our first call. Rain will change to snow in northwest PA around lunchtime Thursday, and the rain/snow line will work its way southeast from there. North-central PA will change to snow around 3-4 PM. Northeast PA, as well as southwest PA, will change to snow around 5-7 PM.
Highest snowfall accumulations will be above 1300′ elevation, due to colder temperatures allowing for more accumulation. Scattered lake-effect snow will then take over by Thursday evening in western PA, continuing into Friday morning. Heaviest accumulations will be near the lake, but brief heavy snow squall will be possible across the western half of the state Thursday evening into Friday morning.
FUTURE RADAR
By 2 PM Thursday, light to moderate snow will be falling in northwest PA.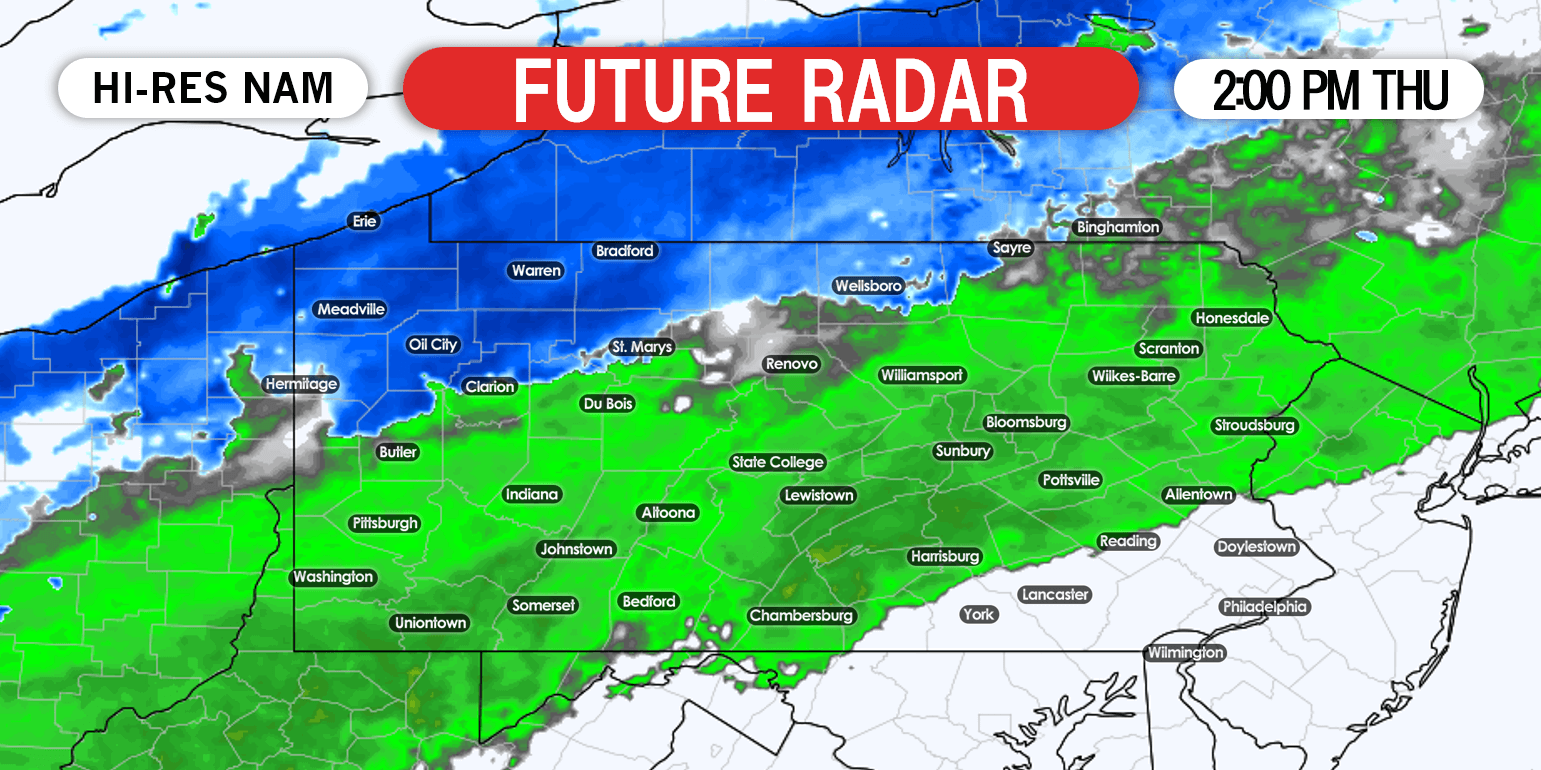 Heading into dinnertime, the rain/snow line will reach Pittsburgh, Williamsport, and Scranton. Below is future radar for 5:00 PM Thursday.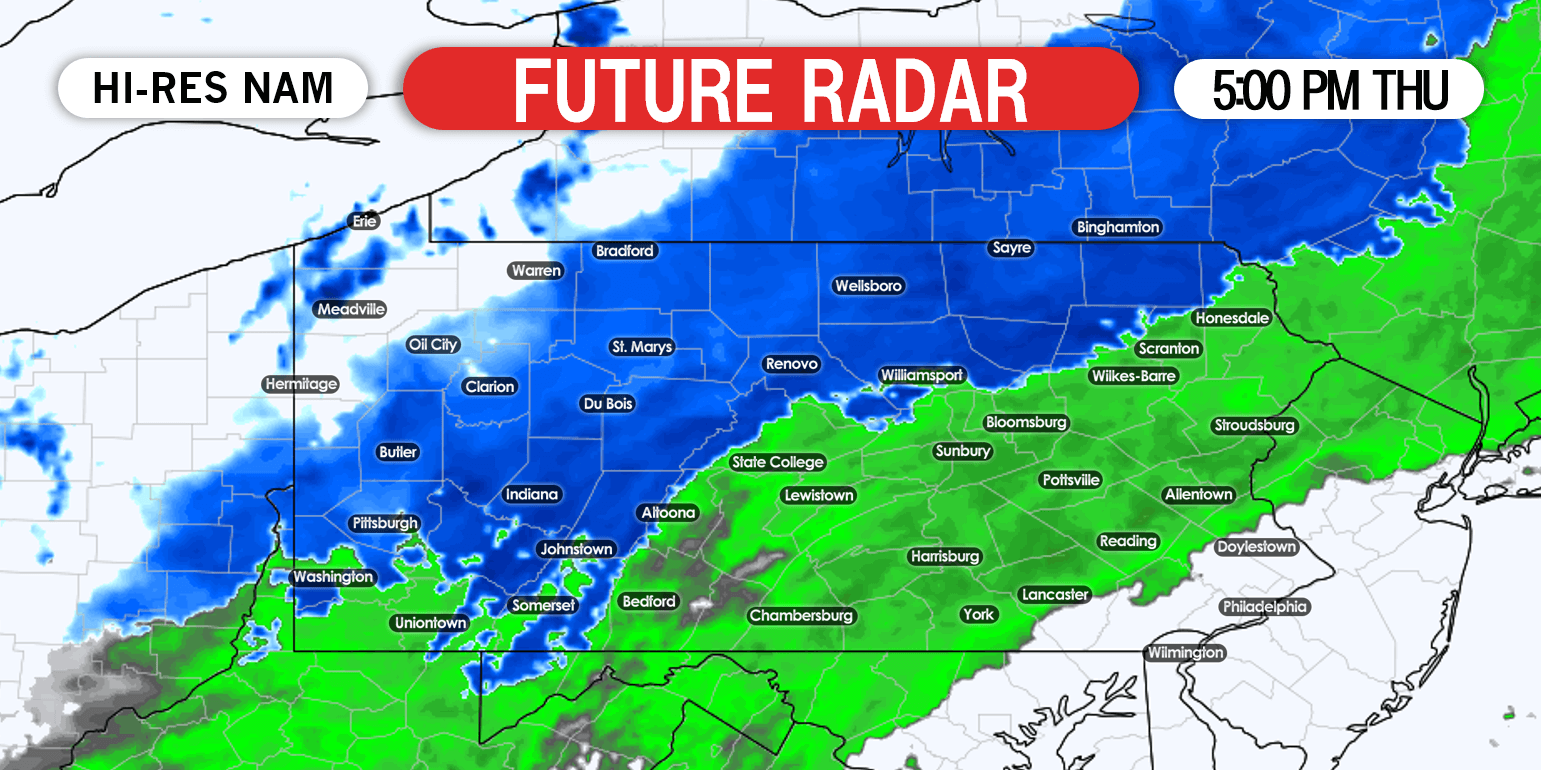 By late Thursday evening, snow will begin to wrap up in northeast PA, and lake effect snow showers will roam western Pennsylvania. Here is 9:00 PM Thursday future radar.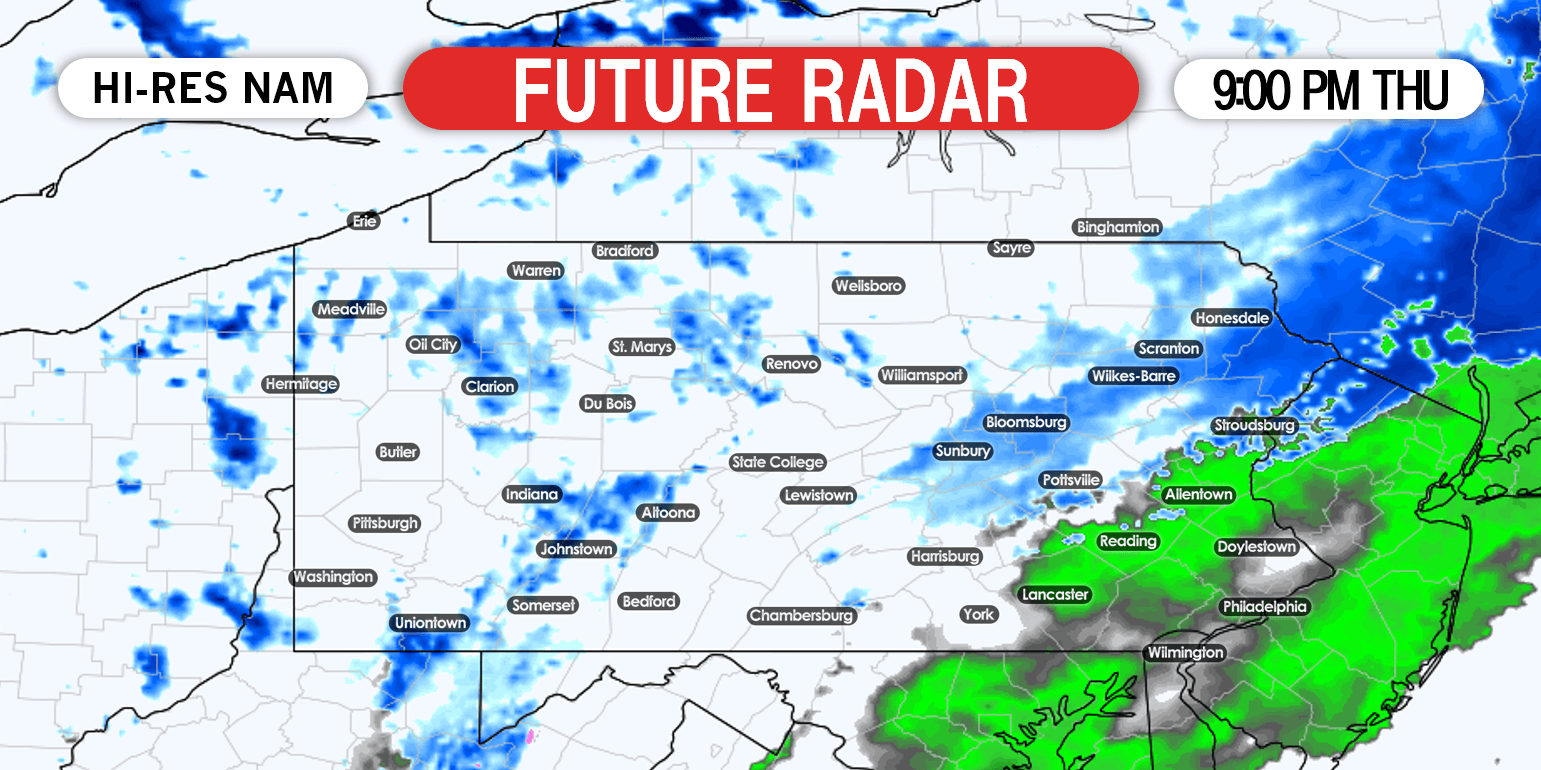 Finally, by early Friday morning, just scattered lake effect snow showers leftover in western PA.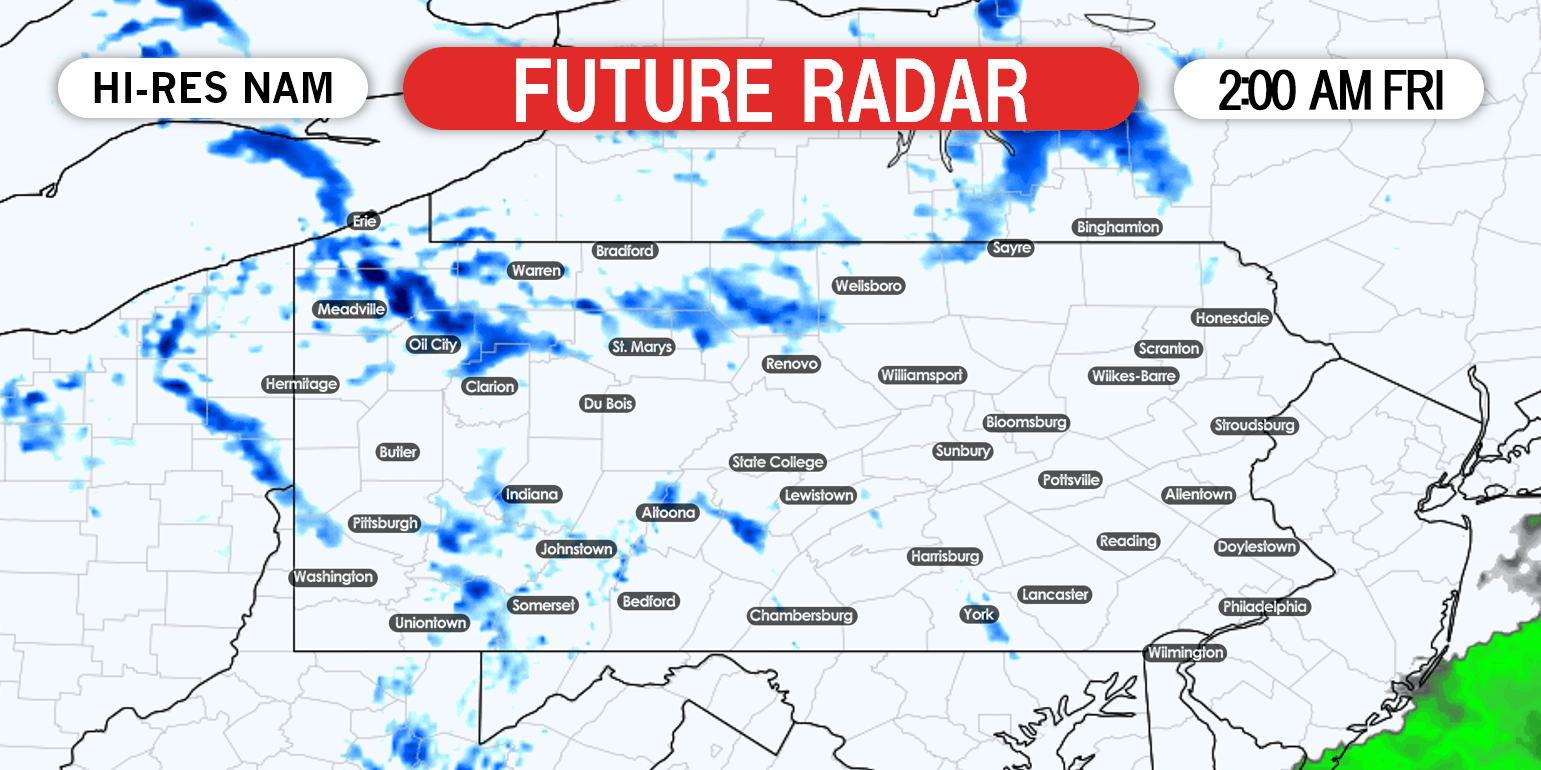 ---
FINAL CALL SNOWFALL FORECAST MAP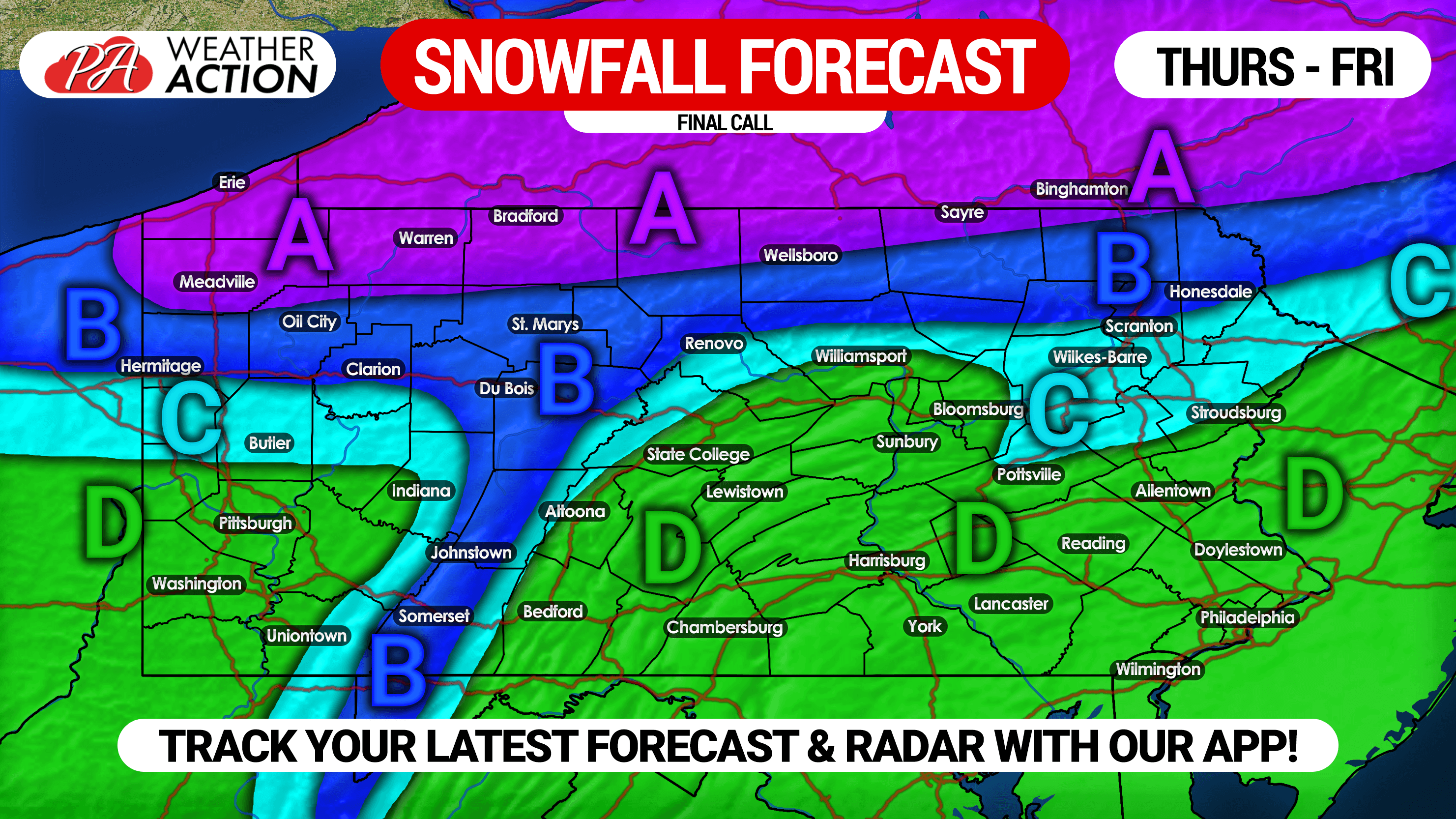 Area A: 2-4″ of snowfall likely (including lake effect), with amounts of 6″+ likely in southern Erie county. Roads may become slushy by sunset.
Area B: 1-2″ of snow anticipated, mainly on unpaved surfaces.
Area C: Up to 1″ of snow likely on grassy surfaces.
Area D: Rain likely, with some snowflakes possible just before precipitation ends. Scattered lake effect snow showers possible in western PA Thursday night.
Don't forget to share this forecast with friends and family using the share button below!
Track the storm with interactive radar, your local hourly and daily forecast, and more with our free app >>> Weather Action App
We have morning video updates discussing the record-breaking cold possible next week, as well as any winter weather possibilities >>> YouTube Channel