A wintry mix is anticipated during the day Monday and will last through Monday night. An area of low pressure will approach from the west Monday, bringing with it moderate precipitation to Western Pennsylvania. It is expected the precipitation will begin to weaken as it impacts Central and Eastern Pennsylvania later Monday.
Snow will begin to overspread Western Pennsylvania late in the morning Monday. It is likely that far Southwest Pennsylvania mixes with rainfall at times later in the day after an initial burst of snow. Below is the GFS valid for 1:00 PM Monday afternoon: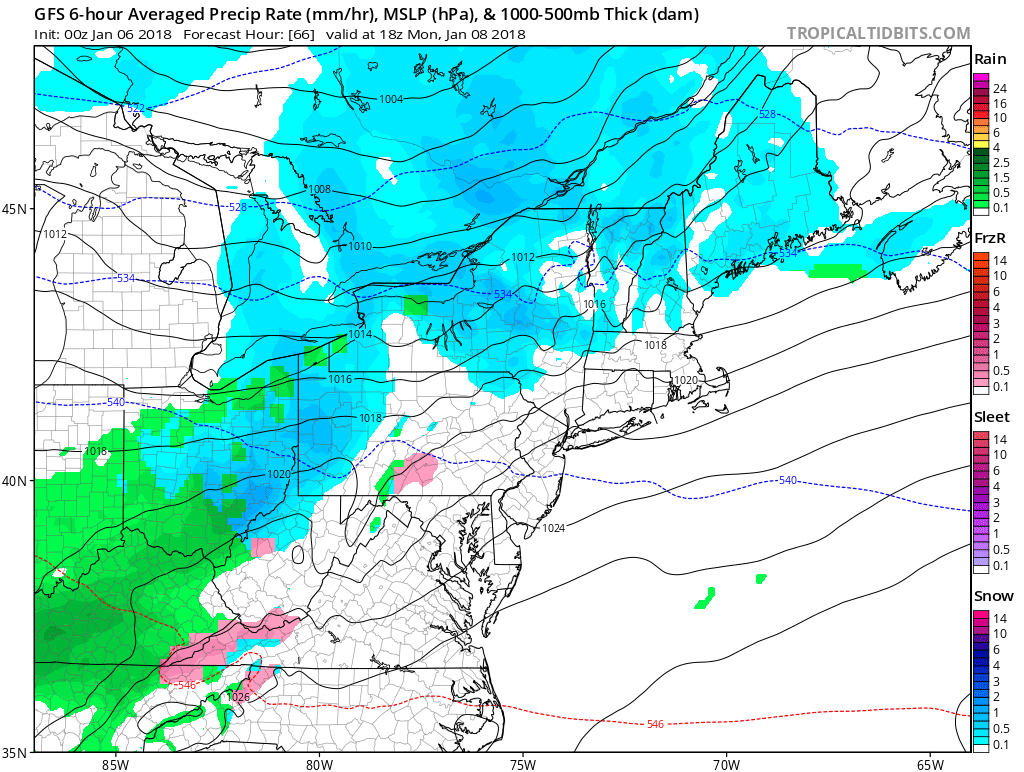 As the precipitation begins to push into Central Pennsylvania Monday evening, the precipitation will begin to weaken and potentially even break up. However, our concern with parts of Central and Eastern Pennsylvania, is that the snow eventually turns to freezing rain once the upper levels in the atmosphere are warm enough to support rain. The problem with that is, surface temperatures will remain below freezing during the duration of this event. We outlined the area that has us the most concerned for freezing rain potential in the red area of our map or letter "C".
Taking the GFS out to 7:00 PM  Monday you can see the freezing rain beginning to breakout for these areas: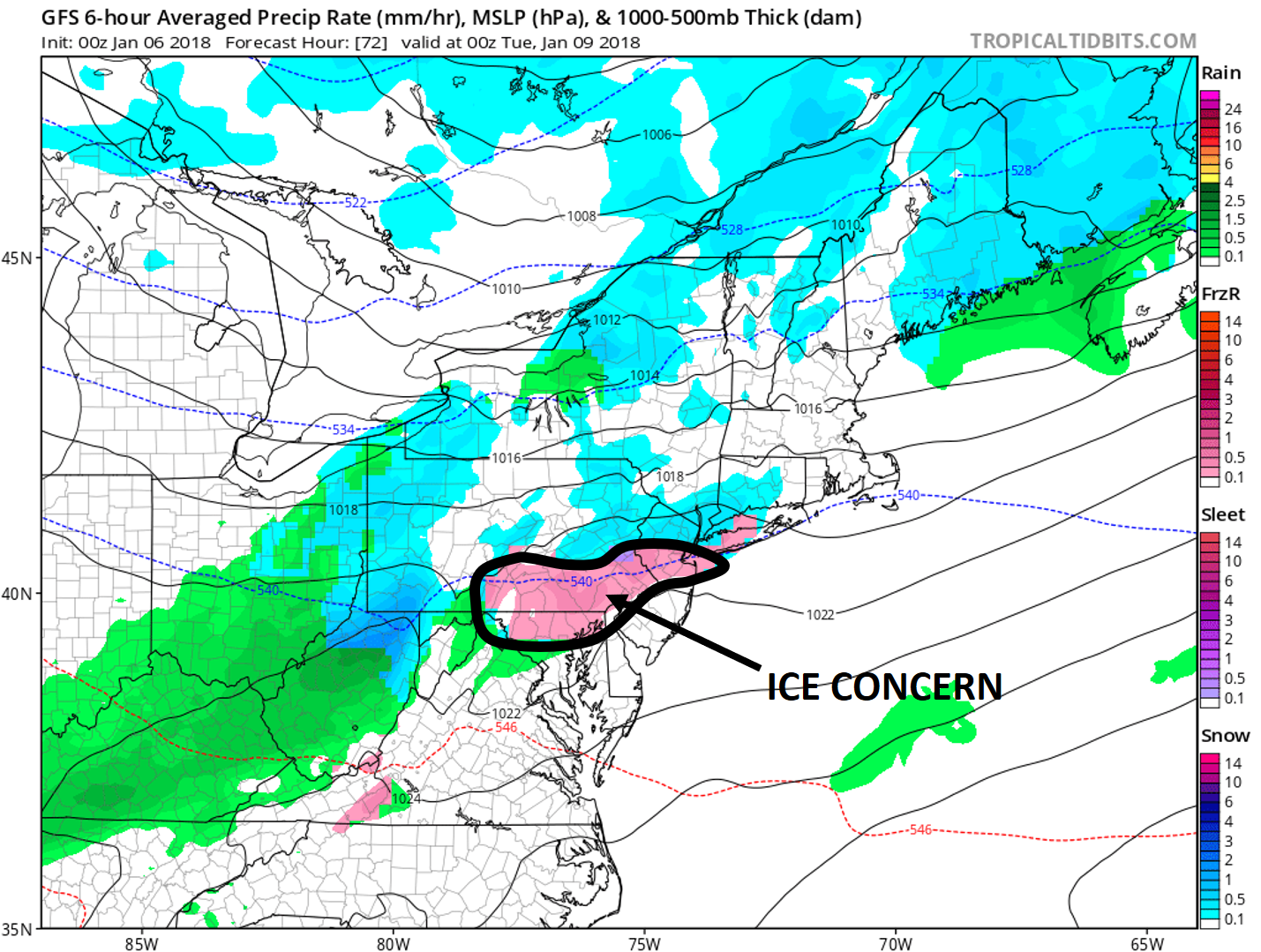 The snowfall is not going to be a big deal for this storm. Other than Western Pennsylvania, most areas will see a general coating to an inch or two. Ice is a different story. It does not take much ice at all to lead to significant issues. Advancing the GFS out to 1:00 AM Tuesday morning it still has an area freezing rain generally in the same area: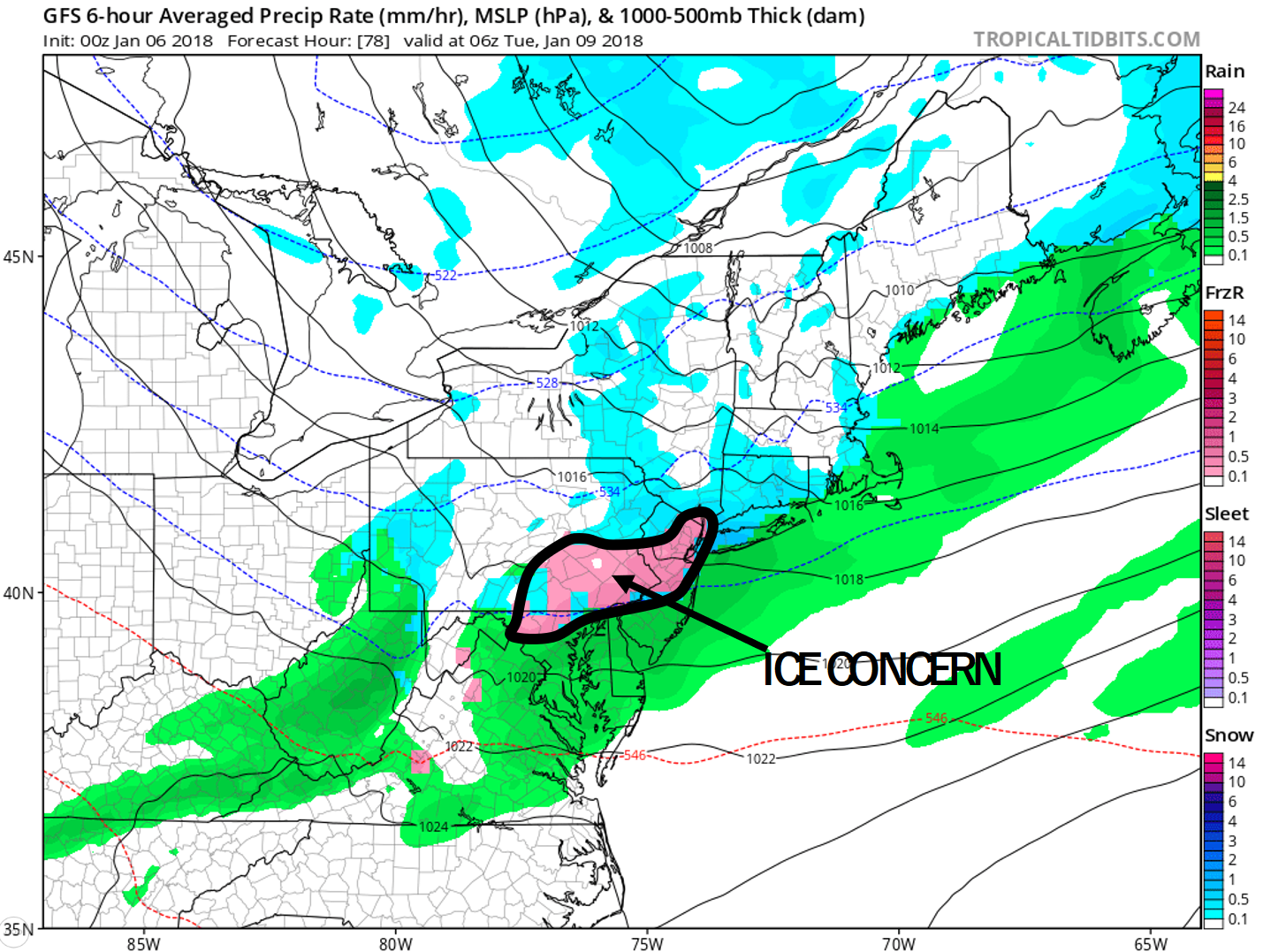 All precipitation will taper off during the early morning hours Tuesday before the morning rush hour.
FIRST CALL FORECAST FOR MONDAY'S WINTRY MIX:
Timing: Precipitation begins late Monday morning for Western Pennsylvania and will overspread Central and Eastern Pennsylvania by the afternoon hours. All precipitation will end during the early morning hours Tuesday.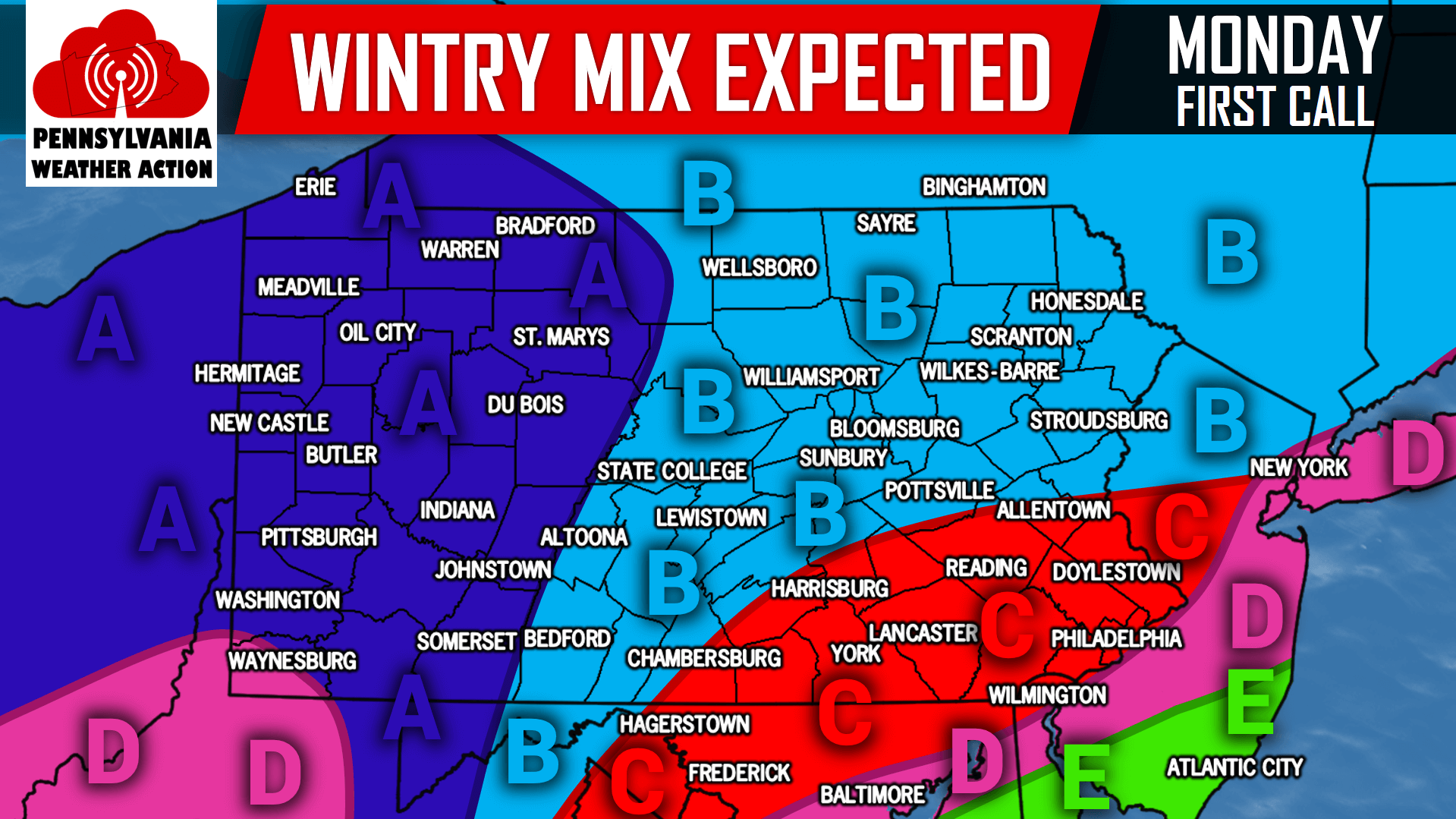 Area A: Light to moderate snow, 2 to 4 inches of snowfall is expected. Travel disruptions are possible Monday. Plan accordingly. 
Area B: Light snow, a coating to 2 inches of snowfall is expected. 
Area C: This is our area of greatest concern. Snow, sleet, and freezing rain is expected. Snow accumulations of a coating to 1 inch are possible. Up to a tenth of an inch of ice is expected which could lead to significant travel issues, especially during the Monday evening rush hour. Plan accordingly and try to avoid traveling when freezing rain is falling. 
Area D: A mix of snow and rain, ending as plain rain. A coating to 1 inch of snow is expected. 
Area E: Light rain is expected.
We will have an updated call on Monday's wintry mix posted tomorrow, so be sure to have our Facebook page liked by clicking here to say up to date>>>Pennsylvania Weather Action's Facebook Page
Share the news with your family and friends below of the wintry mix expected for Monday by using our icon below!