In a year that has been far from normal to say the least, we are now forecasting a rare and even historic May snowfall for many locations across Pennsylvania this Friday. Before anyone goes running to the store to grab any bread or milk that is left, please remember it is May. For a historic snowfall in many cities and towns this time of year, all that would be needed is a trace of snow. With that said, some locations especially higher elevations and northern locations could see several inches of snow.
TIMING:
Snow and rain will begin to overspread western areas first by late Friday morning. Whatever snow that does fall during the day across these areas, we do not expect much in the way of accumulation thanks to temperatures above 32 degrees and the higher sun angle this time of year. Regardless, snow flying in May is impressive and rare! Below is a look at the Hi-RES NAM radar at 2:00 PM Friday Afternoon: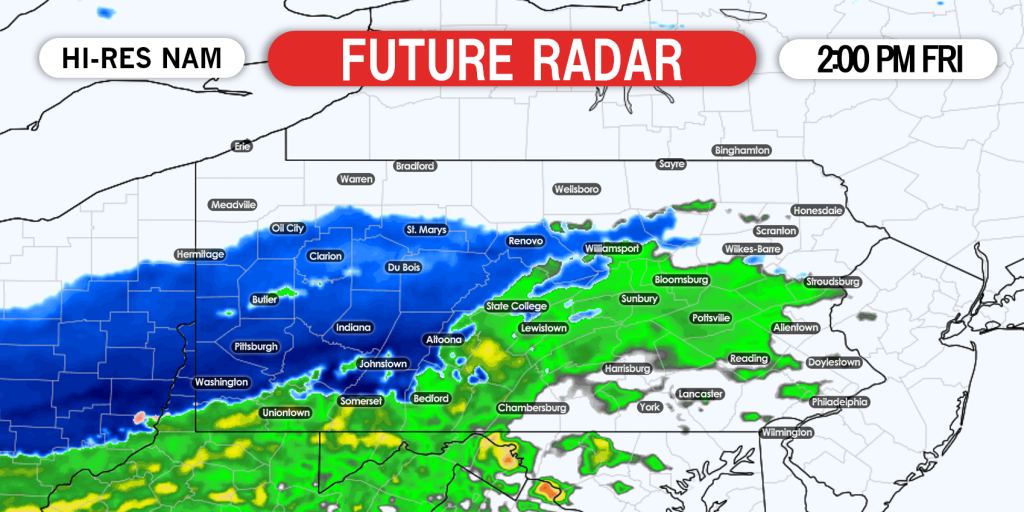 As the day progresses, snow will actually begin to be the more dominant precipitation type across Pennsylvania as temperatures drop to the low to middle 30s. Taking a look at 5:00 PM Friday afternoon, snow is falling across western, central and northeastern Pennsylvania according to the HI-RES NAM model while areas to southeast are still experiencing plain rain. Again, because of the timing, much of the snow that does fall, will not accumulate with the exceptions being the high elevations in the Laurel Highlands, central and northern Pennsylvania: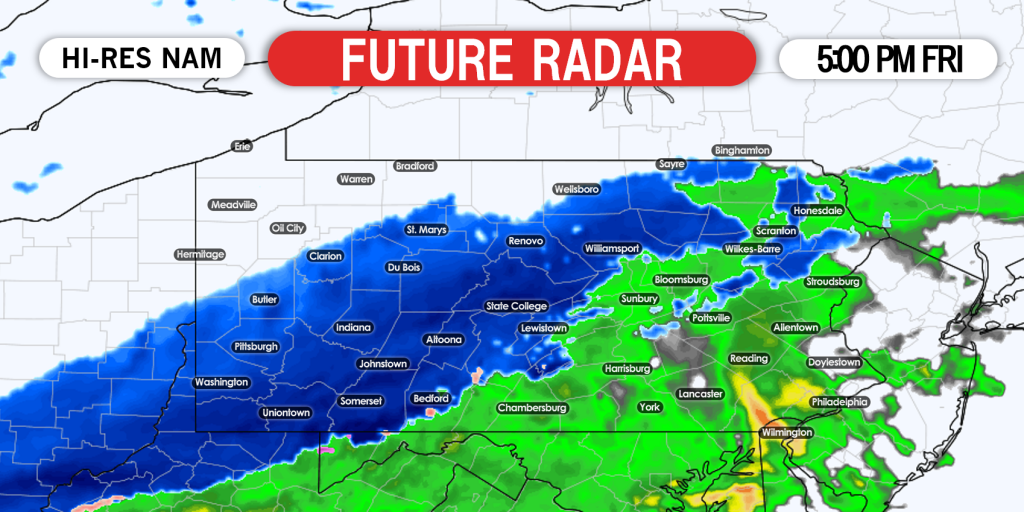 When the sun begins to set Friday evening, this is when things really become interesting. The Hi-RES NAM shows much of central and northern Pennsylvania in moderate to heavy snowfall. If this ends up verifying, many of these locations will see a coating to several inches of snowfall before it wraps up late Friday night. Below is a look at 8:00 PM Friday night: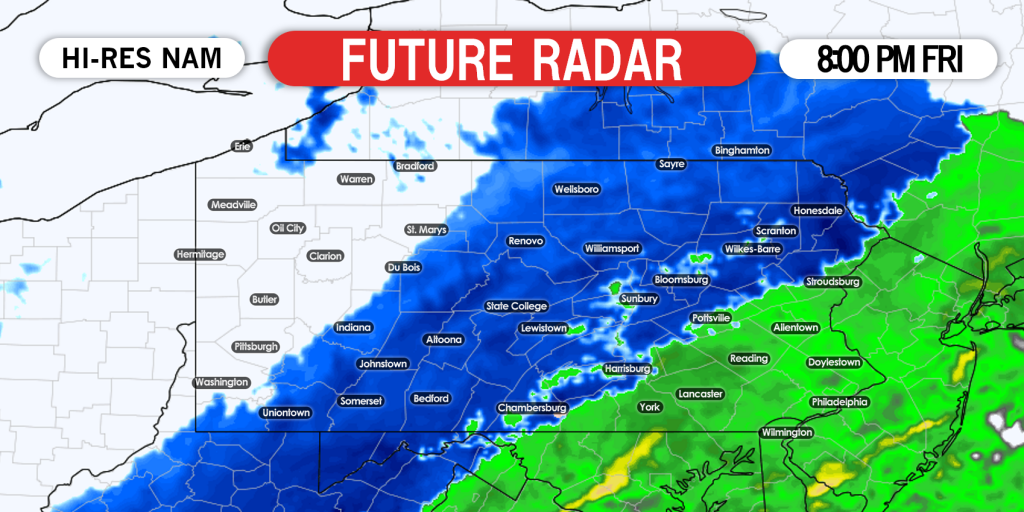 For areas farther south and east closer to the I-95, a mostly rain event is expected. Although a change to a steady period of snow before the event wraps up is certainly possible. Taking the Hi-RES NAM model out to 11:00 PM Friday night, this shows the rain/snow line well south and east. As a result, areas such as Lancaster, Reading, Allentown and even northwest suburbs of Philadelphia get in on the snow. Thanks to the timing, any snow that does fall, will have a chance of accumulating on grassy surfaces. If the snow does accumulate, it will likely be no more than a coating for these locations:

---
FIRST CALL MAP FOR FRIDAY'S RARE MAY SNOWFALL
Area A: These high elevation locations are likely to start and end as all snow, and see temperatures at or just below freezing throughout the storm. As a result, snow accumulations of 3 – 5″ are expected.
Area B: Locations in this area are likely to briefly begin as rain for a few hours, then change over to all snow as temperatures cool. Snowfall accumulations of 1 – 3″ are expected, which would break records for snow in the month of May.
Area C: For those south of I-80, we expect rain for several hours before a changeover to snow, which will last for a few hours before ending. Snowfall accumulations of less than 1″ are expected. For those north of I-80, we expect all light snow with snow accumulations also of less than 1″.
Area D: While rain is expected throughout most of the storm, we expect a brief changeover to snow at the end before precipitation ends. An hour or two of snow is possible, but no snow accumulations are likely. However, a freeze will occur Friday night, so crops and sensitive vegetation are likely to be killed if unprotected.
Area E: All rain is expected, with a frost likely Friday night. 
We will have an updated forecasting with the latest info out Thursday evening, so be sure to stay tuned for that. You can receive that forecast by downloading our free app, which will send you these forecasts, along with NWS weather alerts. Download it here >>> Weather Action App
Don't forget to share this forecast with your friends and family, as something like this only comes around once a century. Stay safe and stay tuned!