Here we are a little under 48 hours away from our next Winter Storm and model guidance is still all over the place across Pennsylvania for who receives what and how much. But, as weather forecasters, this is one of the many challenges we face quite often and we will give you the forecast the way we see it.
With that being said, we are confident that overrunning snow showers will overspread the state during the day Sunday which is well represented by latest NAM model valid 7 AM Sunday Morning: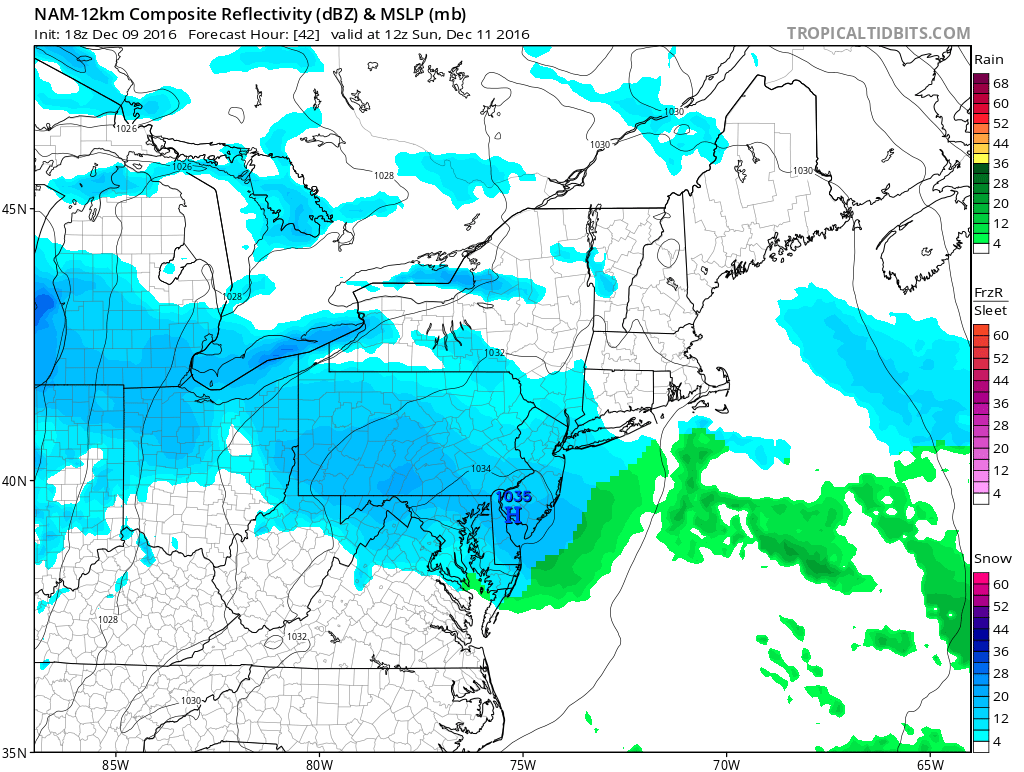 As the day progresses Sunday, it is quite possible that snow stops at times and then picks back up again through the Evening hours. By the time we reach later into Sunday Evening, steadier snows will develop from Southwest to Northeast. It is quite likely almost all the state at least starts off as a brief period of snow Sunday Night. How long areas hang onto the snowfall is where it differs greatly throughout the state. General rule of thumb for this system, the further North you are, the better chance to see a longer duration of snow.
The Canadian Model shows the steadier snows overspreading the state Sunday Night, this future radar image is valid at 1 AM Monday Morning: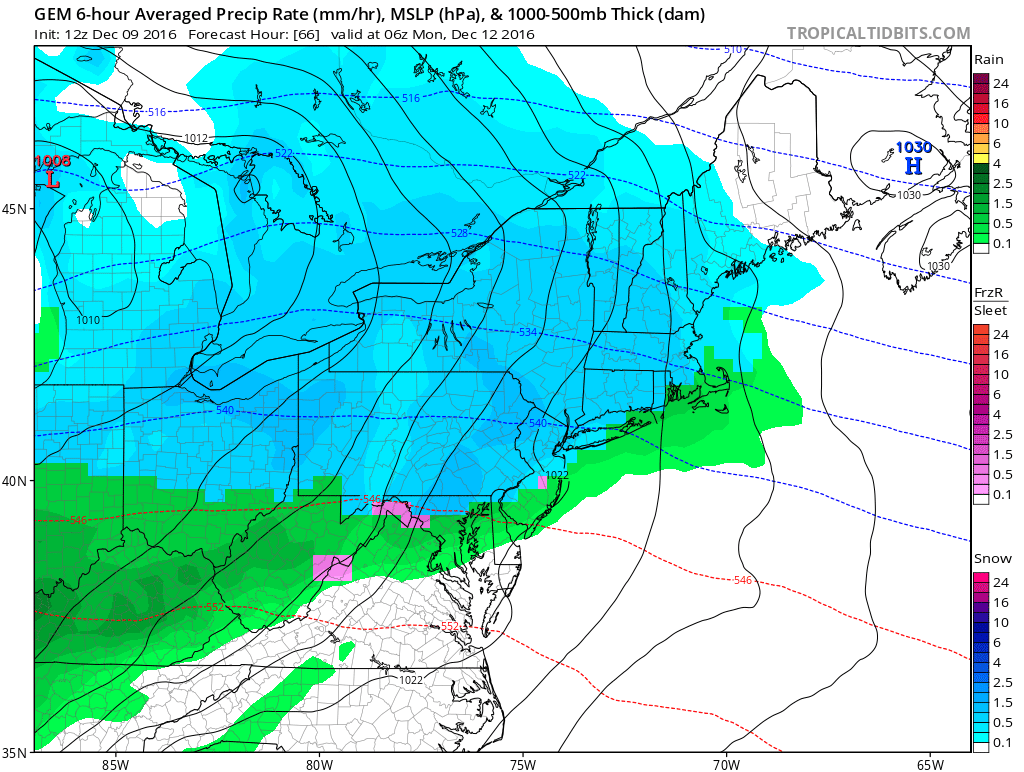 As the system progresses, it is probable many areas do end as a plain rainfall.
The GFS is much warmer than the CMC. While the European model is right in between the GFS and CMC in terms of how warm/cold it is. The differences in these models is their handling of the High Pressure over the Northeast. GFS kicks it out much quicker than the rest of the models, allowing for a warm solution, while the rest keep it closer to our area, preventing a mainly rain event. These are details we will iron out over the next day or two.
For now, this is how we see it playing out Sunday into Monday:
WINTER STORM MAP FORECAST
Area A: 4 to 7 inches of snowfall. Best chance to see all snow but a changeover to rain at the very end of the event is possible.
Area B: 2 to 4 inches of snowfall, with 0.01 to .05 inches of ice accretion. A change to rain at the end is possible.
Area C: 1 to 2 inches of snowfall, with .01 to 0.05 inches of ice accretion. The precipitation will end as rain. 
Area D: Area we are most concerned with ice potential. 1 to 2 inches of snowfall, followed by 0.05 to .15 inches of ice accretion. The Precipitation will end as rain.
Area E: Up to an inch of snow before changing to rainfall.
Both Sunday Evening and Monday Morning commutes will be impacted by this storm! Give yourself extra time to wherever you may be traveling during that time.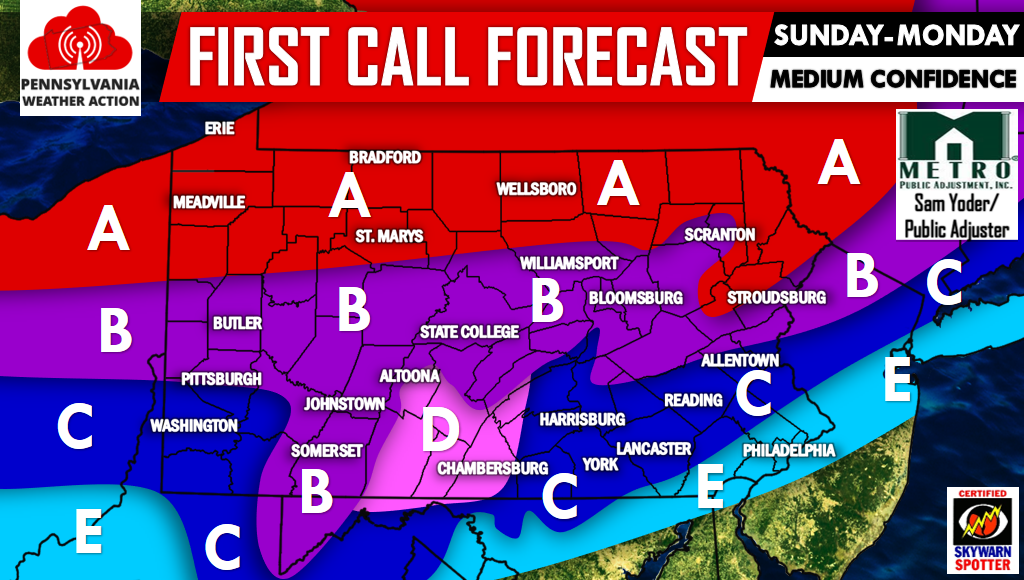 Our confidence is only at a medium level right now, so please be sure to click here to stay tuned for future updates by liking us on Facebook>>>>PA Weather Action on Facebook! Don't forget to share the details with your friends and family about the upcoming Winter Storm Sunday into Monday below. Stay safe! Next updated map will be posted Tomorrow Evening.