As many of you know by now, we are tracking a widespread significant Winter Storm that will be impacting the area Friday Night into Saturday. Guidance continues to be in a general consensus for the post part about who will receive what and how much. But, because we are still a couple days away from the storm's arrival, there is always room for some adjustments.
Timing: Snow will overspread the state after 7 PM Friday Evening for Western areas, and then after 10 PM for Central and Eastern areas.
NAM valid 10 PM Friday Night: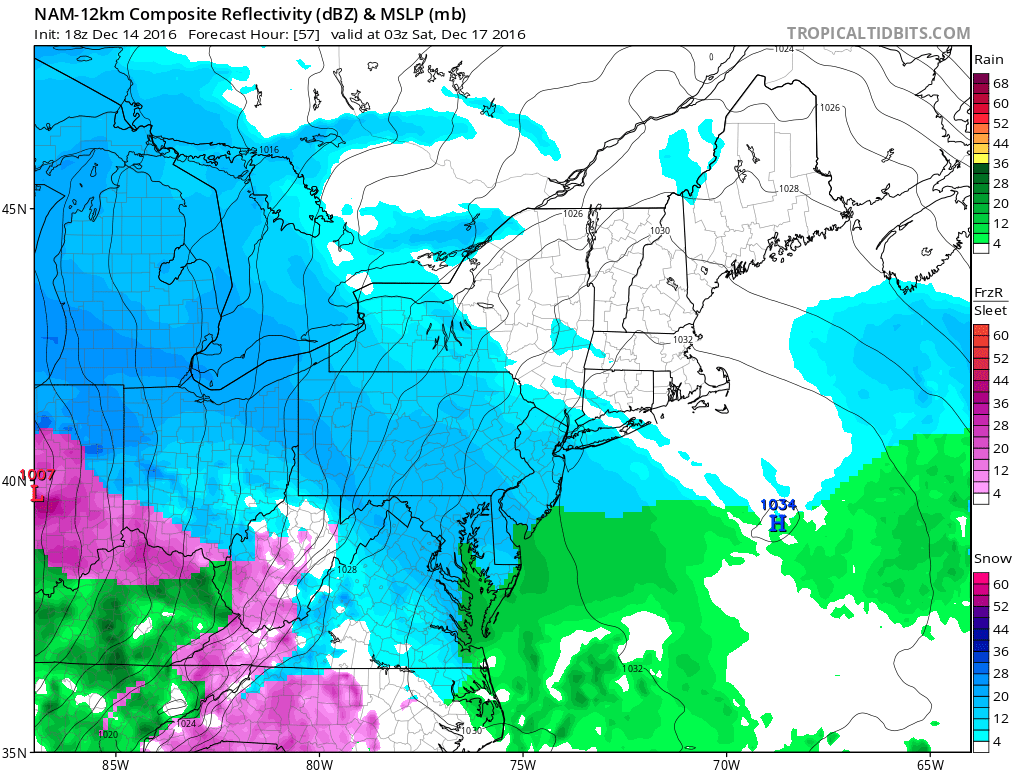 As we head into the overnight hours early Saturday Morning, likely after 2 AM for Southwest PA and after 6 AM for areas further to the North and East, a changeover to sleet and freezing rain will occur. This period of sleet and freezing rain will likely last through lunchtime for Central PA and will changeover quicker to rain for areas West of the mountains, likely by mid-morning.
NAM valid 7 AM Saturday Morning: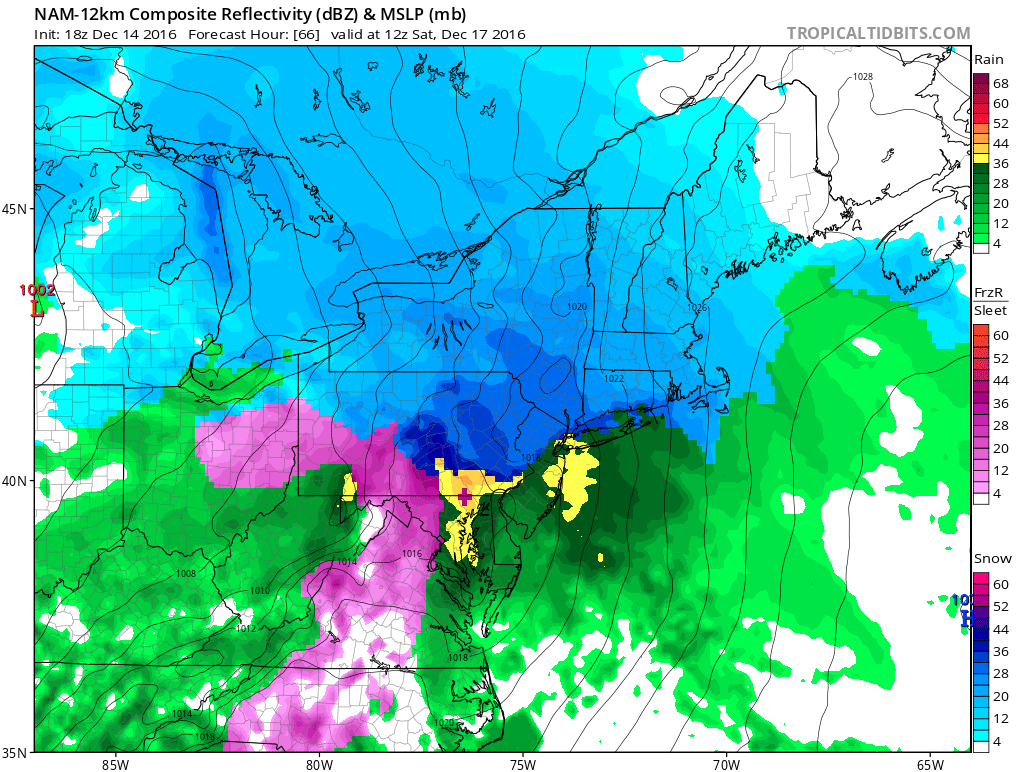 The greens indicate rain, pink freezing rain, yellow sleet, and blue is snow. It is likely before the changeover occurs to freezing rain and sleet, the whole state will see a period of heavy snow.
After lunchtime likely after 2 PM Saturday, it is still apparent much of the state ends as brief period of some plain rainfall. Areas in far Northern PA may not even changeover to rain by the time the precipitation ends.
We will have two maps for this storm, one map indicating snowfall amounts, and another indicating ice amounts:
First Call Snow Map
Area A: 6 to 8 inches of snowfall is expected. The snowfall will be over a longer period of time and will be heavy at times.
Area B: 4 to 6 inches of heavy snowfall is expected. The only reason this area is not in Area A is because of a quicker changeover. 
Area C: 2 to 4 inches of snowfall is expected. Again a quicker changeover leads to less amounts. 
Area D: 1 to 2 inches of snowfall is expected.
Area E: A coating to 1 inch of snowfall is expected.
For future updates be sure to have us "liked" on Facebook by clicking here>>>>PA Weather Action on Facebook!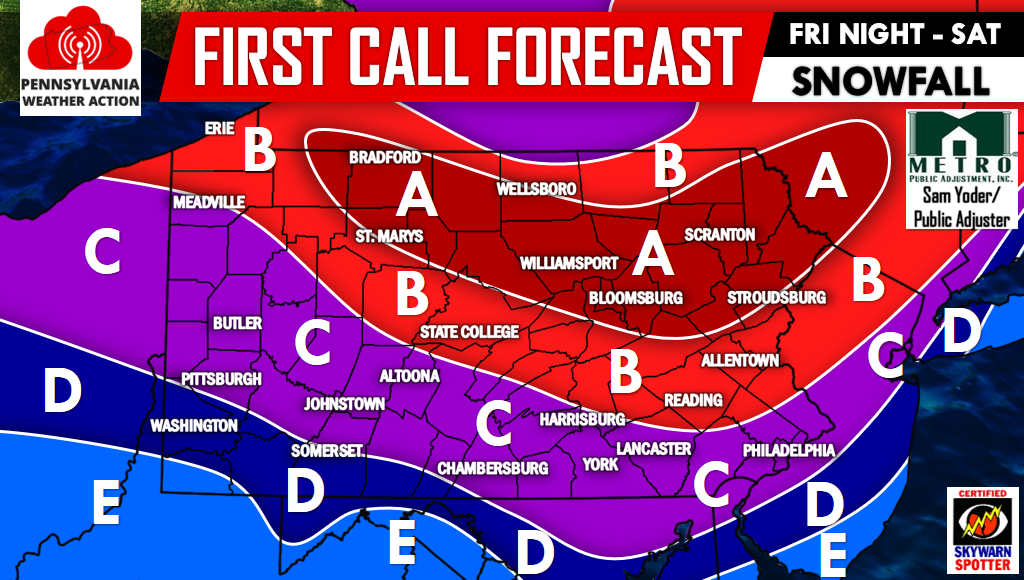 First Call Ice Map
Area A: 0.10-.25″ of ice accretion on top of the snowfall accumulation. 
Area B: 0.02″-0.10″ of ice accretion on top of the snowfall accumulation.
Travel Impacts: Area A and B will experience the worst travel impacts during this storm, however state-wide disruptive travel impacts are likely beginning Friday Night and through Saturday Afternoon. If you have to travel, prepare for a slow go. Our advice is to have a plan B. This will be a nasty storm to have travel plans due to the combination of snow and ice.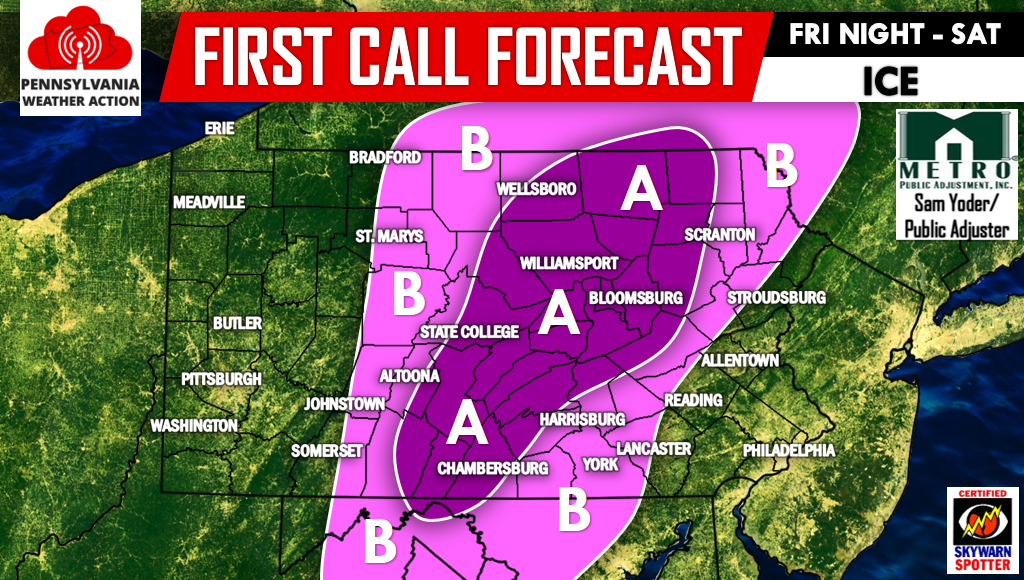 Don't forget to share the Winter Storm details with your friends and family below, stay safe!