This weekend's storm is a classic New England Special. There's no better way to put it. It seems like Central and Eastern PA have found every possible way to miss the big snows this winter, and this will just be a continuation of that. Although up until this point, New England has done just as poorly in the snow category as we have, so good for them.
TIMING
Scattered snow showers will begin across Southern PA by Friday afternoon. We don't expect these snow showers to cause much trouble, but there could be a few slippery spots out there. By Friday night into Saturday morning, the coastal storm will rapidly strengthen. It will be well off the coast, causing the western extent of persistent light to moderate snow to be around Pottstown to Easton.
Light to moderate snow will continue in Southeast PA, more specifically in the counties of Philadelphia, Bucks, Delaware, Montgomery, and Chester, until about noon Saturday. This will be very fluffy snow, at least making it easier to shovel. Below is future radar timing.
FIRST CALL SNOWFALL FORECAST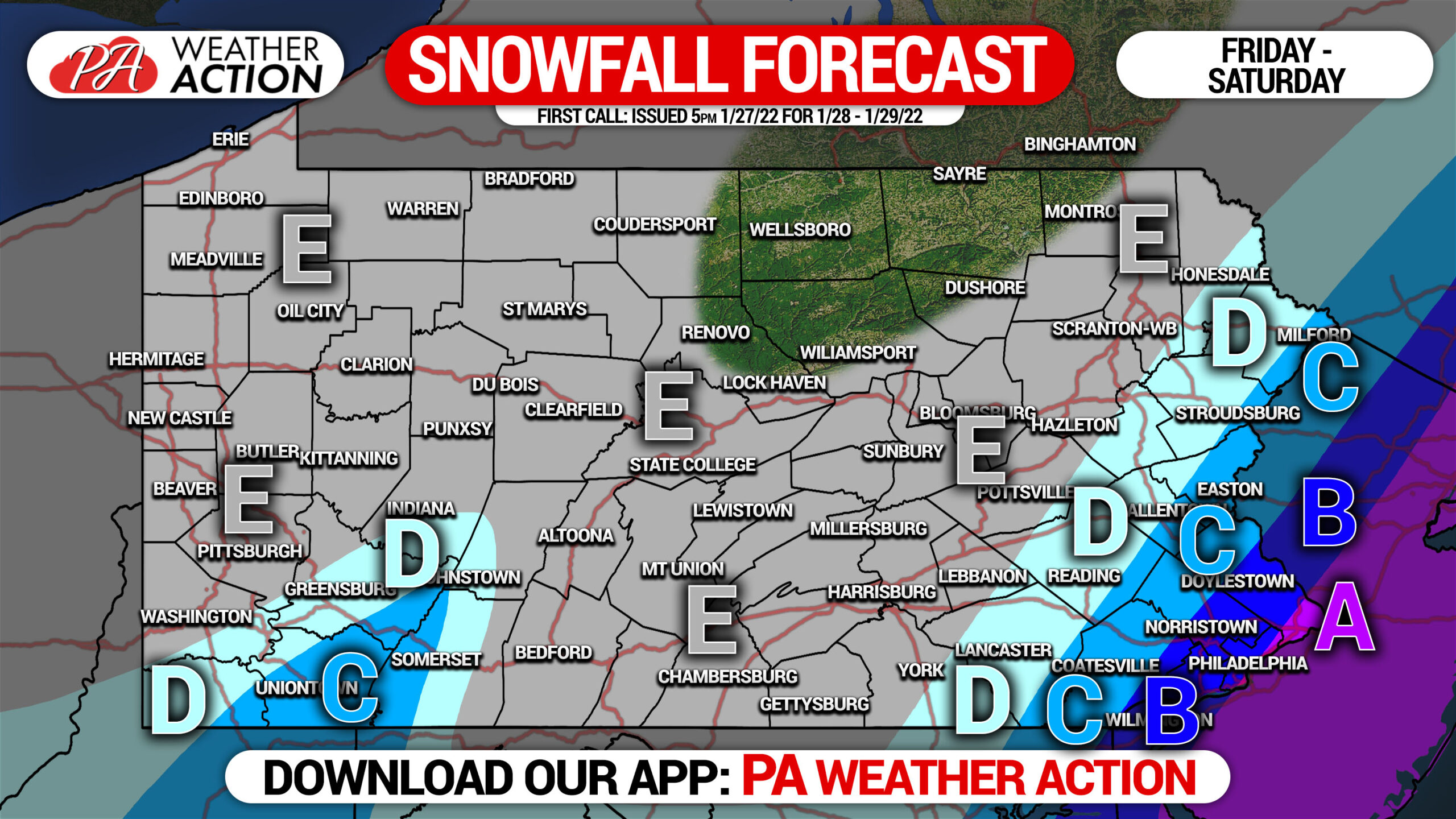 Area A: Snowfall accumulation of 6 – 8″ expected.
Area B: Snowfall accumulation of 4 – 6″ expected.
Area C: Snowfall accumulation of 2 – 4″ expected.
Area D: Snowfall accumulation of 1 – 2″ expected.
Area E: Snowfall accumulation of less than 1″ expected.
There is little to nearly no chance these areas get pushed farther west. This forecast has become much clearer today.
Eastern New England will be getting two feet, with higher amounts locally. We highly discourage traveling east of New York City this weekend.
Get latest updates from us and so much more on our app for iOS & Android! Tap the banner below to download it.