In the past 24 hours, run by run, models have slowly weakened this system from a decent winter storm in Northern PA to New England to a frontal passage. Originally our expectations were several inches of snowfall possible in the northern tier counties. However, now with weaker precipitation expected, our maximum snowfall will be limited to a few inches.
TIMING & FUTURE RADAR
Rain will move into western PA Thursday afternoon. Rain will quickly change to snow in northwest PA as temperatures fall to near freezing by late afternoon. Here is the Hi-Res NAM future radar for 2:00 PM Thursday.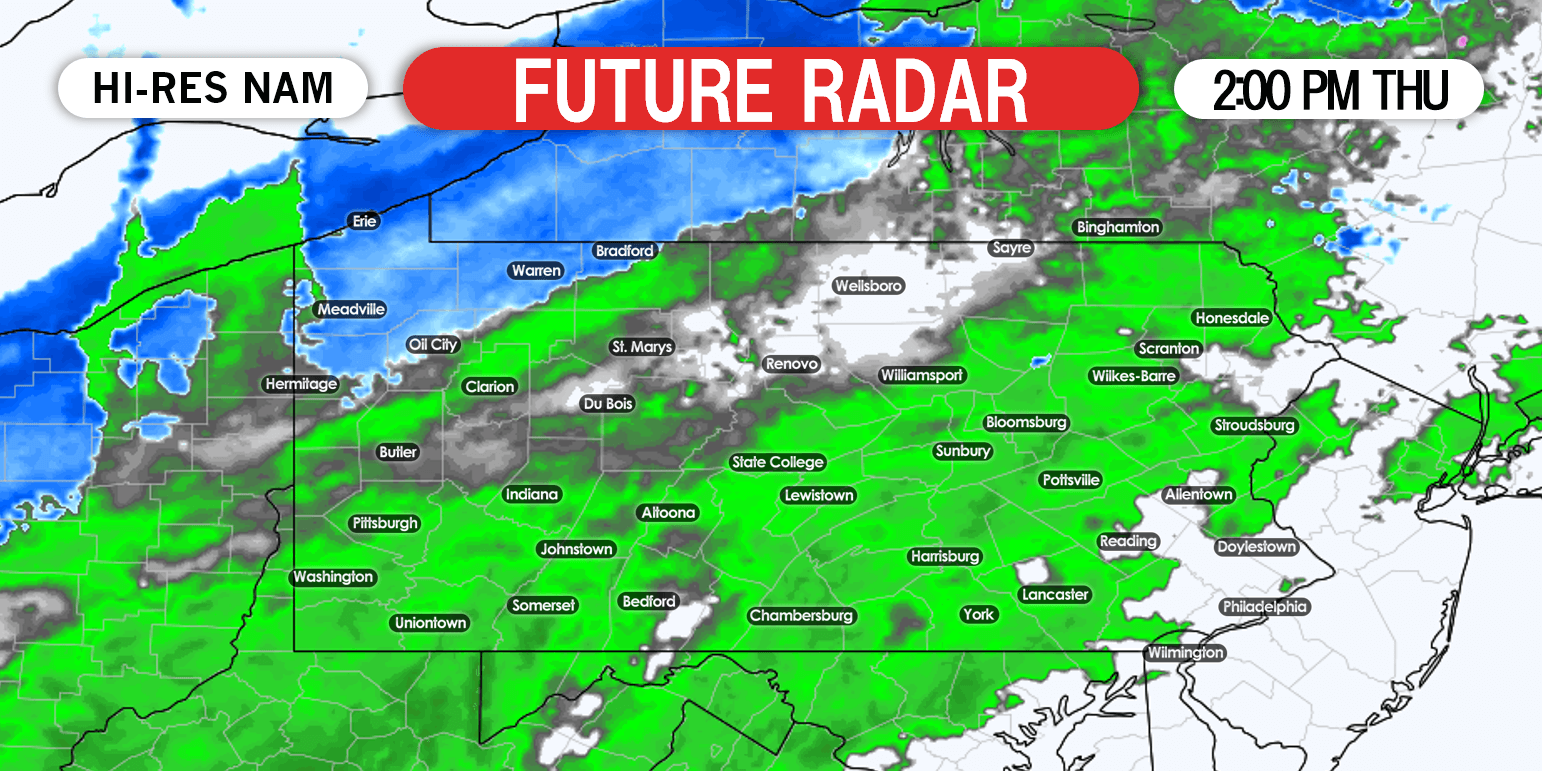 The rain/snow line will steadily move southeast as Thursday evening approaches. By 5:00 PM Thursday, we expect steady light to moderate snow to be falling from Clarion, to Bradford, and over to Wellsboro. With temperatures falling below freezing in northern PA, roads may become slippery/slushy.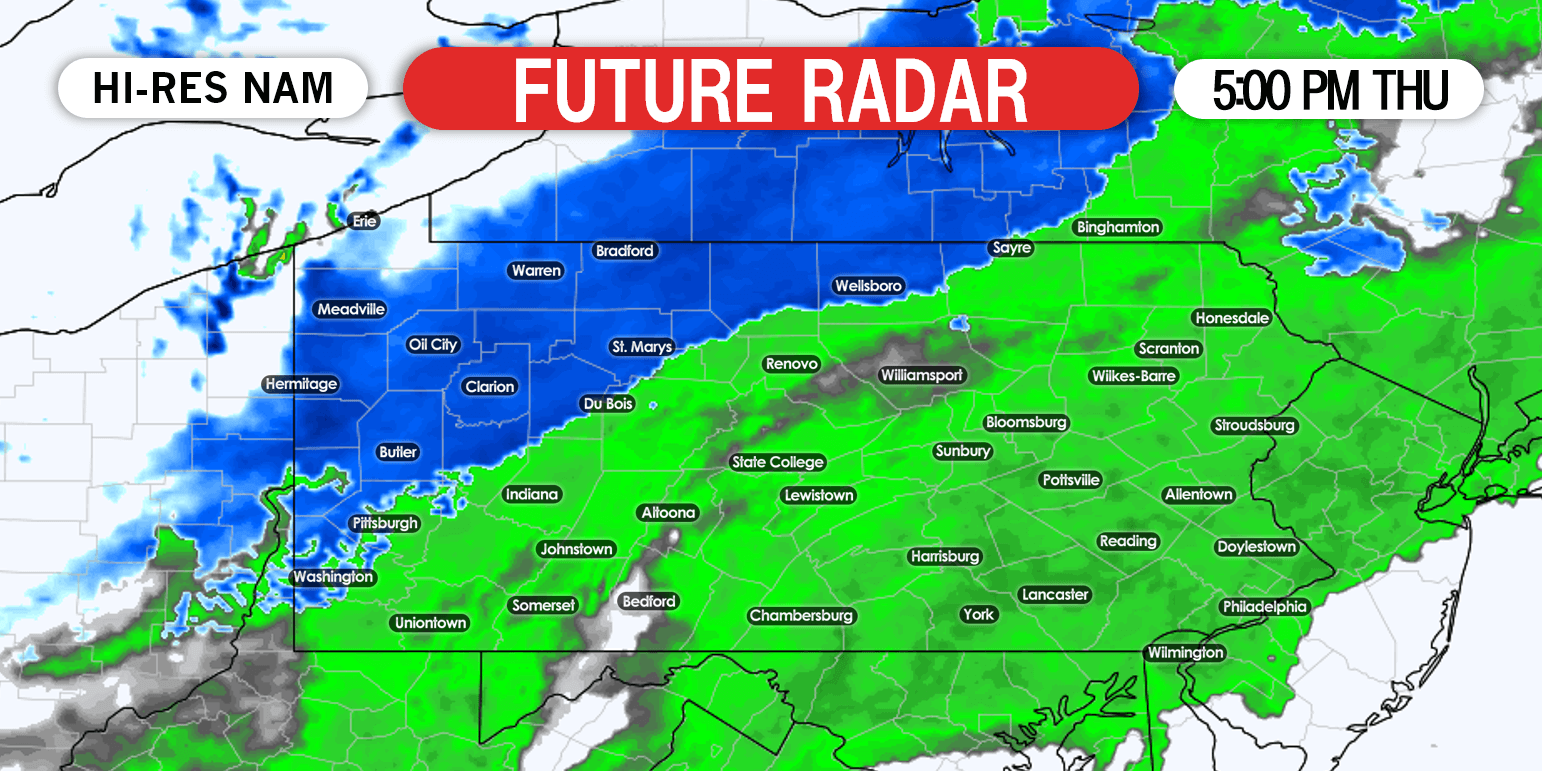 Rain will change to snow from northwest to southeast in northeast PA Thursday evening. Meanwhile, snow will begin to exit western PA. Below is future radar for 9:00 PM Thursday.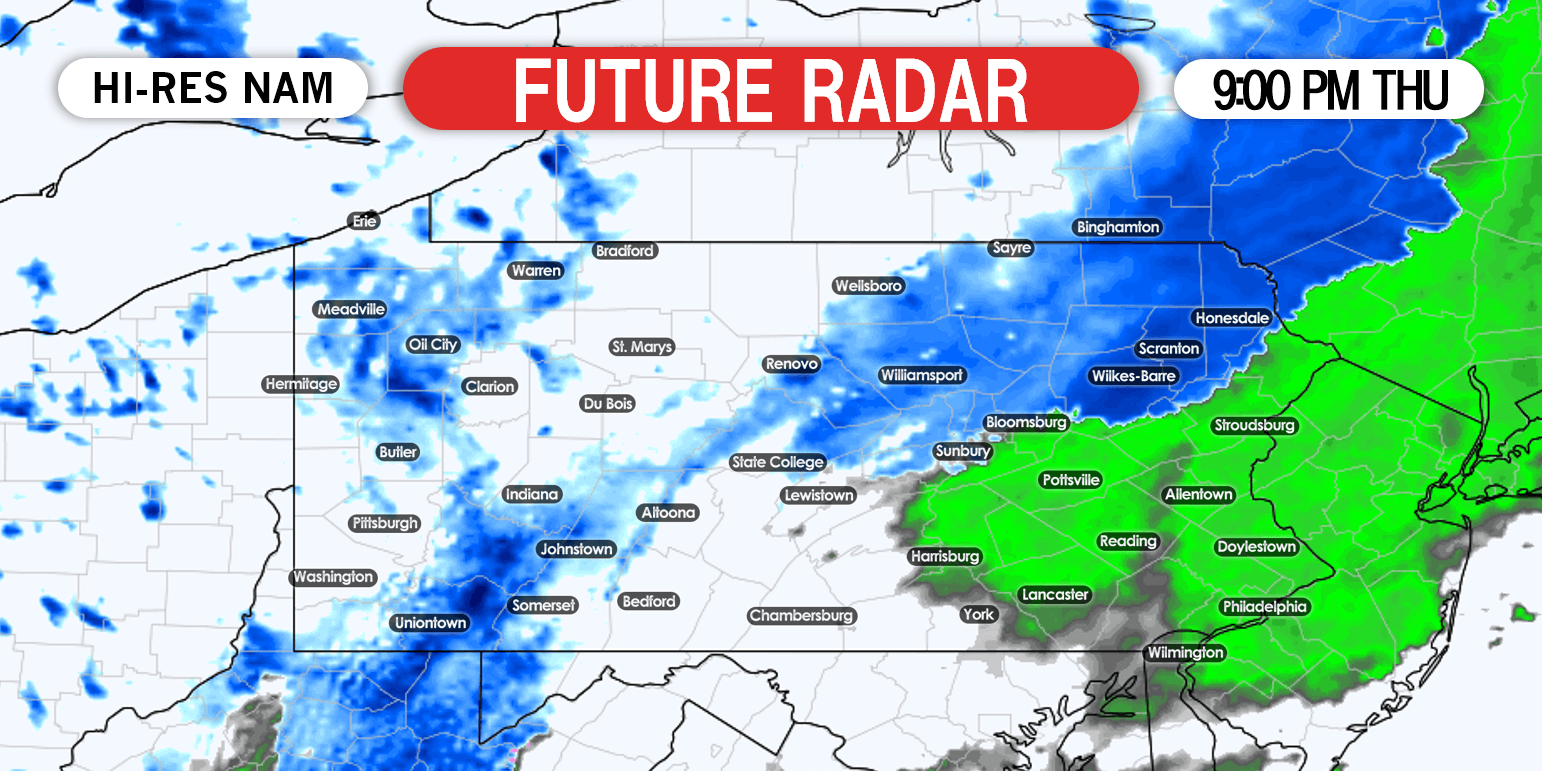 Heading into early Friday morning, snow will end in northeast PA. At the same time, lake effect snow showers will begin in parts of western PA. Beware of low visibility and slippery roads in western PA within these snow showers, as some may be heavy especially close to Lake Erie and the Laurel Highlands. Future radar for 2:00 AM Friday displayed below.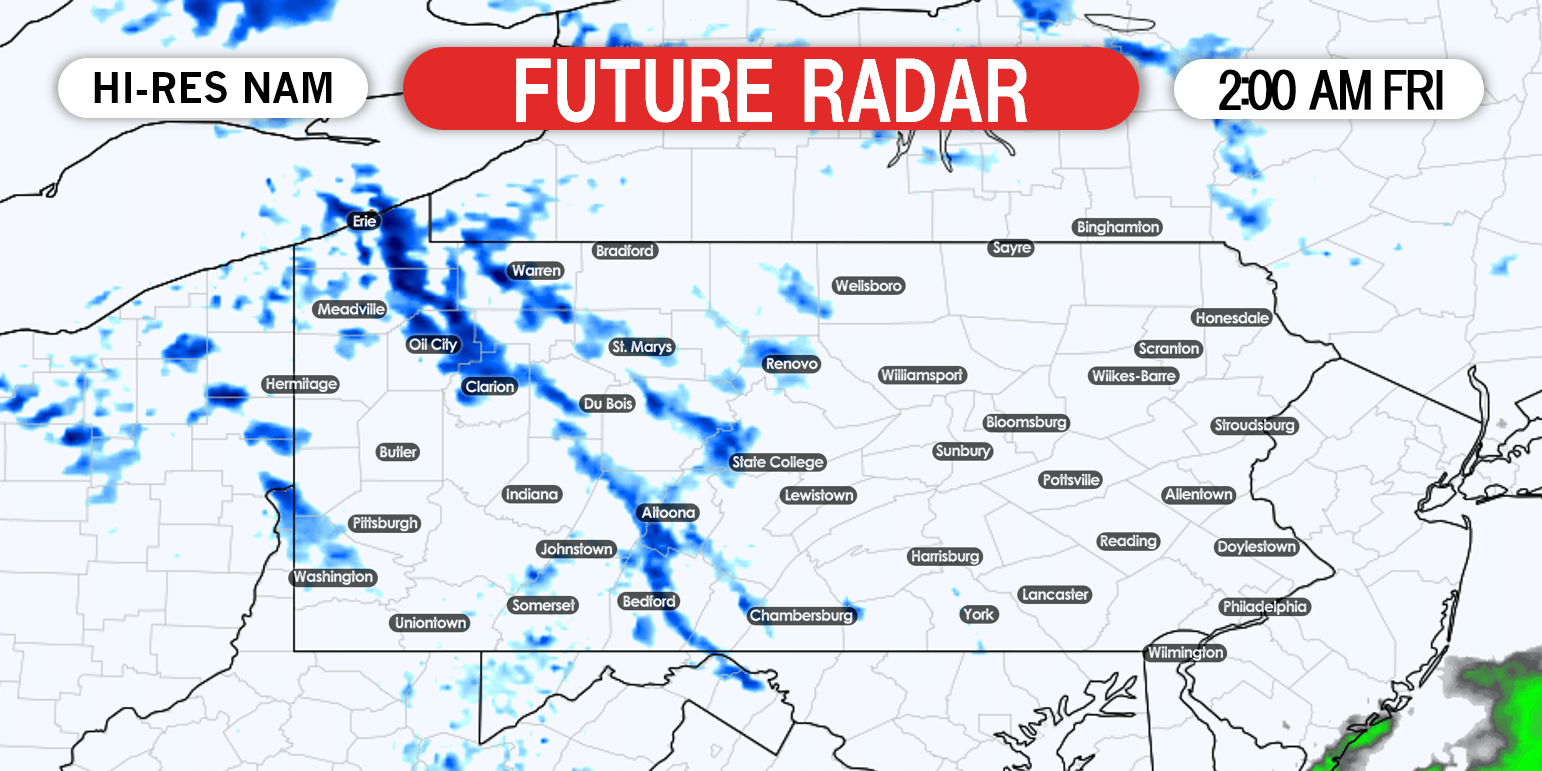 ---
FIRST CALL SNOWFALL FORECAST MAP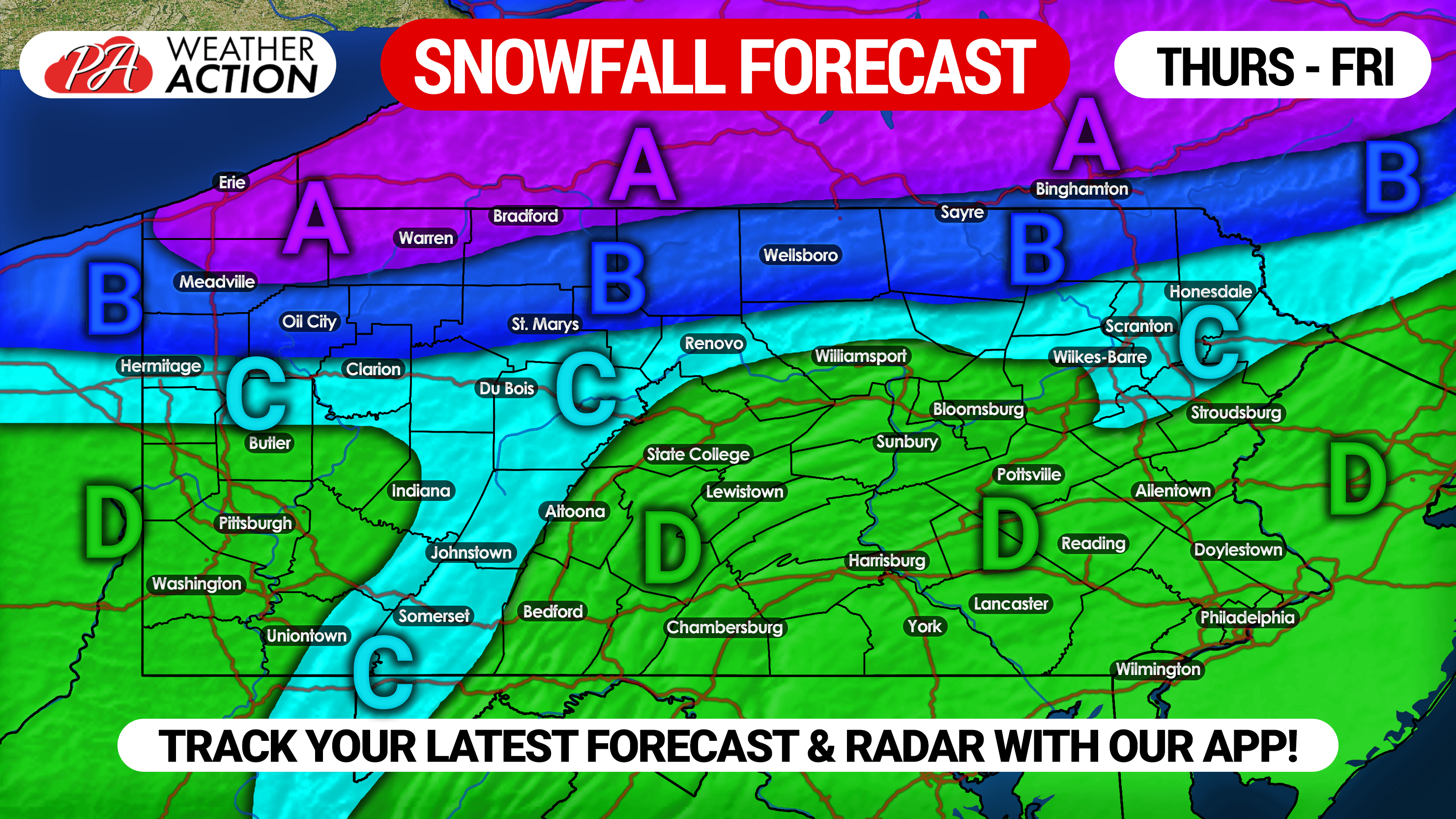 Area A: Snowfall accumulations of 2-3″ expected, with isolated 4″ amounts in Erie County. This includes the lake effect snow Friday morning.
Area B: Snowfall accumulation of 1-2″, as this area is expected to start as rain and change to snow after a few hours.
Area C: Snowfall accumulations of less than 1″, falling as rain changes to snow shortly before precipitation exits.
Area D: Rain is expected, with some non-accumulating snow showers possible at the very end as precipitation exits.
Don't forget to share this forecast with friends and family using the share button below!
To track interactive radar during the event, as well as your latest hourly and daily forecast, download our free app today >>> Weather Action App
For daily video updates on this event and potential winter weather in the coming weeks, subscribe to our YouTube Channel! >>> YouTube Channel