Who would've thought that after a March with virtually no snow, we would be putting out a first call snow map on the second to last day? It has felt like Spring for a few weeks now, but you may need a winter coat for Thursday and Friday. A low pressure system developing along a cold front will make its way up the East Coast Wednesday Night into Thursday Morning, and as that cold air floods in, rain will change to snow in the interior.
This will be a very elevation-dependent storm, meaning mountain tops and high plateaus will see much more snow than the valleys below. Temperatures will fall below freezing in a hurry as they front goes through, and we won't have to deal with the sun angle either. This means we are expect some snow accumulation even on roads. If your Thursday morning commute involves going over a mountain, be prepared to run into some slushy, slippery road conditions.
CHANGEOVER TIMING
We expect western PA to change to snow late Wednesday Evening. Models have a tendency of being a few hours behind. By between 8-10 PM Wednesday Night, areas in western PA should begin to change from rain to snow. Below is future radar for 12:00 AM Thursday, but it may be slightly earlier.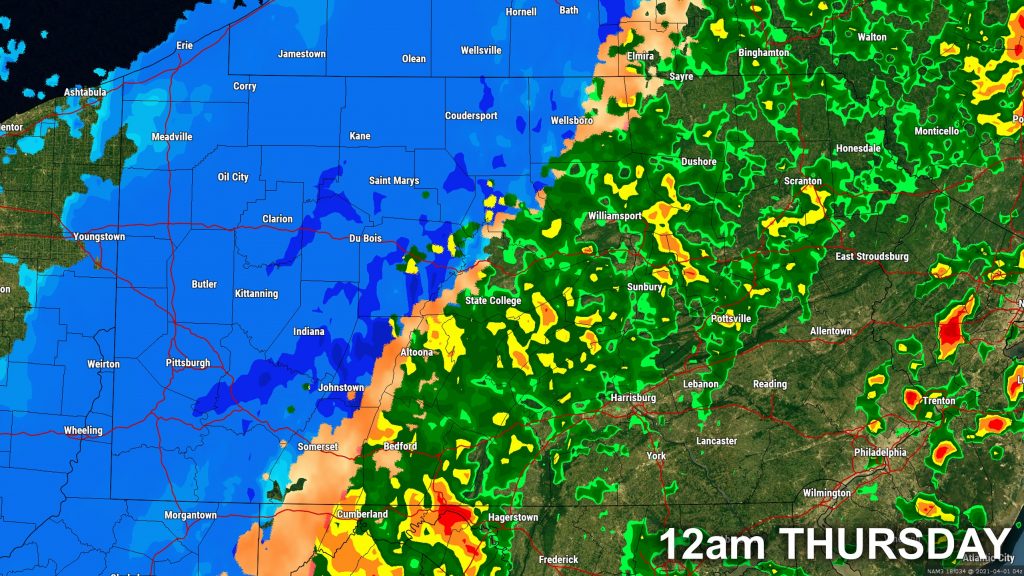 The rain/snow line will rapidly push east early Thursday morning, and the northern tier mountains will changeover around midnight. We anticipate Altoona and State College to switch to snow shortly after, probably around 1-2 AM Thursday. Here is future radar for 3:00 AM Thursday.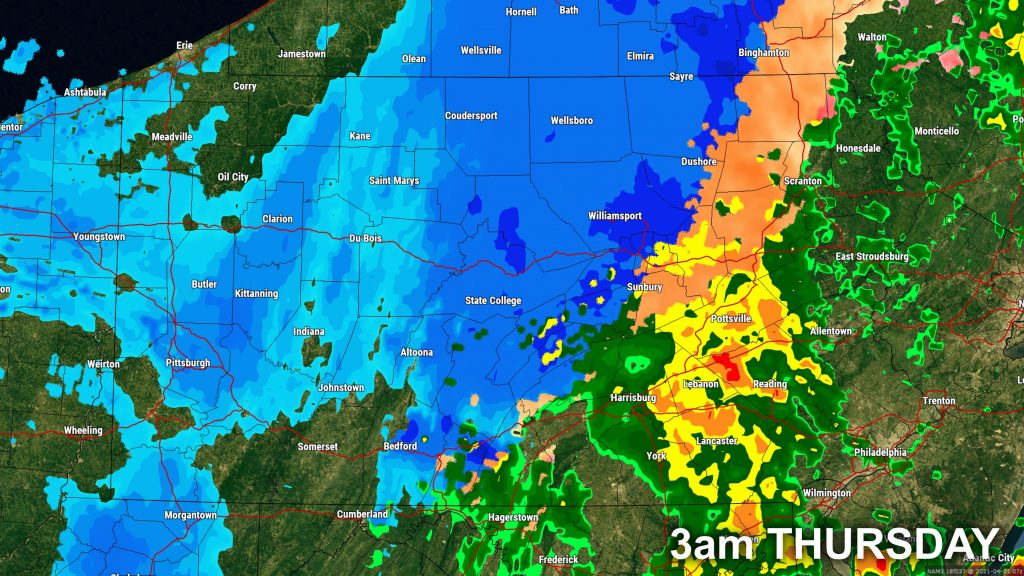 Most of northeast PA, north of the I-80, should change to snow around 3-5 AM Thursday. However, the Wyoming Valley as usual will be the last to changeover, likely around sunrise Thursday. Below is future radar for 6:00 AM Thursday.
Skies will likely clear out in southern PA by lunchtime Thursday, but in northern PA we anticipate clouds to linger with scattered snow squalls late Thursday Afternoon into the evening.
FIRST CALL SNOWFALL FORECAST FOR THURSDAY'S SPRING SNOW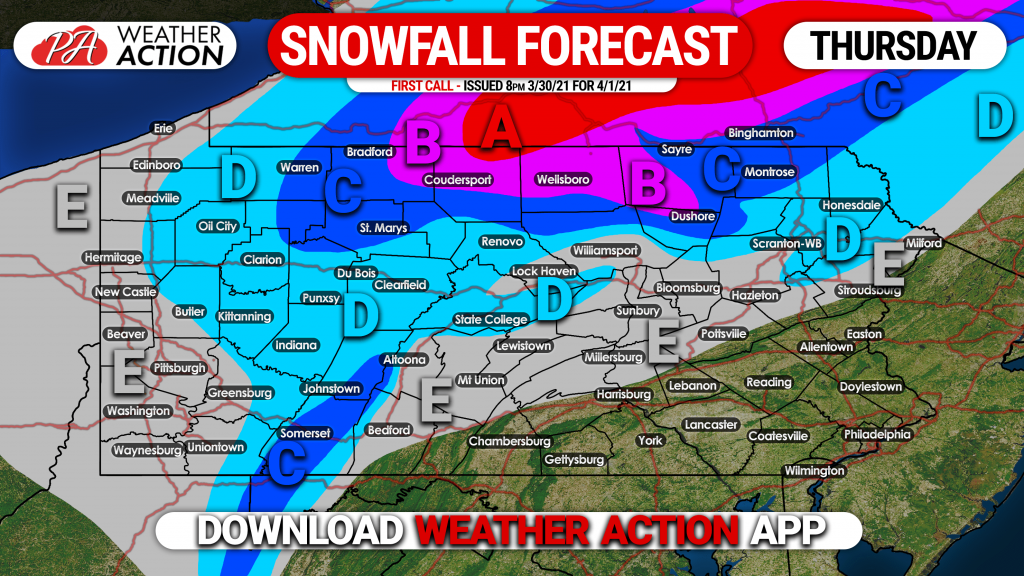 Area A: Snow accumulation of 6 – 8″ expected. Plan on snow-covered roads Thursday Morning, make travel very difficult.
Area B: Snow accumulation of 4 – 6″ expected. Slushy and snow-covered roads will make the Thursday Morning commute difficult.
Area C: Snow accumulation of 2 – 4″ expected. Slushy roads may complicate travel Thursday Morning.
Area D: Snow accumulation of 1 – 2″ expected. Plan on slushy travel on ridgetops Thursday Morning.
Area E: Snow accumulation of less than 1″ expected.
Stay tuned for our final call as well as interactive radar and more during the storm with our app! Get it on iOS and Android here: Weather Action App
Don't forget to share this forecast with anyone who may be traveling Thursday morning in affected areas!