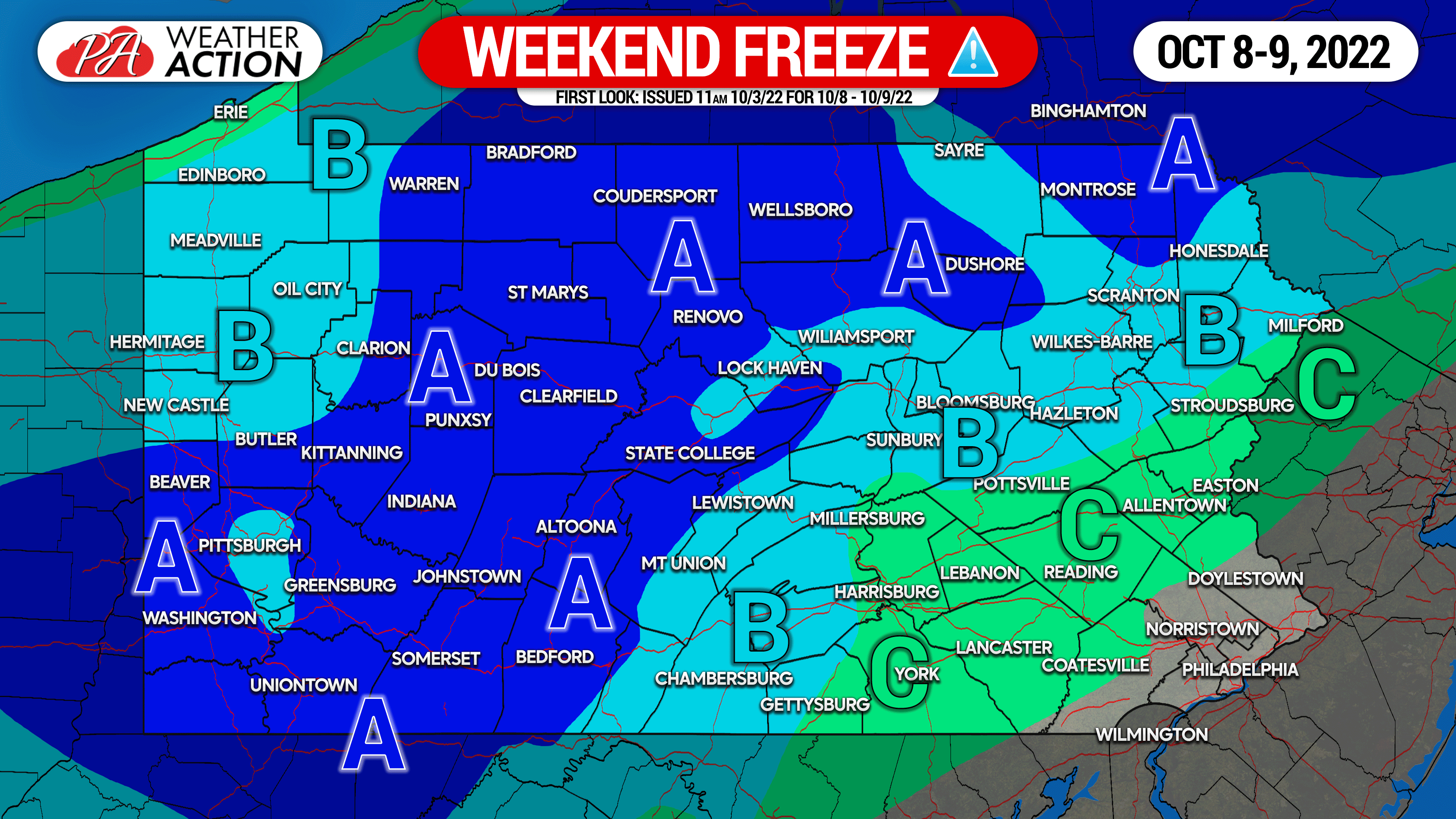 [quads id=1]
Fall has been in the air for a few weeks now, after such an abrupt start. But it's been a gradual cooling since, with nearly no truly cold temperatures yet. The growing season is still officially ongoing in every county of PA, but that will soon come to an end. A cold front swinging in behind a low pressure to our north will turn Thursday's daytime 60s and 70s into Saturday's 40s and 50s. We are watching the threat of many first frosts and freezes Saturday and more likely – Sunday morning.
While fall foliage is running a little behind, as forecast in our outlook, this weekend will present the first opportunity of the season to get out and enjoy the fall weather that many of us have looked forward to all summer! If you're headed to outdoor events, bring a light jacket for sure. If you're trying to find some fall foliage, head to the higher elevations of Northern PA, or the Laurel Highlands.
Saturday morning will be the first of the two chilly mornings, with lows dipping into the 30s nearly statewide. Frosts are possible in the western half of Pennsylvania, with a freeze probable in the Laurel Highlands. It won't likely be until Sunday morning that many more areas see a first frost or freeze.
As far as timing is concerned, this freeze will be a about a week late in Northern PA, but right on schedule in the Laurel Highlands and Western PA. Parts of the eastern half of the state may see an early freeze, but right now that looks to be mainly rural, deep valleys. Below is the average first freeze in Central PA.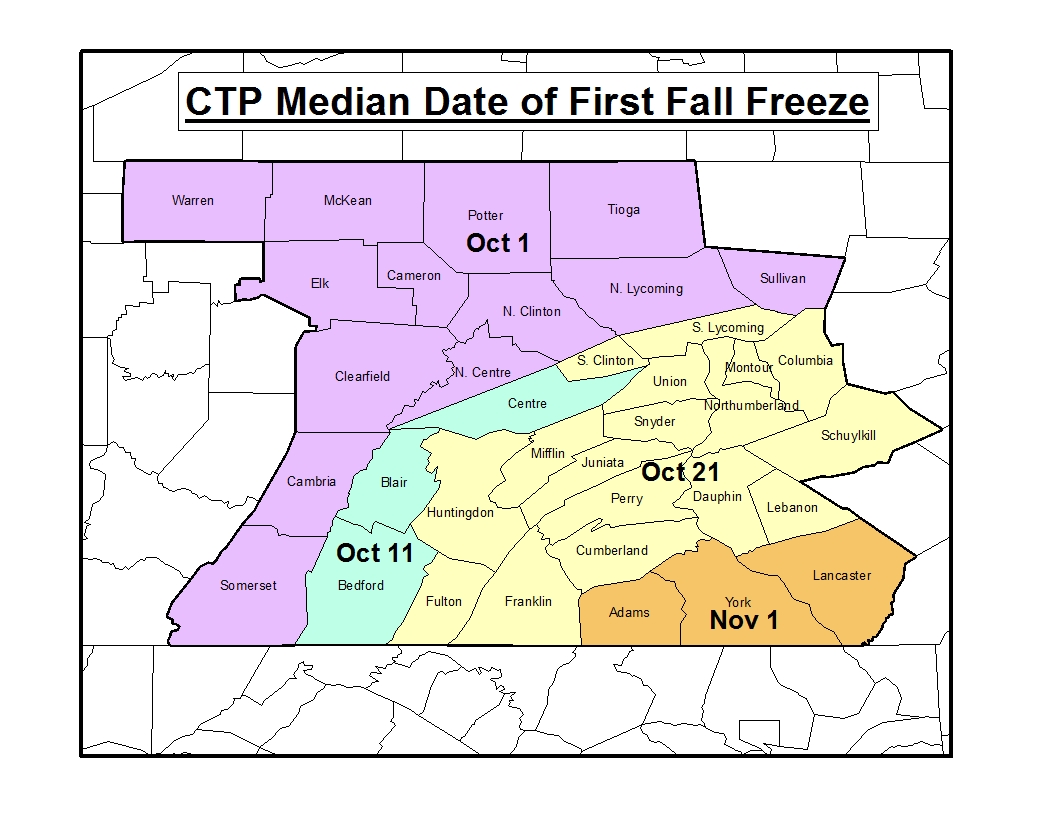 [quads id=2]
If you're looking for a full list of things to do or consider doing before the first frost (this week), check out this article.
Sunday morning will be the colder of the two mornings all around, with a freeze expected down the spine of the Appalachian Mountains and in Southwest PA.

FIRST FROST & FREEZE MAP FOR OCTOBER 8-9, 2022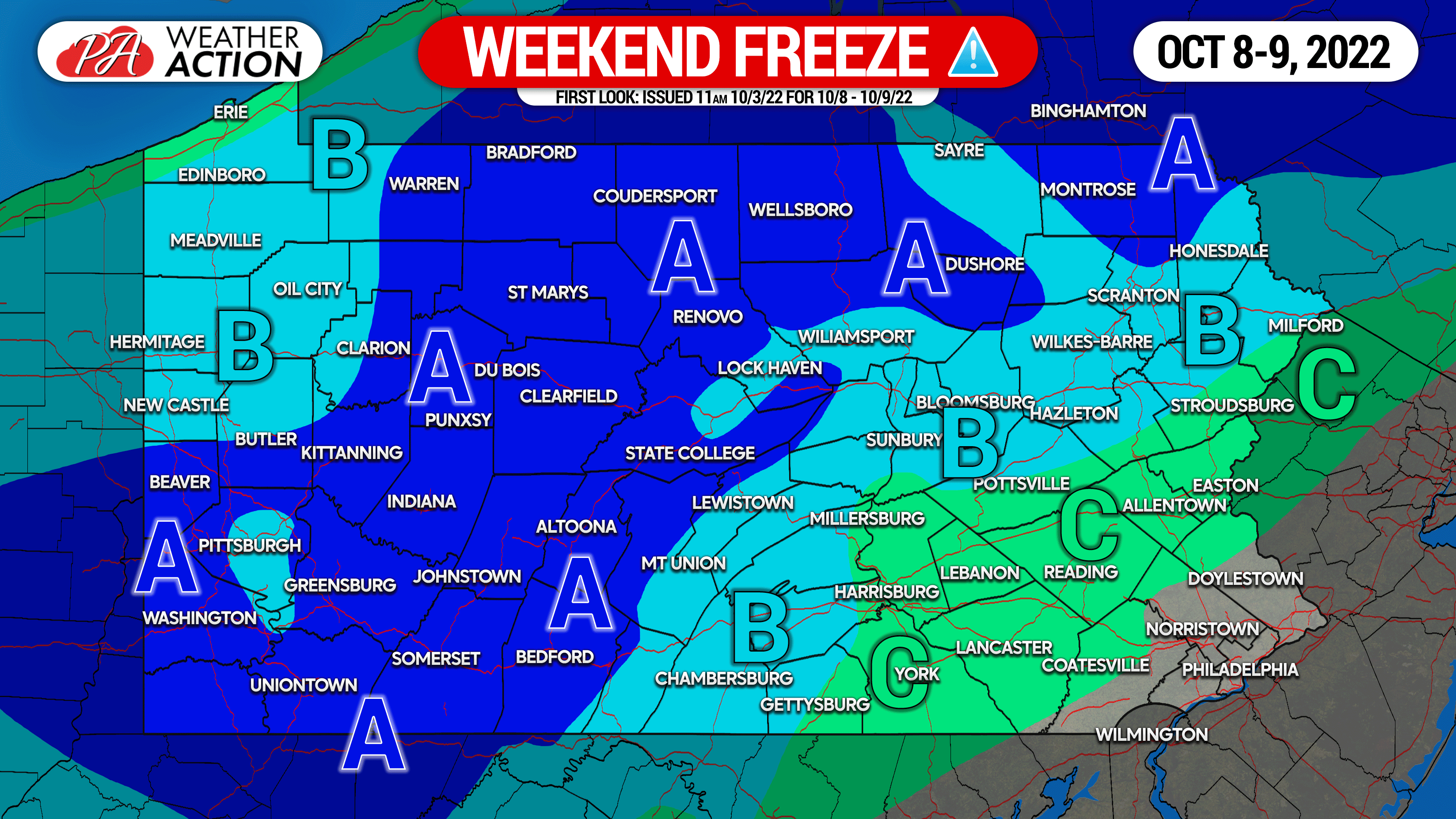 Area A: Temperatures between 29° and 33° are expected Saturday morning and Sunday morning, likely ending the growing season. Fall foliage will not be harmed at these temperatures.
Area B: Temperatures between 33° and 37° are expected Saturday morning and Sunday morning, likely causing first frost. A freeze is not currently expected.
Area C: Temperatures between 37° and 41° are expected Saturday morning and Sunday morning, but are unlikely to cause a frost.
We will have another update on this before the weekend. Be sure to share this article with family and friends who may be interested.
Like PA Weather Action on Facebook if you haven't!
---
---