Wait, it's the wintertime!? For a while it felt like November. But then again, it actually snowed in November. That's right everyone, believe it or not is January 6th and we finally have at least some wintry weather to talk about here in PA.
A short round of freezing rain is expected Monday night through Tuesday morning in parts of the state. A mix of freezing rain and sleet will move into Northern PA late Monday evening. By 12 AM Tuesday, freezing rain will be falling across much of Central PA. Below is the Hi-Res NAM for 12 AM Tuesday.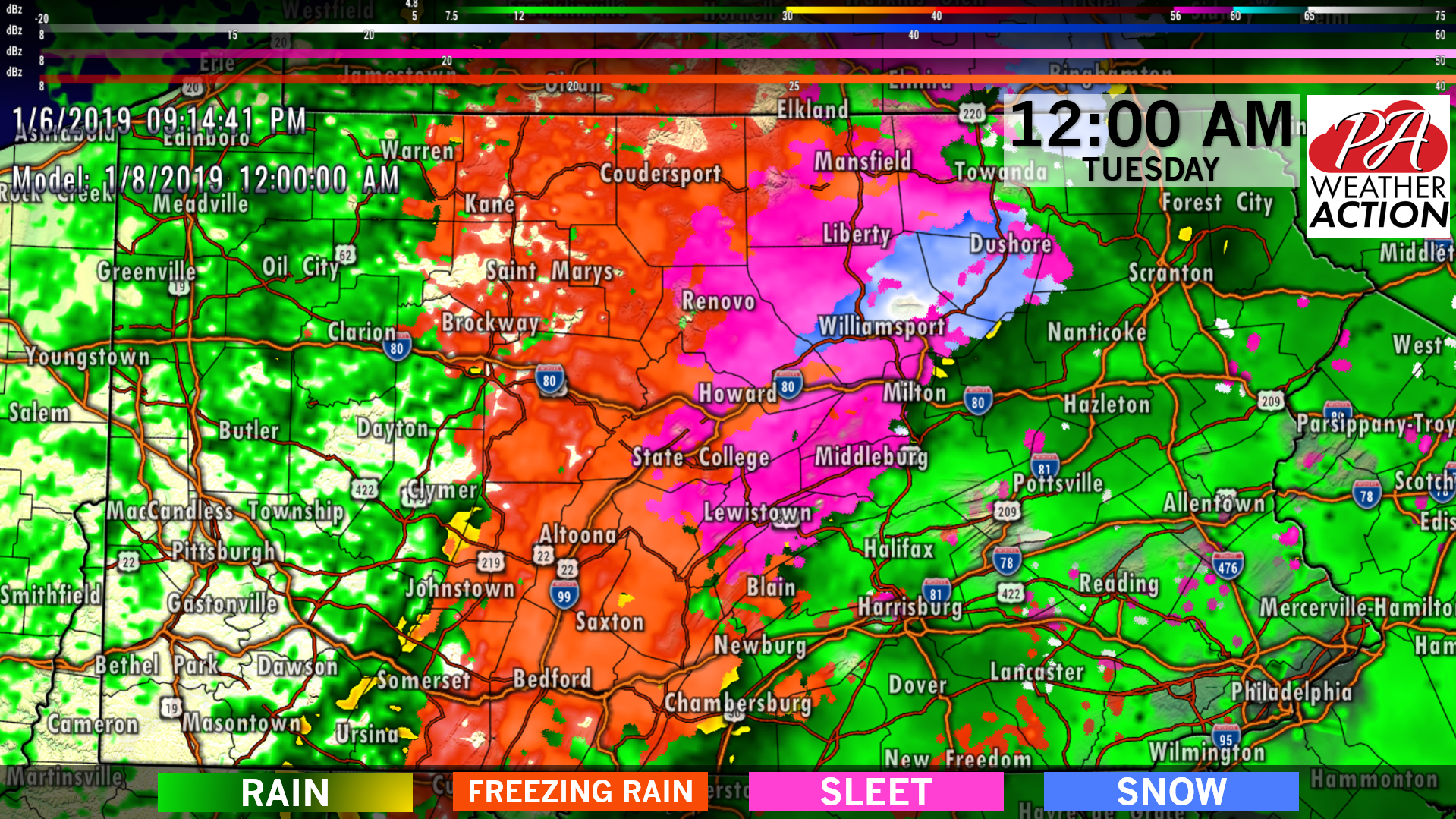 Precipitation will continue to move east through the night, reaching Eastern PA by 3 AM Tuesday. Watch for slick roads as far south as the Philadelphia suburbs before sunrise Tuesday. Here is the future radar for 3 AM Tuesday.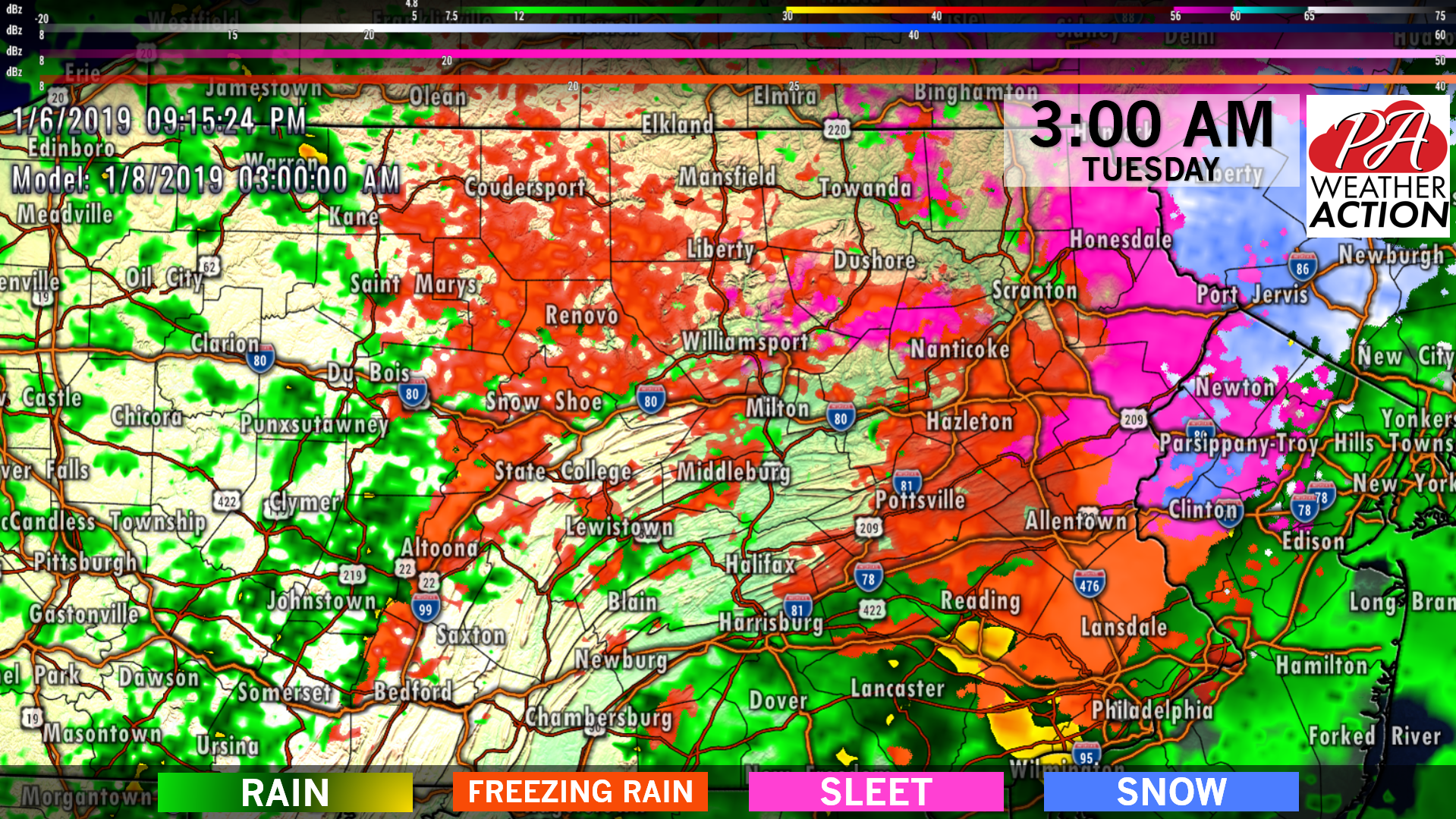 By sunrise, temperatures will warm above freezing in much of the state with the exception of northeast and north-central PA. Roads may still be icy in the Poconos and north-central mountains up until around noon Tuesday. Below is the model for 6 AM Tuesday.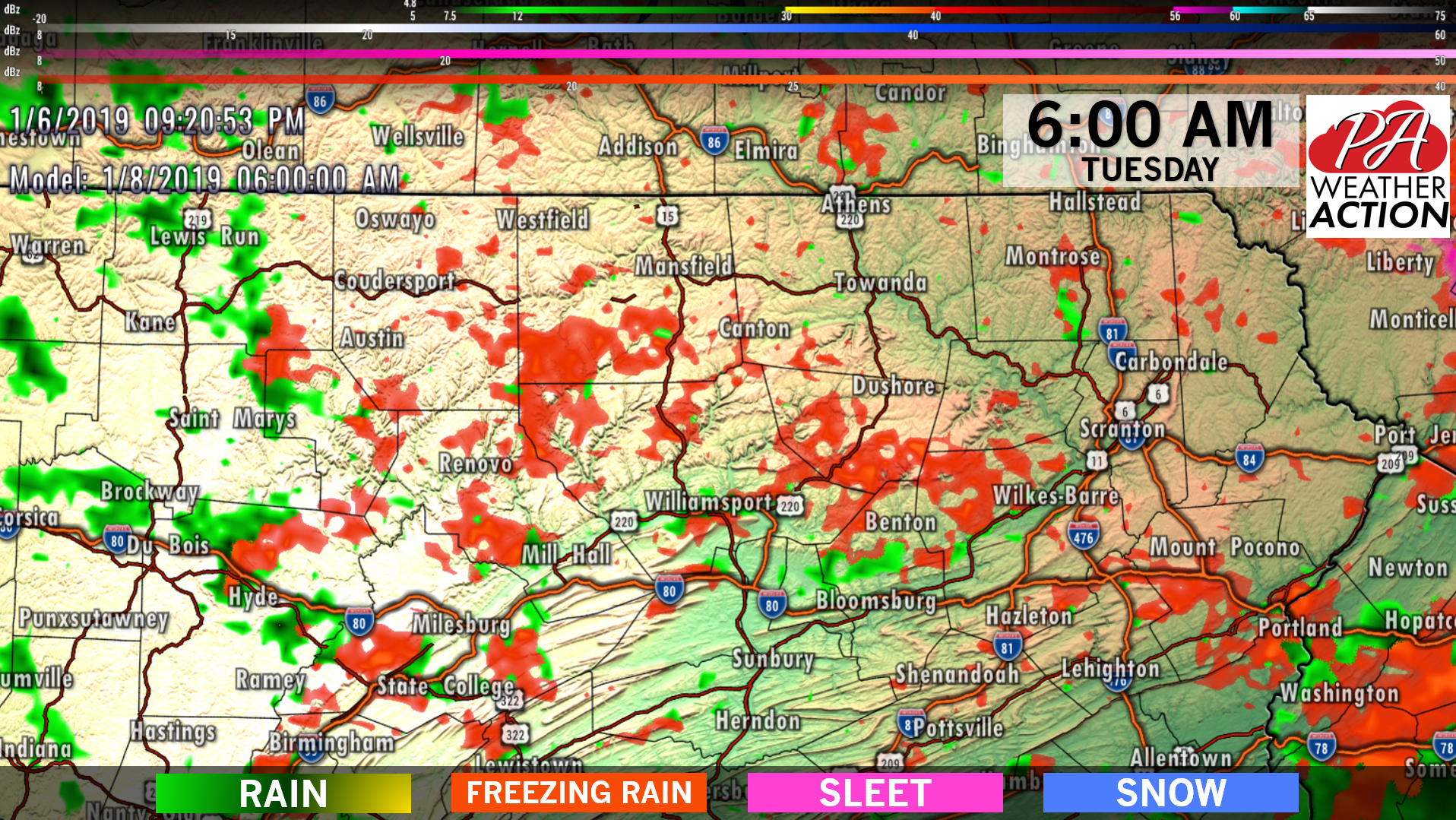 School delays are possible Tuesday Morning in parts of the mountains, because as mentioned, temperatures will struggle to rise above 32 late Tuesday Morning. Here is a graphic showing what locations are likely to be at or below 32° at 10 AM Tuesday.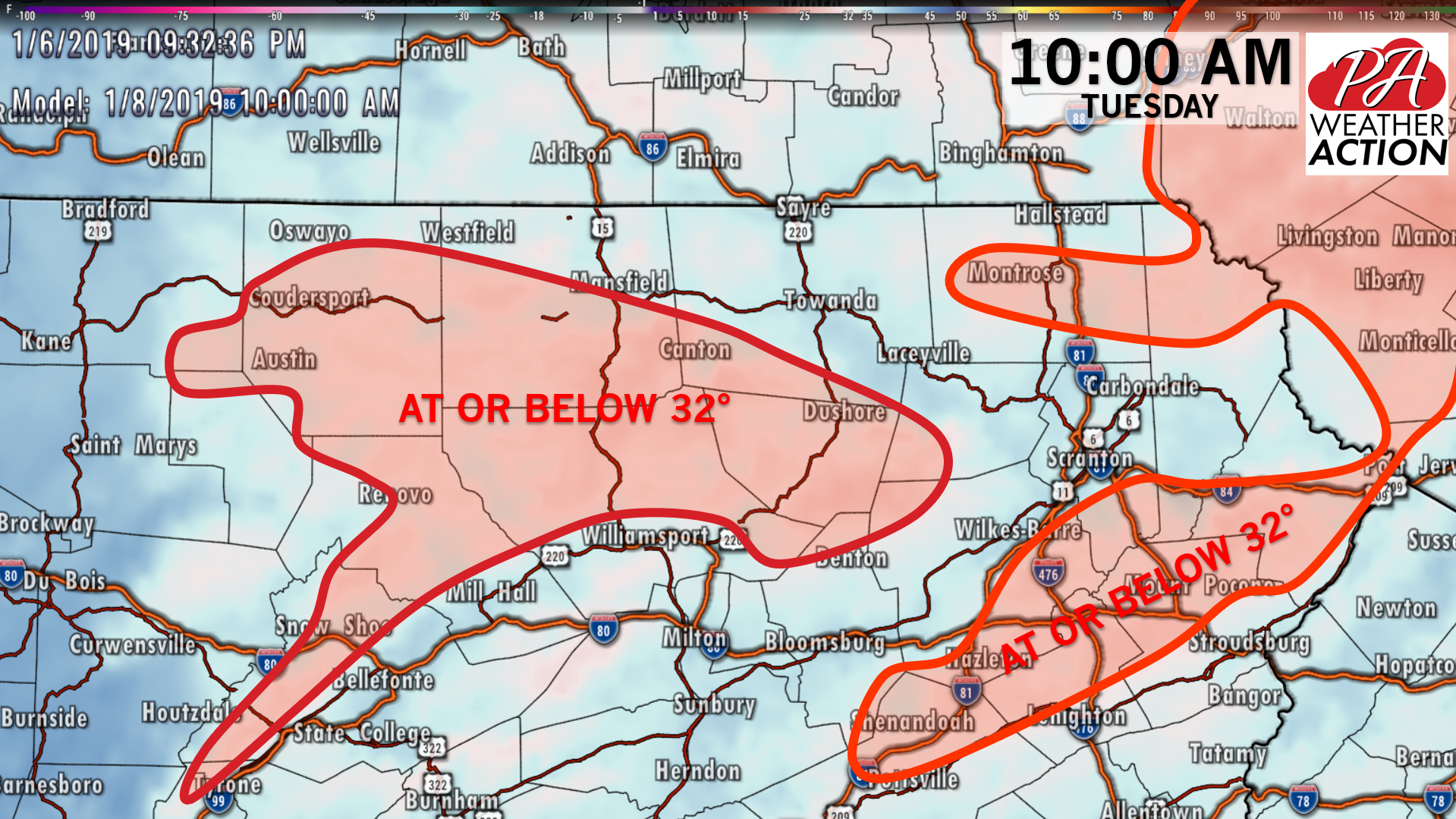 FREEZING RAIN ACCUMULATION FORECAST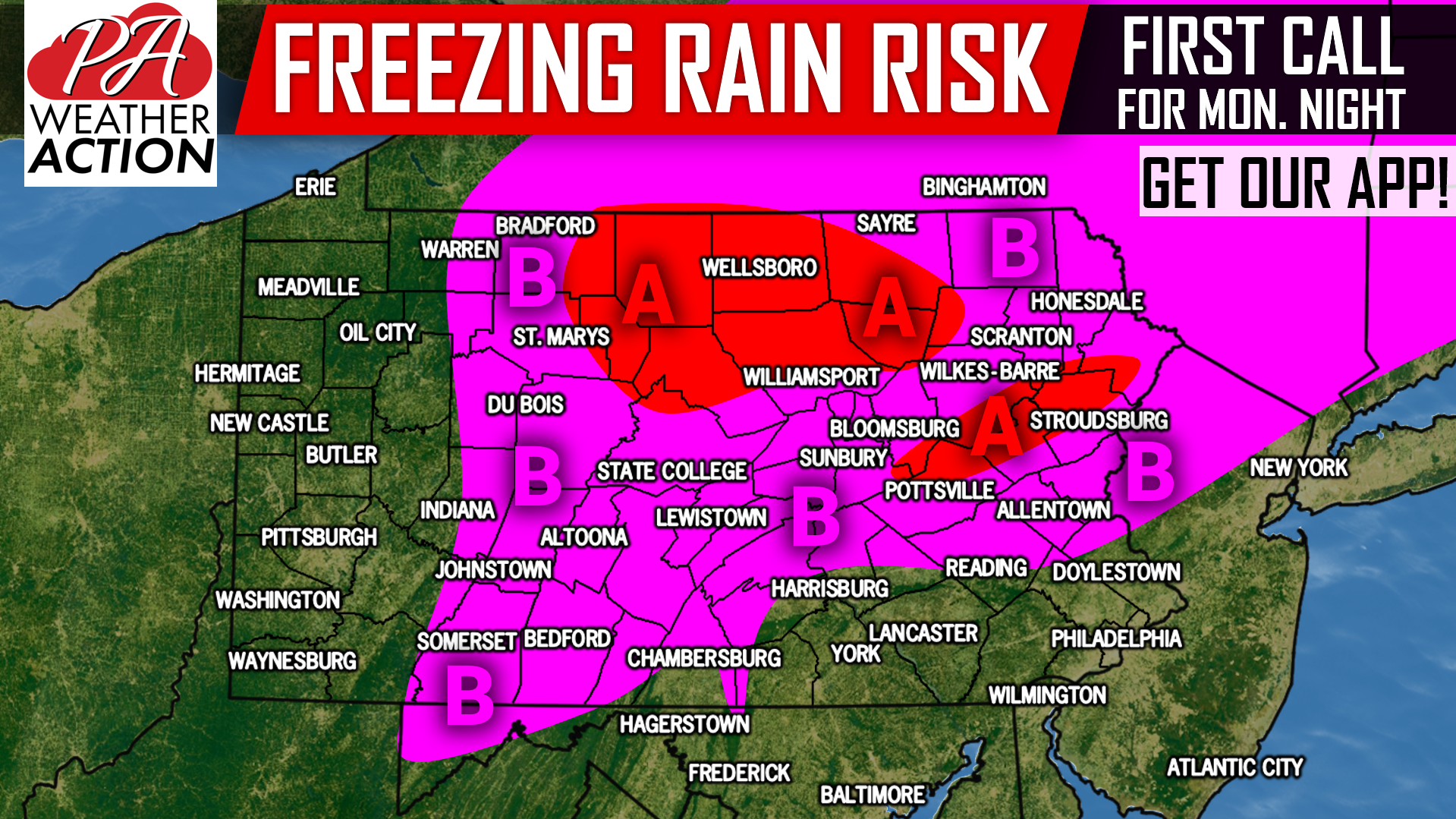 Area A: Freezing rain will begin from west to east around 12 AM Tuesday. Temperatures will rise above 32 around noon Tuesday. Travel delays likely Tuesday Morning due to icy roads. Total ice accumulation of a tenth to a fifth of an inch.
Area B: A two to four hour period of freezing rain is expected Monday Night. A few slick spots will be possible Tuesday Morning on untreated secondary roads. But for the most part, the Tuesday Morning Commute should be alright. Total ice accumulation of up to a tenth of an inch.
Winter may finally start to get its act together, so be sure to download our app to stay ahead of the winter weather in the coming months. App Link >>> PA Weather App Link!
Don't forget to share this forecast with your friends and family if in affected areas using the button below!