Despite the lack of winter weather this season, Mother Nature is making things interesting for much of western and central Pennsylvania Friday. What once looked like a light snowfall Friday morning, now appears to be a significant snowfall for many locations. But first, we have to get through tonight's round of freezing rain and then eventually plain rain by tomorrow.
There is no major changes to our first forecast for the freezing rain tonight into tomorrow morning. Many areas, except for southeast and southwest Pennsylvania will start off as some freezing rain after 7:00 PM. The precipitation will push northward as we head later into the nighttime hours. Below is a look at 9:00 PM tonight:
The good news remains that the bulk of the freezing rain will fall while most of us are sleeping. By midnight, the precipitation will overspread the whole state. It is possible that far northern Pennsylvania starts off as a period of sleet before changing to freezing rain as shown by our future radar: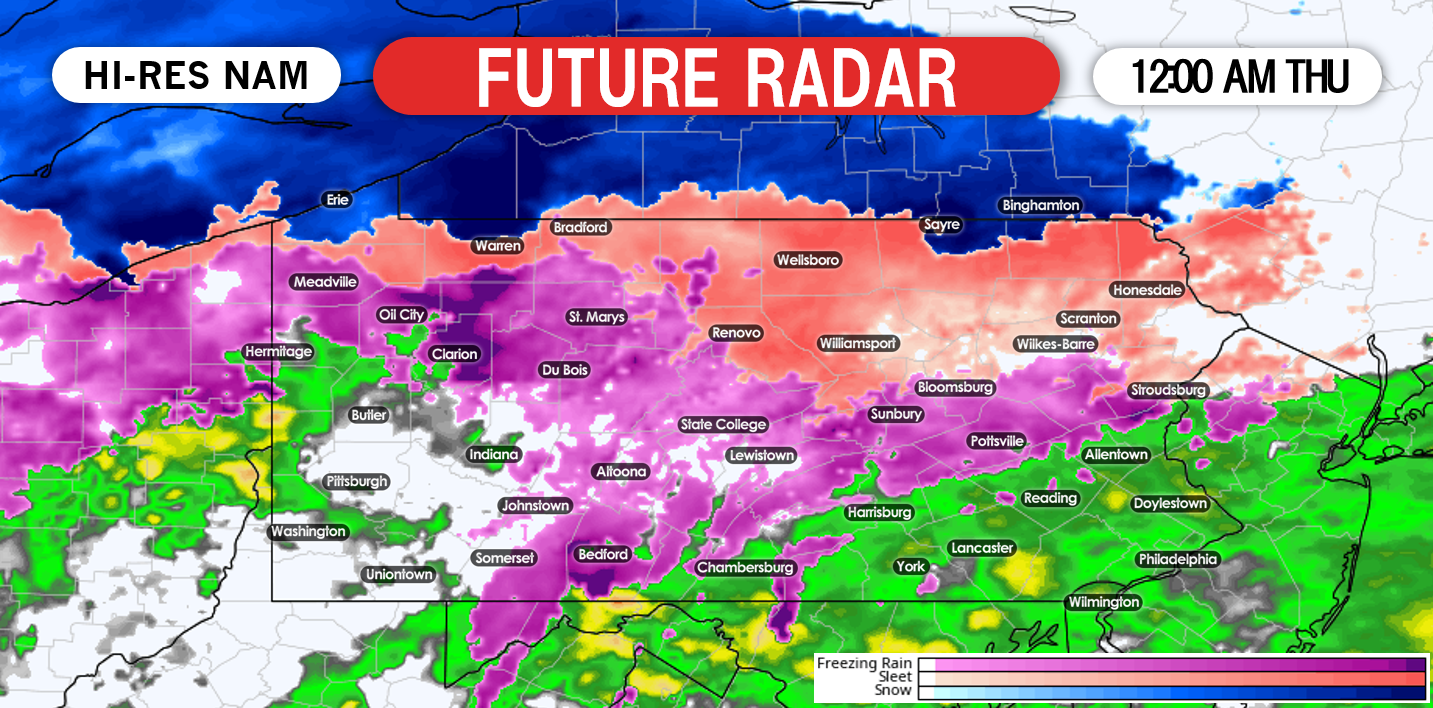 By 3:00 AM much of the southern half of Pennsylvania has changed over to plain rain, while the northern half of state hangs onto the frozen precipitation:
The Thursday morning commute to school and work will be heavily impacted for the areas that hang onto the freezing rain the longest. We expect northern Pennsylvania will see freezing rain falling through 6:00 AM. After 8:00 AM, all locations will change to a plain rain/drizzle. On and off rain showers are possible throughout the day Thursday. We do anticipate there to be a lull Thursday evening and into the nighttime hours. Then our attention turns to round two.
A second low pressure system will rapidly strengthen along a frontal boundary that essentially has itself parked right over the state. Rain changing to heavy wet snow fall is likely for western and parts of central Pennsylvania Friday morning. Yesterday it appeared snow totals would be on the low side, however with the latest trends, we have INCREASED snowfall totals in our latest map.
Rain will be on the increase after 2:00 AM Thursday. The rain will eventually change to a heavy, wet snowfall for western Pennsylvania by mid-morning Friday. Below is a look at 6:00 AM Friday morning: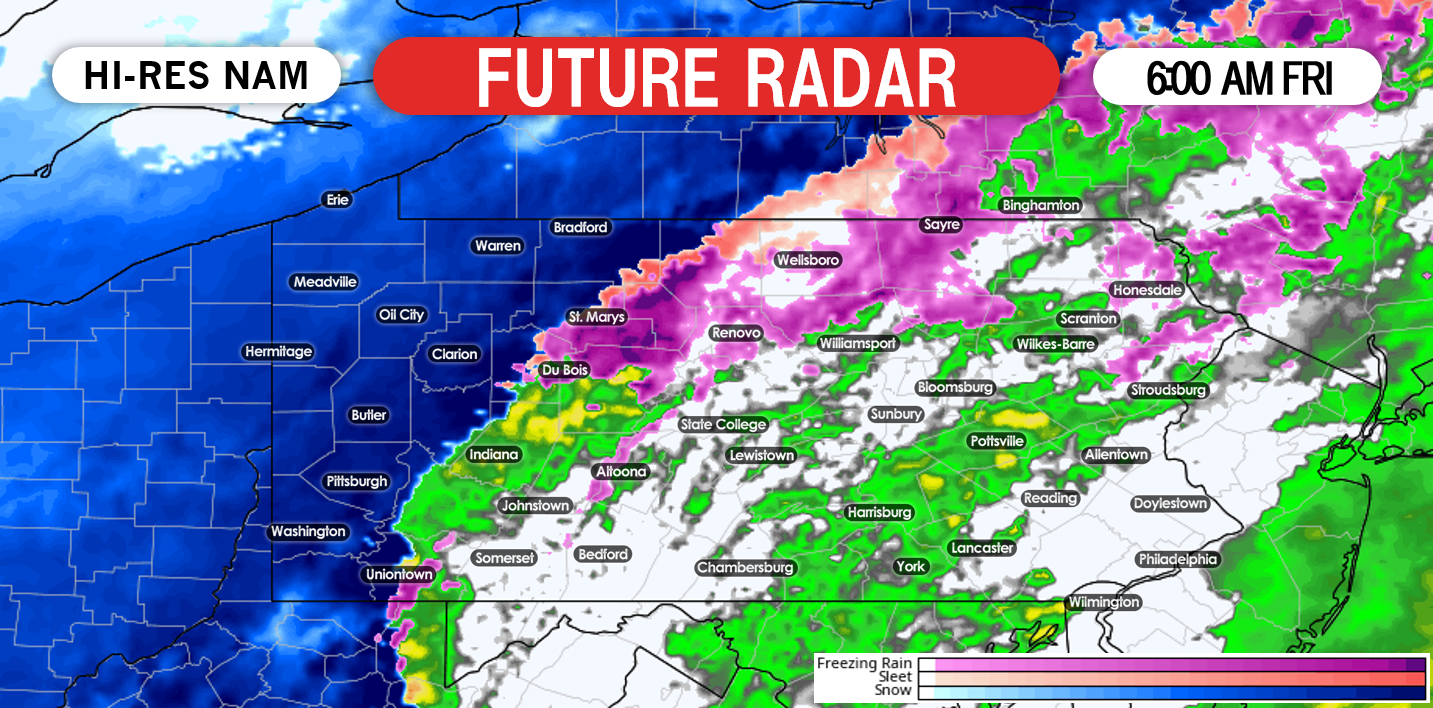 While we do not anticipate this to be a long duration snowfall, we do anticipate whatever snow that does fall, falls at a rapid rate. This will cause significant to major travel issues for the Friday morning commute. For eastern Pennsylvania followers that are reading tonight's article, you have nothing to worry about. Little to no snow is expected for you. Just a plain rainfall.
Taking our future radar out to 8:00 AM Friday morning, the changeover from rain to snow begins to creep toward parts of central Pennsylvania: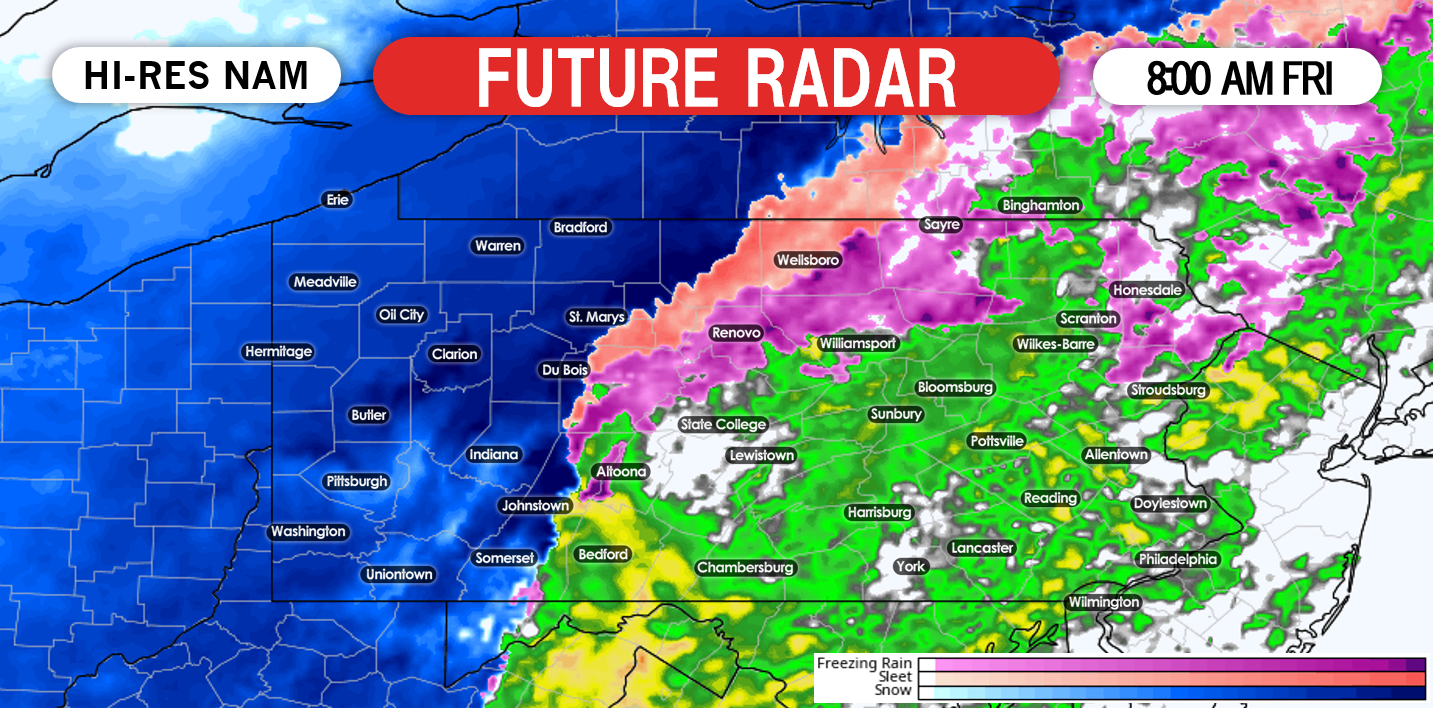 As the low pressure begins to approach the region, not only will the snowfall rates continue to increase in intensity, the wind will as well. Now we are NOT talking blizzard conditions, however, a heavy wind-driven snow is possible with sustained wind speeds of 10 to 20 MPH. Below is a look at 10:00 AM Friday Morning: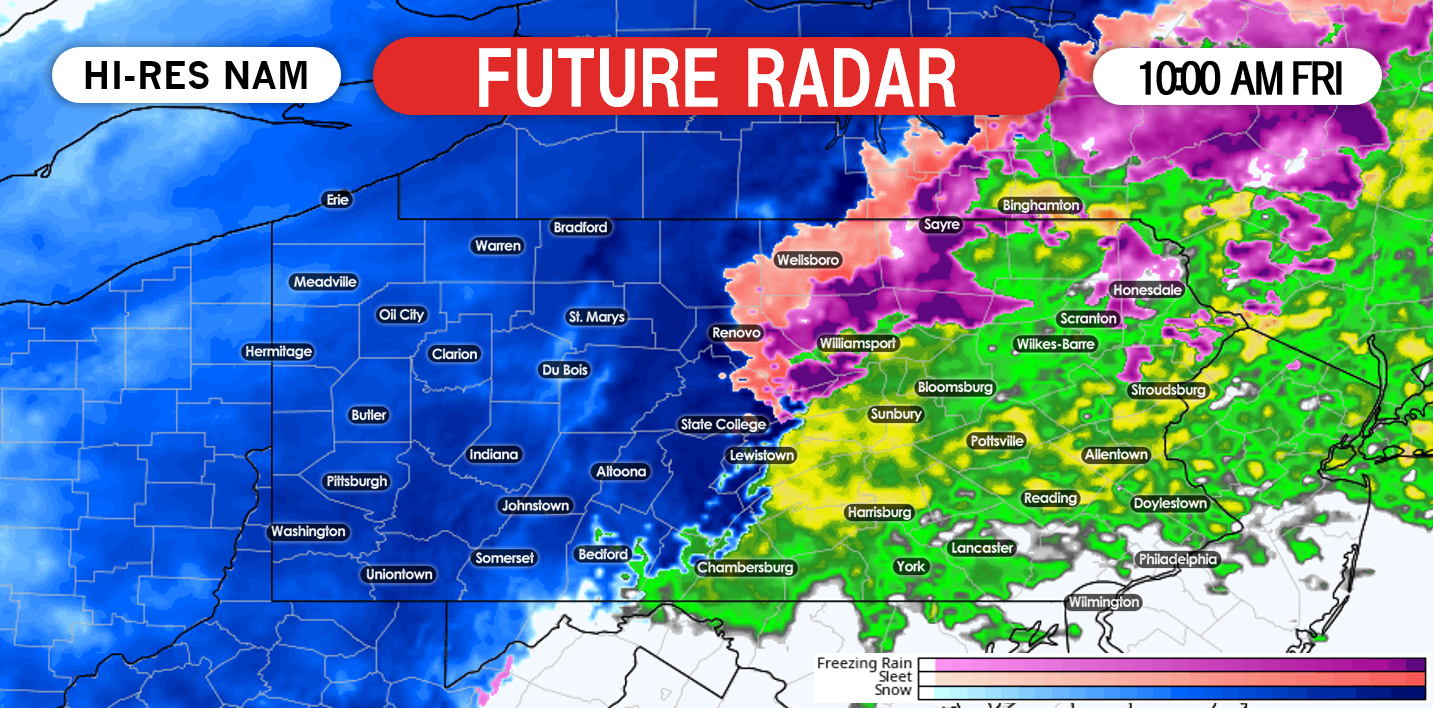 Snowfall rates will likely exceed 1″/an hour in many locations across western and central Pennsylvania Friday morning. It is highly recommended to avoid traveling in these areas until at least the afternoon hours. Below is a look at 12:00 PM Friday Afternoon: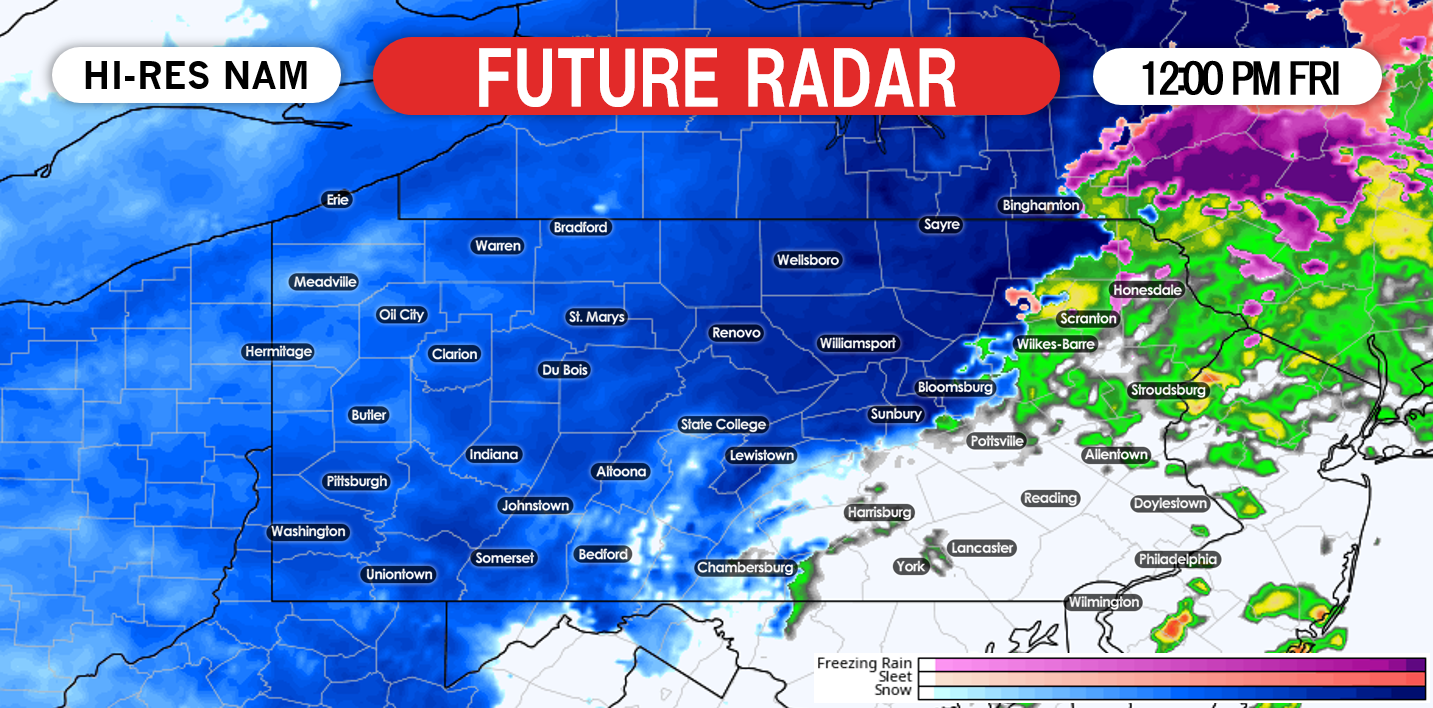 We anticipate the snowfall to begin to taper off after 2:00 PM Friday. While this storm may not bring major snowfall amounts, it is possible some areas will see their biggest snowfall of the season so far. With this winter though, that is not saying much.
FREEZING RAIN/ICE FORECAST MAP

Area A: Ice accretion of .10 – .25″ expected. School delays and/or closings possible Thursday.

Area B: Ice accretion of .01 – .10″ anticipated. Due to warm surface temperatures, locations south of State College and Pottsville are only likely to see slick bridges and overpasses, whereas north of those locations are more likely to see ice on all surfaces.
SNOWFALL FORECAST MAP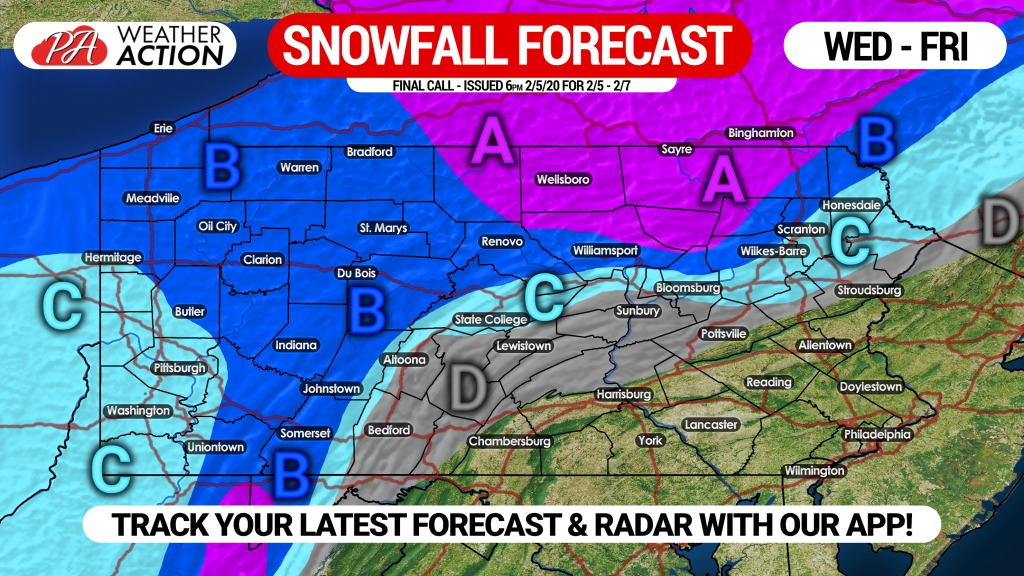 Area A: Snow accumulation of 4 – 7″ expected.
Area B: Snow accumulation of 2 – 4″ anticipated.
Area C: Snow accumulation of 1 – 2″ expected.
Area D: Snow accumulation of less than 1″ anticipated.
Be sure to share this forecast with your friends and family if in the impacted areas by using the button below!
Stay ahead of the wintry weather by downloading our free app! It features detailed hourly and daily forecasts, interactive radar, weather alerts, and more! Tap its icon below to download!