The dramatic realization has arrived. Summer is done, and the chill of Fall is setting in. Average first freeze dates range from Early October in the Northern PA and Allegheny Mountain Ranges to mid-November in Philadelphia.
A trough will plunge into the Eastern US this weekend, not only bringing cold air but also kicking Matthew right off the Carolina Coast. Freeze warnings are up across the Central and Northern Plains, and even light snowfall is taking place in areas like Western Nebraska.
The worst of the cold will reach PA Sunday Night. Lows are likely to drop down into the 30s throughout Western and Central PA, with temperatures near freezing in locations across Northwestern PA, down into the highest elevations of Somerset County in SW-PA. This will put an end to the growing season in regions that dip below 35.
Monday Night, the brunt of the cold moves into Central and Eastern PA. Hundreds of thousands of people will be waking up to temperatures in the 30s Tuesday Morning. A freeze is likely in areas above 1200′ in the Central and Northern Poconos with a frost possible or likely throughout many other areas.
FROST/FREEZE MAP FORECAST
Area A – Freeze likely. Temperatures will fall to between 30-34 degrees in western parts of this area Sunday Night and 29-33 degrees in eastern parts of this area Monday Night.
Area B – While a freeze is possible, a frost is more likely in this area. Temperatures will dip between 34-38 in western parts of the area Sunday Night eastern parts Monday Night.
Area C – A frost is possible in this area. Temperatures will fall to between 37-41 degrees both Sunday Night and Monday Night, however scattered locations will dip as low as 34 degrees.
Area D – Neither a frost or freeze is likely in this area. Temperatures will drop to 38-42 degrees Sunday and Monday Night. With that said, some isolated regions could see a frost.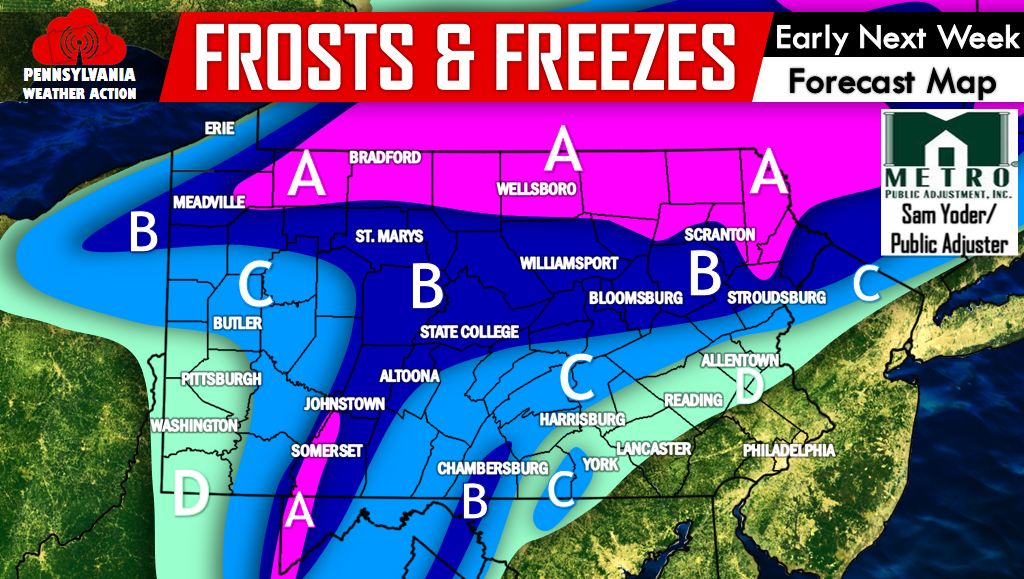 Don't forget to like Pennsylvania Weather Action on Facebook >>> PA Weather Action on Facebook!
Also, subscribe to our new Youtube Channel >>> PA Weather Action on Youtube!
Thank you for reading this forecast and don't forget to share the chill of the season below!