The area has experienced very comfortable weather the past few days with temperatures in the 70s and 80s along with low humidity. All of this will change the upcoming week as very hot temperatures are expected and the humidity will be on the rise. Monday will be hot, with many areas reaching the upper 80s and even the low 90s, but our main focus will be Tuesday through Thursday of this week for the worst of the heat.
Take a look at the projected actual high temperatures for Wednesday: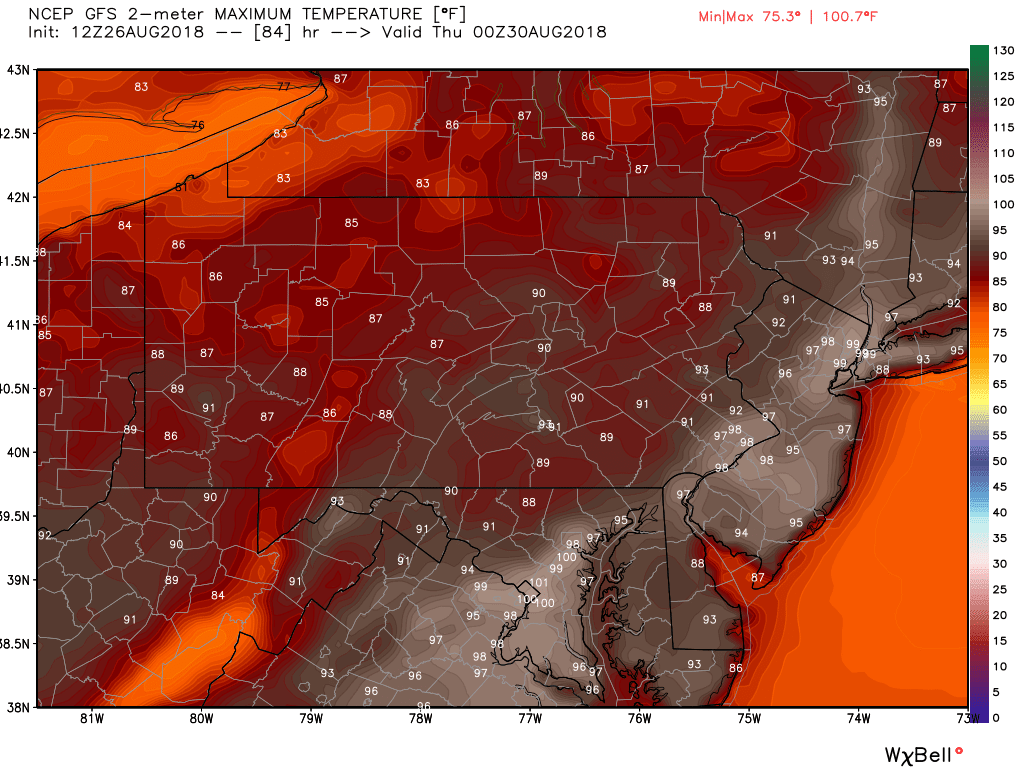 Parts of Southeast PA have projected high temperatures near 100 degrees according to this model and that is WITHOUT factoring in the heat index. How hot will the temperatures really feel? In many cases you can add 5 to 10 degrees on top of what you see in the image above. This type of heat can cause life threatening issues if not taken with caution. Stay hydrated and check on your elderly family and friends, as well as your pets. DO NOT leave your pets outside this week. Below is a look at a chart demonstrating the danger of the heat this week: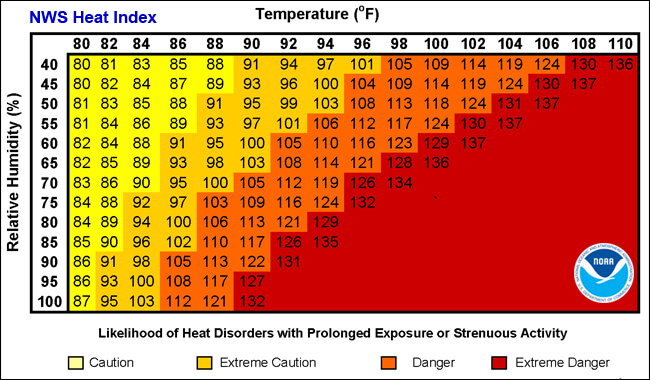 Using the chart above, many areas will be in the "extreme caution" to "danger" category. If you are outside for prolong periods of time this week, stay hydrated and take breaks as needed!
EXPECTED REAL FEEL TEMPERATURES TUESDAY THROUGH THURSDAY:

Area A: Worst of the heat is expected over this area. Actual high temperatures of 95 to 100 degrees is expected with real feel temperatures in the 100 to 105+ degree range.
Area B: Actual high temperatures of 90 to 95 degrees is expected with real feel temperatures in the 95 to 100 degree range.
Area C: Actual high temperatures into the lower 90s is expected with real feel temperatures reaching the middle 90s at times. 
Area D: Actual high temperatures will likely remain in the upper 80s, but real feel temperatures are expected to reach the lower 90s. 
For the latest updates, like our Facebook by clicking here>>>Pennsylvania Weather Action's Facebook page
For the latest weather alerts and traffic delays, download our free app today by clicking here>>>Pennsylvania Weather Action's App