The active pattern of this summer will continue into the first week of fall, as we have everything from heavy rain to a day four severe thunderstorm threat on tap for the first few days of this week. A frontal boundary will move into the area, bringing heavy rain to the state beginning Monday afternoon and lasting into Tuesday afternoon.
Heaviest rainfall will be primarily focused on Central PA, where flash flooding concerns once again exist. Below is a frame of the Hi-Res NAM for 6 PM Monday: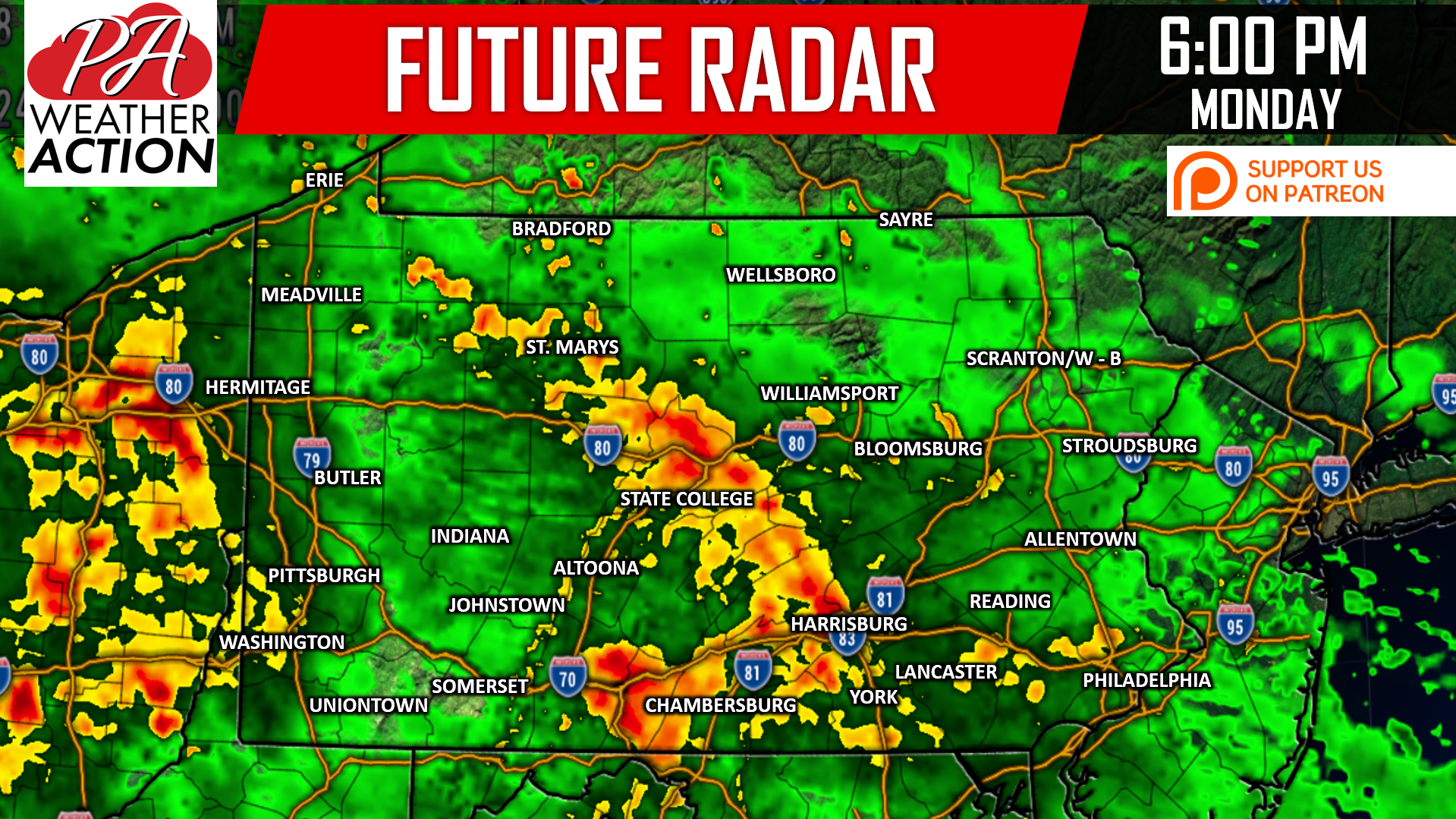 As you can see, heaviest rain Monday evening will be concentrated over areas from Chambersburg to Harrisburg, and up into State College. Light to moderate rain will be falling in all other parts of the state.
Rain will continue through Monday Night and Tuesday Morning. You will need an umbrella Tuesday Morning in much of the state, as illustrated by the model forecast for 8 AM Tuesday: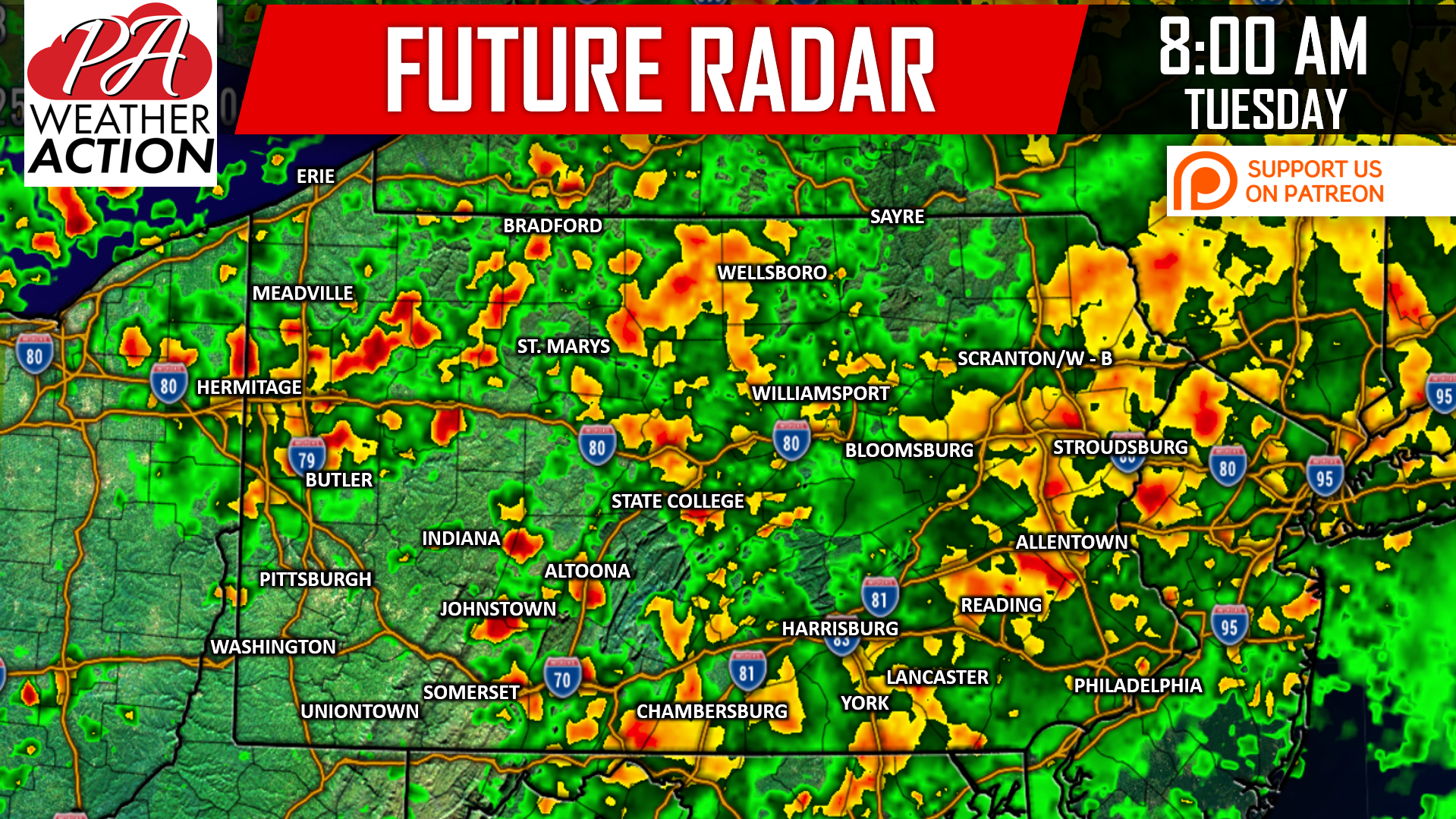 Precipitation will finally lift out of the area Tuesday Afternoon, but our break from the action will be short-lived as another round of severe storms is already being highlighted by the SPC for Wednesday. We will wait to post details on that threat until Monday, but the threat looks to be mainly in central and eastern PA.
RAINFALL FORECAST THRU TUESDAY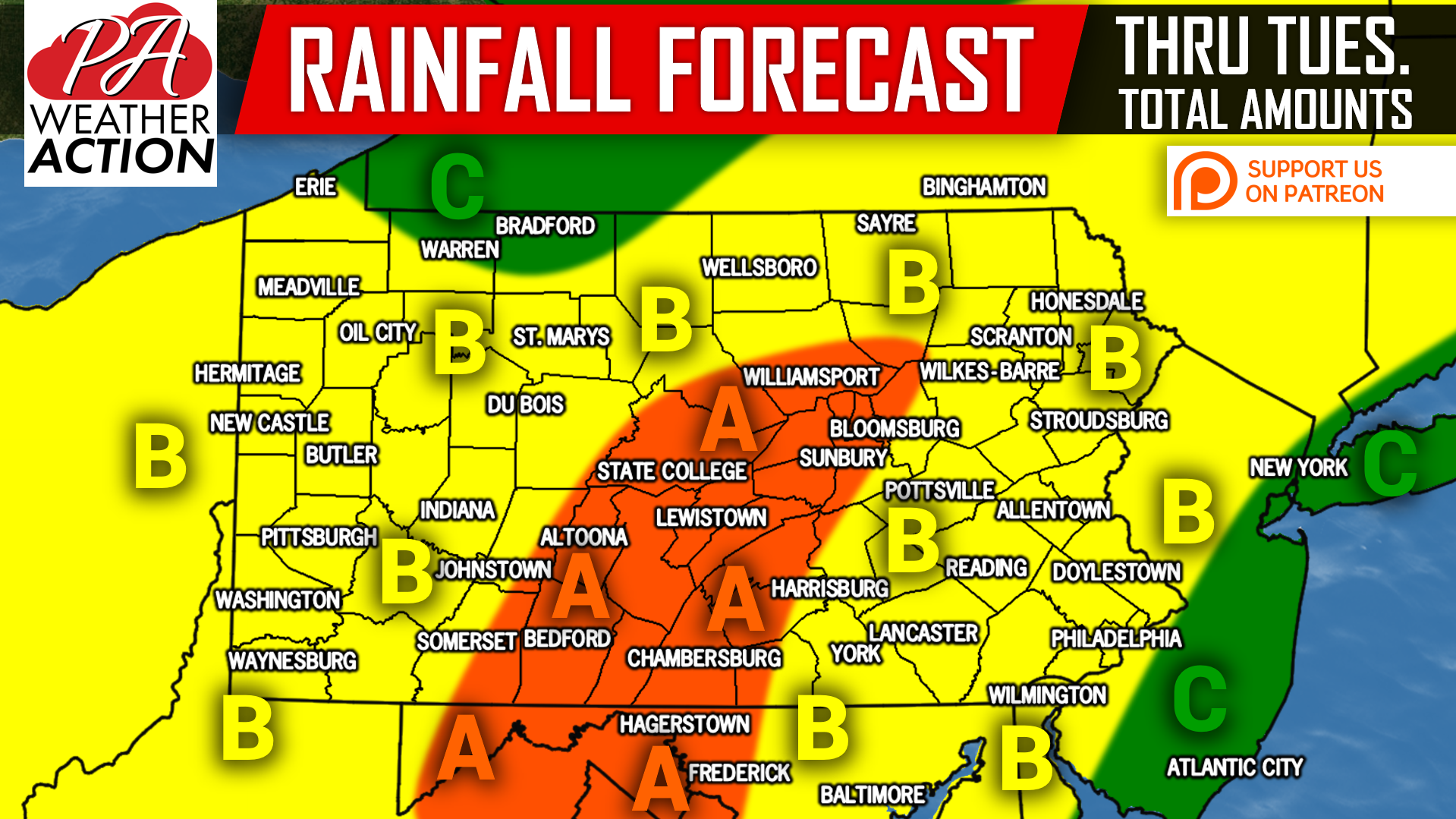 Area A: Rainfall totals of 2-3″ can be expected. Scattered flash flooding is possible, especially in areas that receive more than an inch of rain in one hour. Remember to avoid flooded roadways.
Area B: Rainfall totals of 1-2″ can be expected. Scattered flash flooding is possible, mainly in areas within 30 miles of Area A. Avoid flooded roadways.
Area C: Rainfall totals of .5-1″ can be expected.
Download our free, newly upgraded app for hourly and daily forecasts, interactive radar, alerts with optional push notifications, and much more! Tap here>>>Pennsylvania Weather Action's App
Be sure to have our page liked on facebook to never miss severe storm coverage, or even snowstorm coverage in a few months >>>Pennsylvania Weather Action's Facebook page
Share this article with your family and friends using our icon below!