Yesterday, it looked as if most of PA and even much of New Jersey would escape the brunt of Hurricane Hermine. However, the latest shift in recent guidance suggests we will be dealing with a bit more of a punch.
Before we get into the discussion, it is important to note, this will not be a major storm for PA, but it is Labor Day Weekend and we know a lot of people travel this weekend to the beaches. The Coastal areas is where this will be a major to even serious storm. The further inland you go, the lesser the impacts.
With Tonight's update, we broke it into two maps, one map for the estimated rainfall amounts and another for expected winds. The rainfall will not be the bigger issue, the winds will definitely cause more damage, especially for areas closer to the coast and even Southeast PA.
Unfortunately, this will not be a fast moving storm. Once it is about 50-100 miles East of the NJ coast, Hermine will stall and spin for 48+ hours. This will be damaging for the MD/DE/NJ/Long Island beaches. Not only will this cause beach erosion, but also storm surge in the 2 to 4 feet range.
Timing: Late Saturday through Tuesday. Sunday into early Monday will be the worst of the winds and rain.
Expected rainfall: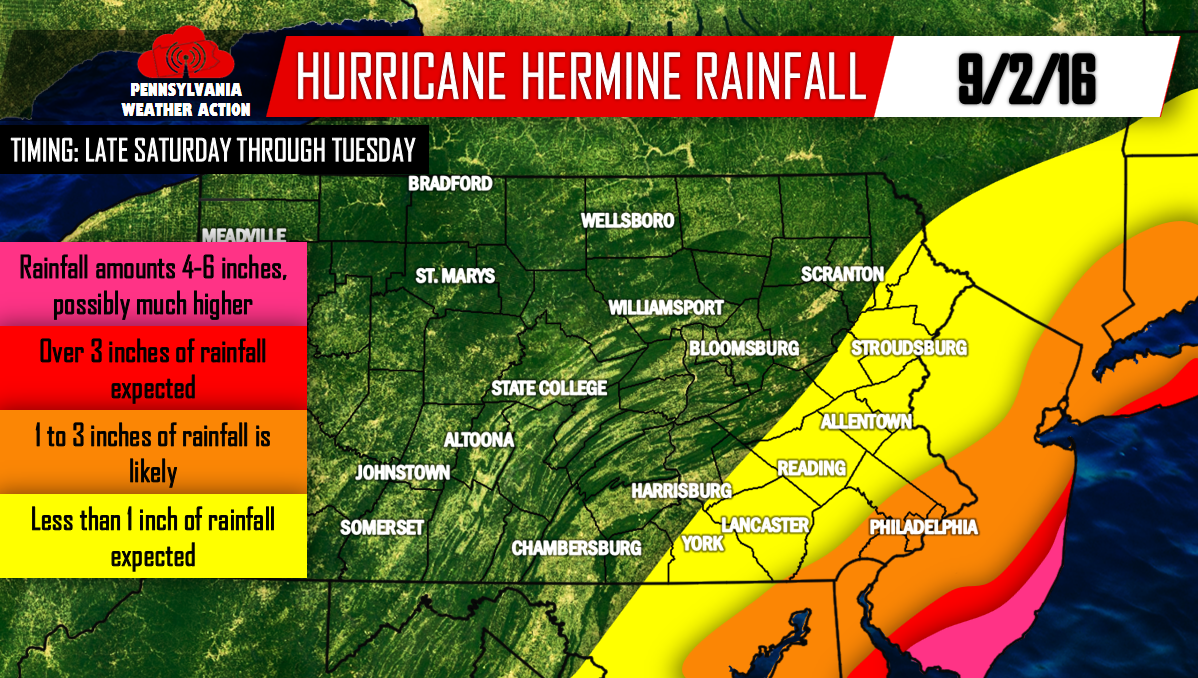 Expected Winds: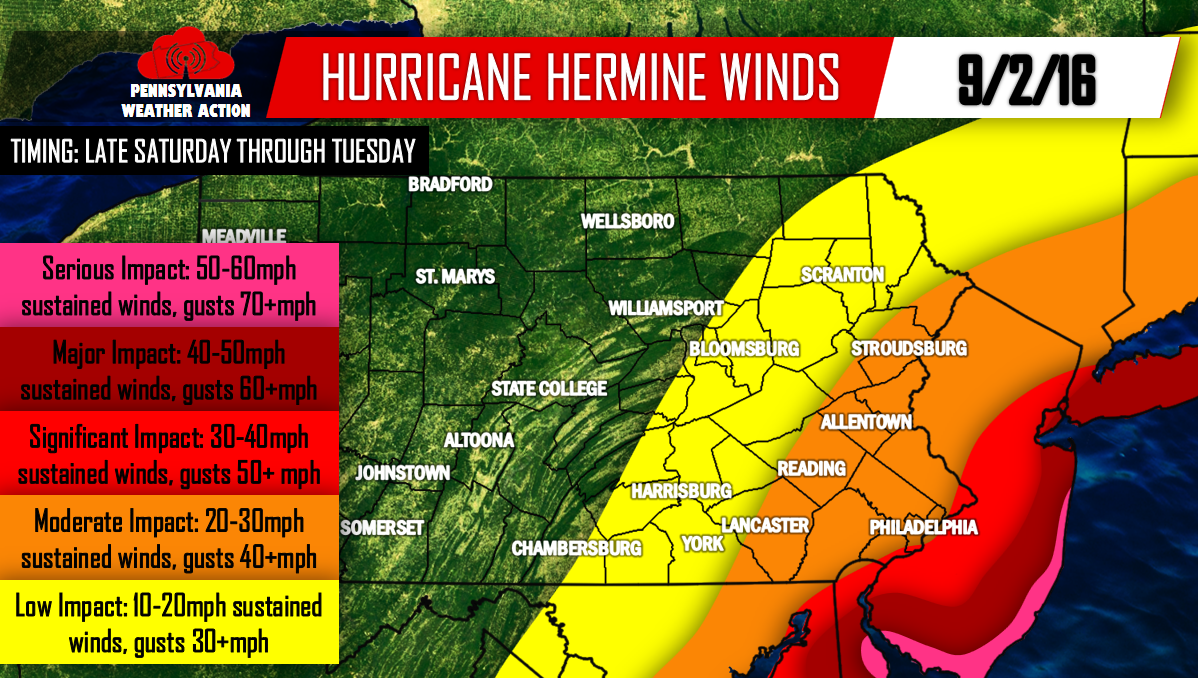 Areas in Pink and Dark Red: Expect beach erosion, widespread power outages, storm surge of 2 to 4 feet for coastal areas. This is not the place to be this weekend.
Areas in the lighter shade of red: Scattered power outages are possible, flooding may be a concern.
Areas in Orange: An isolated power outage here or there is possible with some rainfall, other than that, expect a very breezy couple days.
Areas in yellow: No real impacts from Hurricane Hermine other than some light rainfall amounts and breezy conditions.
For more updates, make sure you have our page liked on Facebook>>>>PA Weather Action on Facebook!
[facebook_share url="https://paweatheraction.com/hurricane-hermine-to-cause-serious-impacts-to-the-beaches-impacts-further-inland" width="" layout="button_count"]