After an impressive December with above average snowfall, what do the next three months of winter have in-store for Pennsylvania? While we will only be covering January in this outlook, we will say that it's looking more and more likely that most of the state will end this winter with above average snowfall overall, which contrasts nearly all winter forecasts.
Our forecast predicted an active December with slightly above average snow, which was overall accurate. Furthermore, our temperature outlook for December also did very well when compared to reality. Below is our December temperature outlook versus what actually happened.
This was the second snowiest December on record in Pittsburgh, as much western PA saw about half of their seasonal snowfall in one month! Below is an accurate estimation based on reports, showing December 2020 Snowfall in PA.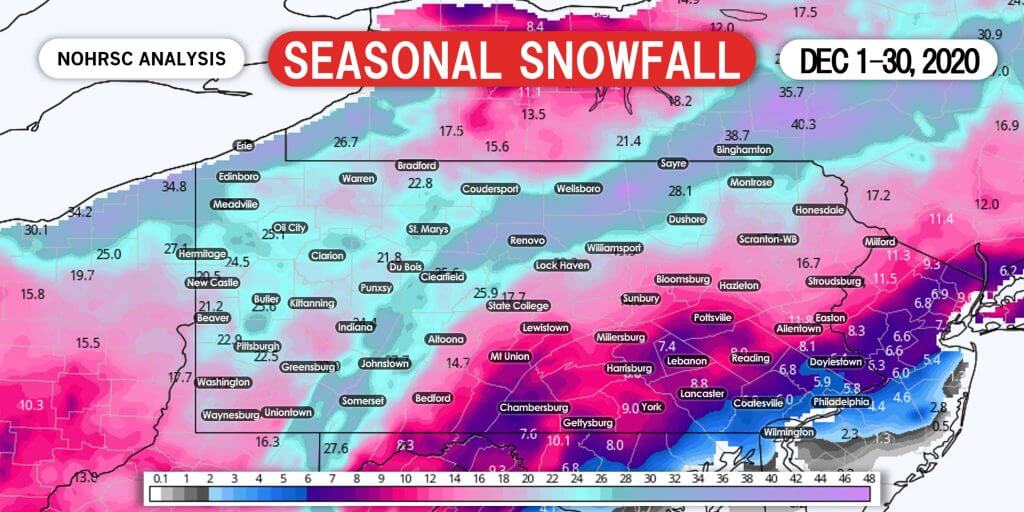 Now comes January, the coldest and snowiest winter month on average for most of us. In our winter outlook, we stated that La Nina typically brings above average temperatures and below average snow in January and February, However, favorable teleconnections elsewhere can offset that and still provide a cold and snowy pattern. Currently, most teleconnections are favorable for a cold, active pattern in the eastern US. The problem is the EPO (Eastern Pacific Oscillation) is in a positive phase, which is not favorable. This has resulted in a fast, flat pattern with stale Pacific air and no real cold air source. As we head into mid January and beyond, the EPO is expected to go slightly negative, while the NAO, AO, and PNA stay favorable.
Furthermore, a sudden stratospheric warming event has occurred over the North Pole, causing the Polar Vortex to be displaced southward. Although we believe Northern Asia will receive more anomalous cold than North America due to this event, it still looks likely that a decent Arctic cold air source will setup by mid January, and spill southward into the Northern Plains, Great Lakes, and Northeast US soon after. Below is a temperature outlook from the Euro Weeklies for late January.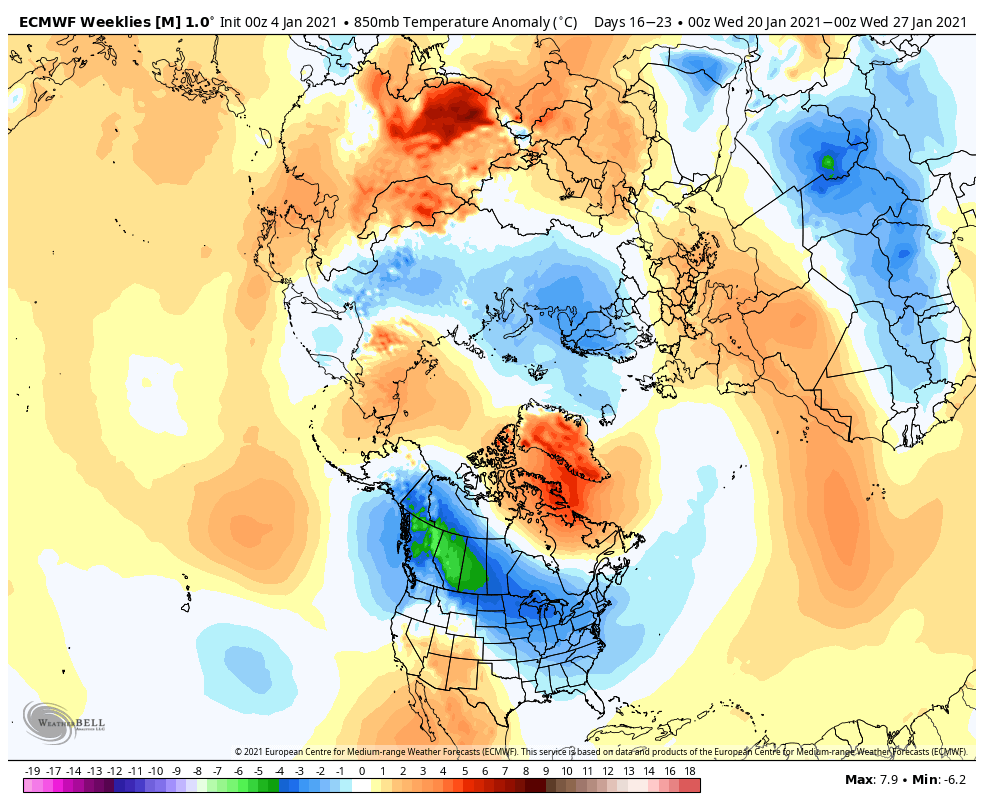 January will be consist of three different patterns.
First, we have our current pattern that features a zonal flow and limited chances for snow. This pattern will continue through around January 10th.
Then we will have our transition period between January 10th and 18th. During this period, we expect the jet stream to become slightly more amplified as the Pacific calms down/EPO moves to a neutral phase. This is when we expect to develop a western US ridge, which may open the door for perhaps a few winter weather opportunities during this time. Temperatures are still likely to be slightly above average during this period. Right now, January 12th/13th and January 15th/16th are dates we are watching for possibly a wintry system somewhere on the East Coast. That does not necessarily mean Pennsylvania.
And to round out the month, we expect below average temperatures due to favorable teleconnections for harsh cold and that sudden stratospheric warming event finally downwelling into the troposphere. Once you have the cold, that opens up the door for snow chances. This period from the 19th to the end of January and likely at least into early February looks favorable for snow in the Northeast and upper Mid-Atlantic.
You may soon be wondering why winter outlooks missed the mark for another winter. For the same reason as last year, it is because teleconnections besides the ENSO are much harder to predict beyond three to four weeks out. Last winter, we had unfavorable teleconnections for cold and snow for basically the entire season. This winter, we have had favorable teleconnections, and will continue to have favorable teleconnections for cold and snow through at least early February.
Our January Temperature Outlook indicates slightly above average temperatures in most of the Eastern US. This does not mean everyday will be slightly warmer than normal. This just means that when looking back on the month as a whole, we expect anomalies to be a degree or two above average.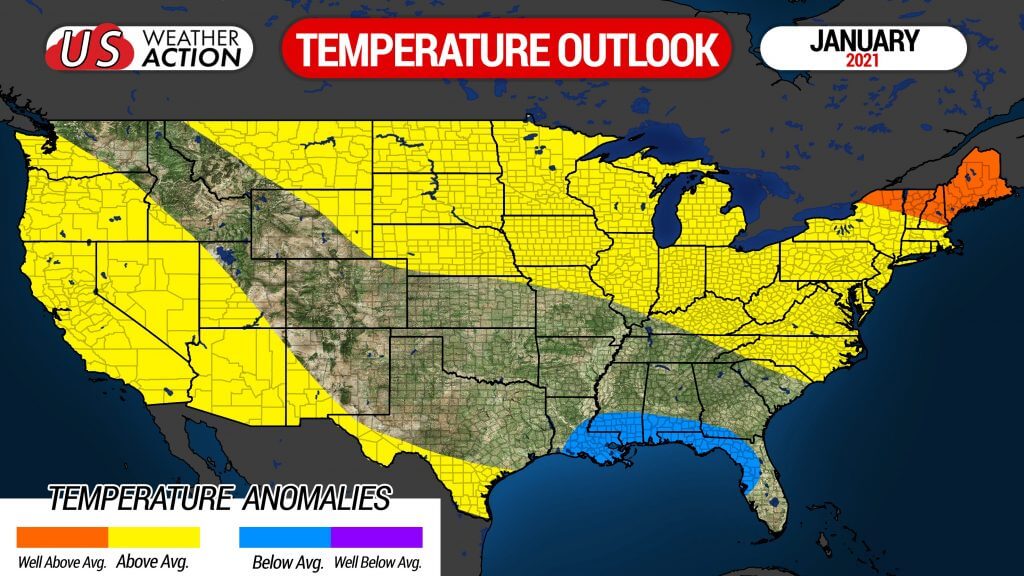 January Mean Temperature Anomaly: Slightly Above Average (+1 to +2F)
January Snowfall: Average
We will have updates on every winter weather potential for the rest season. For those updates and much more, get our free Apple & Android app. Download our app >>> Weather Action App Link
Pass this outlook along to family and friends who may find it useful using the blue share button. Stay safe!