The season's first widespread lake effect snowfall event is expected late tonight through Monday. Originally the data we look at suggested this lake effect snowfall event would not only be this season's first, but also a significant lake effect snowfall event. With recent data and observation, we still anticipate many areas to receive snowfall Sunday and again on Monday, just not the foot of snowfall that previous data suggested would fall for some areas.
A strong low pressure system is currently passing to our northwest today, initially delivering a surge of warmer air and rainfall. Penn State has a big football game today in State College against Nebraska. For those attending, expect a rainy, raw, and windy game. Below is our futurecast radar for 4:00 PM this afternoon: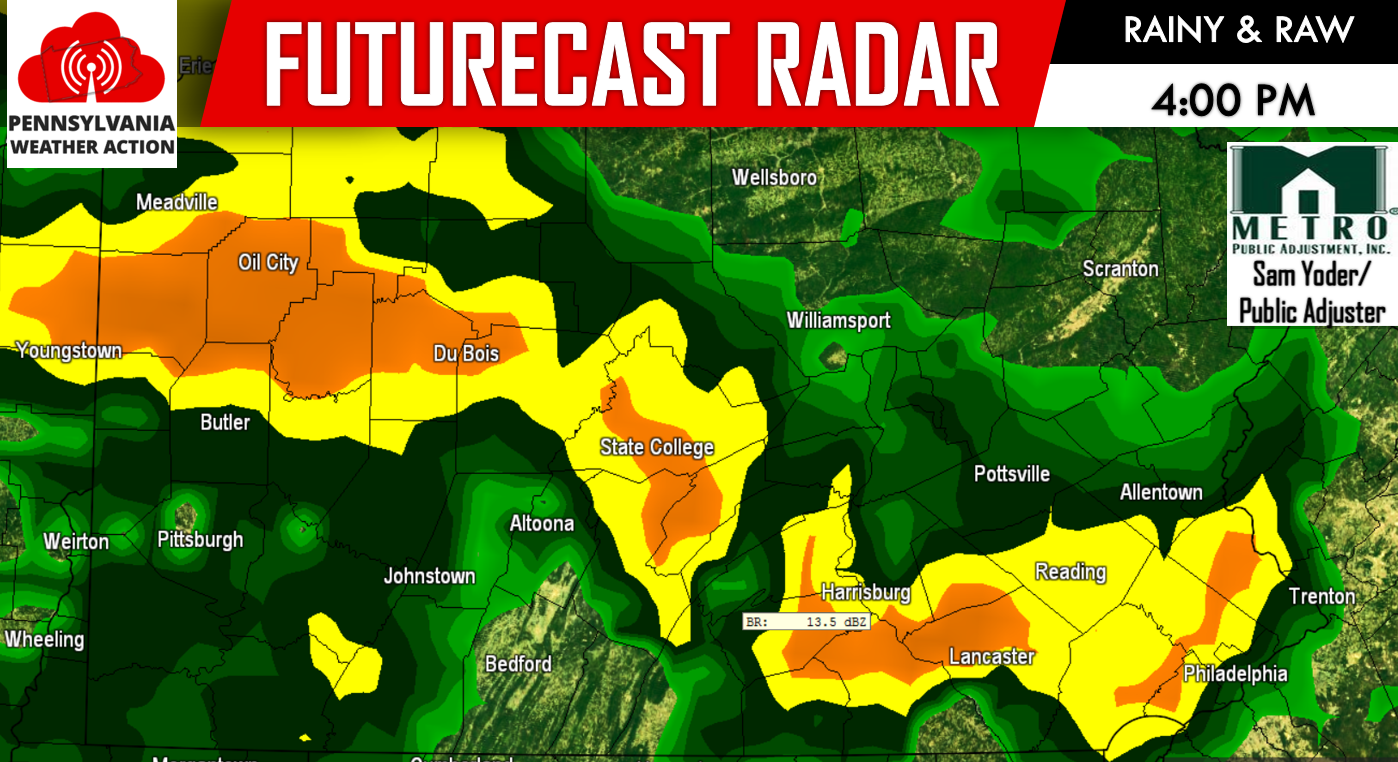 Once the system completely passes to our northwest late tonight, northwest winds will take over, turning rain showers into snow showers for higher elevations in Central PA, including the Laurel Highlands, and Northwest PA as we head into Sunday morning. Below is our futurecast radar for 10:00 AM Sunday. While there is a lot of blue on the map below, please note this is lake effect snow. Not all areas under the blue banding in the image below will see snowfall.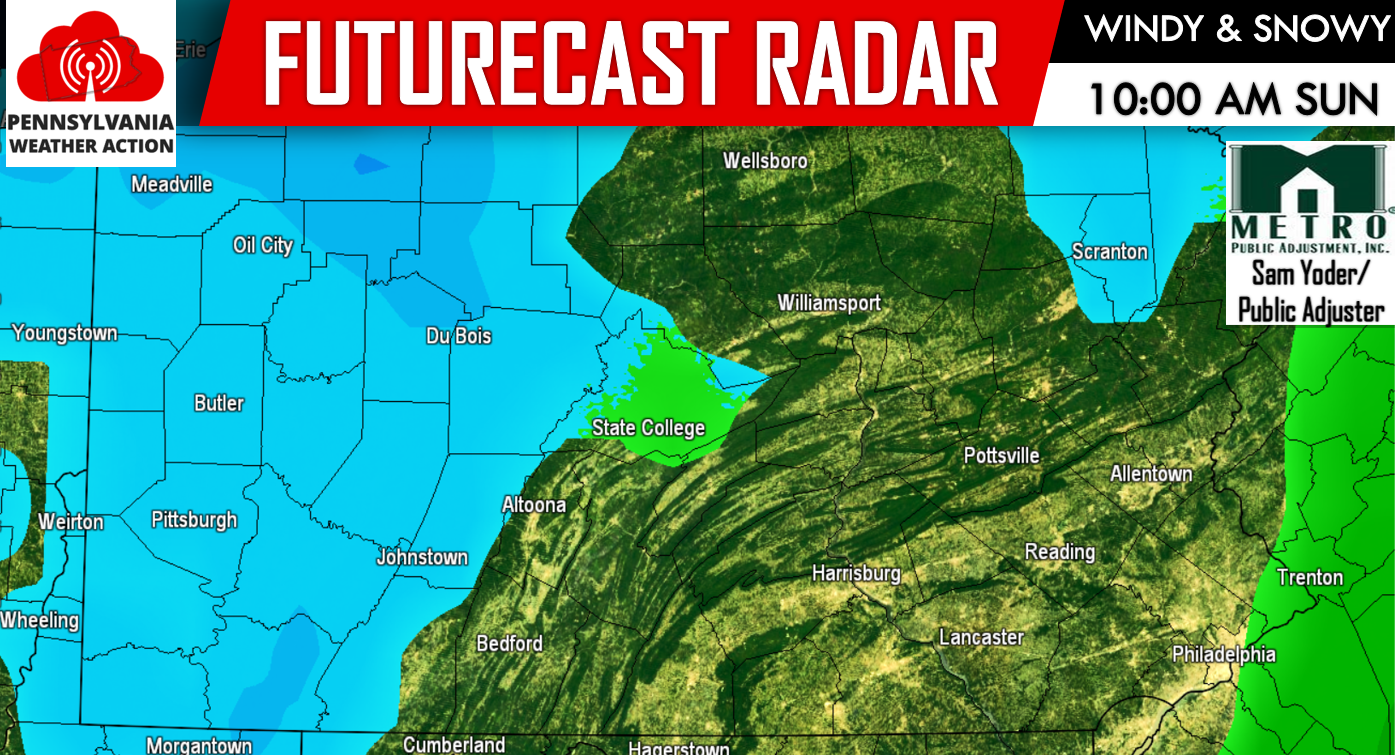 While the lake effect snow threat will continue all day Sunday. We do not expect areas to see snow all day Sunday, instead towns that normally are prone to snowfall during lake effect snowfall events, will likely see several rounds of snow showers and squalls throughout the day Sunday and on Monday. Advancing our futurecast radar to 4:00 PM Sunday shows the lake effect snowfall in full blast: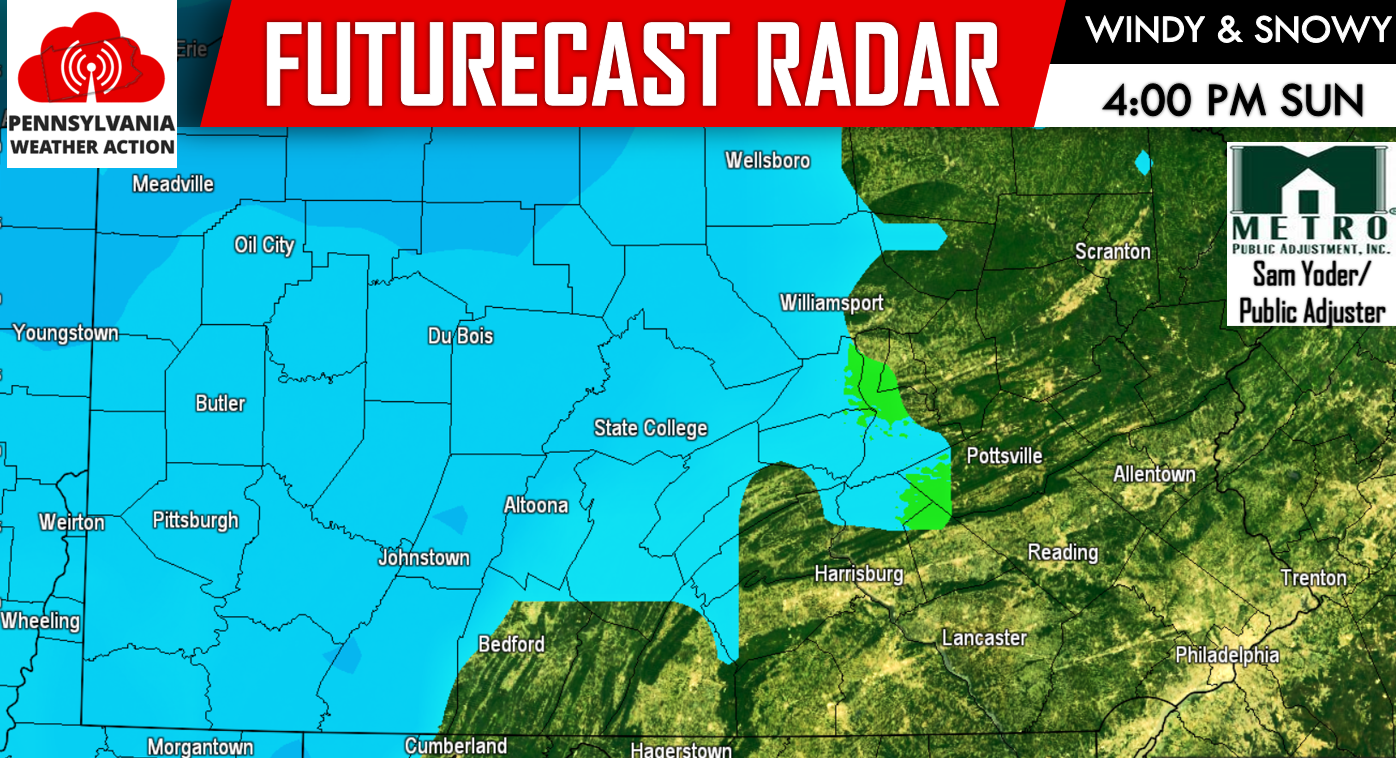 The lake effect snow will be more widespread on Sunday than it will be on Monday. Whether your area sees snowflakes fly on Sunday, everyone will experience the gusty winds. Monday will still be breezy, but not nearly as windy as Sunday. The snowfall will begin to taper off as we head closer to lunchtime on Monday. Our futurecast radar shows the lake effect snow beginning to diminish during the mid-morning hours Monday: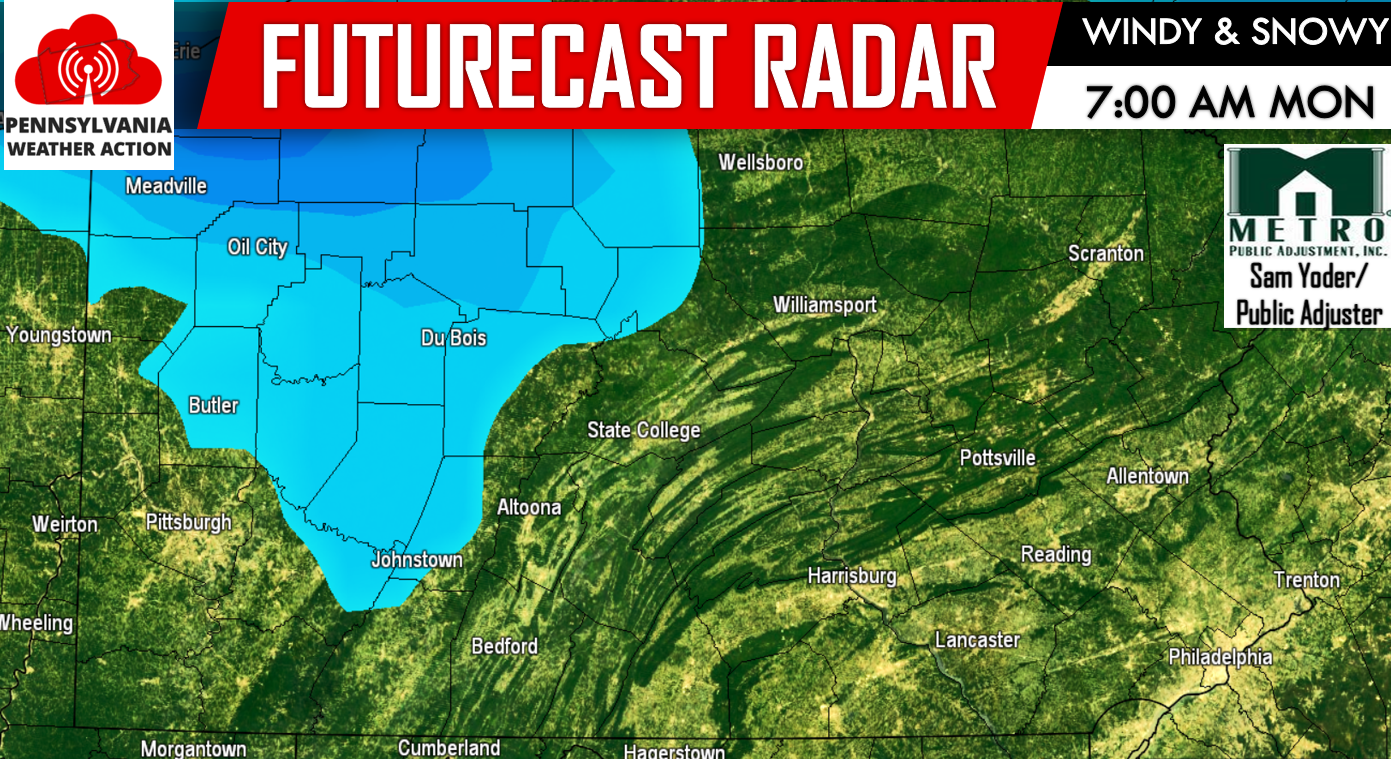 BELOW IS OUR LAKE EFFECT SNOWFALL FORECAST:

AREA A – This area has the best opportunity to receive persistent lake effect snow showers and snow squalls tonight through Monday. Combining the snow with the strong winds, brief whiteout conditions are possible. 4 to 6 inches of snowfall is expected, with locally higher amounts.
AREA B – Although these areas will not receive as many numerous snow showers and snow squalls, brief whiteout conditions are still possible in this region, as the winds will be just as strong. 2 to 4 inches of snowfall is expected.
AREA C – Snow showers and snow squalls are possible. 1 to 2 inches of snowfall is expected.
AREA D – Snow showers and snow squalls are possible. A coating to 1 inch of snowfall is expected.
Again please note, this is a lake effect snowfall event. Your town may receive a couple inches of snow, while the next town over receives no snow at all.
For more updates regarding this lake effect snow threat and much more, like our Facebook by clicking here>>>Pennsylvania Weather Action's Facebook Page
Do not forget to share this snowy forecast with your family and friends by using our icons below!