One of the most active weather patterns in decades continues, as another small winter weather event looks likely Saturday evening into the early morning hours of Sunday. This storm will probably just be a warm-up for next week, as two potentially significant winter storms, each with the threat of widespread ice, look possible. We will have plenty more details as we near closer to each potential storm.
A slug of moisture from the Gulf of Mexico will move northeast on Saturday, reaching Pennsylvania by around dinnertime. Temperatures at the surface will be in the mid to upper 20s, but upper-level temperatures will be rising above freezing in southern PA. Those areas will face the threat of freezing rain, which could quickly turn roads icy. Areas near and north of I-80 may pick up 1 – 3″ of snow.
As you can see below, ice is likely to be concentrated south of I-80, with snow near and north of I-80 Saturday evening into early Sunday morning. Places in southern PA may start with a little light snow, but quickly change to sleet and freezing rain.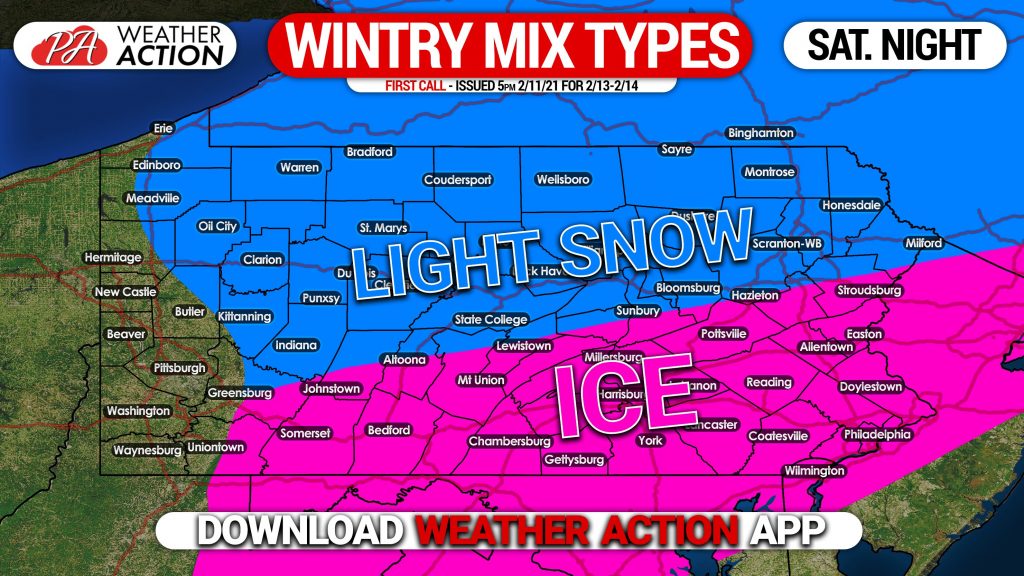 Stay tuned for the latest updates on all the winter weather we've got coming our way with our app >>> Weather Action App
Don't forget to share this forecast with anyone who may be traveling Saturday night!