February will end with a bang in northwestern Pennsylvania, while it will go out on a rainy, and perhaps thundery note in southern PA. A strong winter storm that was once expected to hit the Midwest hard has trended well east in the past few days. It will now track directly over the state, and is likely to produce heavy snowfall in the Appalachians of western and northern Pennsylvania.
Moderate rain will build into the area Wednesday evening from west to east as the low pressure tracks through central PA. A cold front following directly behind it will turn the rain to snow in Erie and down to the Laurel Highlands just after dinnertime Wednesday. Below is the GFS model for 7:00 PM Wednesday, showing that changeover.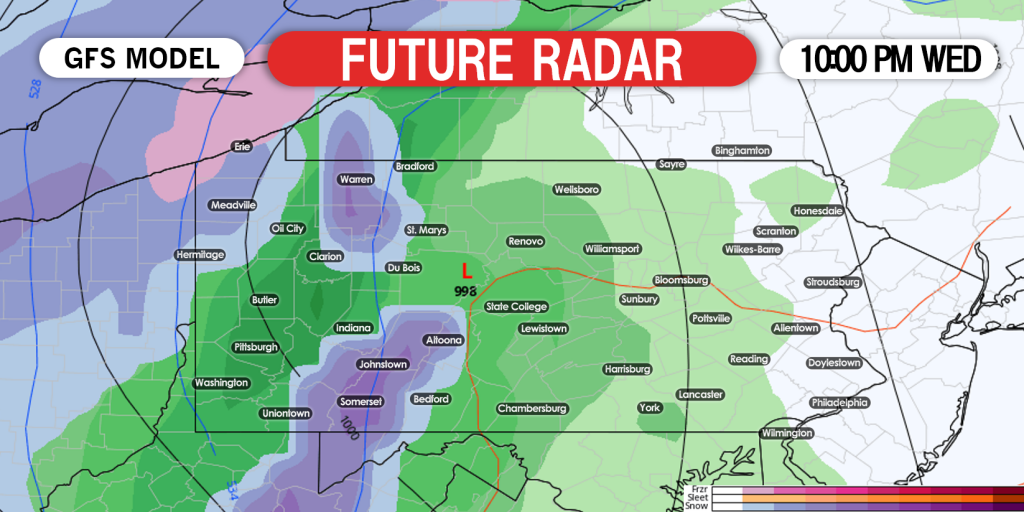 All of western Pennsylvania and much of northern PA will change to snow after 11:00 PM Wednesday. The snow is expected to be very heavy from the Laurel Highlands to the PA wilds (Bradford, St. Marys, Tionesta), and lighter near Pittsburgh. Here is future radar on the GFS for 4:00 AM Thursday.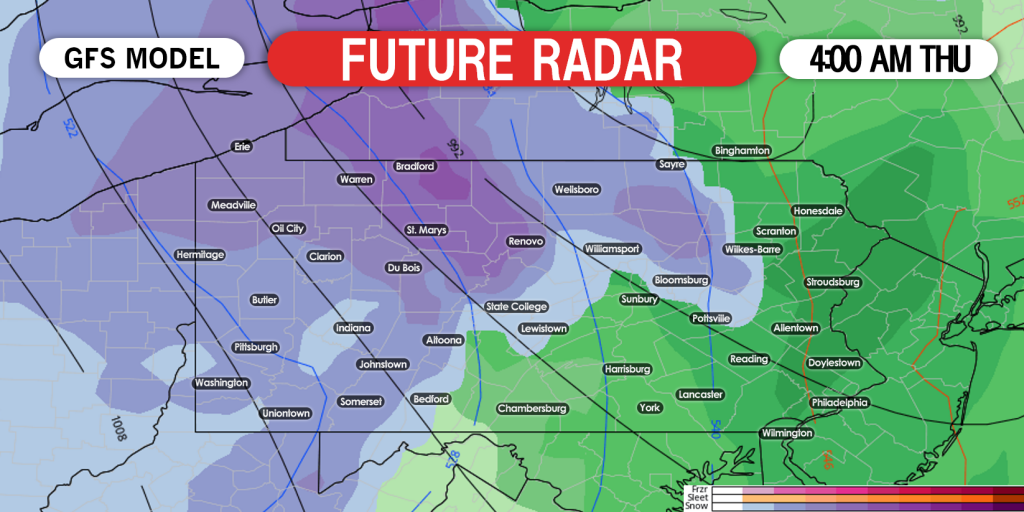 The storm will wrap up by mid-morning Thursday, but persistent lake effect snow will continue all the way through Friday evening in the usual lake effect belts. Below is future radar for 10:00 AM Thursday.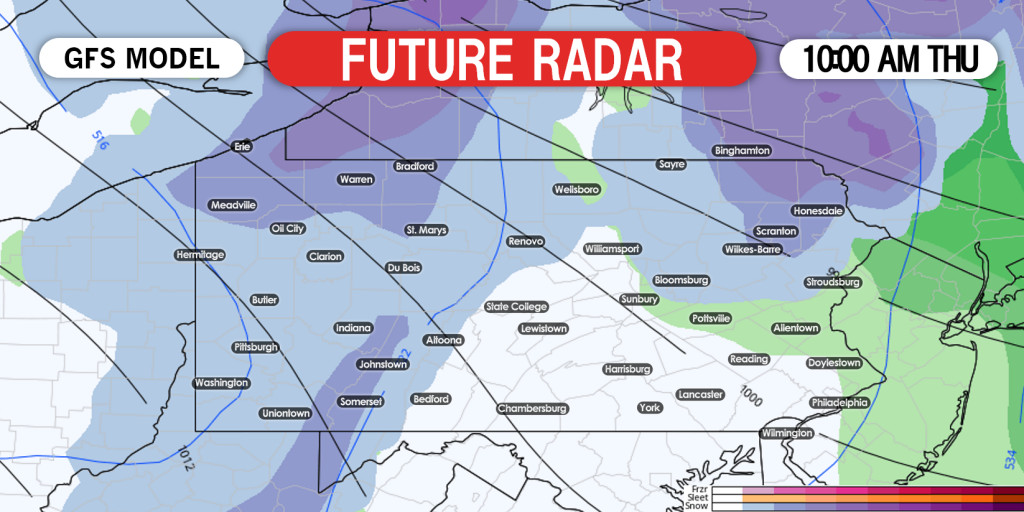 It is important to note that this will be an overnight event, meaning we won't be fighting the higher sun angle. Also, snow will be falling at 1″+ an hour in the darker blue highlighted areas on the future radar, so although it's a quick event, snowfall rates will be very high in those areas.
SNOWFALL FORECAST FOR WEDNESDAY EVENING THROUGH FRIDAY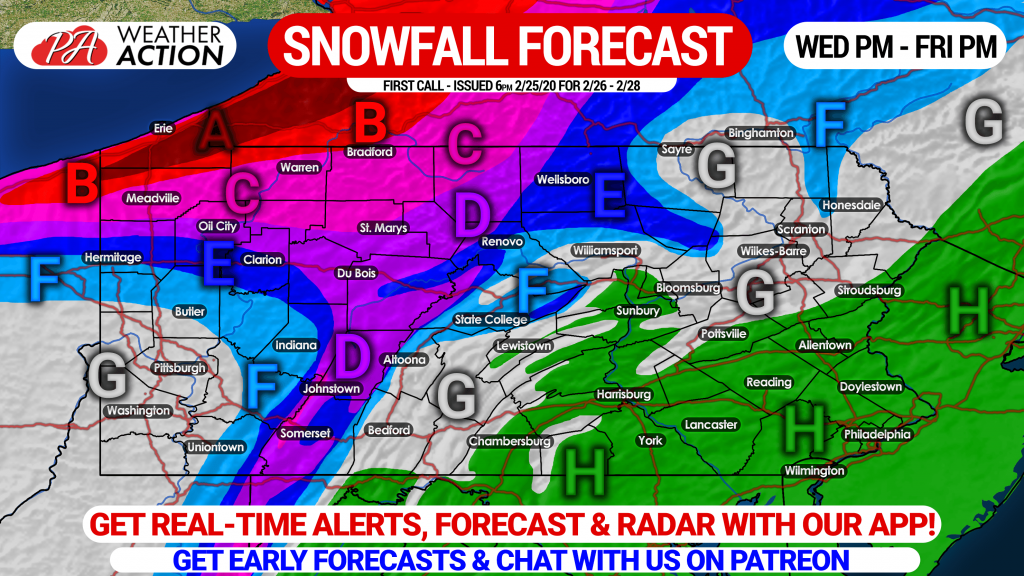 Area A: Snow accumulations of 15″ or more likely, mainly in the form of lake effect Thursday through Friday night. Very difficult travel expected during those times.
Area B: Snow accumulations of 10 – 15″ expected from the storm and lake effect afterwards. Travel will be very difficult.
Area C: Snow accumulations of 6 – 10″ anticipated from the storm and lake effect. This area includes Erie. Difficult travel is likely.
Area D: Snow accumulations of 4 – 6″ expected, mainly from the storm, although some lake effect snow showers are possible. Hazardous travel likely Thursday morning.
Area E: Snow accumulations of 2 – 4″ expected.
Area F: Snow accumulations of 1 – 2″ anticipated.
Area G: Snow accumulations of under 1″ expected.
Area H: Just plain rain expected, as usual it seems.
Don't forget to share this forecast with those who live in affected areas.
Get real-time weather alerts, forecasts, and radar with our iOS & Android app! Tap this link to download it on your mobile device: Weather Action App Link
The lack of snow this winter will make it difficult for us to provide timely weather forecasts and keep this site and app running this year. Please consider supporting us on Patreon. You'll be able to chat directly with us, get early access to forecasts, and watch exclusive livestreams. Support us here: Pennsylvania Weather Action Patreon Link