The tropics are heating up again, and this time we are tracking two storms in the Gulf of Mexico. Tropical Storm Marco is expected to make landfall Monday near New Orleans as a category one hurricane. However the much more dangerous storm looks to be Tropical Storm Laura, currently situated over Hispaniola.
We don't want to ignore Marco though, and below is the latest NHC forecast track, showing maximum winds of 75 MPH at landfall Monday afternoon just SE of New Orleans.
Marco will make way for Laura to then move through. No, these storms will not be combining. However, conditions in the Gulf of Mexico will be very favorable for Laura to rapidly intensify. Latest model trends have been to keep Laura over water longer, followed by a landfall near the TX/LA border. That is not good news, because the longer Laura is over water, the more time the storm will have to strengthen.
We expect forecast landfall intensity of Laura to continue to increase, as many models now show Laura reaching major hurricane strength. Everywhere from Corpus Christi, TX to Houston, TX to New Orleans, LA is still in play for what may be a major landfalling hurricane Wednesday evening or Thursday morning.
Everyone in those areas of the Gulf Coast should be making preparations and plans now, as we are near-certain that Laura will make landfall somewhere between Corpus Christi and New Orleans by midweek.
Basically the farther west Laura makes landfall, the stronger the storm will be, because the storm will have more time over water to intensify before landfall. The worst-case scenario right now looks to be a category four storm (winds of 130-150 MPH) making landfall near Houston, TX Thursday morning. The best-case scenario is a category one or low-end two storm making landfall near New Orleans Wednesday evening.
Neither scenario is ideal, but the worst-case would be catastrophic especially given the times we're living in at the moment.
Below is the latest NHC forecast cone for Tropical Storm Laura. They predict a landfall in southwest Louisiana early Thursday morning with maximum sustained winds of 100 MPH and gusts to 120 MPH. You can expect this to wobble in the coming days, but you must stay updated if in the previously stated areas, because Laura has major potential.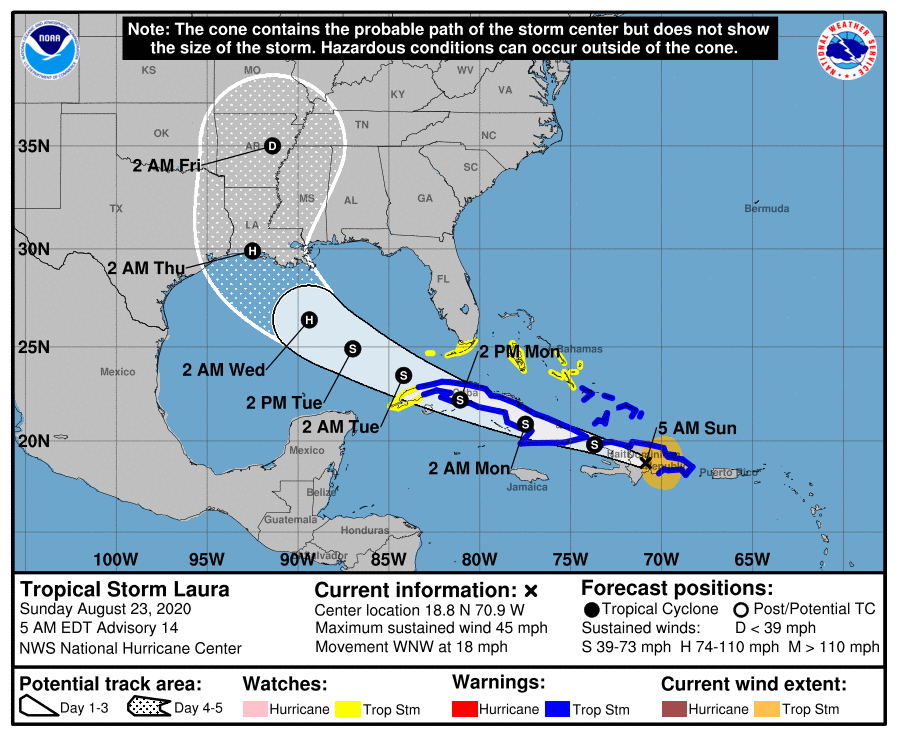 We realize most of you reading are from PA, but many have family and friends in these regions. And due to the major threat Laura may pose to the Gulf Coast, don't be hesitant to get the word out about this storm now by sharing this article using the blue button below.
Stay tuned everyone, we are in for a wild week of weather.