Today will probably be the last day much of Pennsylvania hits 80 until spring 2021. Cooler weather is on the way, but where is the rain? Our worsening drought has resulted in a lowered water table, and some residents have reported their wells going dry. A severe drought has been declared in parts of central PA, including State College, with many other regions in a moderate drought or at least abnormally dry. The good news is: we finally have some relief coming.
A frontal boundary will slowly move across Pennsylvania from west to east, bringing locally heavy rain starting early Tuesday afternoon in western PA, and ending in eastern PA by Wednesday morning. Rainfall amounts will range from a quarter inch to near two inches depending on where you are located in the state.
RAINFALL TIMING FORECAST
A band of light to moderate rain will setup Tuesday afternoon from the Laurel Highlands to the State College area, and into the north-central mountains. Scattered showers are also expected to develop throughout much of the state at the same time. Below is the Hi-Res NAM model for 2:00 PM Tuesday afternoon.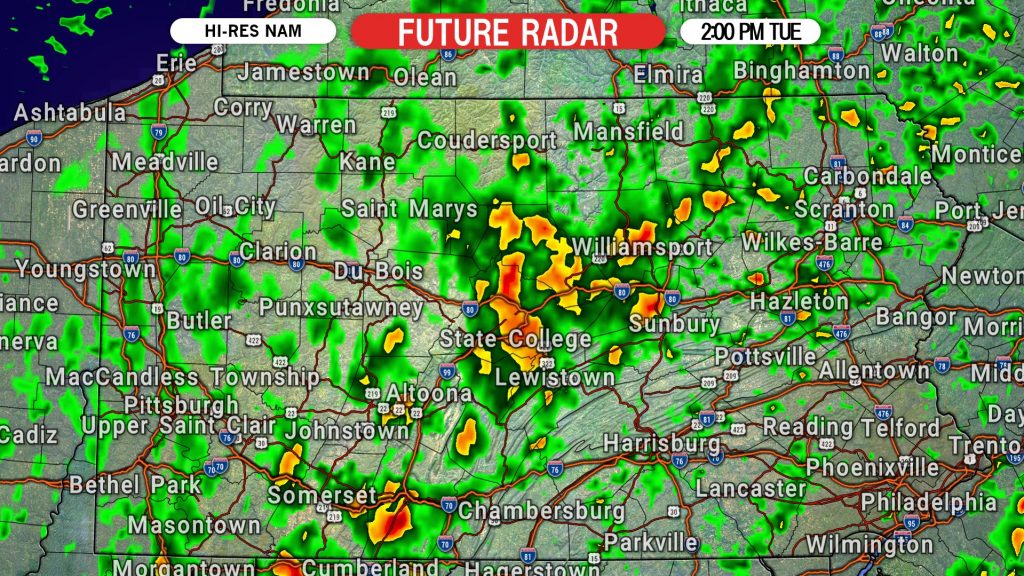 As this band of rain moves east into central PA Tuesday evening, much more moisture will become available. This will result in an expanding area of moderate rain in central Pennsylvania, and even some embedded heavy rain. Here is future radar for 11:00 PM Tuesday night.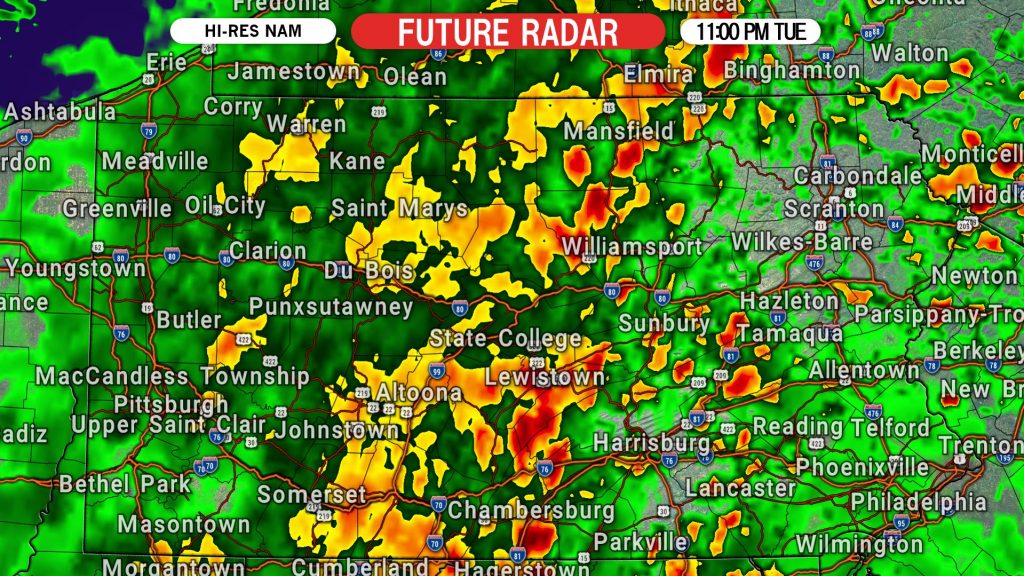 As we head into the early hours of Wednesday morning, moderate rain will slide east into eastern PA. By 3 AM Wednesday, we expect to be seeing most of the eastern half of the state receiving beneficial rain. There is only a slight risk of flash flooding in far eastern PA. Below is future radar for 3:00 AM Wednesday morning.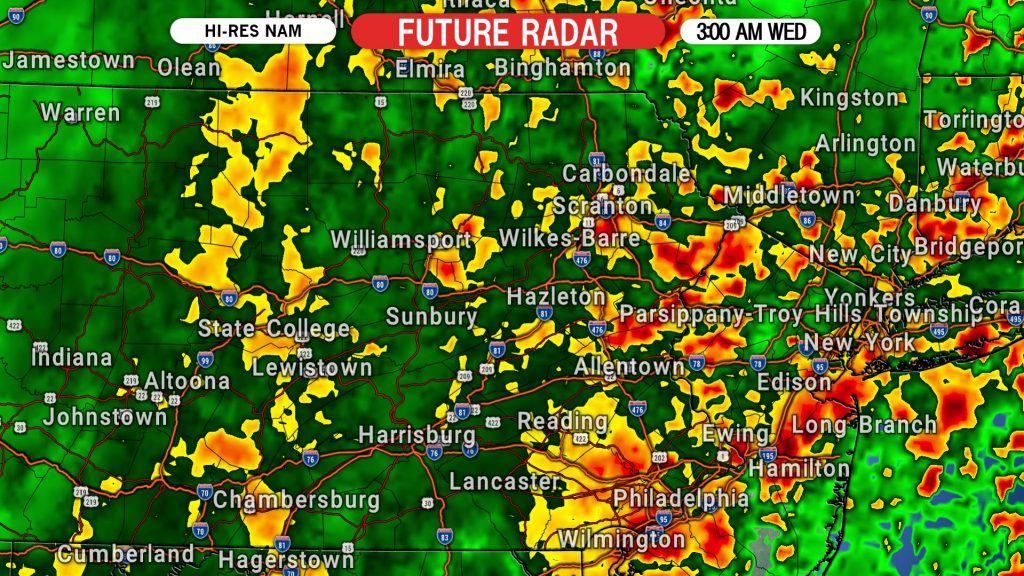 For the Wednesday morning commute, light rain is likely across the eastern half of the state, with pockets of moderate rain expected near places such as Philadelphia, Allentown, and Stroudsburg. Here is future radar for 7:00 AM Wednesday morning.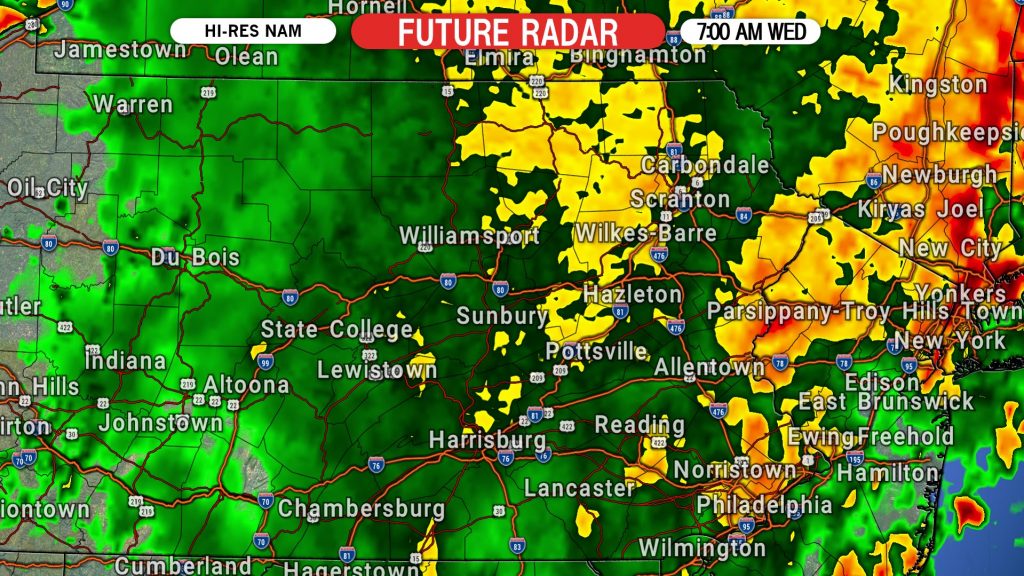 Finally, the widespread rain will move out of eastern PA late Wednesday morning, leaving behind just some isolated showers.
RAINFALL FORECAST MAP FOR TUESDAY – WEDNESDAY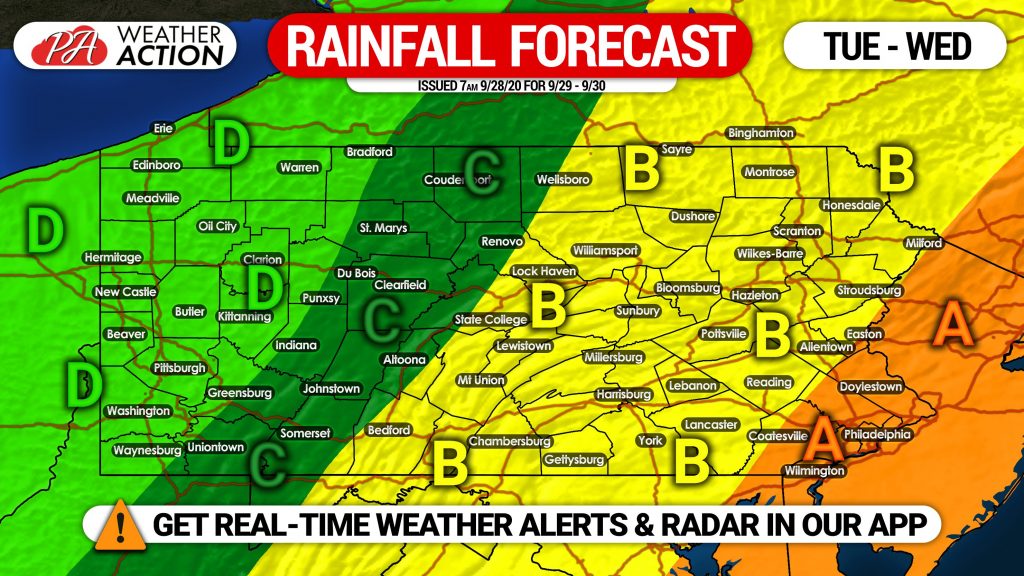 Area A: Rainfall amounts of 1.5 – 2.0″ expected, with the heaviest rainfall expected early to mid Wednesday morning.
Area B: Rainfall amounts of 1.0 – 1.5″ expected, with the heaviest rainfall anticipated to fall late Tuesday evening through early Wednesday morning.
Area C: Rainfall amounts of .50 – 1.0″ anticipated, with the bulk of the rain coming late Tuesday afternoon into Tuesday evening.
Area D: Rainfall amounts of .25 – .50″ expected.
Be sure to share this forecast with family and friends, as this rain is great news especially for those that desperately need it.
Download the Weather Action App for precise forecasts, radar and more for your town! Get it on Apple or Android here: Weather Action App!