Wednesday has become the official day of bad weather over the past month, and this Wednesday will be no exception. A closed-off low pressure system will very slowly move northeast in the coming days, dragging a front through the area ever so slowly. This unfortunately means some cloudy, rainy days are on tap, but at least this weekend looks good weather-wise. This event will not be like last storm though, in that there will be breaks in the rainfall. For Western Pennsylvania, Wednesday will be the rainier day, Central PA will see rain the better part of Wednesday and Thursday, and Eastern PA will see most of their rain on Thursday. As you may guess, highest rainfall totals are likely to be in Central PA.
FUTURE RADAR
There will be a several hour period of heavy rainfall and even some gusty winds as the front makes its way through. Below is a future radar video showing the progression of the rainfall across the next couple days, feel free to slow the video down in the settings on the bottom right.
GUSTY WIND THREAT
As mentioned, gusty winds and even isolated damaging winds will be possible as the front comes through. The Storm Prediction Center has a Marginal Risk up for the western half of Pennsylvania on Wednesday, and the eastern half of the state on Thursday. Use the future radar for further information on when you can expect it to move into your area.
TOTAL RAINFALL FORECAST (WED AM – FRI AM)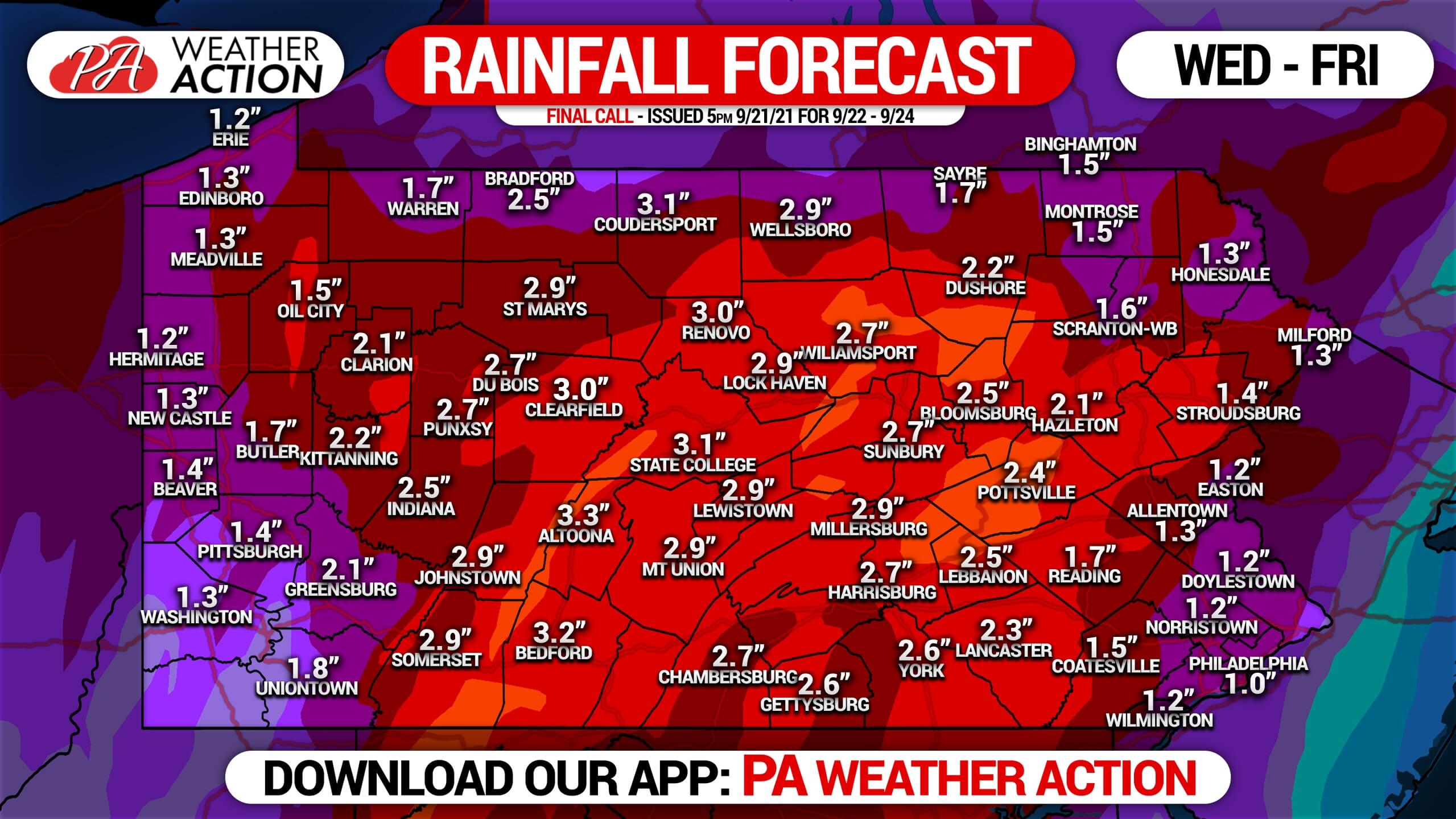 Rainfall totals of 2.0″ to 3.5″ are expected across all of Central Pennsylvania. Lesser amounts are likely towards the eastern and western edges of the state, being around 1.0″ to 2.0″. The entire state is at a slight risk of flash flooding, with parts of Central PA in a moderate risk as this front goes through. Gusty to isolated damaging winds are possible with the front as well.
Be sure to pass this article along with family and friends who have outdoor plans using the blue button.
We are working on major improvements to our app that you will not want to miss. For now, you can download our app on the App Store here >>> Weather Action App