After an extremely warm Summer, Autumn has given the state a sigh of relief from the heat we experienced over the Summer. Many of us over the last 7-10 days have even been under a frost advisory or freeze warning. But that will not prevent Mother Nature from producing much above normal temperatures for this time of year this upcoming week.
For those that saw our latest forecast video, we stated that we thought guidance might of been overdone, showing temperatures pushing the upper 70s to even 80 degrees in some spots. But over the last 24 hours, there is a consensus among guidance and a strong enough ridge over our region, that temperatures will not have a problem reaching the upper 70s and lower 80s for some locations throughout PA.
Here's a look at our forecast map with projected temperatures listed below. This warm-up will begin Sunday and last through at least Wednesday before a cold front arrives here by Thursday.
Area A – Temperatures will be in the upper 70s Sunday through Tuesday. Wednesday it is likely many locations reach the lower 80s! That is an astounding 20 degrees above normal for this time of year!
Area B – High temperatures will range consistently in the middle 70s for the Sunday to Wednesday time period. Would not be surprised if an isolated location in this area tops off at 80 degrees on Wednesday.
Area C – Temperatures will range in the upper 60s to lower 70s with Wednesday again being the warmest day.
Make sure you have us liked on Facebook for more updates. Reminder November 1st our official Winter Outlook as well as our Text Alert service will be released! Follow this link>>>PA Weather Action on Facebook!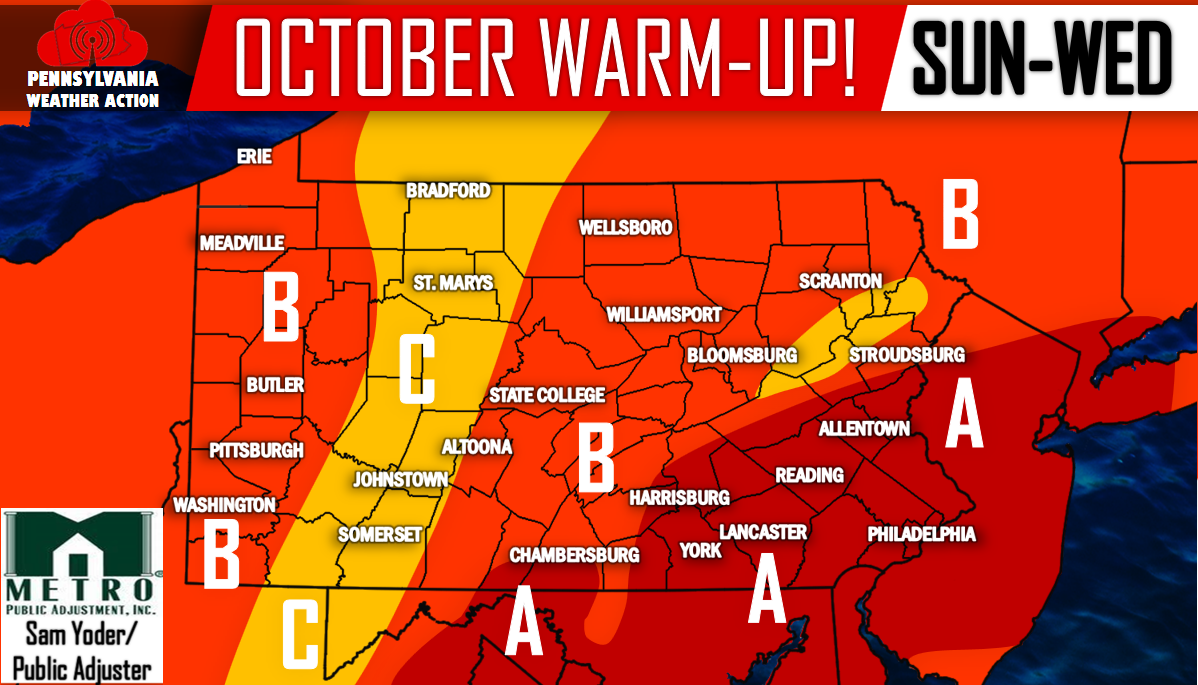 Thursday still looks like it will be a very warm day for at least the southern half of PA, but a cold front will be pushing through the state and will deliver more typical Mid-October temperatures by Friday to even a bit below average by next weekend. In other words, it is a good bet this will be the last time we forecast 80s for PA until Spring so enjoy it!