We have been receiving a lot of questions over the last couple days about Hurricane Irma and its potential impacts on Pennsylvania. We would love to give you all definite answers, but unfortunately we are far too early to be giving definite answers. However, we are going to give you all the latest forecast models and what they are showing.
Given the latest guidance and observations, we can say with confidence the odds of Hurricane Irma making landfall somewhere along the East Coast is increasing. Whether it makes landfall in Florida or New Jersey and all states in between is still to be determined.
Below is a look at the latest National Hurricane Center's advisory and path for Irma: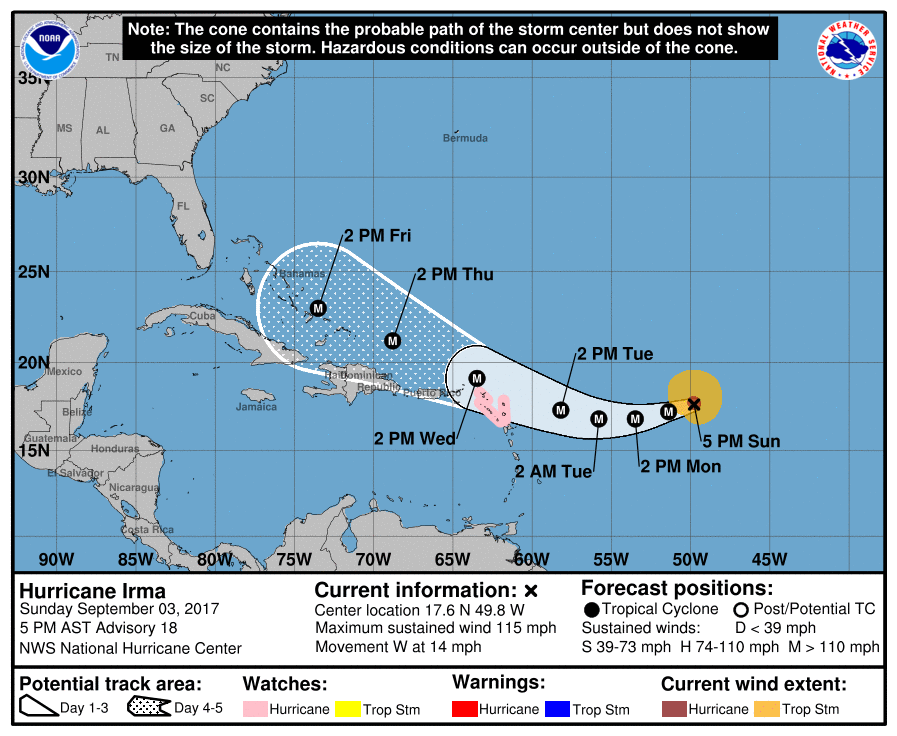 As shown in the image above, Irma is already a MAJOR hurricane and will still be a major hurricane as it nears the Bahamas by Friday afteroon. That is when guidance disagrees on which path Irma takes.
Lets take a look at three forecast guidance (GFS/Canadian/European).
First off the GFS: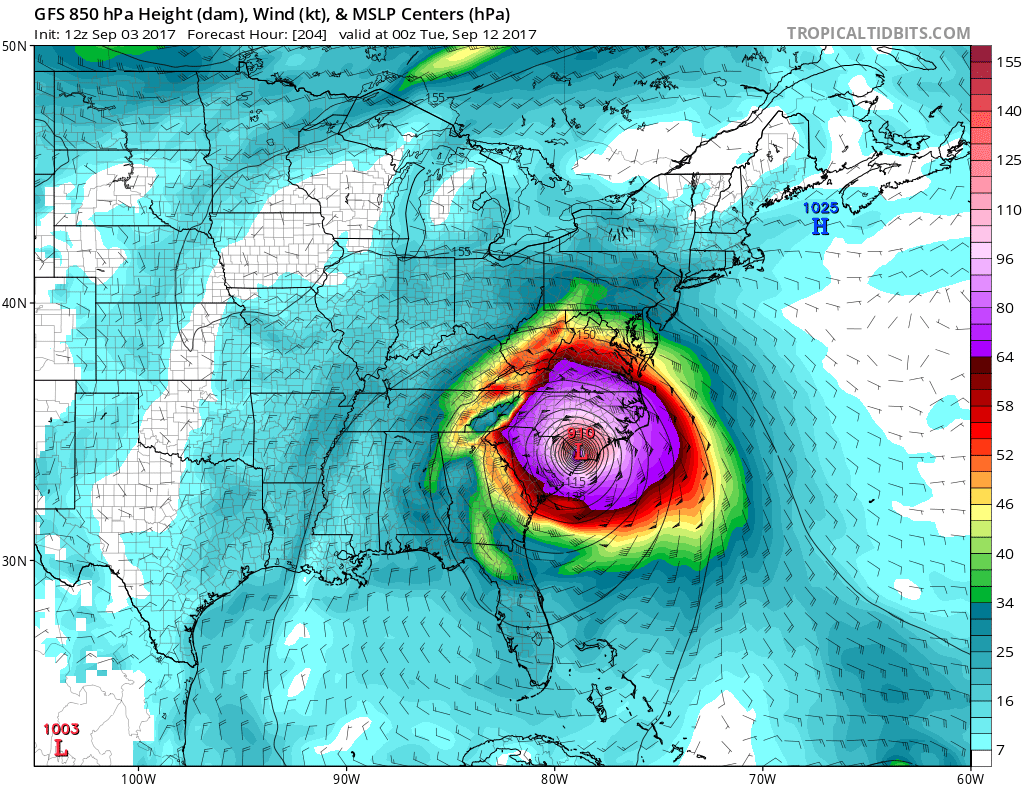 And a closer look below at wind gusts as it shows Irma make landfall: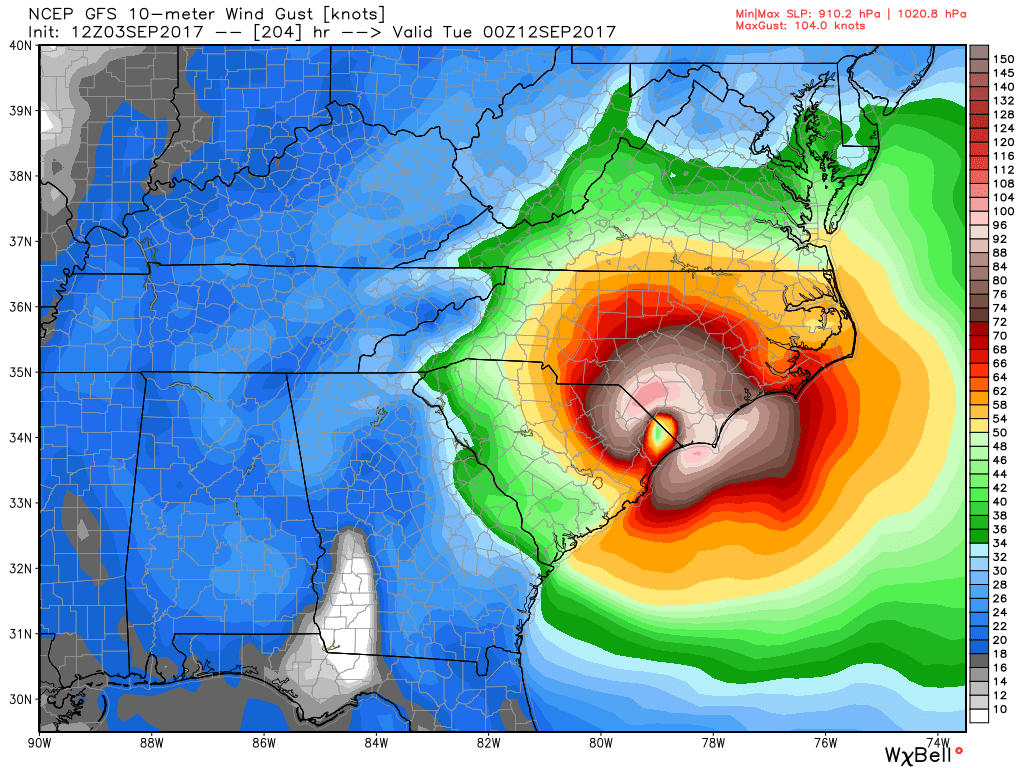 The GFS has Irma as a major hurricane making landfall right near the South Carolina/North Carolina border next Monday night (9/11). This would be a devastating scenario for South Carolina, North Carolina, and Virginia, especially closer to the coast you get where gusts would be as high as 120 mph if the GFS verified. As for Pennsylvania, this would be a damaging scenario for us. Verbatim, GFS takes Irma into southwest Virginia by next Tuesday (9/12). This path leads to sustained winds of 50-60 mph across Pennsylvania.
Next up the Canadian: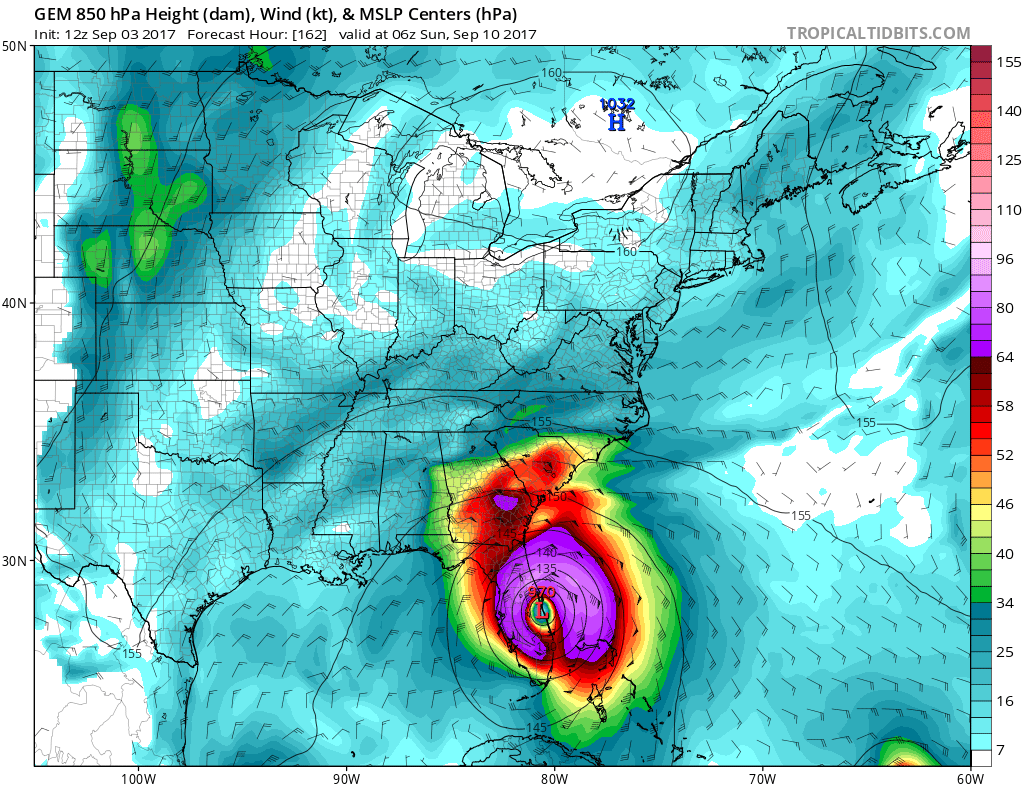 The Canadian is much farther south with the landfall. In fact, the Canadian suggests Irma makes landfall along the Florida Coast as early as early Sunday morning (9/10). This particular model then sends Irma NNW and reaches Kentucky by early Tuesday morning (9/12). This solution would result in some gusty winds for southwest PA roughly in the 30-40mph range. This solution would have little impact elsewhere in the state.
Finally the European Model: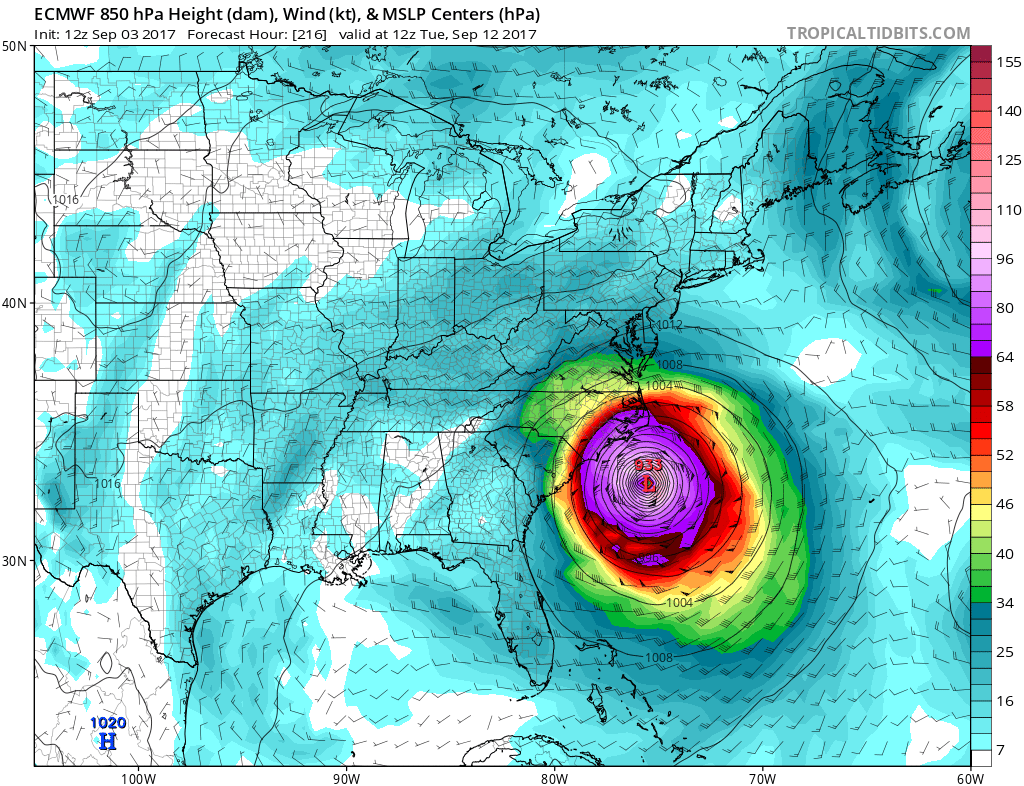 The European model takes a path much similar to the GFS model, but instead of making landfall along the Carolina Coast, it hooks NNE and remains out to sea, never making landfall. This would still result in serious impacts for the Florida and North Carolina coastline, but elsewhere is spared from Irma per the European model. However, the European ensemble guidance has come in far more aggressive than previous runs with most members making landfall somewhere between Florida and the Carolina Coastline.
The take away from this article is, Irma's track is far from being pinned down. We will not be able to answer potential impacts for Pennsylvania with confidence for at least the next few days.
Join our forum! To track Hurricane Irma with us, sign up as a member now! Click here>>>Sign Up
It is important you have us liked on Facebook for more updates regarding Hurricane Irma and much more>>>PA Weather Action on Facebook!
Share the update regarding Hurricane Irma with your family and friends using our icons below!