We waited longer than usual to post our official winter outlook this year, mostly due to how humbling last winter was. Finally though, here it is.
This year, a moderate La Nina has developed across the equatorial Pacific. Historically, La Ninas have produced the least snowfall of any ENSO phase here in Pennsylvania, with the pattern generally favoring the cold air being locked up to our north and west, and a storm track right over our region. This generally results in warmer than average conditions and near average snowfall in northern PA to below average snowfall in the southern half of the state. But let's be clear, La Nina is not the only thing we are basing our forecast on.
The dreaded polar vortex is actually quite strong currently, and is expected to only slightly weaken heading into January. This will result in a limited supply of cold air, since we would need it to split in order for cold air to come down south. And with a west-phase QBO, that polar vortex is expected to remain bottled up in the Arctic, meaning we will likely see less harsh cold periods.
There is also somewhat of a correlation between a very active hurricane season, like the one we experienced this winter, and below average snowfall in the winter, since large amounts of energy have already been used. Furthermore, some have drawn a correlation between solar minimum and a colder than average winter, but we do not put much stock into this especially since last winter also occurred around solar minimum and we all know how that turned out.
Everything already stated is relatively predictable, but it's the unpredictable unknowns that can tear apart a winter outlook. Last year, teleconnections such as the PNA, AO, MJO, and IOD all were consistently in phases than factored eastern US warmth, which is what occurred. The trouble is, we cannot forecast these teleconnections accurately for any longer than two to three weeks in advance. This is the core reason why winter outlooks fail.
Here are our monthly temperature outlooks. Highest confidence exists in our December outlook. At the end of every month through February, we will issue a new monthly outlook for the coming month.
DECEMBER OUTLOOK
After a warm November, we will turn the page into a new pattern as December begins. This is due to the PNA, NAO, AO, and EPO all becoming decently favorable for eastern US troughing. Otherwise, this December would be a torch, like most elsewhere in North America will receive. However for us, a cold start to the month is expected through at least the 15th, then average to slightly above average temperatures are anticipated.
The second half of December really depends on whether those teleconnections stay as favorable. Interestingly enough, this will be the opposite of a La Nina pattern. We expect to have a relatively active southern jet stream, which may bring the potential for a few major winter storms in the east. That does not necessarily mean PA, but definitely between Chicago and Boston. We also expect lake effect snow to be frequent due to constant cold fronts moving in.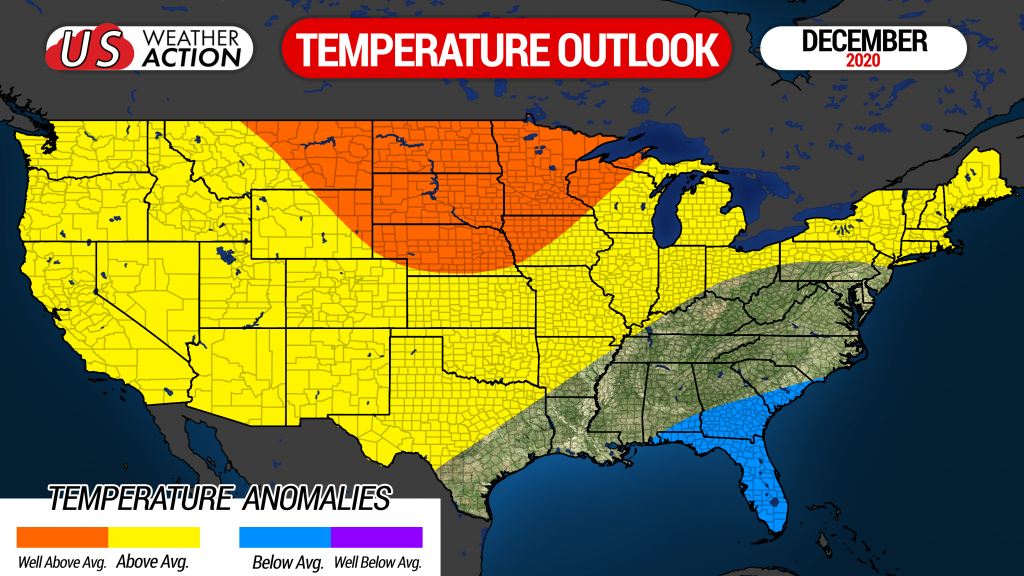 Temperatures: Average in southern PA, slightly above average northern PA.
Snowfall: Slightly above average outside of lake effect belts, above average in lake effect belts.
---
JANUARY OUTLOOK
January really depends on whether the favorable teleconnections can persist. Currently, we are leaning on the warm side for January due to La Nina and the bottled up polar vortex. However, sometimes teleconnections stay locked in for two or three months in a row, and then flip. So if we can get the favorable teleconnections to last, then at least average temperatures may be in the cards. For now, we predict the southeast ridge to dominate, with colder than normal temperatures in the northern Plains and much of Canada.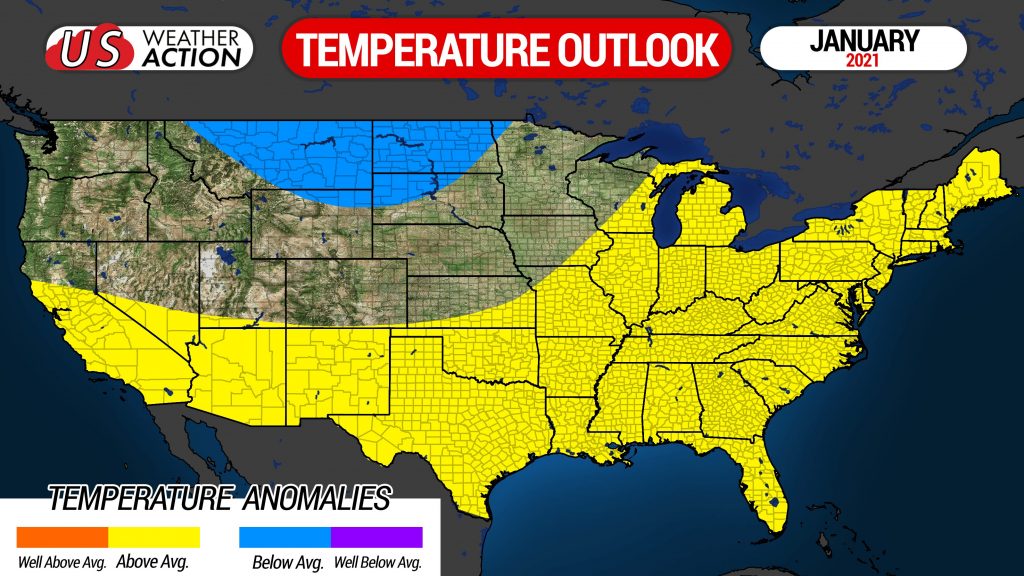 Temperatures: Slightly above average to above average.
Snowfall: Below average outside of lake effect belts, slightly below average in lake effect belts.
---
FEBRUARY OUTLOOK
February is expected to be similar to January for us, but much more of the US may see colder than normal temperatures due to the Arctic air finally coming south. Why another warm month for PA? Most analogs show February as the warmest month of a La Nina on the eastern seaboard, and let's not forget that 80% of La Nina winters have produced below average snowfall in Harrisburg, which is also a good representation of most of PA outside the lake effect belts.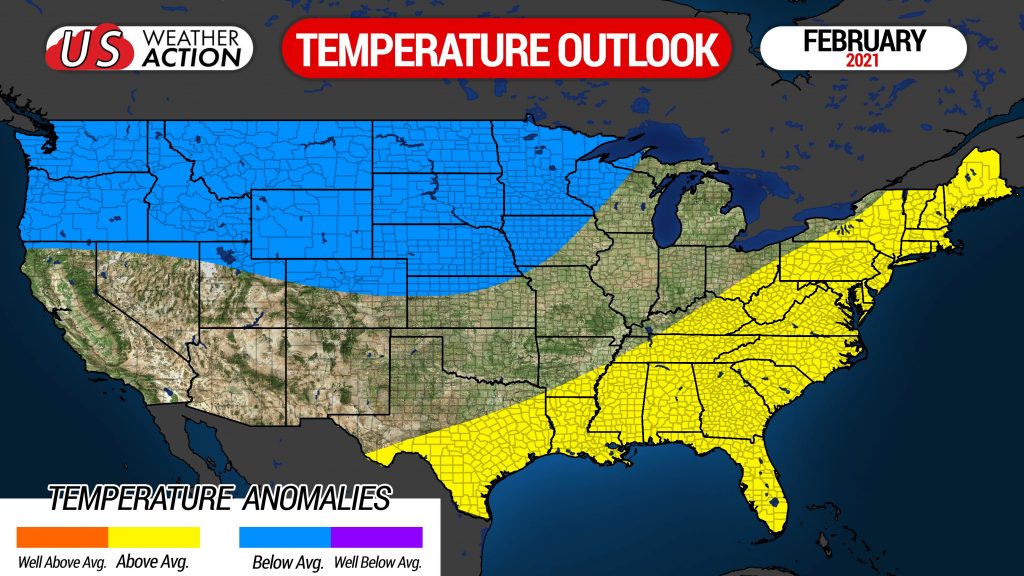 Temperatures: Slightly above average to above average.
Snowfall: Slightly below average.
---
MARCH OUTLOOK
Being three to four months out, this is our least confident monthly outlook. However, analogs to our current sea surface temperature setup suggest March will not bring an early spring whatsoever, with below average temperatures often occurring in much of the northern two-thirds of the lower 48 in part La Ninas. Analogs are typically the best tool to trust several months out, as they also were likely right about December.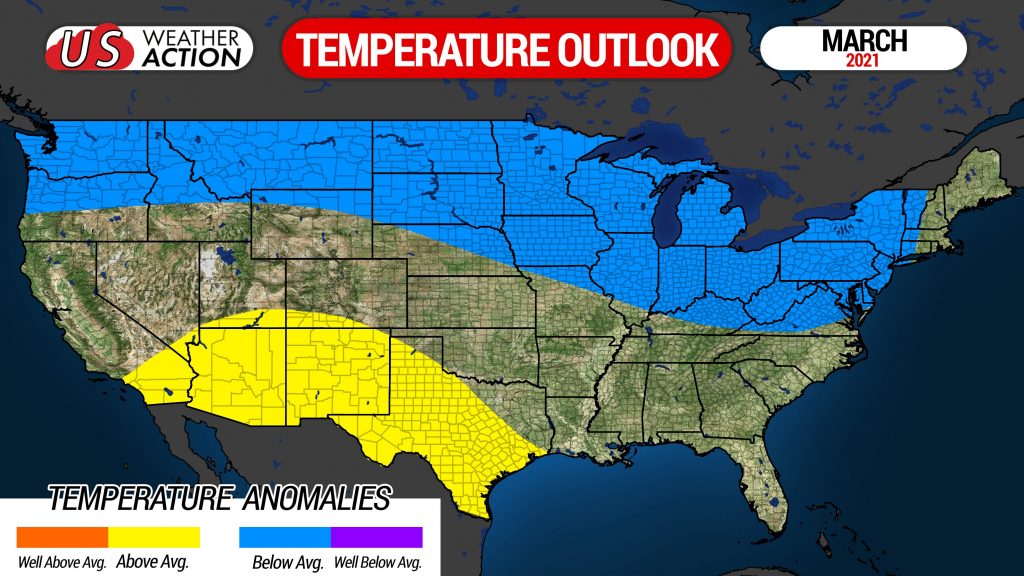 ---
Altogether, we expect to end the winter with temperatures averaging slightly above average, with slightly below normal snowfall outside of lake effect belts.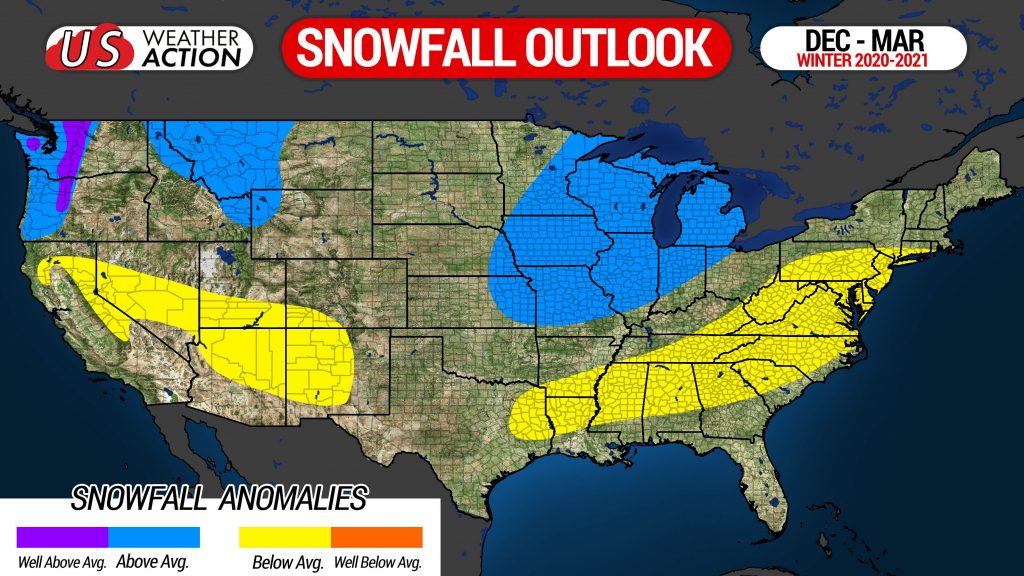 Now, let's take a closer look on what that means for cities and towns across the state.
---
2020-2021 WINTER SNOWFALL OUTLOOK FOR PENNSYLVANIA
We predict most of Pennsylvania will see slightly below average snowfall this winter, roughly about 70% of average. The exception may be in parts of northern PA, where La Nina tends to be more generous, especially with lake effect snowfall. Average snowfall is expected in far northern PA as a result.
At the end of every month through February, we will have monthly outlooks for the next month. Stay tuned for those, because we will know more the closer we are with time. For now, we hope you have enjoyed our 2020-2021 Winter Outlook! We will have you covered on every winter storm this season. And remember, it only goes up from last winter!
Don't forget to share this PA winter outlook with friends and family who may be interested using the blue button below!