With the Winter season fast approaching, it seems like we did not have much of a Fall. When making the annual winter outlook, forecasters look for any potential correlations that may give an indication for what's to come in the colder months. Typically here in Pennsylvania, a warmer than normal October followed by a cooler than normal November leads to a colder than normal winter season. Unfortunately, it's not quite that simple, and there are many other indicators that factor into the forecast.
First and foremost, this winter will feature La Nina conditions in the Equatorial Pacific. That means sea surface temperatures are cooler than normal in the ENSO region. This is the second year in a row with La Nina conditions. The significance of a second-year La Nina is that the Southeast Ridge, which creates dry conditions in the southeast and mid-Atlantic region, could be more of a factor. The southern stream, which supplies many of our winter storm opportunities, is probable to be quieter than normal also thanks to La Nina.
There are other indices that can impact jet stream, especially with the La Nina relatively weak. The Arctic Oscillation, North Atlantic Oscillation, Pacific/North American teleconnection, and Madden-Julian Oscillation can all impact our pattern. Currently, these teleconnections do not look to be trending heavily negative or positive, which is actually not a bad for a La Nina. Typical La Nina conditions rely on those teleconnections to be generally unfavorable for cold and snow in our area. Last winter, the AO and NAO were negative much of the season, and even contributed to the weak Polar Vortex and sudden stratospheric warming event that took place in January over the North Pole and made for a colder than normal February in much of the US.

The AO, NAO, PNA, and MJO are especially difficult to predict beyond a month, but our best analogs suggest the teleconnections will begin the winter relatively favorable for a colder and snowy than normal pattern, followed by them becoming favorable for warmer and wetter than normal conditions in February and March. This is similar to what we said last year, but the sudden stratospheric warming event in January made for a colder and snowier February for us. That is abnormal and we are unlikely to have that happen again this winter. But these teleconnections can certainly make or break winter forecasts.
Looking in the past for similar configurations as we currently have to get an idea of what we can expect in the near-future is always a part of seasonal forecasting. Our top analogs for this season are the winters of '05-'06, '08-'09, '17-'18, and '20-'21. Below are the analog temperatures and precipitation anomalies for each winter month.
Our analogs suggest below average temperatures in December, average temperatures in January, followed by slightly above average temperatures in February and March. Analogs suggest we will not see a blowtorch month this winter.
Analogs also indicate precipitation will be average for December and January, with perhaps a wetter February and drier March.
Without further ado, here is our official winter forecast.
2021-2022 WINTER TEMPERATURE OUTLOOK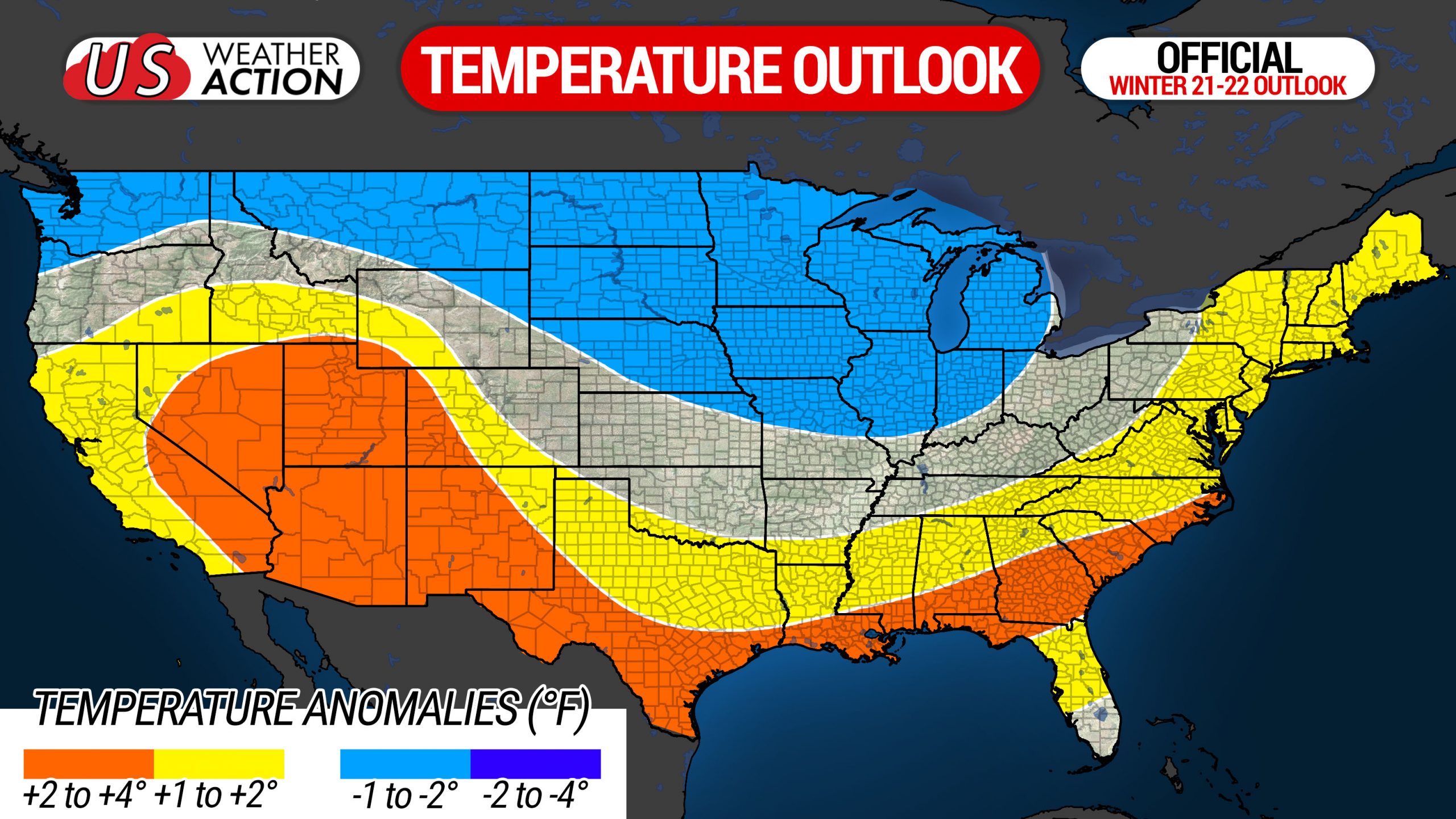 This winter, we are predicting average to slightly above average temperatures. Western Pennsylvania is most likely to end the season with average temperatures, and Eastern Pennsylvania is most likely to end with slightly above average temperatures as a whole. That does not mean opposite ends of the state will see drastically different weather, that simply means we expect cold shots to be somewhat more significant west of the Appalachians.
We expect the winter to get off to a colder than normal start in December, followed by a normal January, slightly warmer than average February, and warmer than average March. As with every winter, there will be short-term exceptions, but this is how we anticipate the winter to progress.
2021-2022 WINTER PRECIPITATION OUTLOOK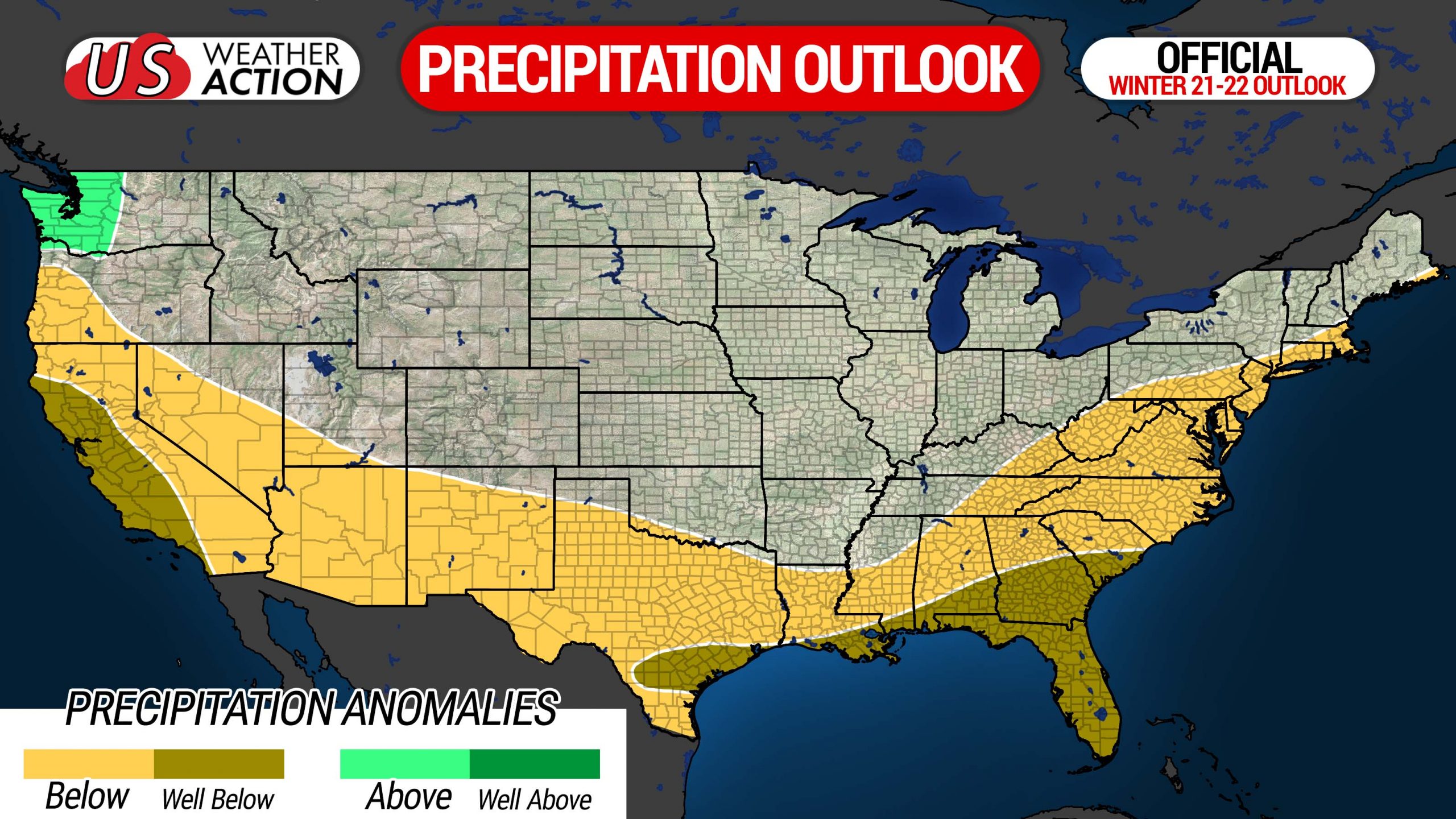 Due to the subtropical southern stream being subdued by the second-year La Nina, we expect drier than normal conditions on the East Coast, including Southern Pennsylvania. We have already been seeing this in November, and the same theme is forecast to continue into the winter months. In order for Pennsylvania to see more winter storms, we will need the troughing centered over the Midwest and Ohio Valley, with Pennsylvania on the eastern edge of the trough, just above the Southeast Ridge, much like what we saw last February. However we predict the Southeast Ridge will send many systems to our north west this winter. This will often leave most of PA on the rainy side of systems, followed by a cold shot and lake effect snow. For that reason, we have left lake effect regions in average precipitation.
2021-2022 WINTER SNOWFALL OUTLOOK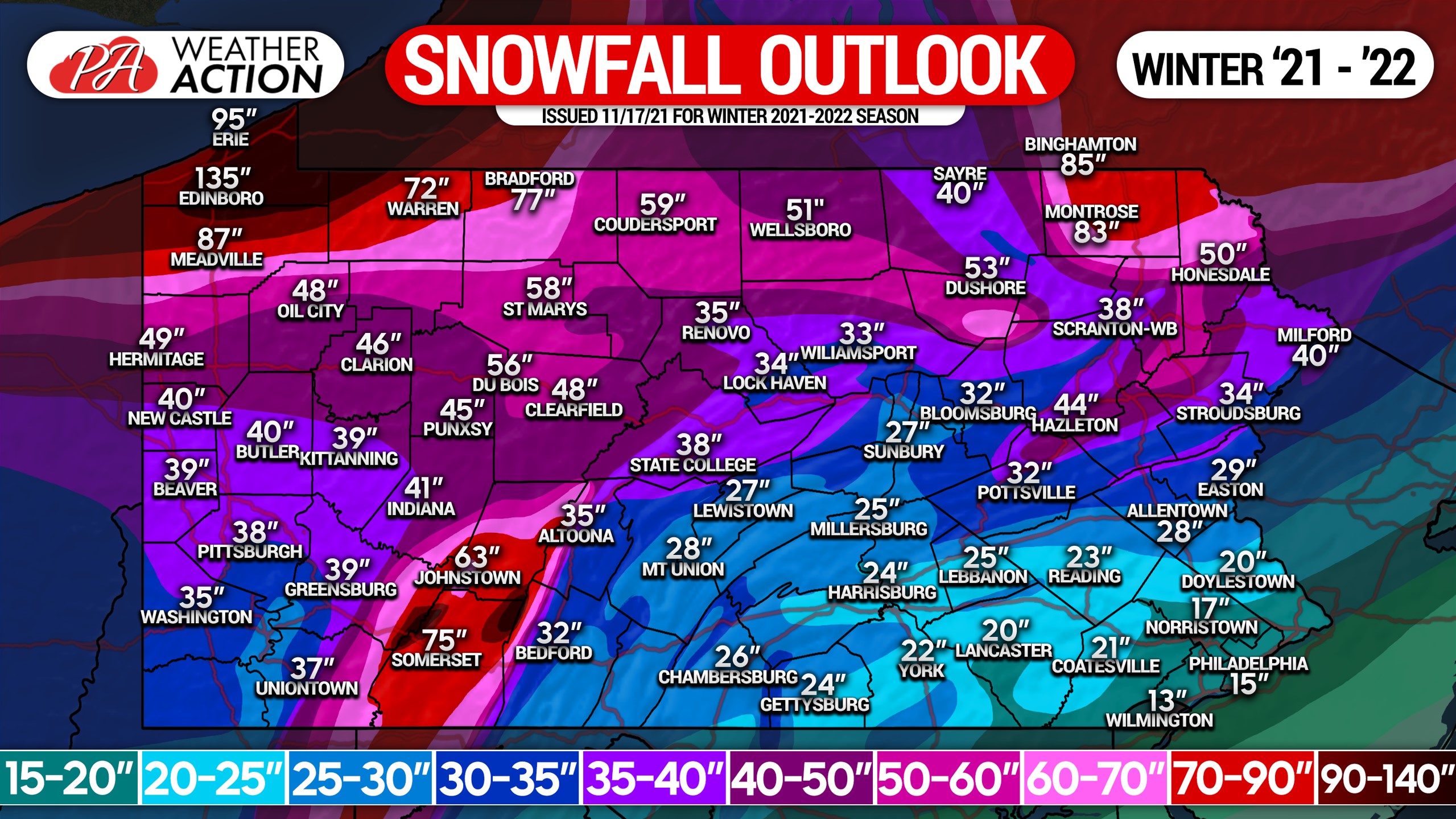 This year we are predicting slightly below average snowfall (70-90% of normal snow) south and east of the Appalachian Mountains, and average snowfall (90-110% of normal snow) in and west of the mountains. While it's difficult to forecast when the snow will come, the holiday season into January does look good for multiple snows.
Winter storms may not be as significant as last year, but blocking over Eastern Canada could increase opportunities for impactful coastal storms once again. February and especially March look to bring below average snowfall, but confidence does decrease with time because it's near-impossible to know what teleconnections mentioned above will do.
Lake effect snow is forecast to be most above average in December, as constant shots of cold air and accompanying northwest winds are likely. For this reason, we expect lake effect-reliant areas to see slightly above average lake effect snow.
Thank you for reading our winter forecast. Be sure to stay with PA Weather Action as we continue to bring you the latest forecasts for this winter. You can download our new app to access forecasts as soon as they're issued, along with 11 interactive map layers and latest minutely, hourly, and daily forecasts >>> PWA App Link
Don't forget to send the winter outlook to family and friends who may be interested! Stay safe!