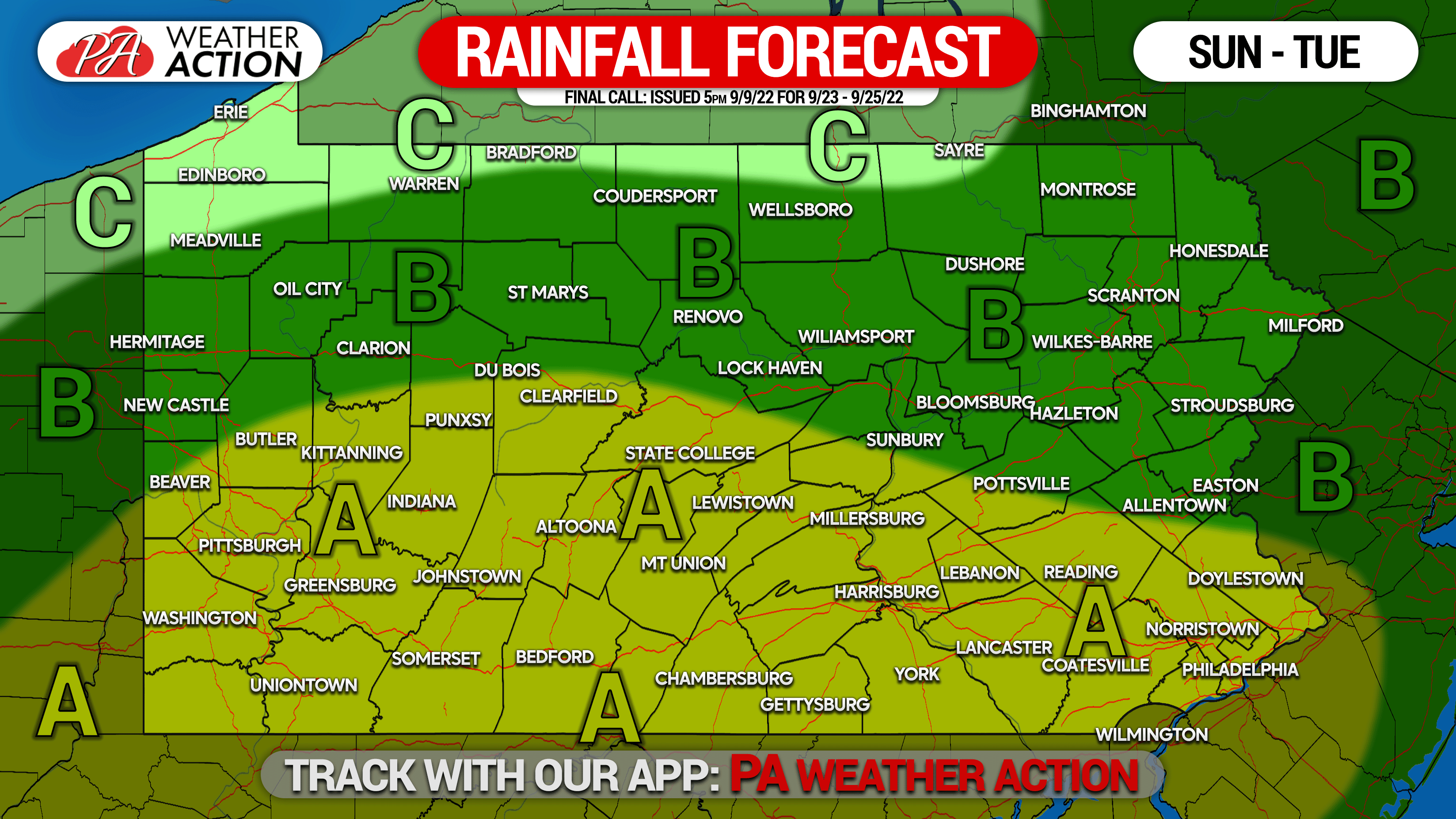 Just like last weekend, we are in for another dry and beautiful start to the weekend followed by some showers that will stick around for a few days. Although the amount of rain will not be comparable, with maximum totals of about 1.5″ possible through Tuesday.
This is good news for fall foliage season in areas that peak later, but will not help much in higher elevations. We should now be hoping for sunny, dry days with relatively cool nights. Right now, the outlook for late September features above normal temperatures so expect fall foliage season to be pushed back a week or so. We will have our fall foliage forecast very shortly.
Saturday will be a very pleasant day with temperatures in the 70s and partly cloudy skies, with increasing clouds later in the day and a few sprinkles possible in SWPA. Overall, a fantastic day to be outdoors. Sunday will be a different story though.
Sunday looks like a good day to be inside and enjoy the return of football, as widespread light rain showers are on tap. It won't be a soaking rain, but it also will not be enjoyable to be outside for most activities. Brief pockets of heavy rain are likely as the warm front pushes across the state from west to east.
Below is future radar from the Hi-Res NAM. This model has the showers coming in a bit earlier on Saturday, but most other guidance has them holding off until sunset.

SAT NIGHT – TUESDAY RAINFALL FORECAST
Area A: Rainfall totals of 1.0 – 1.5″ expected. A marginal risk for flash flooding exists.
Area B: Rainfall totals of 0.5 – 1.0″ expected.
Area C: Rainfall totals up to 0.5″ expected.
Stay tuned for our fall foliage season forecast, along with our Pennsylvania climate series for snowfall, tornadoes, and more.
---
---