Here comes another Wednesday with bad weather possible across much of the commonwealth. Scattered strong to severe thunderstorms are expected to develop mid-day Wednesday over Western and Central Pennsylvania and move east from there. Weak shear in our area will lower the tornado risk, but damaging winds and hail remain possible. This is all relatively uncommon for mid-September, but thanks to well above average temperatures we are continuing a summer-like pattern.
STORM TIMING
Thunderstorms are projected to develop on a southwest-to-northeast axis between 2-4 PM Wednesday afternoon from Southwest PA to Northcentral PA. Some model guidance has a large line of storms forming, while others indicate storm clusters, meaning not everyone is likely to receive rain on Wednesday. However, if a line does form, most of us will pick up at least a half inch. The I-81 corridor specifically will be the focus for these strong to severe thunderstorms by the early evening. Storms are not expected to reach most of Eastern PA, south of the Poconos, until sunset or after, likely causing the storms to weaken as dynamics weaken as we lose daytime heating when the sun goes down. Below is Hi-Res NAM Future Radar for 1:00 PM Wednesday through 2:00 AM Thursday.
WEDNESDAY SEVERE THUNDERSTORM THREAT MAP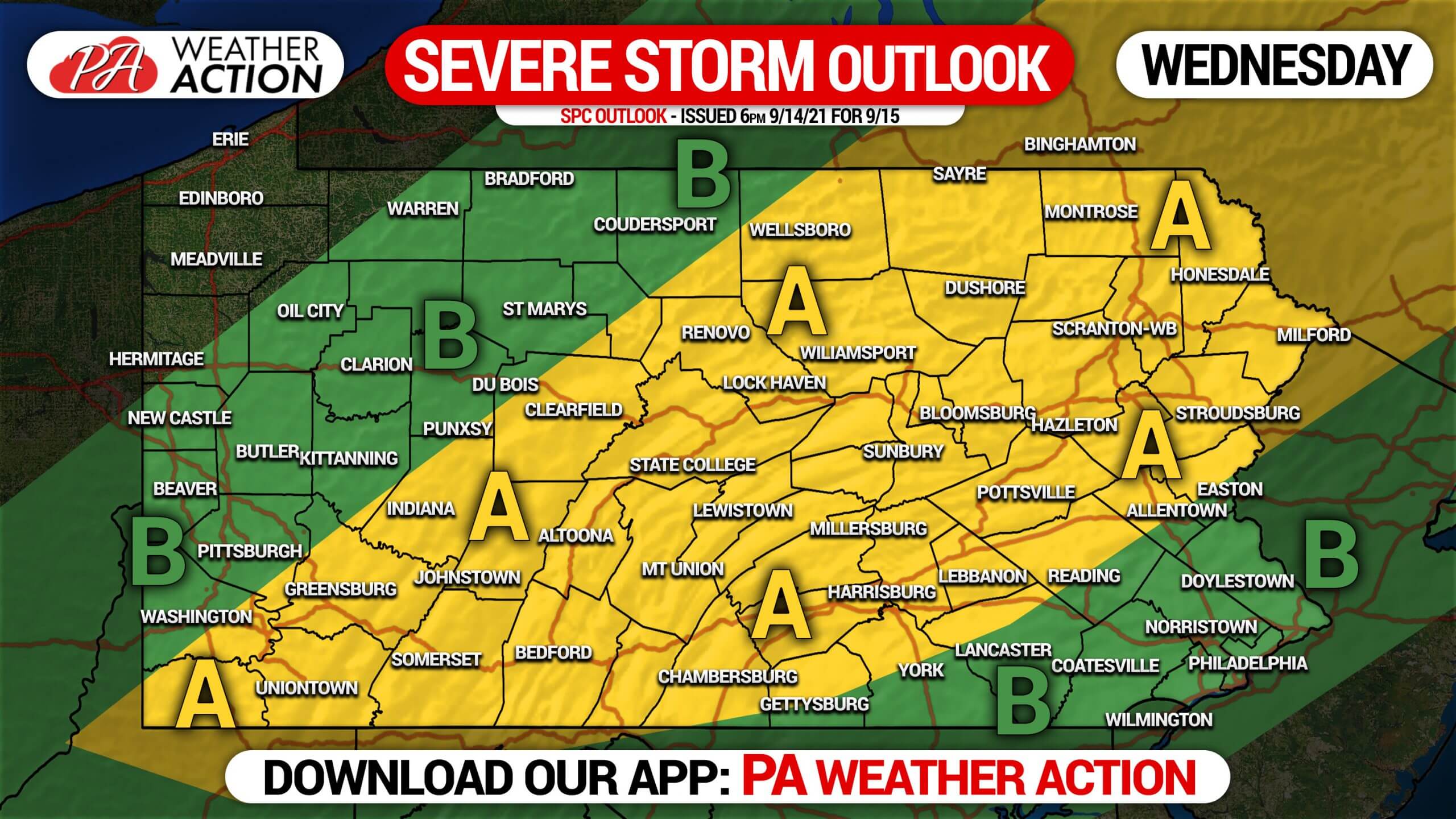 Area A: Slight risk for severe thunderstorms, several clusters or a line of strong thunderstorms expected. Concerns include damaging winds and hail, with the tornado threat focused to our northeast up in New England. Watch out for rapidly deteriorating driving conditions.
Area B: Marginal risk for severe thunderstorms. The western portion of this area will see scattered showers and storms pop-up in the early afternoon, and the eastern portion will see the leftovers of the day's storms in the late evening.
Stay tuned on Wednesday for latest alerts and keep an eye on the radar, it is truly your best tool for tracking the weather in real-time.
Don't forget to share this article to family and friends, especially if they have outdoor plans!