Over the last 24 hours there has been a warming trend with Saturday's storm system. We now expect more sleet than snow to fall for many areas across the state. As a result this will cut down on snowfall totals. With that being said, Saturday's storm system will still cause significant travel impacts across the state.
Most locations will start off as period snow at the onset of the storm. Precipitation will move into Western Pennsylvania after 5:00 AM Saturday and will continue to expand east. Below is a look at 7:00 AM Saturday: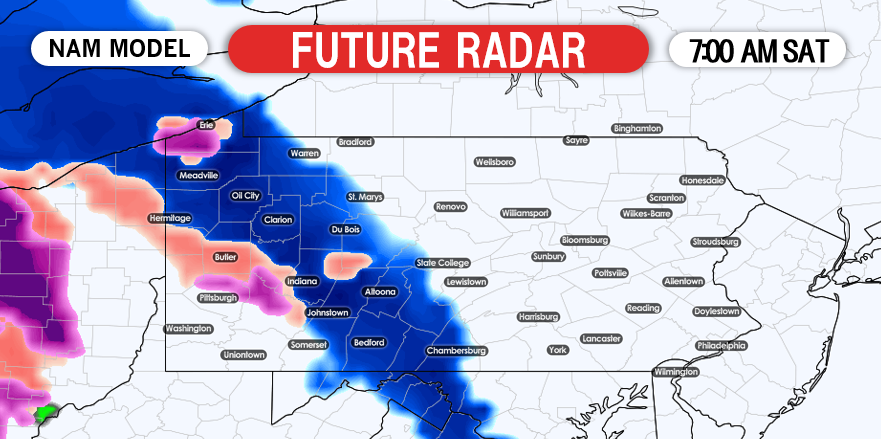 Precipitation will begin to pickup in intensity and expand into central and eastern Pennsylvania as we head later into the morning hours. Below is a look at 10:00 AM Saturday morning: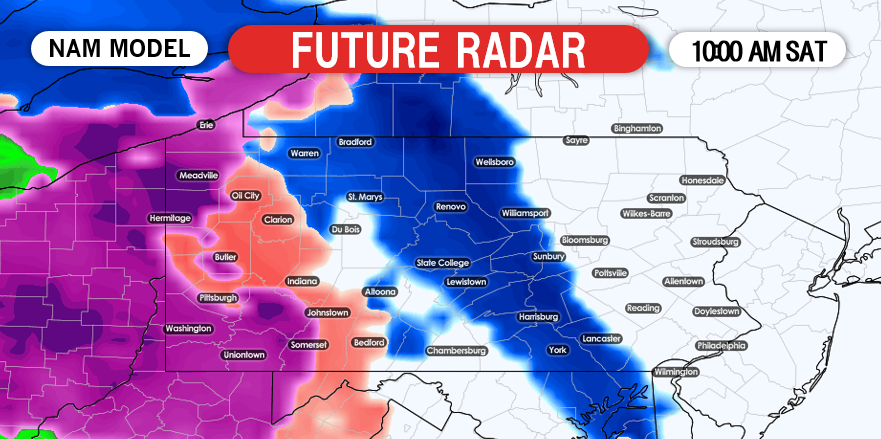 Notice that the changeover from snow to sleet is already entering much of Western Pennsylvania. By 1:00 PM Saturday Afternoon, many areas in western and central Pennsylvania are sleeting, while eastern Pennsylvania is hanging onto the snow: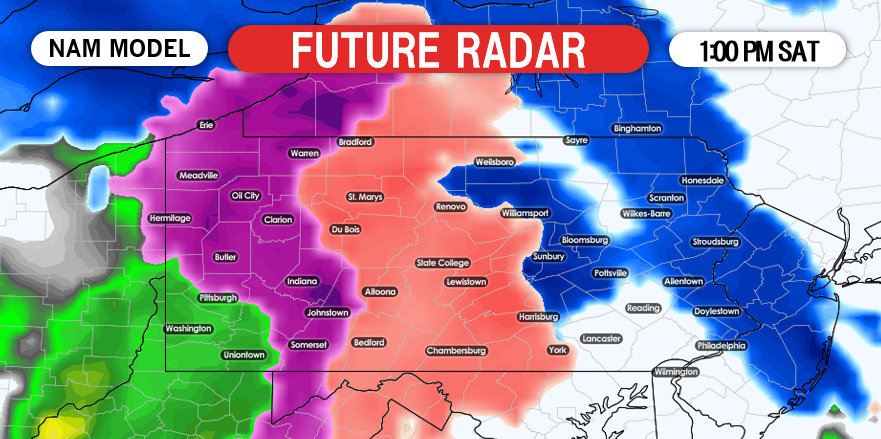 There are noticeable gaps in the future radar shown by the NAM.We do not necessarily buy that solution, instead there will be a solid shield of snow in eastern Pennsylvania at the onset. By the time the mid-afternoon hours arrive, most of Pennsylvania is experiencing either sleet or freezing rain and not snow. Below is a look at 4:00 PM Saturday: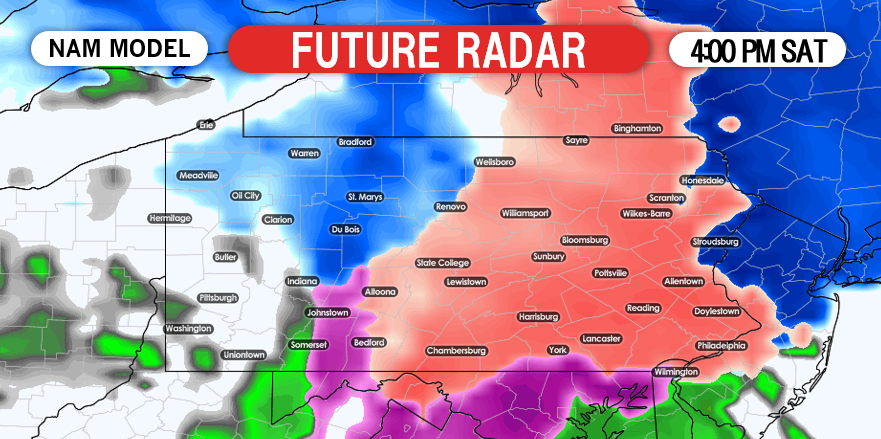 It is possible that some areas could see up to an inch of sleet on top of whatever snow does fall at the beginning of the storm. This is why traveling on Saturday will still be treacherous despite the lesser snowfall totals. We highly suggest to wait until after 7:00 PM Saturday for any type of traveling. By this time, the storm will be just about exiting the state: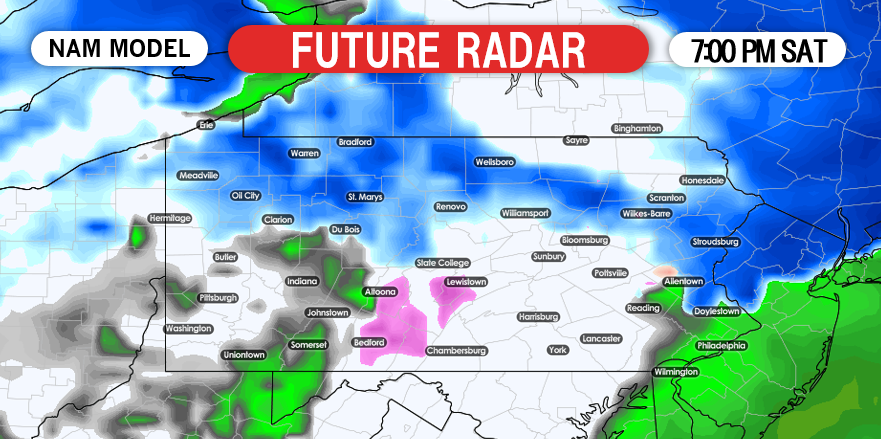 SECOND CALL ICE FORECAST FOR SATURDAY
Area A: Ice accretion of .05 – .20″ expected. Scattered power outages possible due to strong winds and icy conditions.
Area B: A glaze to .05″ of ice accrual expected. Isolated power outages possible due to ice and high winds.
SECOND CALL SNOWFALL FORECAST FOR SATURDAY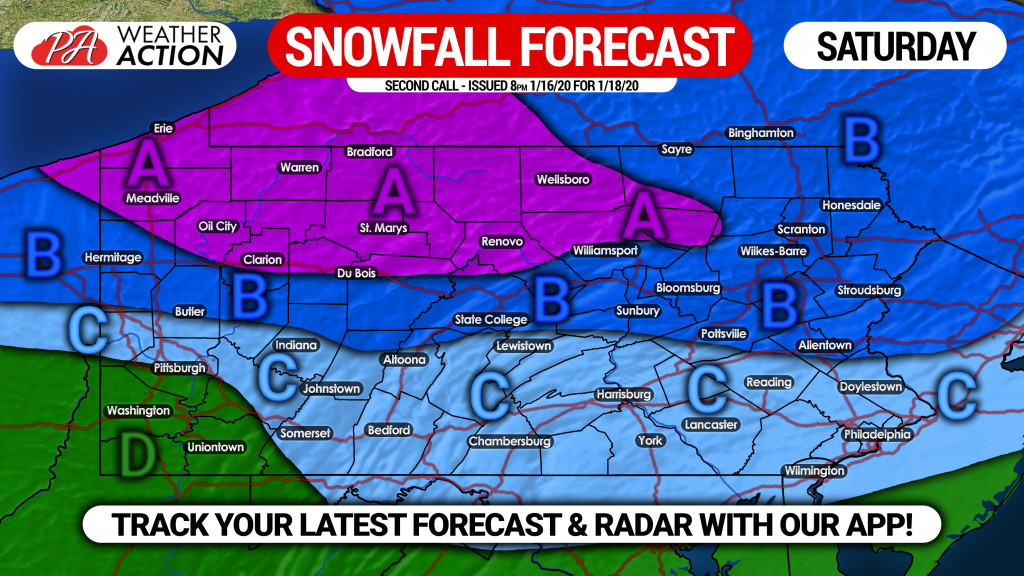 Area A: Snowfall accumulation of 4 – 6″ expected, followed by an additional inch or two of lake effect Saturday Night into Sunday. Travel will be difficult, as roads will become snow-packed.
Area B: Snow and sleet accumulation of 2 – 4″ expected. Hazardous travel likely Saturday.
Area C: Snowfall and sleet accumulation of <1 – 2″ expected. Due to temperatures in the 20s, roads will become slushy.
Area D: No snow accumulation expected.
For more precise timing and amounts for your location, interactive radar and more, download our free app! >>> Weather Action App Link
Be sure to share the forecast with your family and friends who may have plans this weekend. Stay tuned for the final call Friday evening.