Latest data and observations over the past 24 hours have looked more and more promising for a significant to major snowfall across much of the coverage area. Snow totals have increased from our first call because of this.
A low pressure system will be moving across the Ohio Valley tomorrow which will help deliver light to moderate snow across parts of Pennsylvania by the mid-morning and afternoon hours Sunday. This same low pressure will then transfer to the coast by early Monday morning. As it strengthens off the coast, the system will turn into a classic coastal storm, producing heavy snowfall across many locations, especially the eastern half of Pennsylvania. The most unique feature regarding this storm is the duration. The snow will not completely taper off until Tuesday morning. There is serious potential of locations receiving snow for 30 to 40 hours. That is almost unheard of. With that said, lets get into the timing.
FUTURE RADAR TIMING
Snow will enter western pa first by the mid-morning hours Sunday and by 1:00 PM Sunday afternoon, snow has filled in across the southwest half of the state. This snowfall will be on the light to moderate side, but thanks to cold temperatures, snowfall ratios will be greater than the typical 10:1.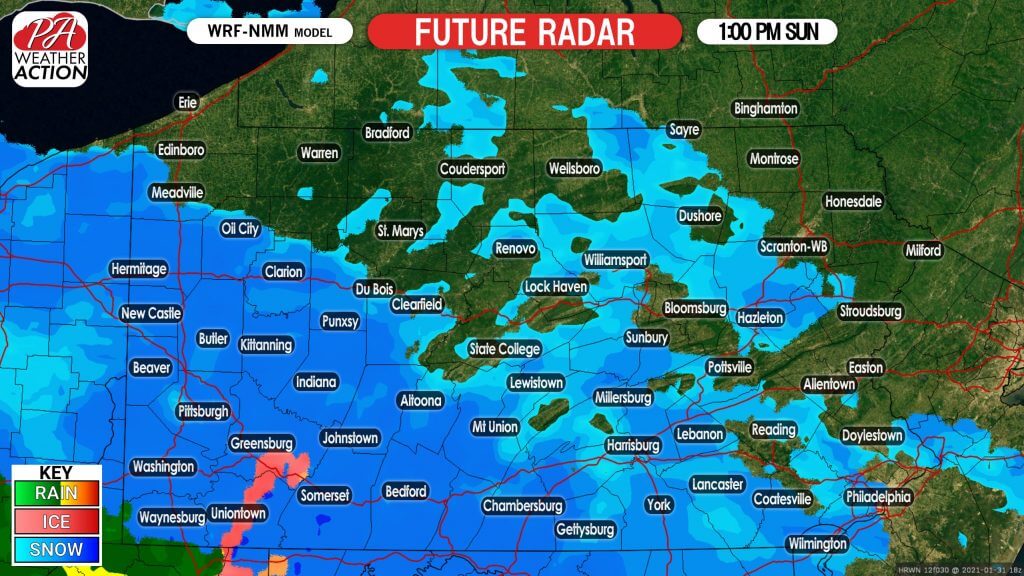 By 10:00 PM Sunday night, the low pressure is beginning to transfer to the coast. As a result, most of the state is now dealing with snow by this time. We still expect snowfall rates to be on the light to moderate side, as the coastal storm has not officially taken over by this time.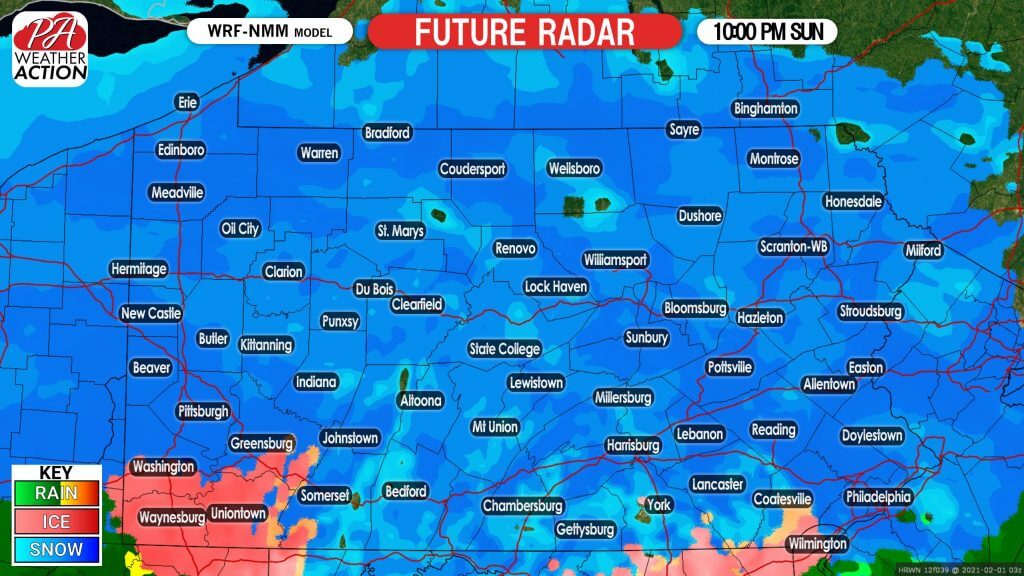 By 10:00 AM Monday morning, the coastal low pressure has nearly taken over. This will allow for heavier snow bands to develop, but as you notice there are gaps in the future radar. There is the potential for a lull period Monday morning before the coastal storm officially takes over.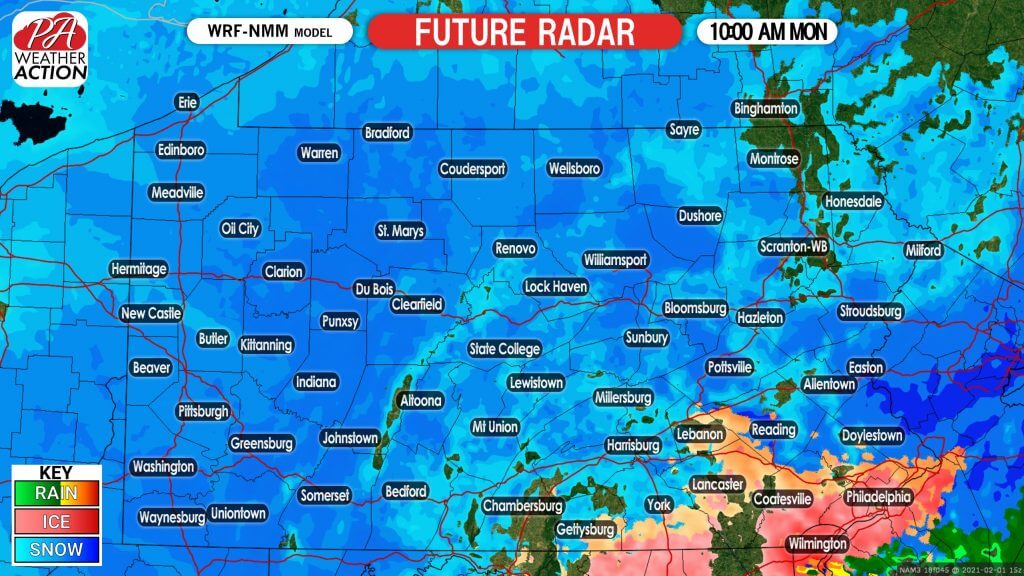 By 7:00 PM Monday night, the coastal storm is now in full strength, delivering with it a heavy snowfall across the coverage area. Snowfall rates of 1 to 2 inches per hour is possible under these bands. These snow bands will cause many areas to exceed a foot of snowfall.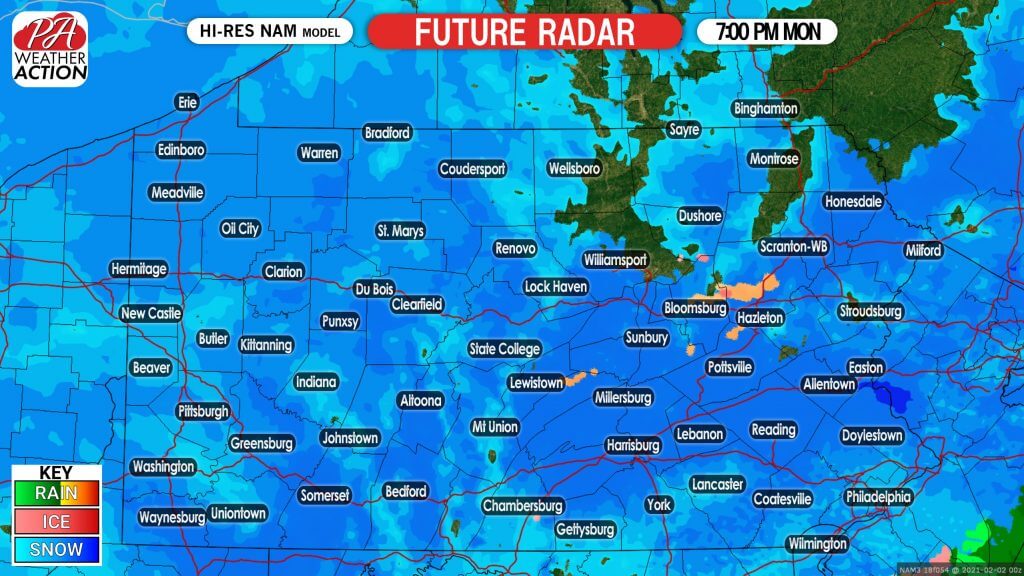 We do not anticipate the snow to completely shut off until the early-morning hours on Tuesday.
SECOND CALL SNOWFALL FORECAST FOR SUNDAY – MONDAY'S MAJOR SNOWSTORM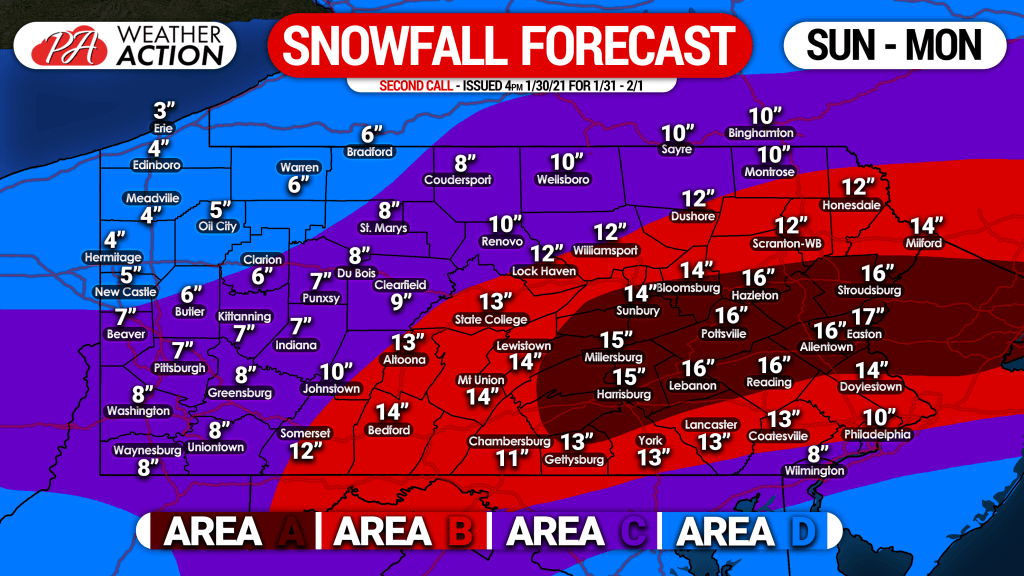 Area A: Total snowfall accumulation of 14 – 18″ expected. Light to moderate snow will develop Sunday afternoon, with heavier snow likely on Monday. Travel will be difficult Sunday evening and near impossible much of Monday.
Area B: Total snowfall accumulation of 10 – 14″ expected. Light to moderate snow is expected to fall over a long duration, with some locally heavy snow Monday. Some sleet may mix in on the southern edge of this zone. Expect travel to be very difficult Sunday evening into Monday.
Area C: Total snowfall accumulation of 6 – 10″ expected. Mainly light to moderate snow will accumulate Sunday into Monday. The southern edge of this area will likely see sleet and a brief dry slot Monday morning.
Area D: Total snow accumulation of 3 – 6″ expected. Secondary roads will become slippery if untreated.
If you must travel, reduce speeds greatly especially in low visibilities.
Be sure to share this forecast with your family and friends using the blue button below. Stay safe!