The cold air is now in place for our early spring storm, as temperatures are 20-30° colder than 24 hours ago. Model guidance is beginning to come into agreement, and there are a few changes to the forecast. This will still be an elevation-dependent event, meaning mountainous locations will see a bit more snowfall than the valleys. Also, snow will have a tough time sticking to roads generally south of i80. You don't need to stock up on anything extra due to this storm.
Precipitation now looks to come in about three hours earlier than previously expected, and there could be a quick lull in the mid-morning before the coastal low strengthens. Snow will have a much easier time accumulating before 9-10 AM Monday, due to the high late March sun angle that comes into play in the late morning.
STORM TIMING
An area of moderate precipitation will move into western and central PA early morning Monday. It will fall as rain west of Johnstown and Clarion and snow east of those locations. Below is the Hi-Res NAM future radar for 2:00 AM Monday.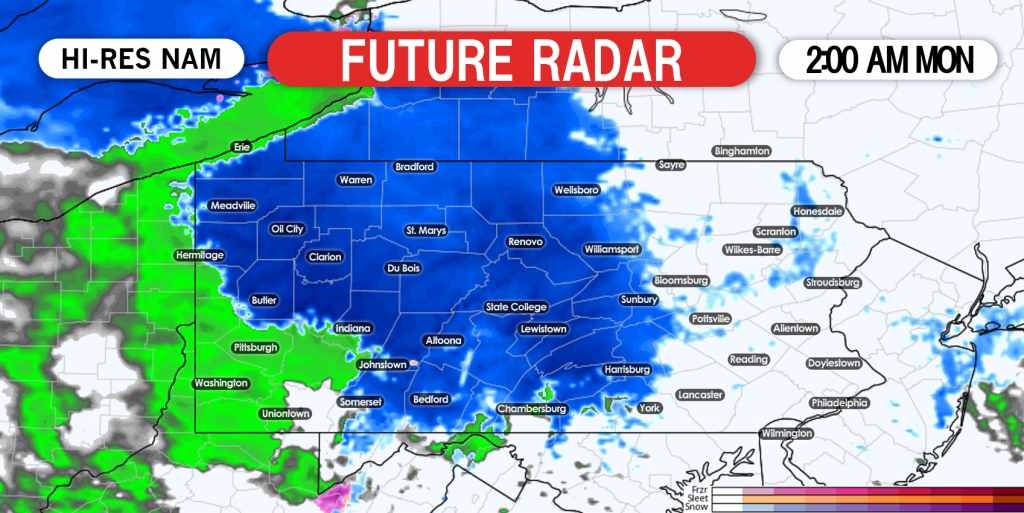 That precipitation, which is from the primary low in the Midwest, will slide east into eastern PA by sunrise Monday. There will likely be a slight lull in central PA around this time, before the secondary coastal low feeds precipitation inland. Here is future radar for 6:00 AM Monday.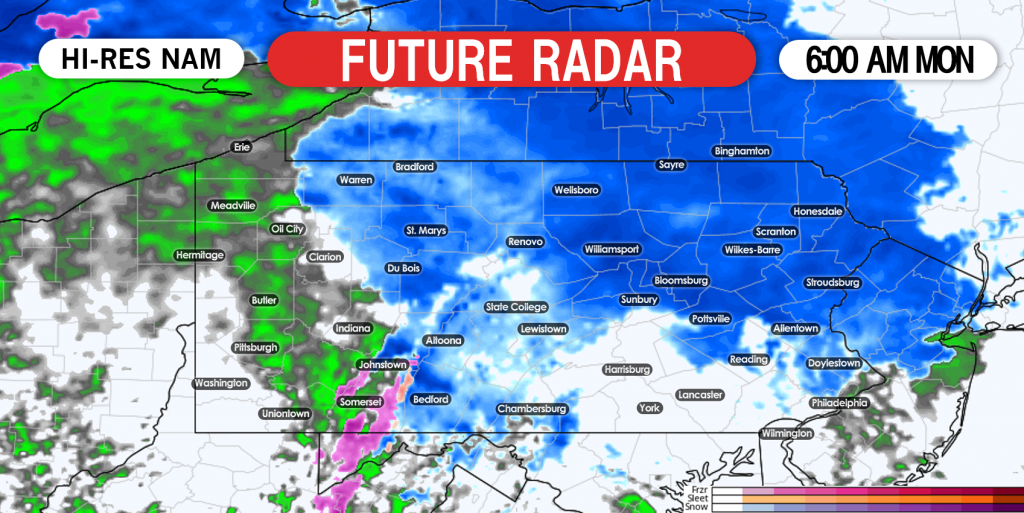 By mid Monday morning, precipitation rates in central and eastern PA will greatly increase. We expect moderate snow to be falling north of I-78 in eastern PA and north of i81 in southcentral PA by 10:00 AM Monday. That is displayed on future radar for 10:00 AM Monday below.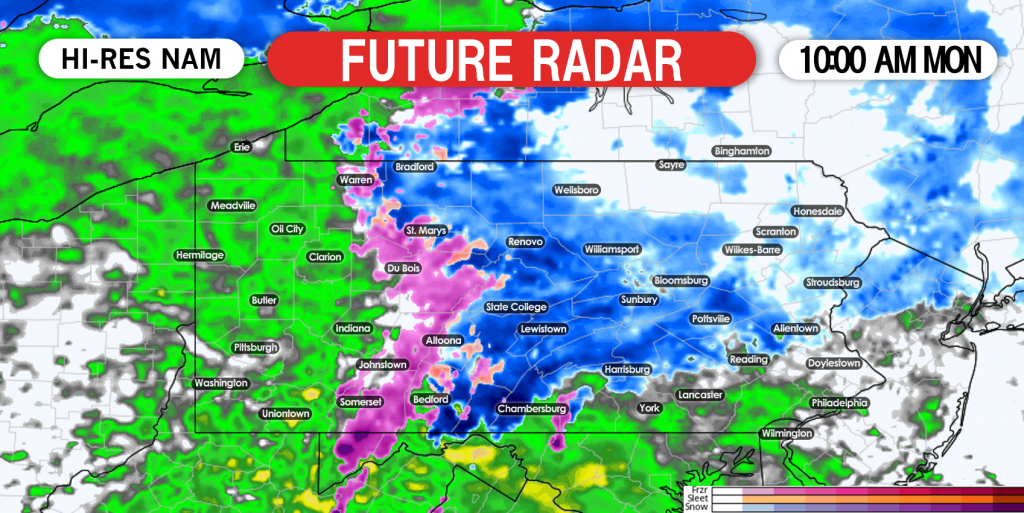 The rain/snow line will quickly advance northward early Monday afternoon. By 2:00 PM, expect heavy snow to be falling in elevations above 1200′ elevation north of I-80, with rain below 1200′ and south of I-80. Here is future radar for 2:00 PM Monday.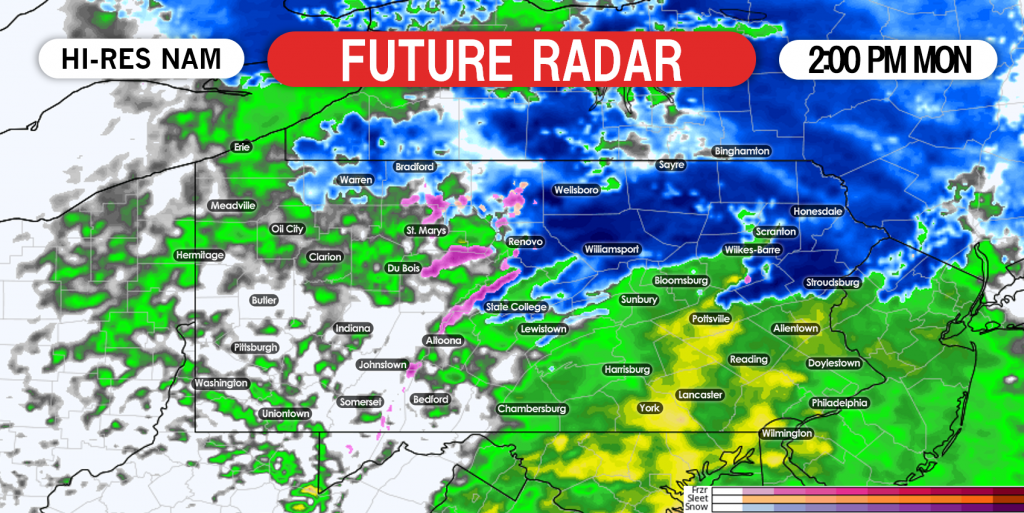 Rain will move out of the area by early evening Monday from west to east. Below is future radar for 6:00 PM Monday.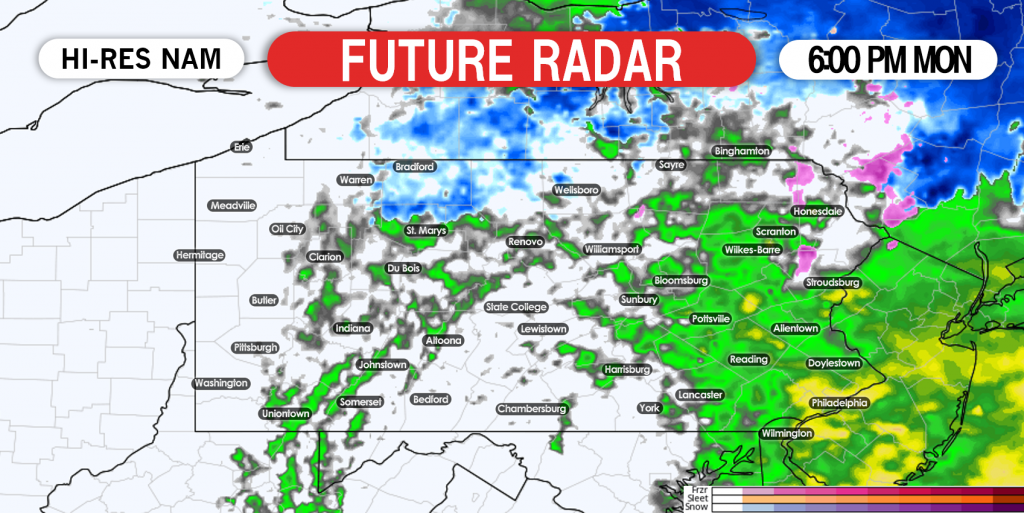 SECOND CALL SNOWFALL FORECAST FOR MONDAY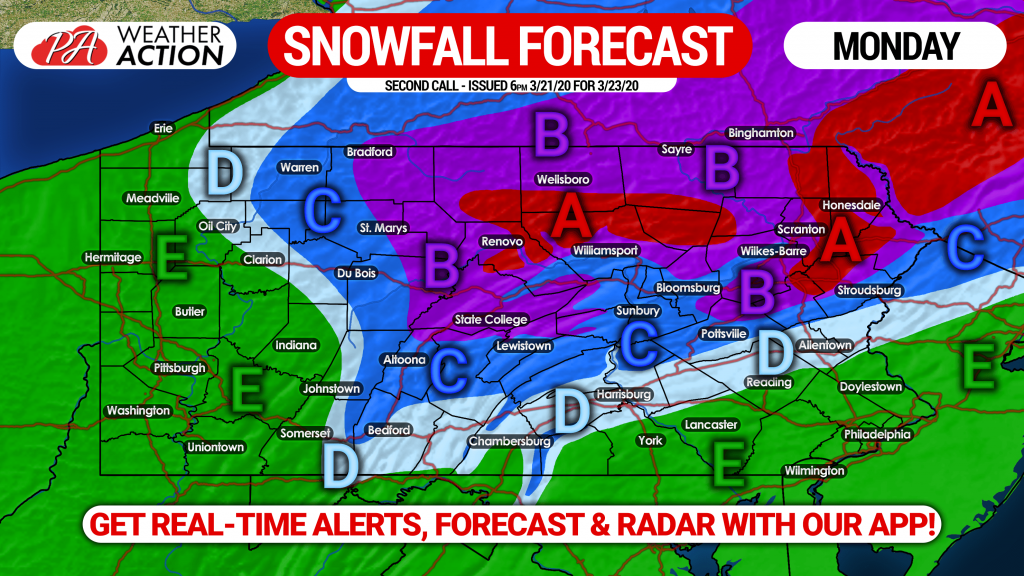 Area A: Snow accumulation of 4 – 6″ expected on the grass, with about 1-2″ on paved surfaces. Travel may be difficult, as these locations are mainly rural and roads may not be pretreated and/or plowed.
Area B: Snow accumulation of 2 – 4″ expected on the grass, with about 1″ of accumulation on paved surfaces. Travel may be slippery, especially in areas of over 1500′ elevation.
Area C: Snow accumulation of 1 – 2″ expected on the grass, with a coating likely on paved surfaces. Roads may be slippery in areas of over 1500′ elevation.
Area D: Snow accumulation of less than 1″ expected on the grass, with no accumulation anticipated on paved surfaces.
Area E: Plain rain is expected.
We will have one more forecast for this storm, which will be our final call that will be issued Sunday evening. Be sure to check back then.
Track your forecast and the storm as it plays out with our newly updated app! Download it on iOS & Android here: Weather Action App Link
Don't forget to share this forecast with your friends and family! Stay safe and stay tuned!