Yet another round of severe storms is expected to impact the area Thursday Night into Friday. The NWS/NOAA Storm Prediction Center has already highlighted the threat of severe thunderstorms and flooding across Central and Eastern PA.
Many communities in Central and Eastern PA are still recovering from torrential rainfall that occurred this past weekend. Some locations soaked up nearly 5″ of rain. Harrisburg International Airport recorded 4.27″ of rainfall in one hour, breaking the previous record of 4.00″ set in 1969.
With another 1-3″ of rainfall expected Thursday Night into Friday throughout Southern and Eastern PA, flooding will be a major concern. Below is a graphic displaying the amount of rain that would need to fall in three hours to cause flash flooding.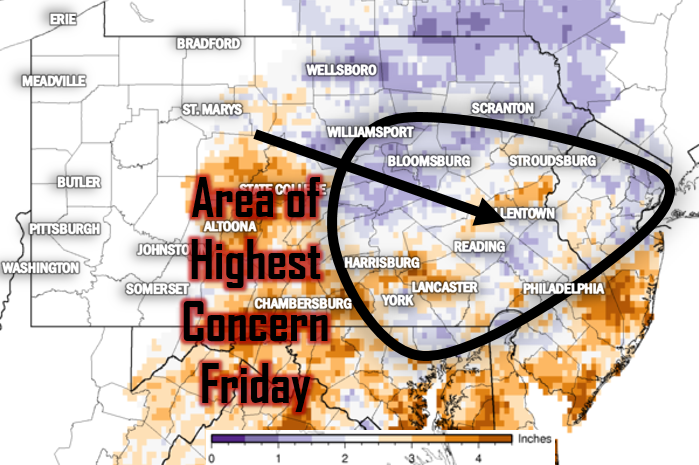 Just 1-1.5″ of rainfall will be enough to cause flash flooding in much of the eastern half of the state. In isolated locations even less.
SPC SEVERE T-STORM OUTLOOK FOR THURSDAY NIGHT – FRIDAY MORNING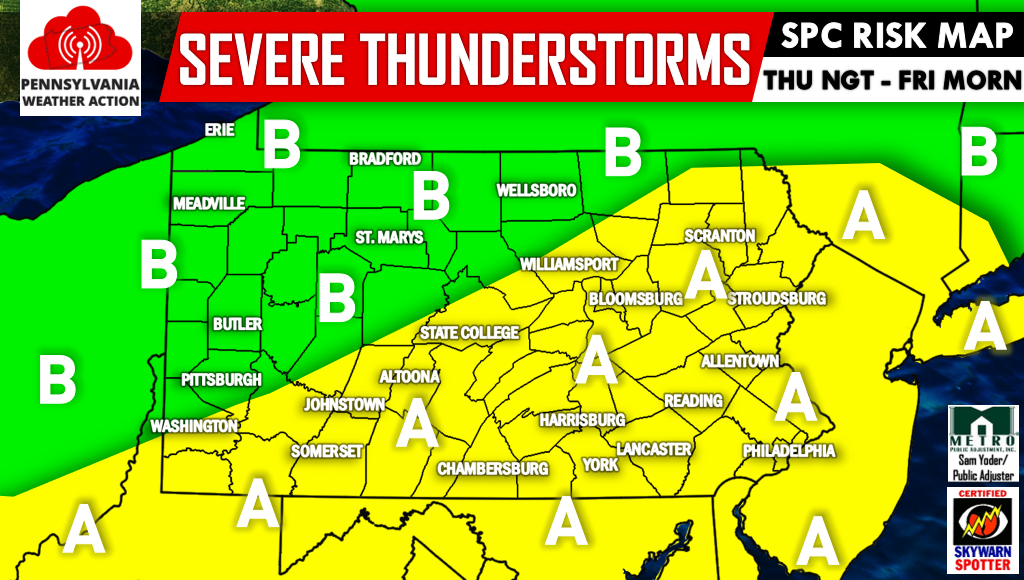 Area A – The SPC has labeled this area in a Slight Risk. Storms will develop just before midnight and move east through the night. Primary risks include flash flooding and damaging winds.
Area B – The SPC has labeled this area in a Marginal Risk. Storms will likely develop to the south and east of this region, but we cannot rule out the chance of a strong to severe storm. The primary threat will be flash flooding, mainly in Northcentral and Northeast PA.
As mentioned above, storms will develop an hour or two before midnight Thursday Night in Central PA. Below is a radar simulation for 11 PM Thursday.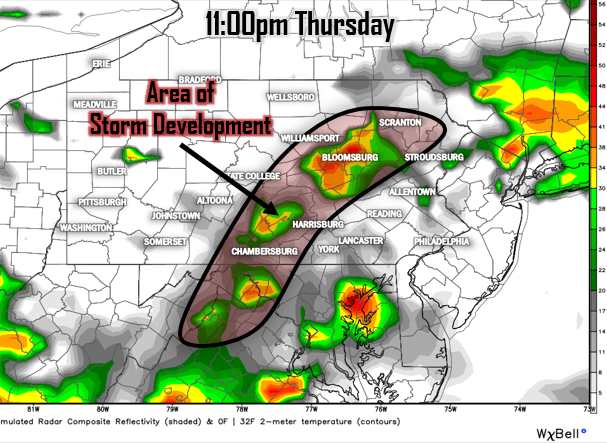 Storms will form in locations such as Chambersburg, Selinsgrove, Williamsport, and Wilkes-Barre. They will then move east as the night progresses. Here is another radar simulation for 2 AM Friday.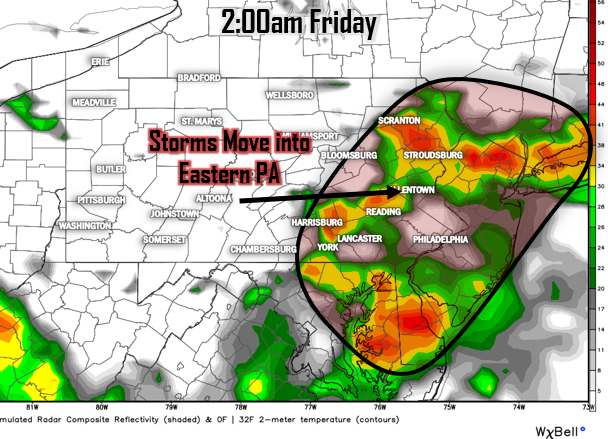 By this time, storms will become more widespread in Eastern and Southcentral PA, including cities such as Harrisburg, Reading, Allentown, and Philadelphia. More heavy rain is likely to move through Southern PA Friday Evening, once again increasing the flash flood threat.
Be sure to have us liked on Facebook as we deliver the latest weather updates and alerts, keeping you ahead of the action>>>PA Weather Action on Facebook! Don't forget to share the forecast to warn your family and friends about the upcoming severe storms and high flash flood risk using the social icons below, stay safe everyone!