A large system producing a major severe weather outbreak in the southeast today and a snowstorm in the northern Plains will bring us the potential for severe storms Monday. We do not expect a severe weather outbreak here in Pennsylvania, but severe storms with damaging winds and isolated tornadoes look probable.
TIMING
After a long period of rain from Sunday evening into Monday morning, we expect individual strong to severe cells, some of which could be supercells, to develop in central Pennsylvania by around noon Monday. They will move east-northeast. Below is the Hi-Res NAM model for 1:00 PM Monday.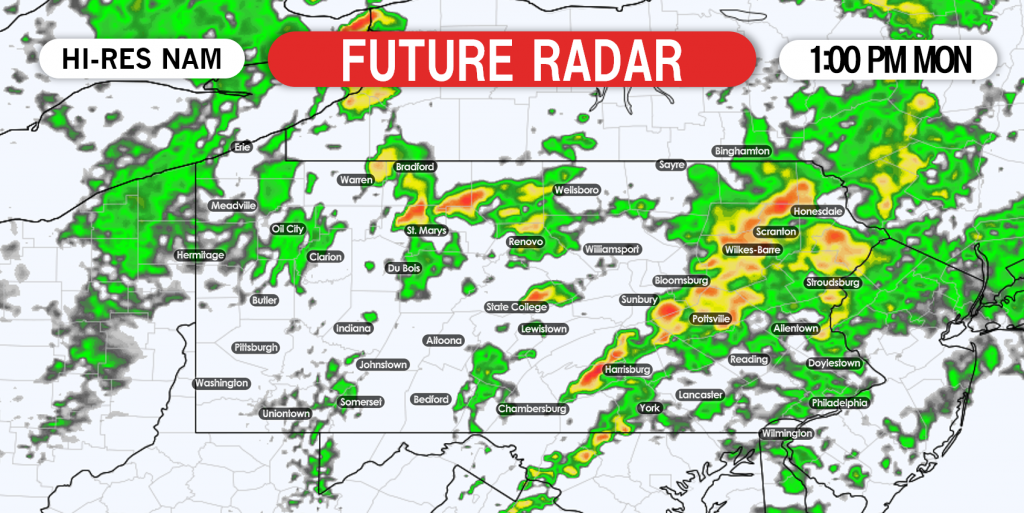 As cells move east-northeast, more will continue to pop-up near and behind them in the Susquehanna Valley. Here is a look at future radar for 2:00 PM Monday.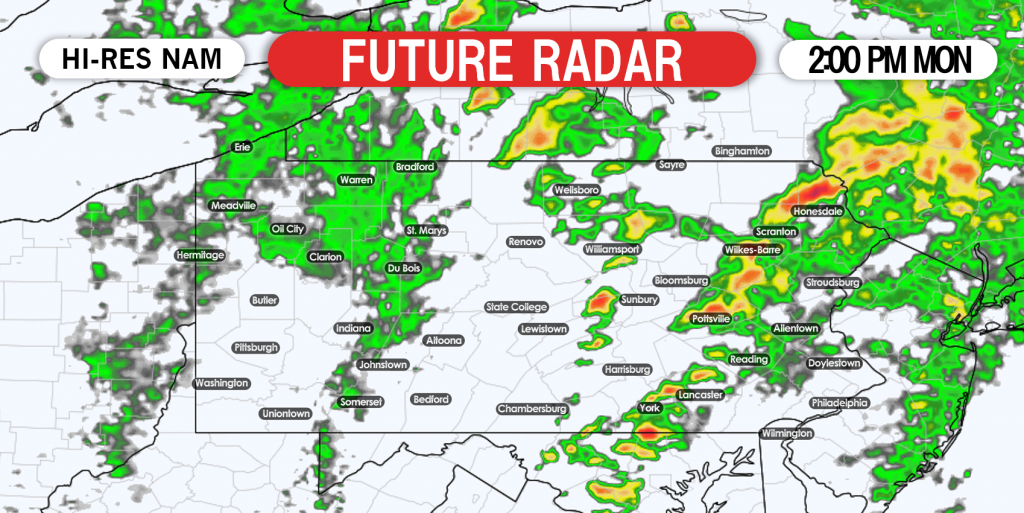 Best dynamics (and the threat) will quickly push east, and by mid-afternoon, we anticipate most cells to be east of the Susquehanna River. Below is future radar for 3:00 PM Monday.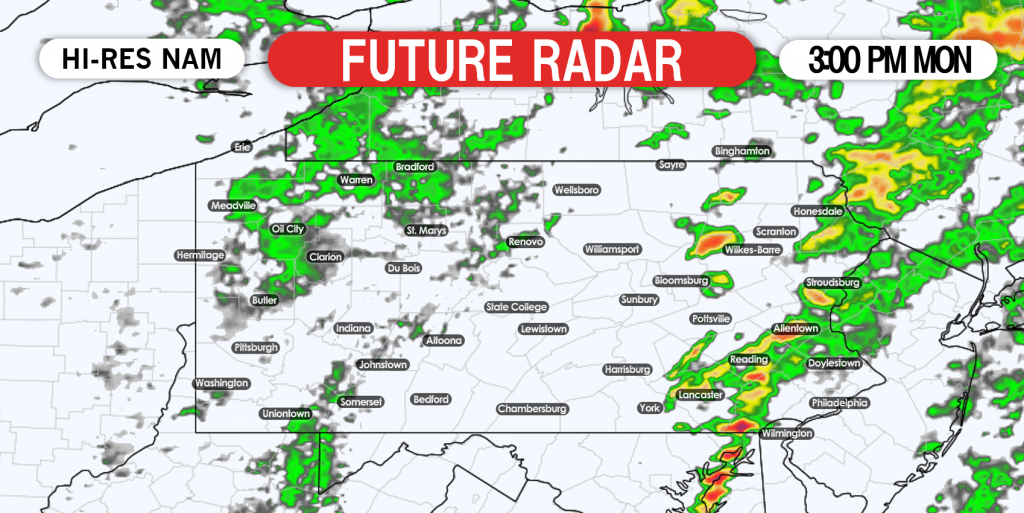 By late Monday afternoon, the last of the storms will likely be pushing out of eastern PA, as shown on future radar for 4:00 PM below.
SETUP RISKS
With CAPE (energy) values near 1000, strong wind shear (upper level winds, stronger = higher threat), and strong helicity (rotation in mid levels), threats that stand out include damaging winds of 60-75 MPH, and isolated tornadoes. The threat is highest to our south, but in PA the highest threat is in the Lower Susquehanna Valley to the Delaware Valley.
The SPC (NWS Storm Prediction Center) has expanded the slight risk to cover much of the state, and the enhanced risk has moved into northern VA. If the enhanced risk is expanded north, east of Chambersburg, west of Philadelphia, and south of Pottsville is where it will likely be. But at this time, the highest SPC risk category in PA is slight.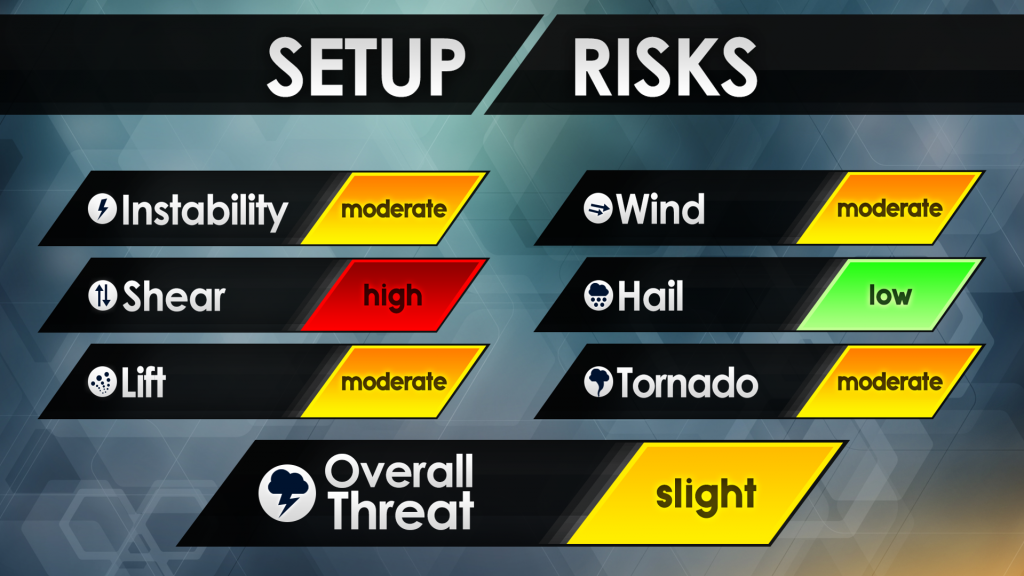 SPC SEVERE THUNDERSTORM RISK MAP FOR MONDAY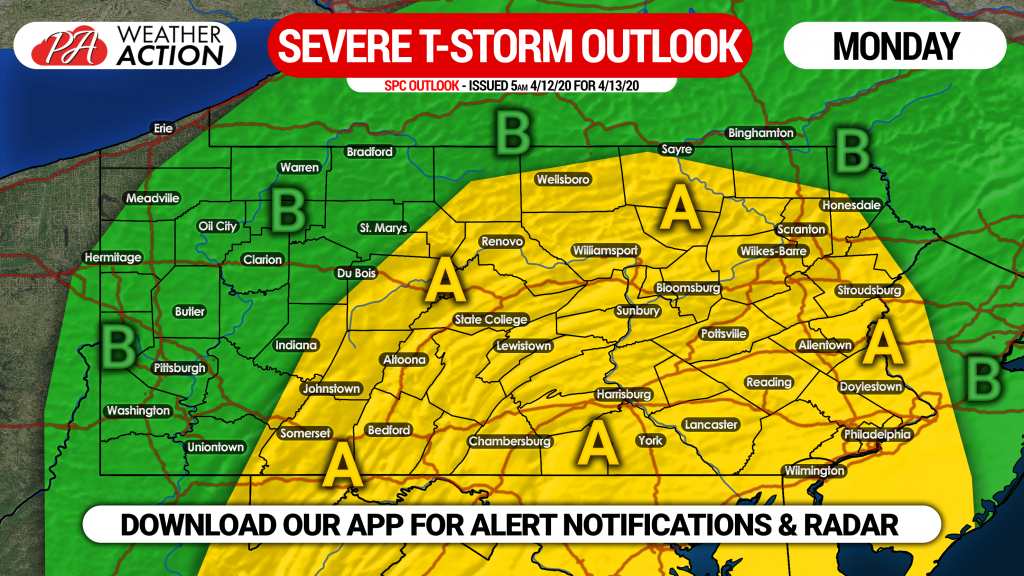 Area A: This area is under a slight risk, meaning scattered severe thunderstorms are expected Monday afternoon. Damaging winds of 60 – 75 MPH and isolated tornadoes are the main threats.
Area B: This area is under a marginal risk, meaning isolated strong to severe storms are expected Monday. The threat in western PA will be late Monday morning, when isolated damaging winds are possible.
We will have live radar on our facebook page, and you can also receive weather alert notifications and track the storms on radar with our app. Get the Weather Action App here: iOS & Android App Link
Don't forget to share this important forecast with your family and friends using the blue button below. Stay tuned and stay safe!