It has been a tranquil stretch of weather since the remnants of Hurricane Ida swept through last Wednesday. The upcoming week or two looks pleasant as well, but not before a cold front accompanied by strong to severe thunderstorms marches into the area Wednesday. We are well past the peak of severe season, so this is relatively abnormal. We will face three risks: scattered flash flooding, isolated tornadoes, and scattered damaging winds.
THUNDERSTORM TIMING
A stripe of moderate rain will push through Western Pennsylvania Wednesday morning just ahead of the cold front. No severe weather is expected in the western half of the state. By 6-8:00 PM Wednesday, a line of strong to severe thunderstorms will develop in Northeast PA and down into Southcentral PA. That is rather late, especially for September. The lack of daytime heating will be the main limiting factor in this event. Below is the Hi-Res NAM future radar for 6:00 PM Wednesday.
This line of thunderstorms will strengthen as it pushes east into more favorable dynamics over the Poconos and Eastern Susquehanna Valley. Particularly, around sunset is when the highest tornado threat will exist across the previously stated areas. Here is future radar for 10:00 PM Wednesday.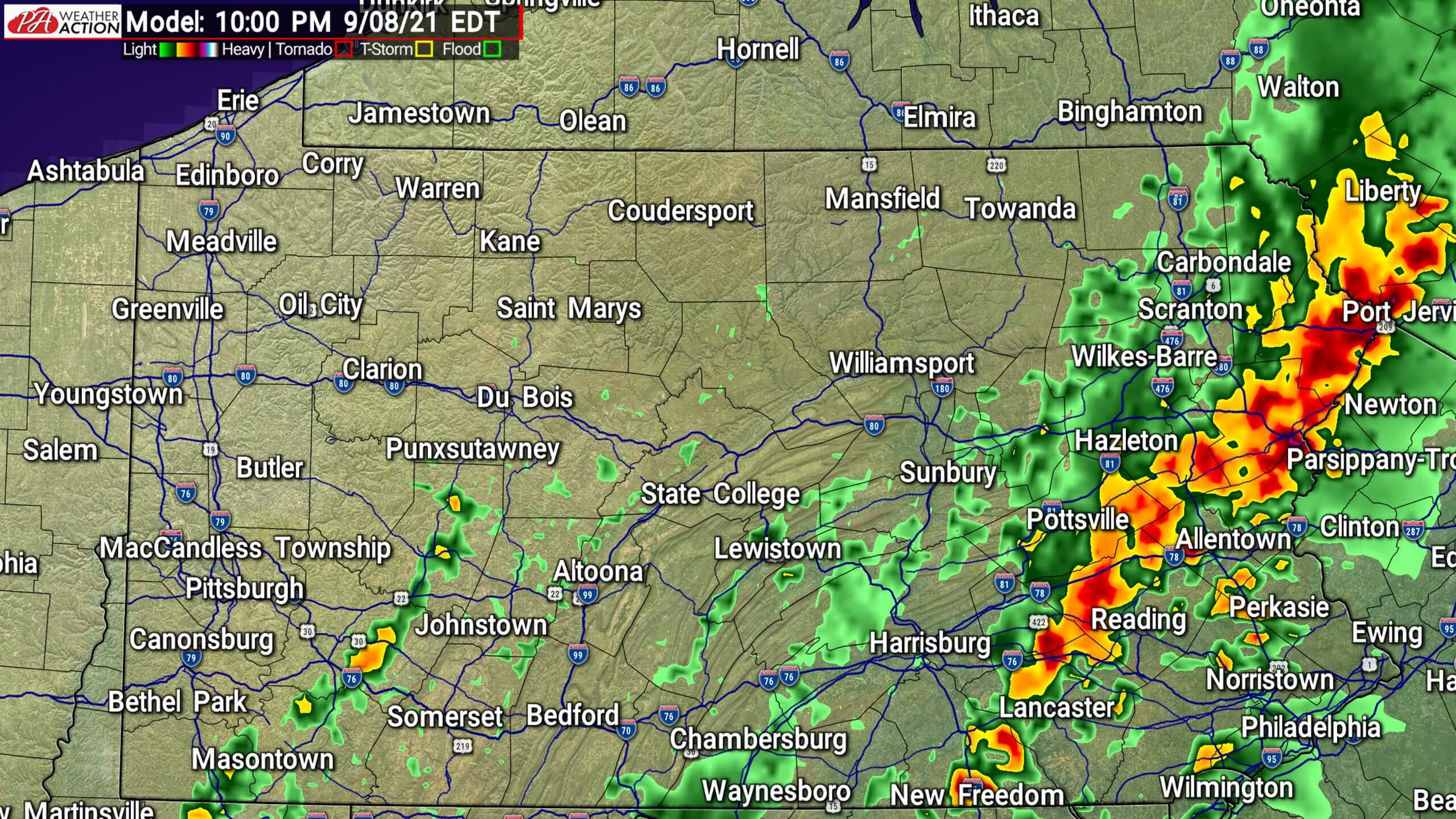 The line of storms will continue east, making it into Southeast PA by the late evening. That area received the highest rainfall totals from Ida, so flash flooding will be a concern. Now for more details on the individual threats.




---
WEDNESDAY TORNADO RISK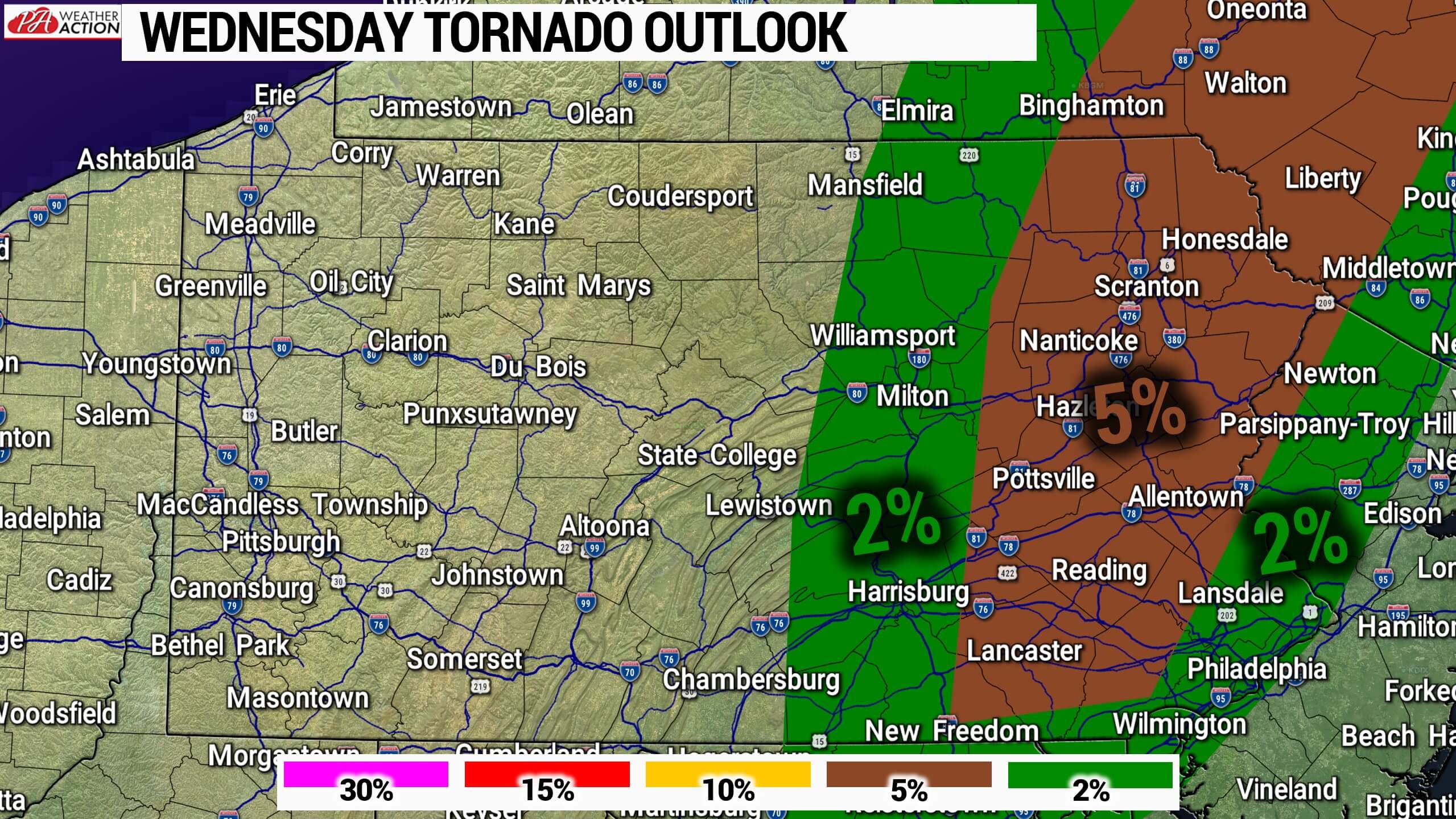 Much of Eastern Pennsylvania is in a 5% tornado risk due to best helicity and decent shear among other dynamics being present over the region as this line rolls through. A couple individual supercells may form just ahead of the line, bringing the highest tornado risk. Also, there may be some imbedded rotation within the line of storms that may cause a few spin-ups. The tornado threat will be from 5-9:00 PM Wednesday evening in the highlighted areas.
---
WEDNESDAY FLOODING RISK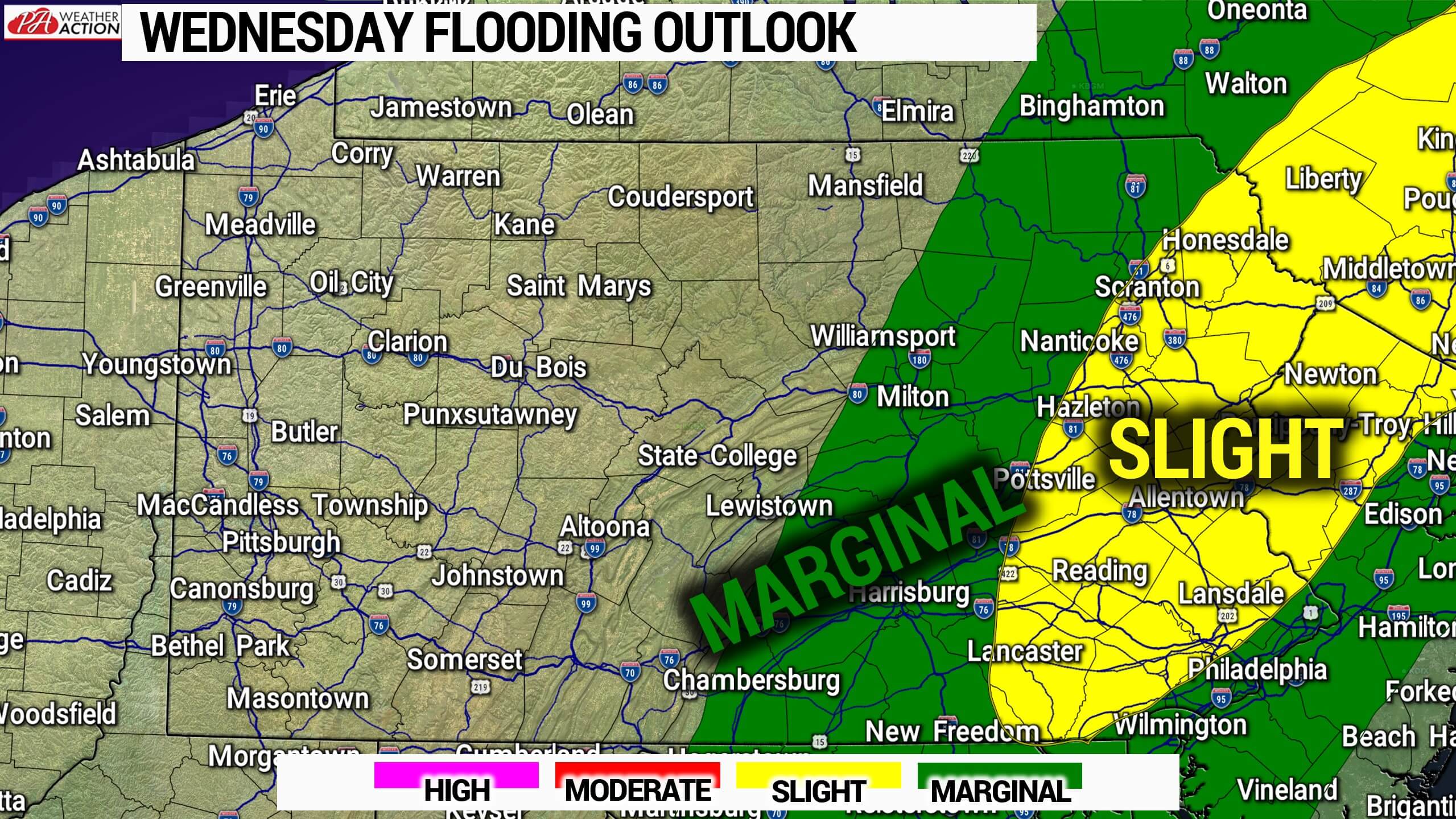 The soil is still very saturated from last Wednesday's major rainfall. So as you can imagine, it will not take much for more flash flooding to occur. The main concern is across Southeast PA and the Lehigh Valley, as some locations may easily pick up a half inch to an inch or rain Wednesday evening. And as shown below, it will only take .50 to .75″ of rain in an hour for flash flooding to occur in much of Southeast PA.
---
WEDNESDAY SEVERE THUNDERSTORM RISK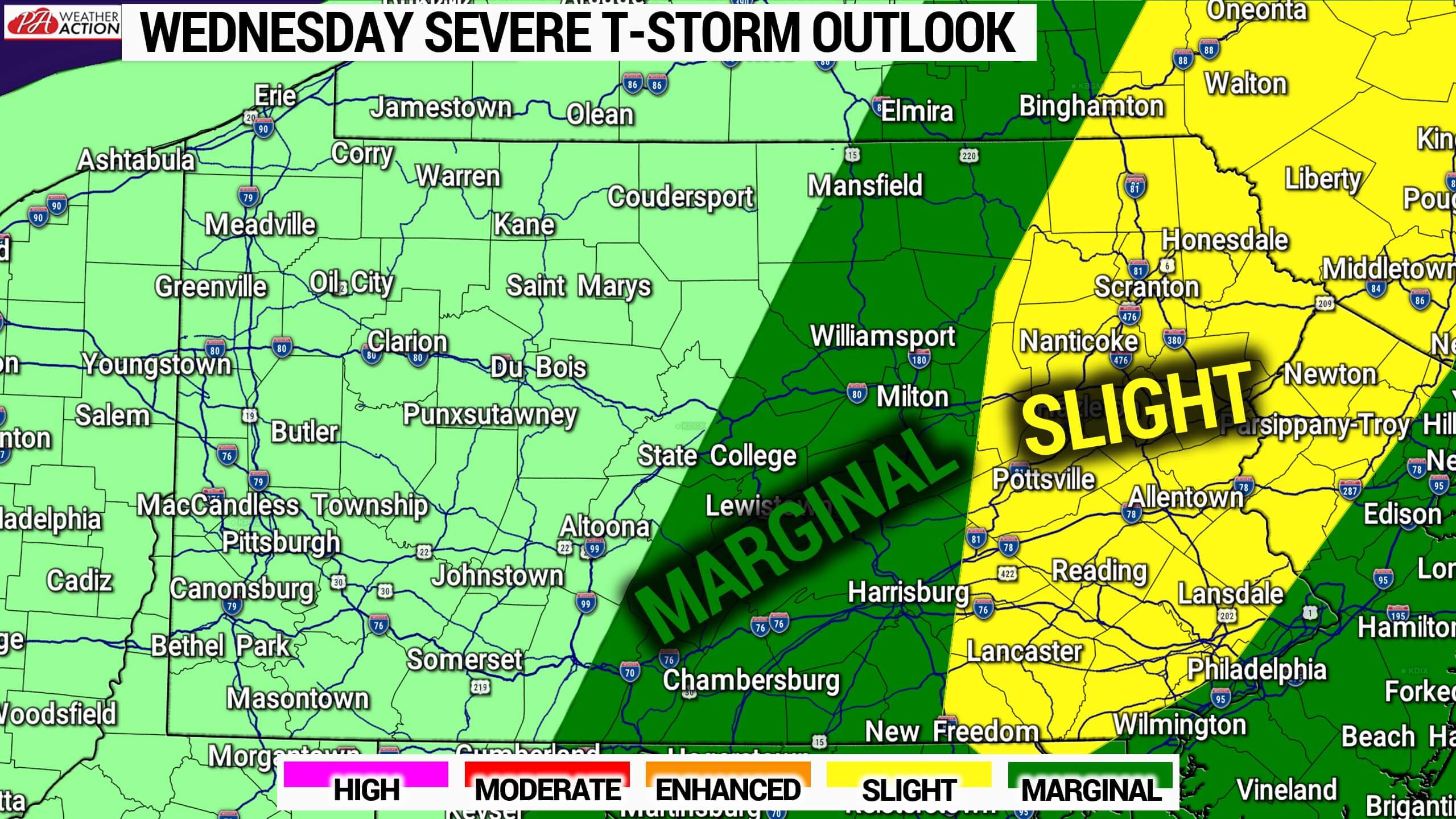 A Slight Risk of severe thunderstorms has been posted for nearly all of Eastern PA Wednesday, with much of Central PA in Marginal. Overall timing will be very late afternoon to late evening in the risk area. Risks are scattered flash flooding, isolated tornadoes, and scattered damaging winds. Read above for further details regarding each risk and what locations are included.
Be sure to pass this article along to family and friends in the risk area using the blue button. Stay safe!