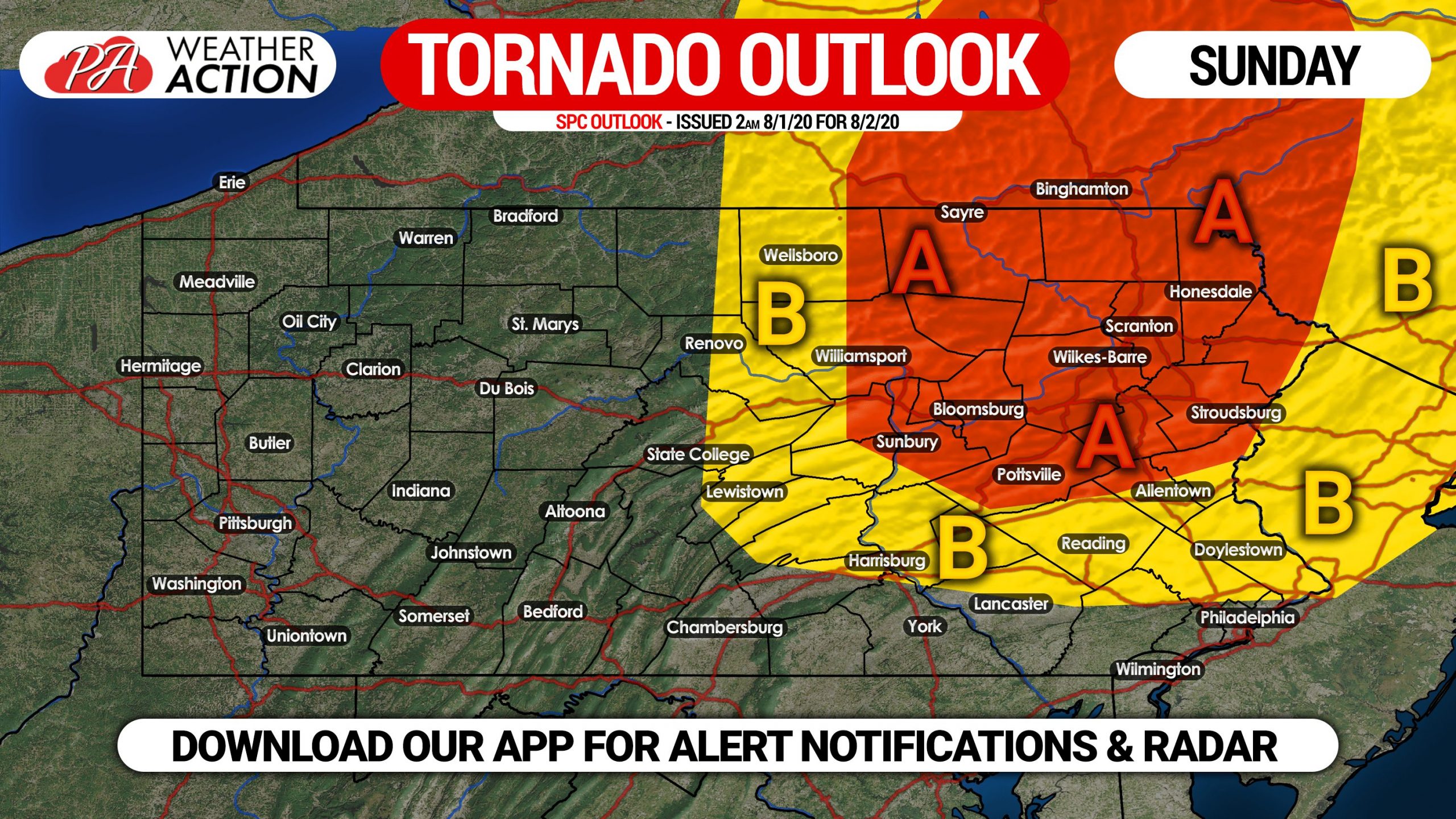 UPDATE: This threat shifted more to Sunday AM. A Slight Risk is still up for the late afternoon and evening, but severe thunderstorm activity looks to be very isolated.
We are temporarily shifting our attention away from Hurricane Isaias, as there are more imminent weather threats in Pennsylvania this weekend. Not only do we have a chance for severe thunderstorms in southwest PA today, but we also have a more significant severe weather threat Sunday in central and eastern PA.
Showers and storms will move through Sunday morning along a warm front as a low pressure passes to our north. Skies will then clear briefly by mid afternoon, allowing a line of thunderstorms to fire in central PA by 2-4 PM. High CAPE (convective energy) values along with strong wind shear and decent lapse rates will create an environment favorable for rapidly developing supercells. A few supercells may turn tornadic, especially from the middle Susquehanna Valley to northeast PA late Sunday afternoon into the evening. These storms will be scattered, and not all locations in the area will be impacted.
STORM TIMING
Due to the fact we are 36 hours out at the time of writing this, timing and placement of storms is still in rough draft format. We will have a better idea by Sunday morning, but we do think the latest run of the high resolution NAM does a pretty good job.
Starting at 3-4 PM Sunday afternoon, scattered thunderstorms will form in central PA. These storms will be quick to develop and intensify. At 4 PM, we expect strong to severe thunderstorms to be moving east across the ridges and valleys of the western Susquehanna Valley. Below is the Hi-Res NAM future simulated radar for 4:00 PM Sunday.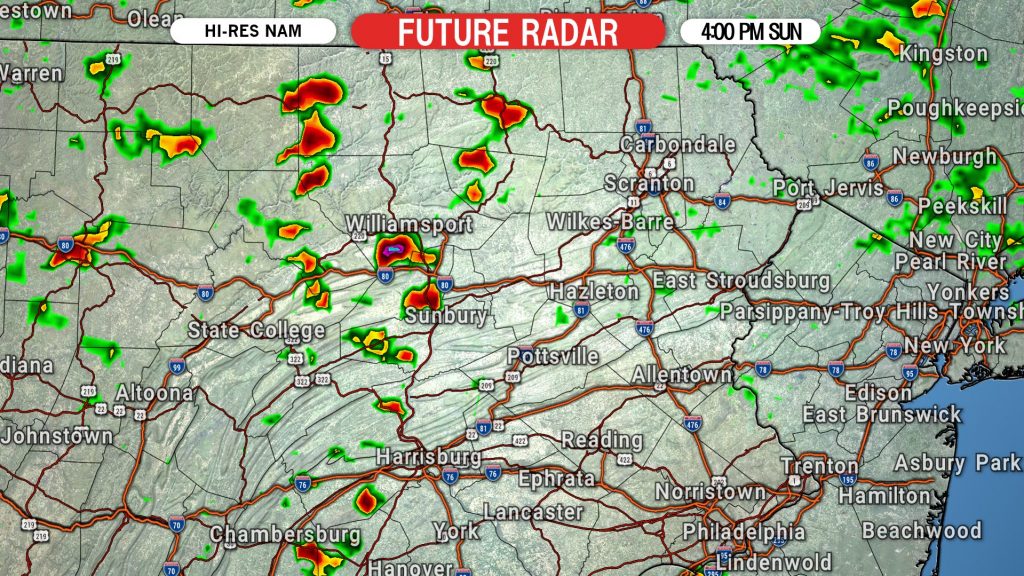 Heading into the early evening Sunday, by 5 PM we anticipate strong to severe thunderstorms to reach the middle Susquehanna Valley. There may also be some storms developing in southeast PA. This is when the enhanced tornado threat will begin, and we wouldn't be surprised to see a few tornado-warned cells by this time. Here is future radar for 5:00 PM Sunday.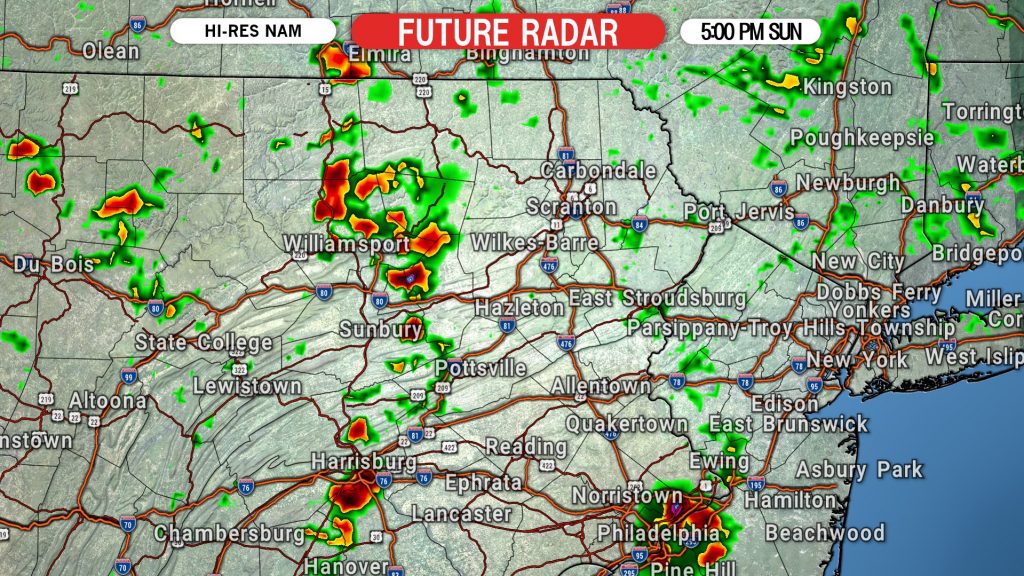 The tornado threat will be highest between 5-8 PM Sunday. By 6 PM, we expect a broken line of severe thunderstorms to move into areas near Lebanon, the Coal Region, and locations just west of Scranton/W-B. Here is future radar for 6:00 PM Sunday evening.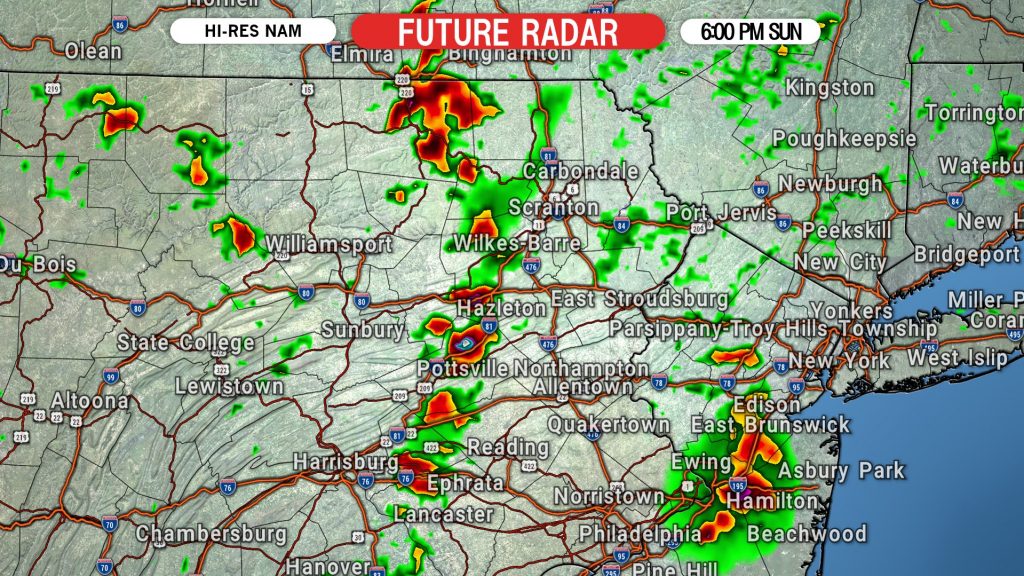 The thunderstorms will then move into the Poconos and Lehigh Valley by 7 PM, with the continued tornado threat. Hail will also be possible within the strongest supercells. Below is future radar for 7:00 PM Sunday.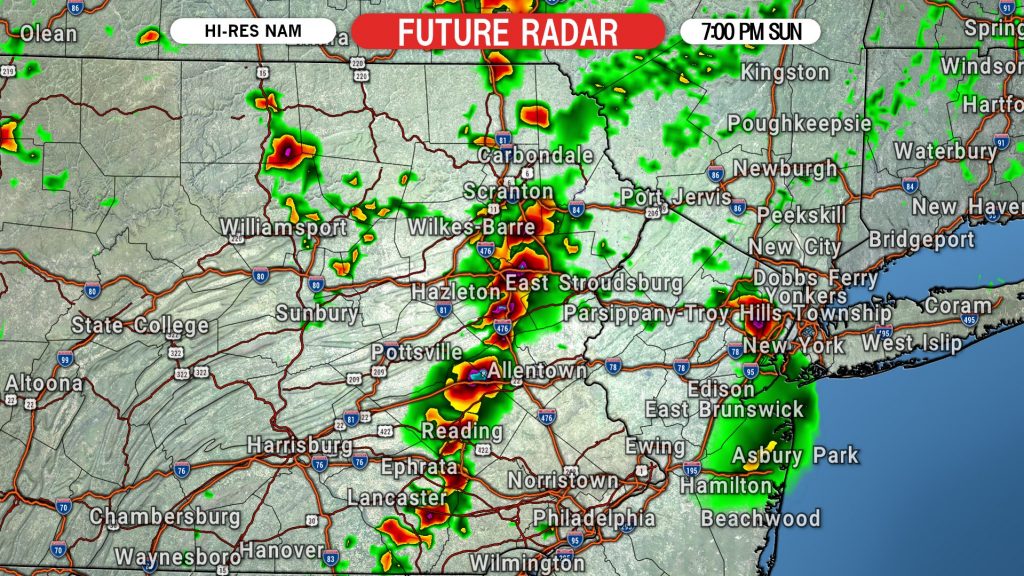 By 8 PM, storms are likely to reach the Delaware River in northeast PA, and be moving through parts of southeast PA. The tornado threat will begin to die down after this point as we start to lose daytime heating and instability. Here is future radar for 8:00 PM Sunday.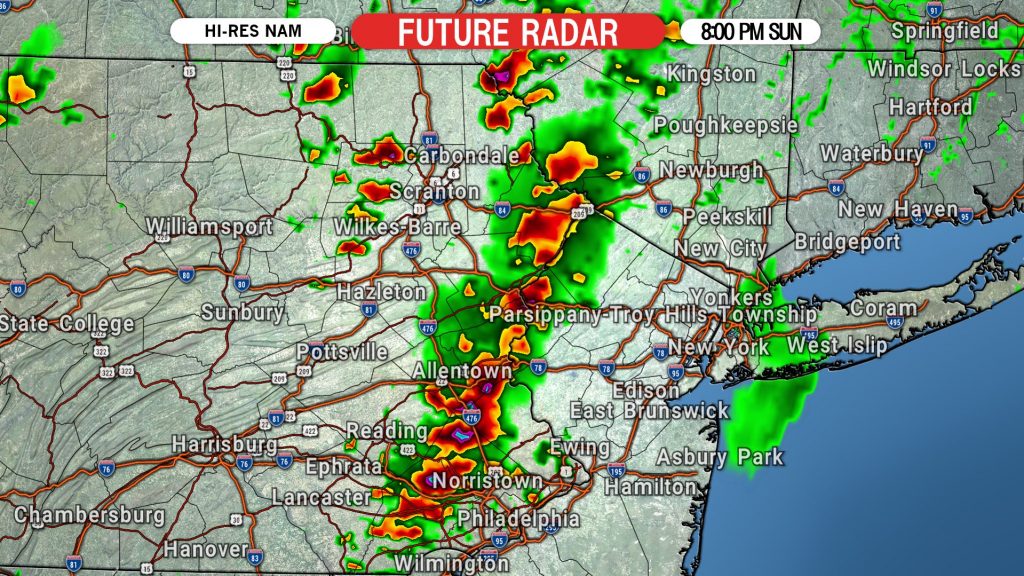 We expect some weakening of the storms after about 8 PM, but they may still be strong or locally severe as they move through the northern Philadelphia suburbs. Below is future radar for 9:00 PM Sunday.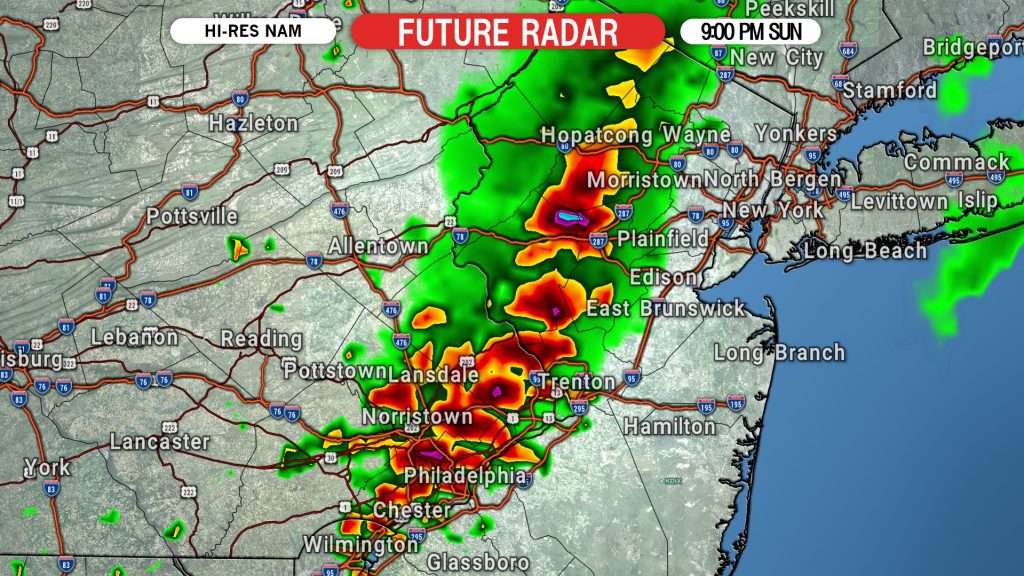 Once again, the placement and timing of the thunderstorms is still prone to changes. We do know the window of opportunity for tornadoes will be in the very late afternoon through the mid evening.
---
SEVERE THUNDERSTORM OUTLOOK FOR SUNDAY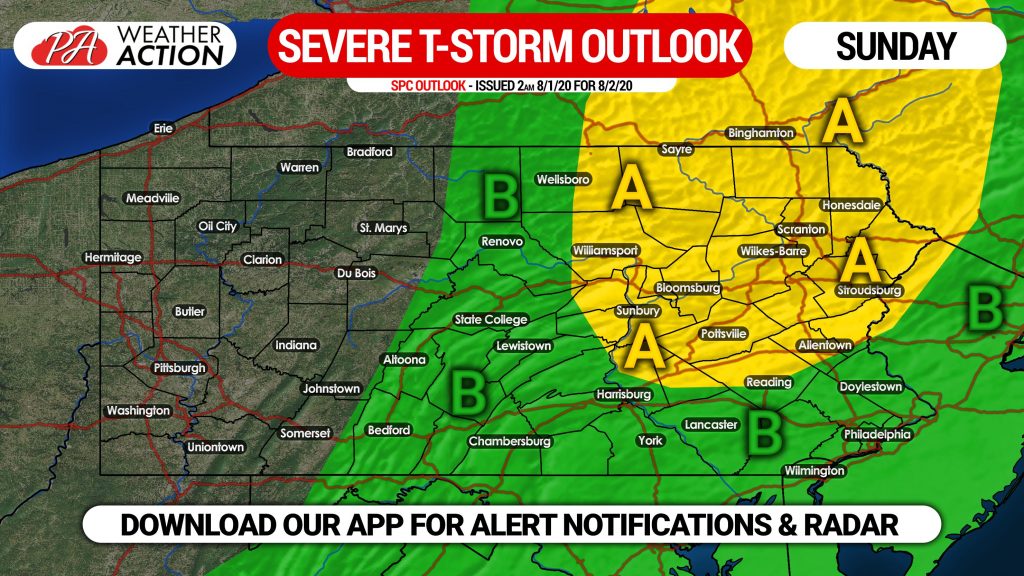 Area A: Scattered severe thunderstorms possible late Sunday afternoon into the evening. Along with the scattered damaging winds and hail possibility, there is an enhanced threat for tornadoes between 5 – 8 PM. This area may be expanded slightly in future updates.
Area B: Isolated severe thunderstorms possible Sunday afternoon and evening. Damaging winds are the main threat, but there is still the possibility of an isolated tornado in this region especially close to Area A.
---
TORNADO OUTLOOK FOR SUNDAY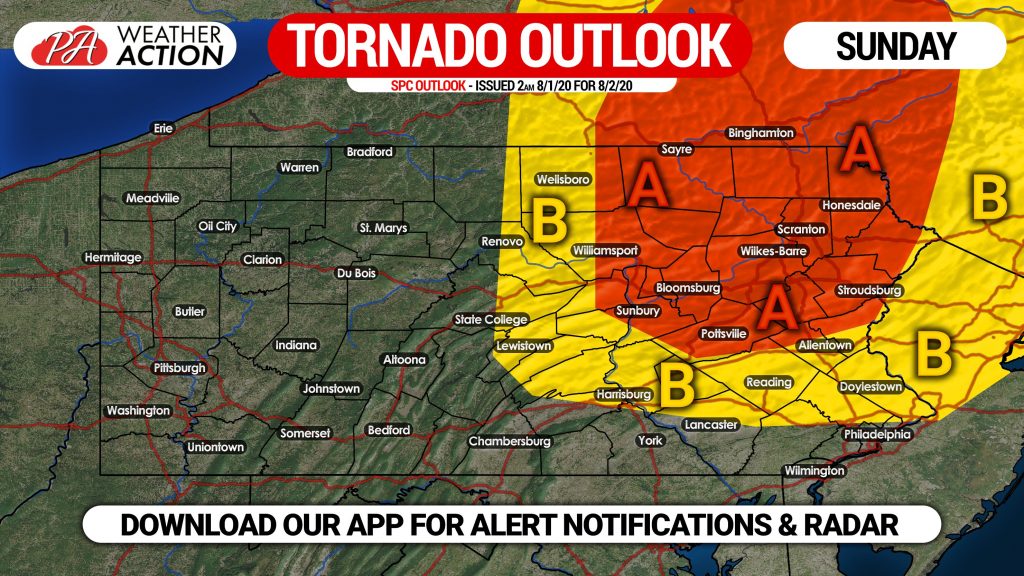 These odds of seeing a tornado may seem low, but they are actually rare in Pennsylvania.
Area A: There is a five percent chance of seeing a tornado within 25 miles of any location in this area. This is due to high wind shear creating more spin in the mid to upper levels of the atmosphere.
Area B: There is a two percent chance of seeing a tornado within 25 miles of any location within this area.
We will have live radar on our facebook page Sunday, and you can also be sure to receive any severe weather alerts issued for your area with our app. You will be notified of any updates to this forecast through it as well. Download it here >>> Weather Action App on iOS & Android
Don't forget to share this forecast with friends and family in affected areas. Stay tuned and stay safe!
---
---