As the title indicates, a significant multi-day lake effect snow event is likely in Northwest PA. Snow will begin Thursday, intensifying Friday. By Saturday lake effect banding will begin to diminish.
Most persistent lake effect snow bands will likely be in Erie, Crawford and Warren Counties. Snowfall amounts could reach two feet in areas shaded in red on our forecast map below. Locations such as Erie will receive around 7-10″ total, as will Warren. Meadville will see 8-12″ of snow.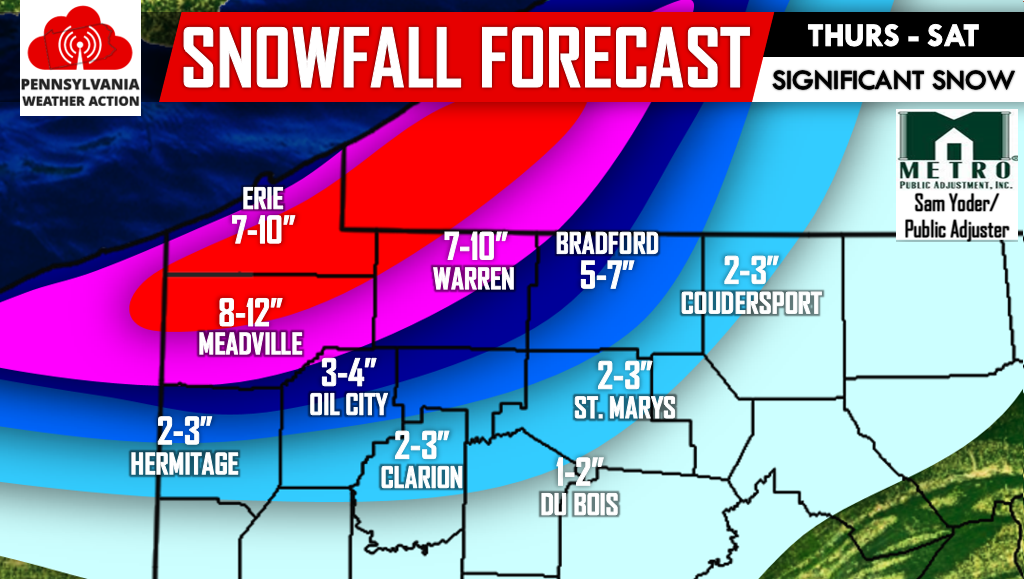 Sunday will feature precipitation, but there is a great deal of disagreement in the models. There is a good chance of wintry precipitation, but that's about all we know at this point. Even the severity of the event remains largely up in the air.
Be sure to like us on facebook by clicking here to receive the latest updates regarding that potential and the many more during this upcoming winter season! Also remember to share this article below especially if you have family and/or friends in Northwest PA. Stay safe!