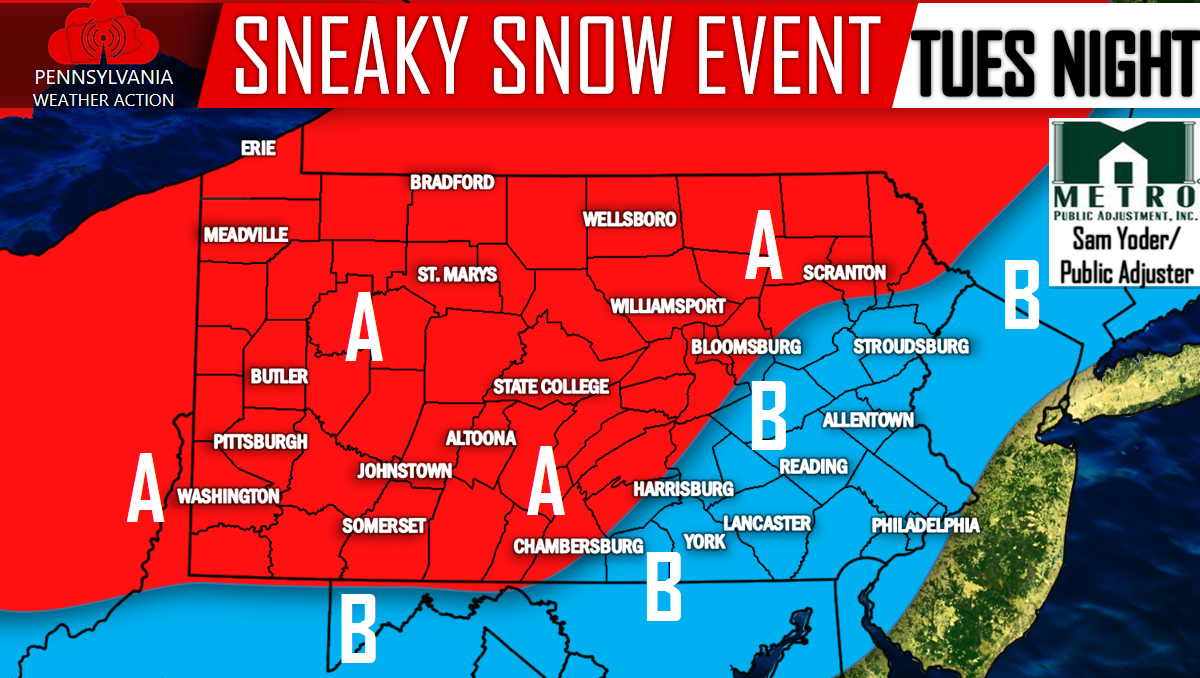 Before we go into detail about Tomorrow Night's sneaky snowfall, we are first going to talk about the extremely cold temperatures later in the week. An arctic blast coming from Canada will be in full force beginning Thursday and lasting through Friday. This does not mean Tomorrow and Wednesday will be warm, it simply means we will feel the brunt of the cold Thursday and Friday.
Projected High temperatures per the GFS for Thursday: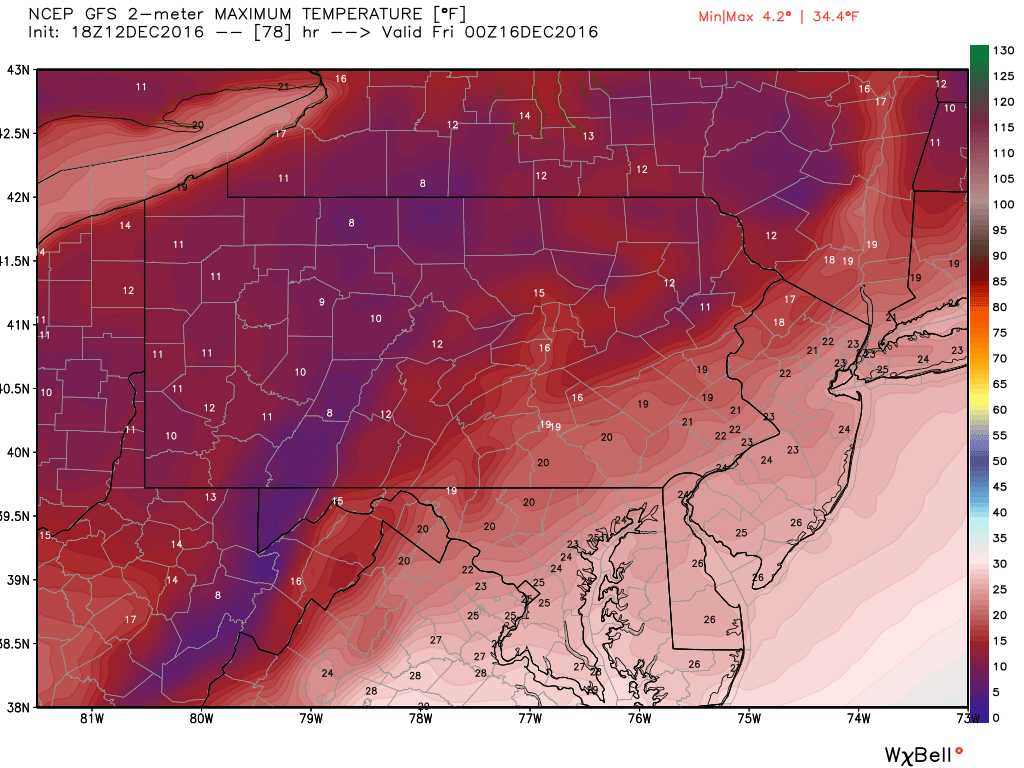 High temperatures are projected to only reach the low 20s in SEPA, Teens over Central PA and Western PA. Far Northern PA and the highest elevations in PA may not even reach 10 degrees on Thursday.
And here is how Friday looks: 

Just about the same story for Friday, widespread teens, with some areas staying in the single digits.
How does this compare to average? Take a look below: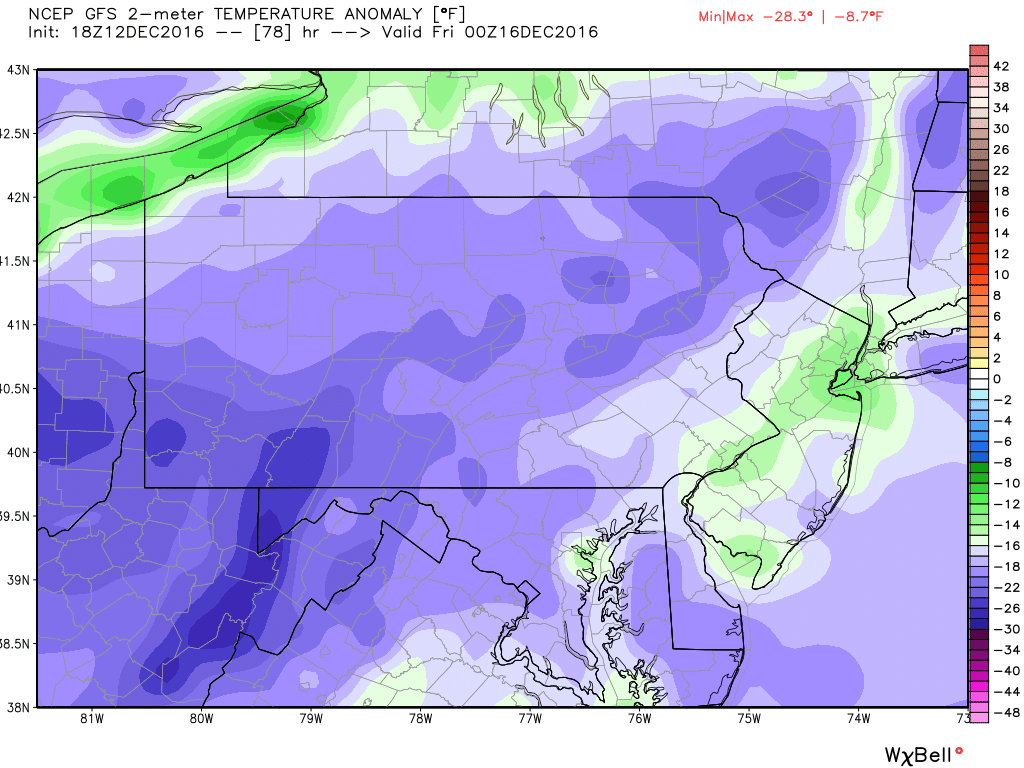 Looking at the scale, we will be anywhere from 15 to 30 degrees below normal compared to typical mid-December weather. Very impressive.
Now for Tomorrow's sneaky snow event. We are calling it sneaky because over the last 12-24 hours, model guidance has become more and more impressive with it. We say impressive, but this is still a minimal impact event.
Timing: Snow will develop in Western PA after 4 PM and will continue to push Eastward there through the Evening hours reaching Eastern PA by 7 PM. This will be a quick mover, any snowfall that is falling should end only a few hours after it starts falling.
Area A: Coating to 1 inch of snowfall is possible, isolated 2 inch snowfall amounts are possible.
Area B: Up to a coating of snowfall is possible.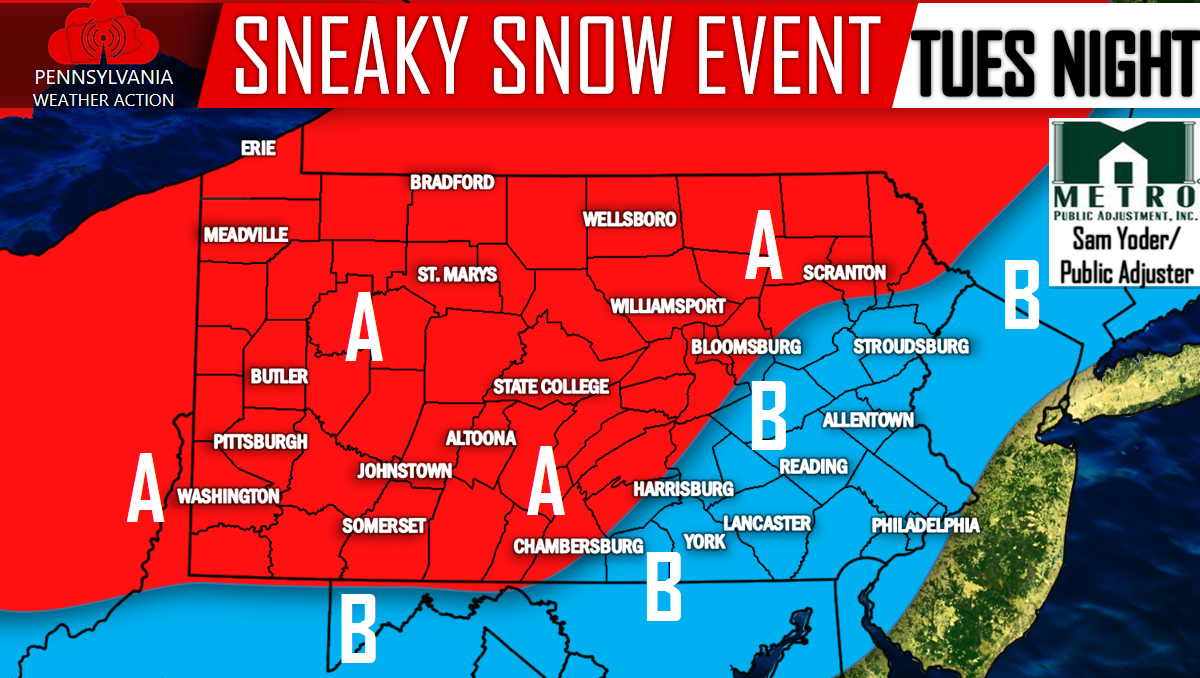 A lot of our followers have been asking us about the potential Winter Storm for this upcoming weekend. We will wait until Tomorrow to go into full detail, but like this last Winter Storm, this next Winter Storm (Friday Night into Saturday) will likely feature a Wintry Mix. However, it does look like it will be colder than this previous system. So that leaves us concerned not only with snowfall accumulation, but also the potential for ice.
Again full update on that system will be posted Tomorrow Evening on our Facebook page>>>>PA Weather Action on Facebook!
Don't forget to share the news with your family and friends below!
---
---
You might also like
---