We are tracking a system that will produce wintry weather for our area going into tomorrow evening into early Monday morning. For some areas, it will start off as rain showers, changing over to snow showers, while other areas will receive all snow. For some locations, it will be enough to deliver a white Christmas!
The precipitation will likely begin sometime after 5:00 PM for our far southwestern counties and will push northeast from there. Taking a look at the future radar valid for 8:00 PM tomorrow evening, shows the precipitation advancing northeastward: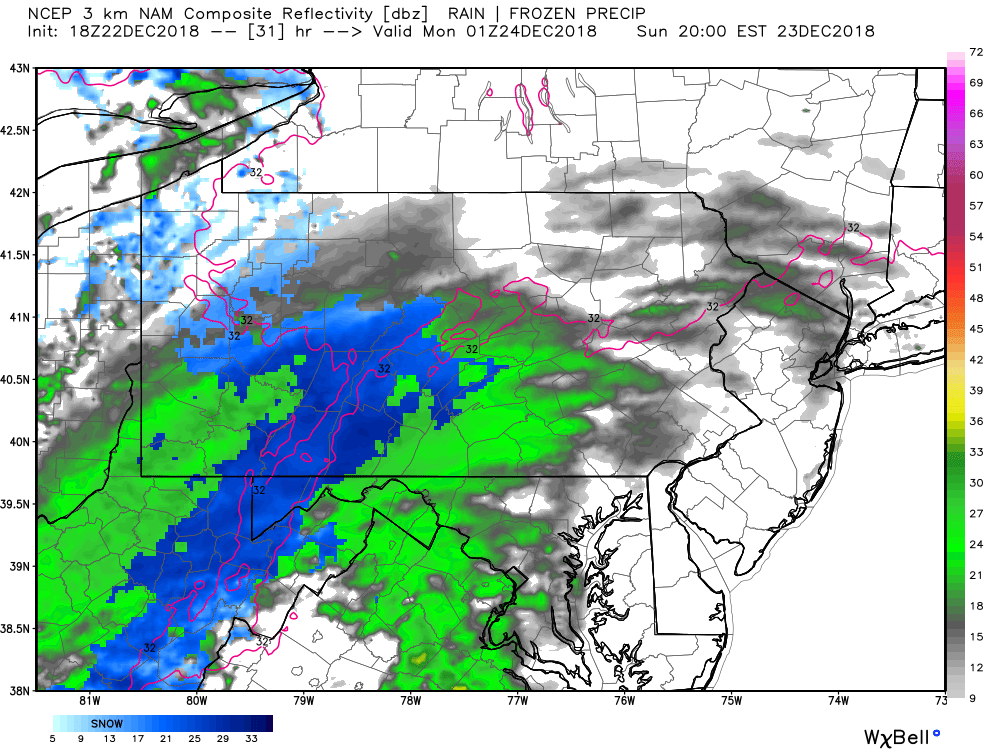 Again some areas will likely start off as rain before transitioning to snow. However, northern locations as well as areas with higher elevation will likely see all snow out of this system.
Taking our future radar out to 10:00 PM, much of the state is dealing with some type of precipitation: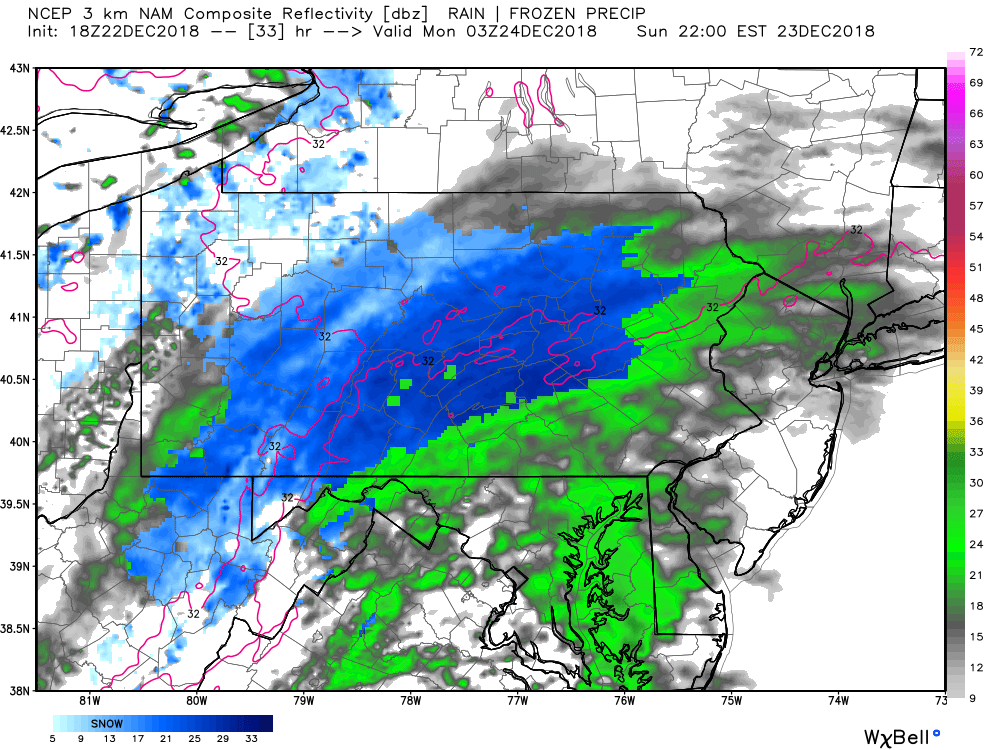 While this will not be a long duration event, only a 3 to 5 hour event for most of us, the snow that does fall, could be moderate to heavy at times. Expect slick travel if you have plans driving tomorrow night or early on Monday morning.
By 1:00 AM Monday morning, most of our precipitation is centered over Northeast Pennsylvania: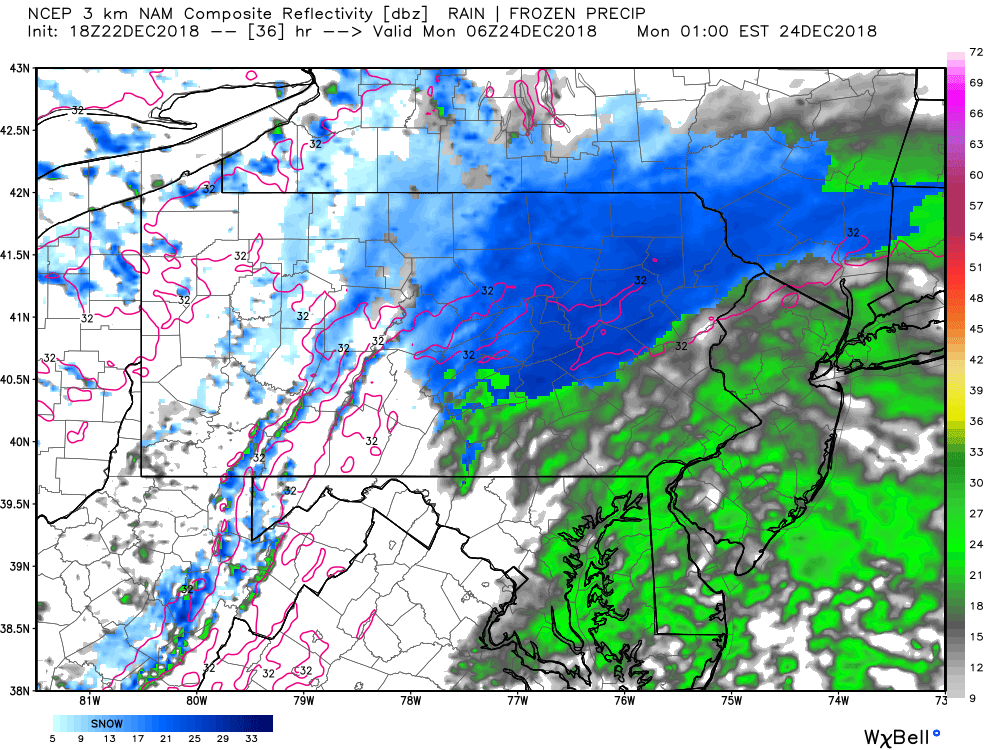 We do anticipate the precipitation to taper off before 4:00 AM Monday morning. Monday morning rush hour commute will likely NOT be impacted, with the possible exceptions in the far northeast part of our state.
EXPECTED SNOWFALL TOTALS SUNDAY EVENING THROUGH EARLY MONDAY MORNING: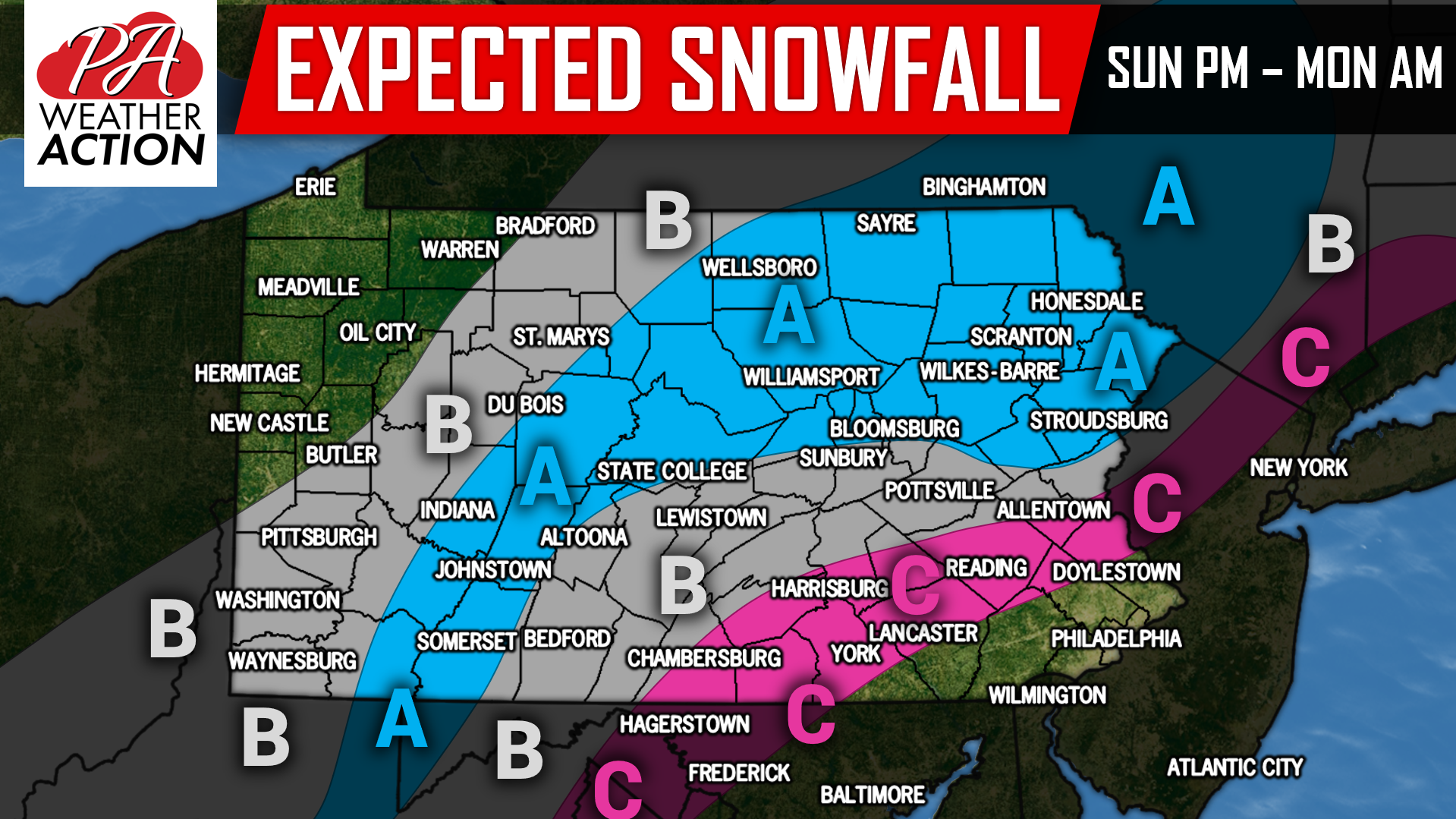 AREA A: 1 to 2 inches of snowfall is expected, with isolated 3 inch amounts possible.
AREA B: A coating to 1 inch of snowfall is expected. Southern locations in will likely start off as a rain/snow mix which will help keep accumulations under an inch.
AREA C: A snow/rain mix is expected. Temperatures will likely remain above 32 degrees allowing for little to no accumulations.
Stay tuned for the latest by following us on our Facebook page, click here: https://www.facebook.com/paweatheraction/
Download our free app today to keep you ahead of the latest weather alerts and traffic conditions, click here: http://onelink.to/suteh4
Share this article with your family and friends using our icon below. Happy holidays!