On February 24th, 2016, multiple tornadoes touched down from the New York Border to the Maryland Border. This year, parts of the state will face the threat of severe thunderstorms just one day later. While we don't expect tornadoes this time around due to far different dynamics, strong to severe storms containing mainly damaging winds will be possible Saturday.
A low pressure system moving through the Central Plains and Upper Midwest will cut to our west Thursday and Friday, pushing temperatures in Central and Southern PA over the 70 degree mark both days. By Saturday, warm air will still be in place with decent CAPE and lifted index values for this time of the year especially in Southeast PA. In addition, sun is expected to break out mainly in Southeast PA Saturday Afternoon, increasing instability in the atmosphere.
While there will be the possibility of strong storms throughout the eastern half of PA Saturday Afternoon and early evening, the area with greatest potential to see severe thunderstorms exists from Chambersburg to Reading and just west of Philadelphia. As stated, the most apparent threat with these thunderstorms will be damaging winds due to the fact we expect a somewhat organized line of storms ahead of an approaching cold front.
FORECAST MAP FOR SATURDAY'S STORMS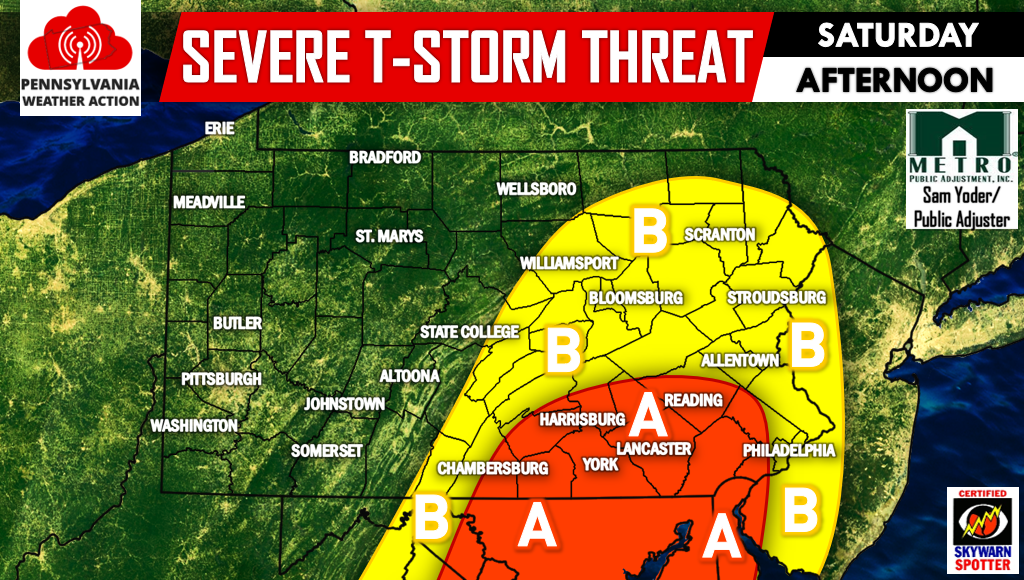 Area A –  A line of strong to severe thunderstorms is possible Saturday Afternoon into the early evening. Damaging winds up to 60 MPH will be possible in strongest segments of the line.
Area B – A line of strong thunderstorms is possible Saturday Afternoon and early evening. Winds of 35-50 MPH will be possible with these storms.
For more updates on this threat and more be sure to like us on facebook >>> PA Weather Action Facebook Page.
If you think severe thunderstorms don't belong in what is supposed to be our snowiest month, share the forecast with the icons below. Stay safe!