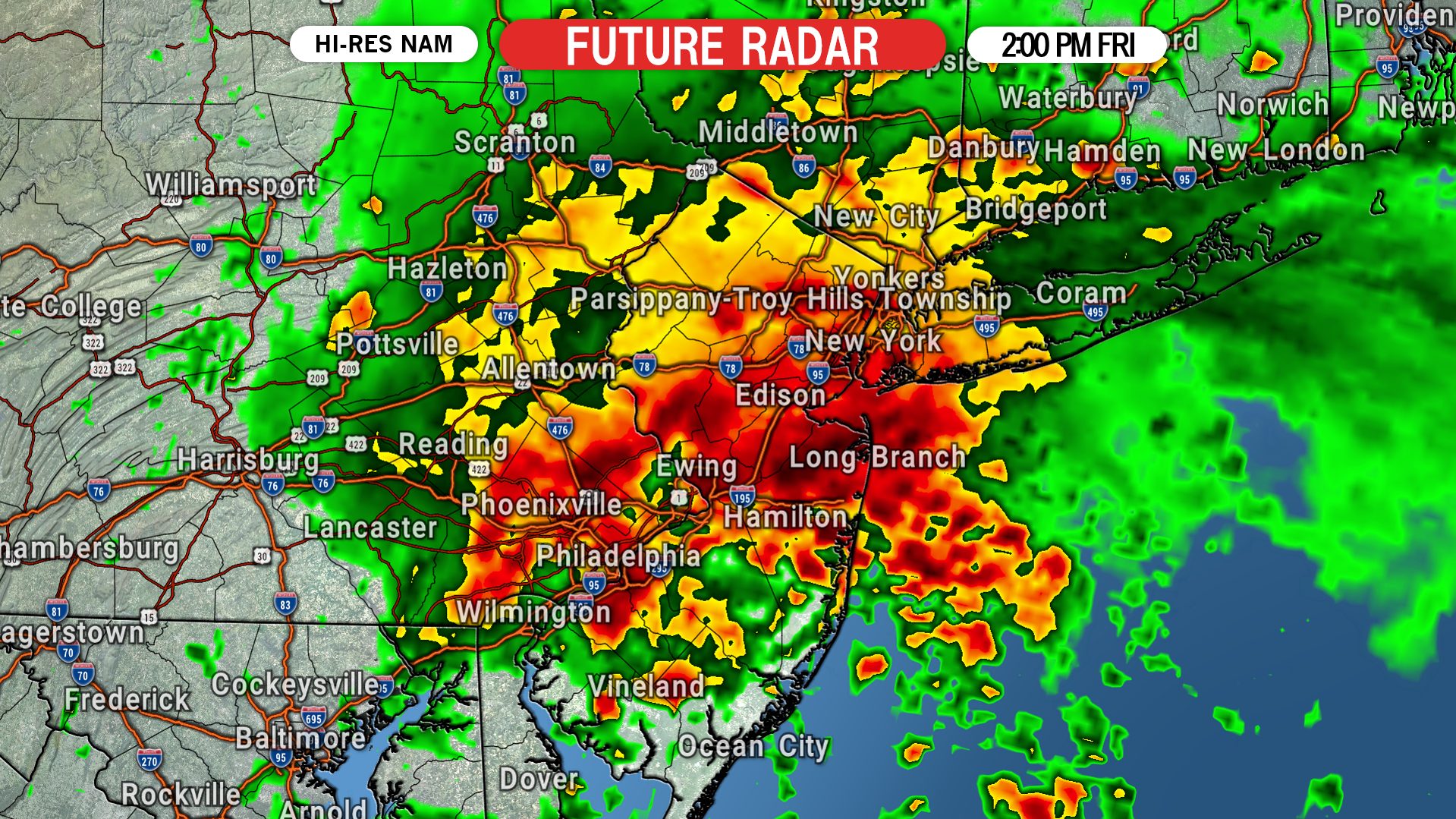 Tropical Storm Fay has just formed off the North Carolina Coast as of the 5:00 PM Thursday Advisory from the National Hurricane Center. Fay will quickly move north tonight and be over the New Jersey coast by Friday afternoon, bringing winds of 50 MPH to the immediate coast. In eastern PA, winds will gust to 40 MPH near the NJ border. The bigger story will be the heavy rain Fay brings to eastern PA. And while some uncertainty still remains now only about 18 hours out regarding the exact track, we are confident Fay will track up the NJ Coast, instead of directly into eastern PA as some model guidance predicts.
Tropical Storm Fay is expected to move north, and stay just off the Del-Mar-Va coast before traveling directly over the NJ coastline as a 50 MPH tropical storm. Fay will then weaken as it moves on land into the northeast. Here is the latest NHC Forecast as of 5:00 PM Thursday.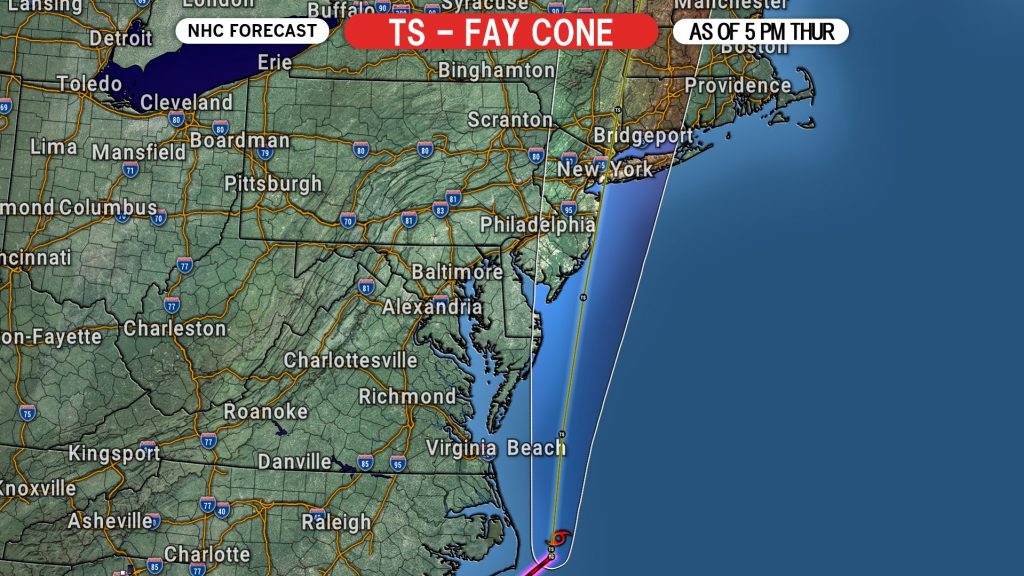 Heavy rain and windy conditions will push into southeast PA just after the Friday morning commute. Below is future radar for 9:00 AM Friday, showing Philadelphia and surrounding suburbs getting into the heavier rain.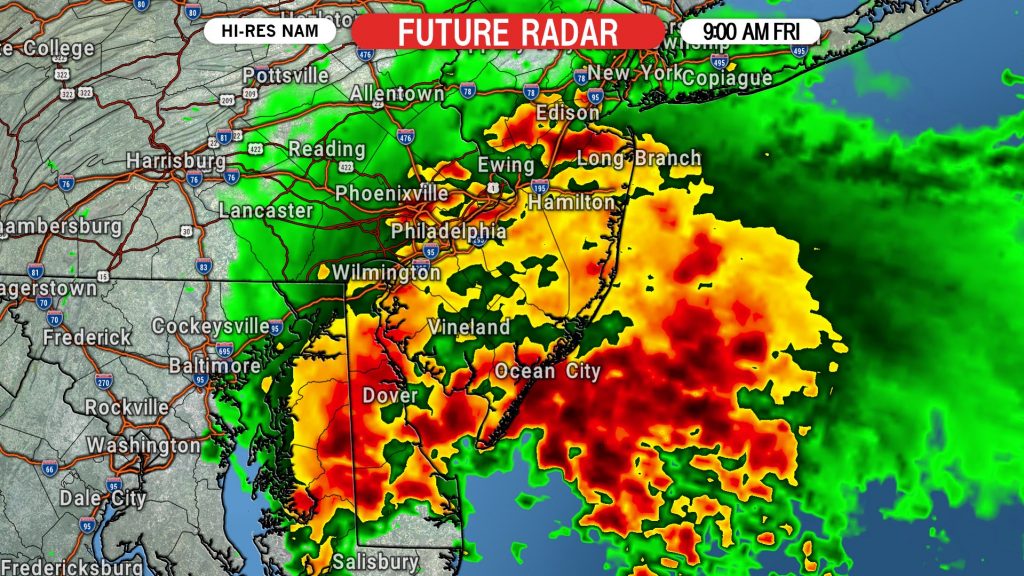 Rain bands will continue to wrap in from NJ as the storm moves north Friday morning. There is still some uncertainty on how far west the heavy rain will be. Some models keep it in NJ while others bring it as far west as Pottsville, so keep an eye on the radar Friday morning, because the western edge should be identifiable by sunrise. Here is future radar for 2:00 PM Friday.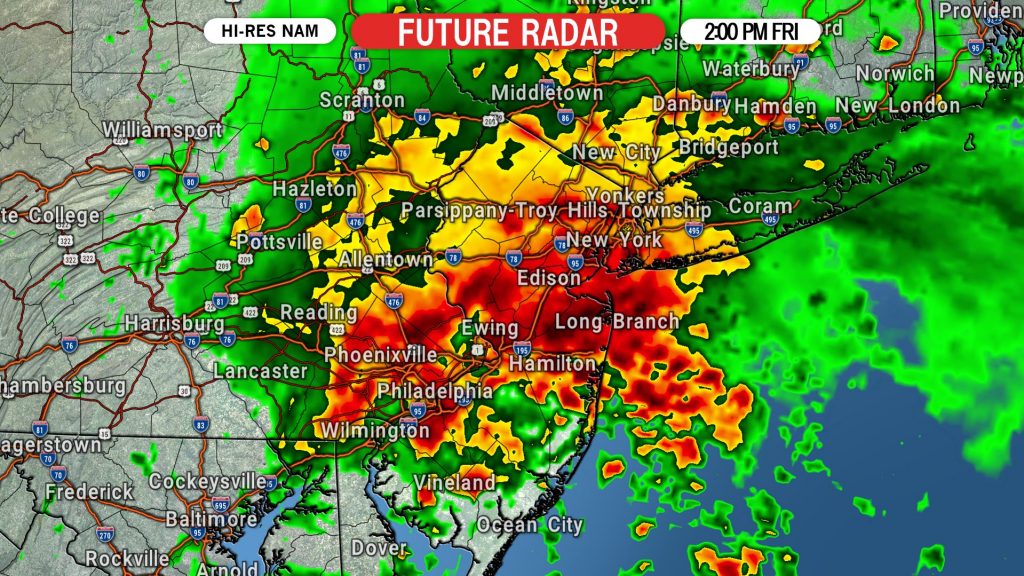 Heavy rain will begin to push into the Poconos by mid-afternoon. It will then continue through the evening, as shown on future radar for 7:00 PM Friday below.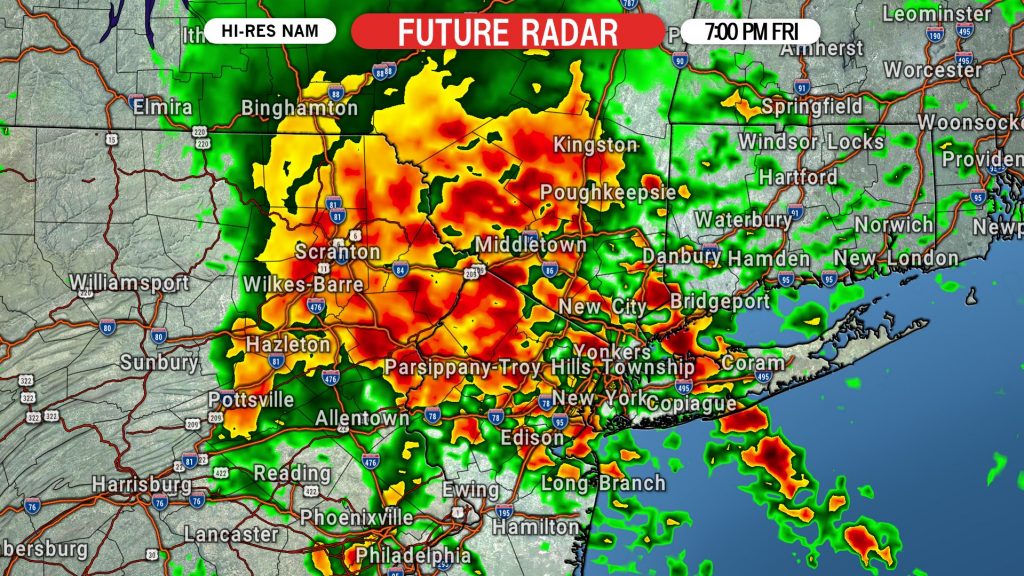 The storm should be mostly moved out of the state by late Friday evening. We expect final rain bands to be pivoting out of the northern Poconos by 11:00 PM. Here is future radar for that time.
Tropical Storm Warnings have been issued up and down the Northeast US Coastline, and Flash Flood Watches have been issued for much of southeast Pennsylvania.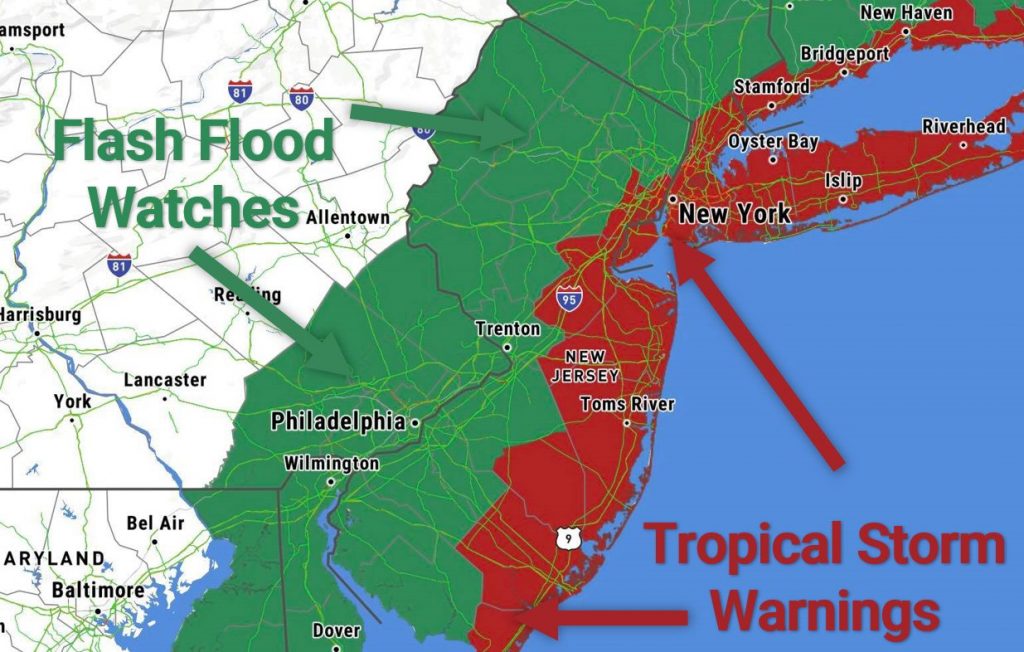 TROPICAL STORM FAY RAINFALL FORECAST FOR PA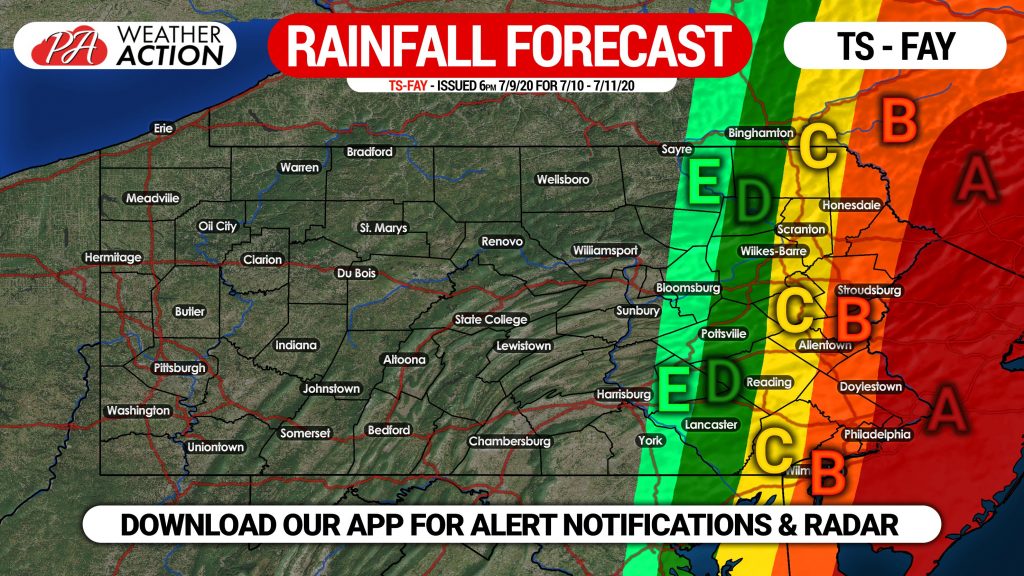 Area A: Rainfall amounts of 2 – 3″+ expected, along with wind gusts up to 45 MPH.
Area B: Rainfall amounts of 1.5 – 2″ expected, along with up to 35 MPH wind gusts.
Area C: Rainfall amounts of 1 – 1.5″ expected, along with wind gusts up to 25 MPH.
Area D: Rainfall amounts of .5 – 1″ expected, along with up to 20 MPH wind gusts.
Area E: Rainfall amounts of .25 – .5″ expected, along with up to 15 MPH wind gusts.
Be sure to share this forecast with family and friends who may be affected Tropical Storm Fay!
Track Fay with interactive radar on our app, which lets you display radar, satellite, alerts, and more! Also get your location's exact forecast! Get our app here >>> Weather Action App
---
---