Parts of Southern PA have yet to receive a plow-able snowfall this winter. However, a sneaky system will rapidly develop Wednesday as cold air flows in. We are looking at the potential for several inches of snow Wednesday Night – Thursday Morning especially across Southeast PA.
With a system cutting to the west Tuesday, our flow will be coming from the south resulting in temperatures warming well into the 50s and perhaps touching 60 in some spots. Temperatures will play a key role in our forecast for Wednesday Night and Thursday Morning.
As the cutter system moves well off to our north early Wednesday, another system behind it will be developing to our west and will impact our weather beginning Wednesday Night. Guidance is varying on whether some areas start off as rain or just all snow. Below is the GFS projected  Wednesday Morning temperatures: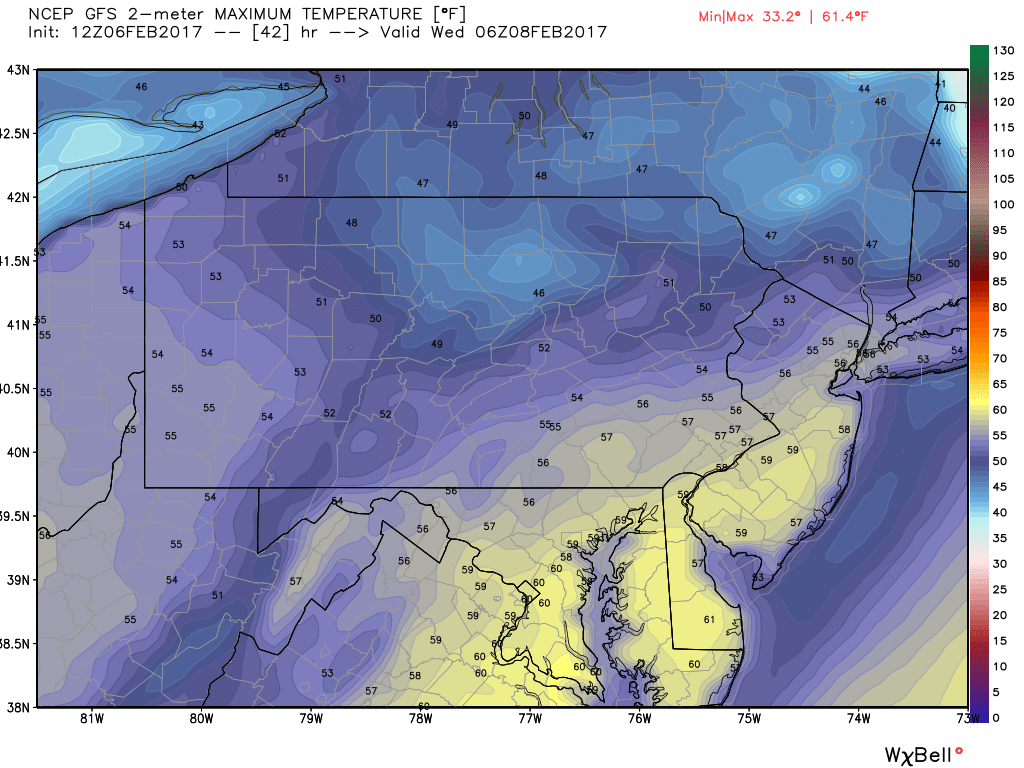 This is going to be a vary "thread the needle" type of an event. As you can see Wednesday Morning most locations will be in the 50s, with some areas even touching near 60. Temperatures will have about 12-18 hours to crash to support accumulating snowfall. And yes, it is possible and is looking likely for someone. Who that someone is, is currently in question.
Below we have three different possible scenarios for Wednesday Night through Thursday Morning.
Timing for all scenarios: Wednesday Night after 8 PM through Thursday Morning.
SCENARIO #1 – 50% CONFIDENCE
Currently this is the solution we are favoring, however notice it is only 50% confidence. So yes, expect changes as we head into Tomorrow and even Wednesday. This solution is taking a blend of all guidance and current observations, looking at the upper air pattern we have come up with this: All of PA remains in the snow category, any mixing stays to our south. Generally a line from Somerset to Allentown and points south and east in PA see heavier snow, while areas north and west still see snow, just on the lighter side.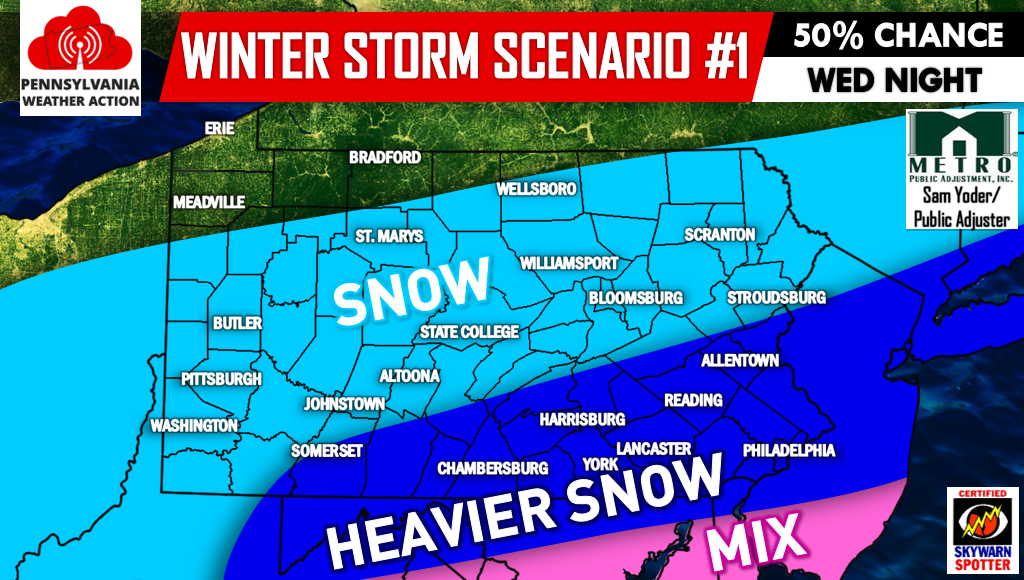 SCENARIO #2 – 30% CONFIDENCE
Scenario two is the most southeast and coldest solution, currently sitting at 30% confidence. This solution would favor areas in far southeast pa and points south. Given this scenario, areas north and west of a line from Somerset to Allentown would see little to no snow at all. However, there is no mixing issues in this scenario.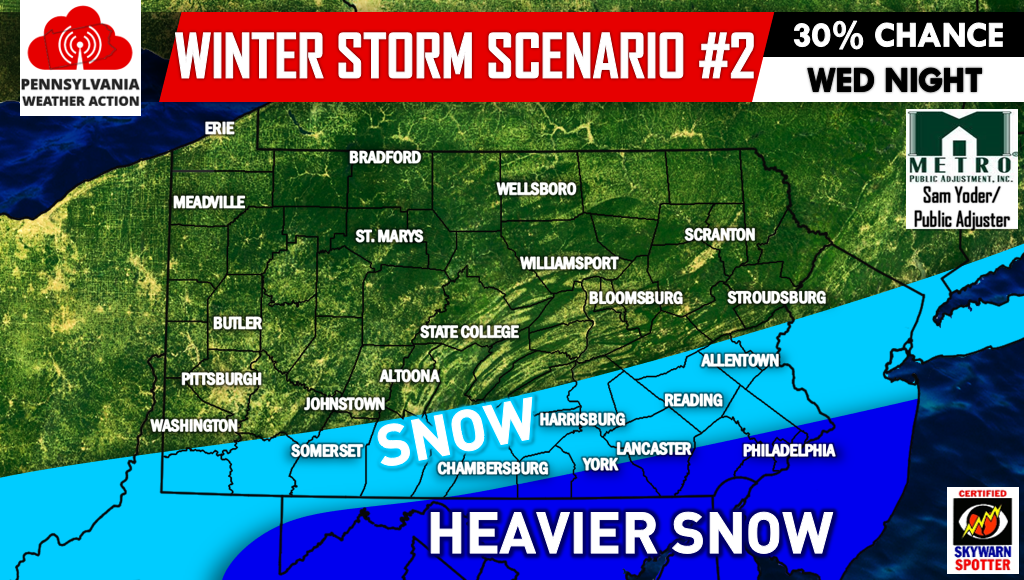 SCENARIO #3 – 20% CONFIDENCE
Scenario three is our least confident solution and also the most amped and warm solution. In this case, almost the whole state of PA would get into some precipitation with light snow extending all the way to the NY/PA border. This solution would benefit central areas, but for southern areas this would lead to mixing which would cut down on accumulations.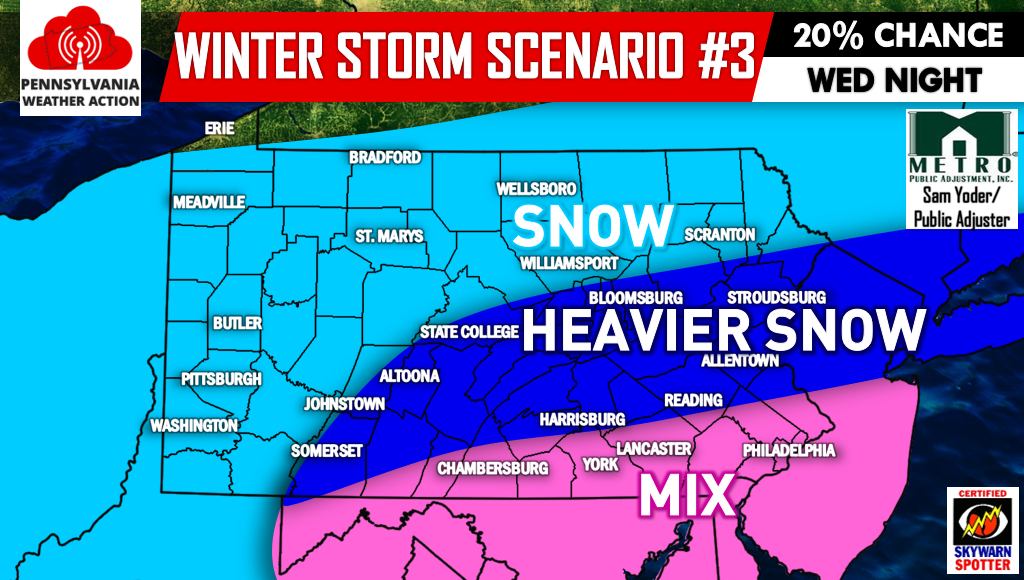 We will have our First Call Snowfall Forecast out at 5 PM Tuesday, stay tuned for that.
Be sure to have our Facebook page liked for the latest updates regarding this winter storm >>>PA Weather Action on Facebook!
Also don't forget to share the forecast using the icons below! Stay safe!